It is estimated that London welcomes between 20 and 30 million visitors from around the world every year, and with so much to see and do, that doesn't come as a surprise.
It goes without saying that recent world travel has seen major disruptions in recent years, but London was regularly placed in the top three cities that welcome international visitors.
The city is serviced by major airports, including Gatwick, Heathrow, Stanstead, London Luton, and London City Airport. There are a wealth of large train stations as well as the world-famous underground network, making it easy to get to and get around.
Visitors will have the opportunity to explore a wonderful city with a rich historical past, taking in attractions such as Buckingham Palace, The Tower of London, Big Ben, Houses of Parliament, as well as the countless museums and galleries such as the Victoria and Albert Museum.
With a population larger than New York City, there is always a buzz around London, and the fast-paced city life can be like a whirlwind to visitors. That is why it is so important to find the best accommodation.
With so many great attractions, you will find a trip to London can be exhilarating but tiring. Being able to retire somewhere comfortable after a long day's sightseeing, exploring, eating, and drinking is a must.
There are all kinds of hotels in London that will suit all budgets, but enjoying a night or two in one of the best luxury hotels London has to offer will ensure your trip is unforgettable.
Take a look below at 22 of London's best luxury hotel options to get inspiration for your next trip.
These Are the 22 Of the Best Luxury Hotels in London
With so many great hotels in London, it can be hard to narrow down your search. That is why we have compiled our list of the best luxury hotels in London. You can enjoy your dream getaway in accommodation that regularly welcomes celebrity guests and boasts everything you would need, including a steam room, indoor pool, dining room, or private balcony.
The Stafford is a five-star hotel located in the upscale Mayfair area in West London. The hotel is spread across three buildings at St James's Place. Explore the Main House and its great combination of Victorian style and modern amenities. The Carriage House is a private luxury location, and the Gatehouse offers three floors of chic, luxury design.
Dining at The Stafford is as impressive an experience as staying there, thanks to the award-winning restaurant, The Game Bird. You will also have access to The American Bar to enjoy a refreshment or two.
Other amenities include complimentary Wi-Fi, a fitness centre, room service, flatscreen TVs, minibars, and fireplaces.
Located on the famous Southbank, the Sea Containers boasts incredible views of the Thames. Taking its style from the transatlantic liners of the '20s, the glamourous and beautifully finished interior is incredible.
You will be able to enjoy the wonderful Sea Containers restaurant for meals and enjoy the views from the 12th Knot bar's terrace. The Lyaness cocktail bar is another option you will want to explore as it is highly rated.
The 359 suites and rooms at the Sea Containers are more modest in design compared with the hotel's other decor allowing you a relaxing and private stay. A soundproof room, private balconies with views of St Paul's Cathedral, and room service will make it difficult even to contemplate leaving your fantastic room.
The hotel also has the Aua spa for guests to enjoy relaxing and revitalising treatments, a gym to keep up your fitness regime, and a Curzon cinema for all the latest Hollywood blockbusters.
Nobu Hotel is located in the lovely Marylebone area on Portman Square. Rooms are designed to be comfortable and stylish, drawing inspiration from traditional English gardens with the materials used.
The pet-friendly hotel is ideal for those that don't want to leave their furry friends at home. Unlike other hotels, there are no size restrictions, and they are allowed in The Lounge and Terrace.
Treat yourself during your stay at Nobu with one of their great spa treatments of making the most of their well-equipped gym. You will also have the opportunity to experience the unique Nobu pilates studio and classes.
The menu at the Nobu restaurant was designed by Chef Nobu Matsuhisa and offers traditional and contemporary Japanese cuisine. You will also be able to enjoy the more relaxed atmosphere in the Lounge or have a meal outside on the Terrace.
If you want to eat in your room or on the go, the Nobu Takeaway provides an exceptional standard of Japanese food for you to enjoy.
Just a short walk from Marble Arch underground, the whole city is easily accessible from this wonderful hotel that offers five-star service during your stay.
The Shard is one of London's most instantly recognisable buildings, and you will need a head for heights if you plan to stay at the Shangri-La.
As London's highest hotel, you will enjoy unbeatable 360-degree views of the city. This is a truly unique experience, with many people taking trips up this iconic building for the view alone.
The elegantly designed rooms offer floor to ceiling windows that make the most of the stunning vistas, but you won't need to worry about relaxing. The blackout curtains and allergy-free rooms make it the ideal place to stay.
Visitors will benefit from valet parking, complimentary Wi-Fi, a gym, a fitness centre, and an indoor pool. If you are visiting with kids, the entertainment staff will keep them happy, as well as the kids' TV networks and babysitting options should you want to enjoy the swimming pool or gym.
Dining at Ting and Dining in the Sky offers a great choice of Asian cuisine or the best of British.
The Mandarin Oriental, Hyde Park, is a stunning choice that offers its guests an exquisite location in beautiful surroundings.
Guests will be able to choose from a great range of rooms, including the Superior room. These large rooms have a spacious 34 square meters and overlook the courtyard. The rooms will come with either walk-in showers or baths with built-in showers.
Deluxe rooms offer views over Knightsbridge, and the Mandarin Room has either Knightsbridge or Courtyard views. The exquisite Hyde Park Room has custom made art, onyx chandeliers and views over Hyde Park.
The hotel boasts fitness facilities and spa treatments so that you will feel your best during your stay. The drink and dining options are incredible too. Dinner by Heston Blumenthal, The Rosebery, The Aubrey, and Mandarin Bar are all great options. If you want to sample Michelin star cuisine, you will find it right here.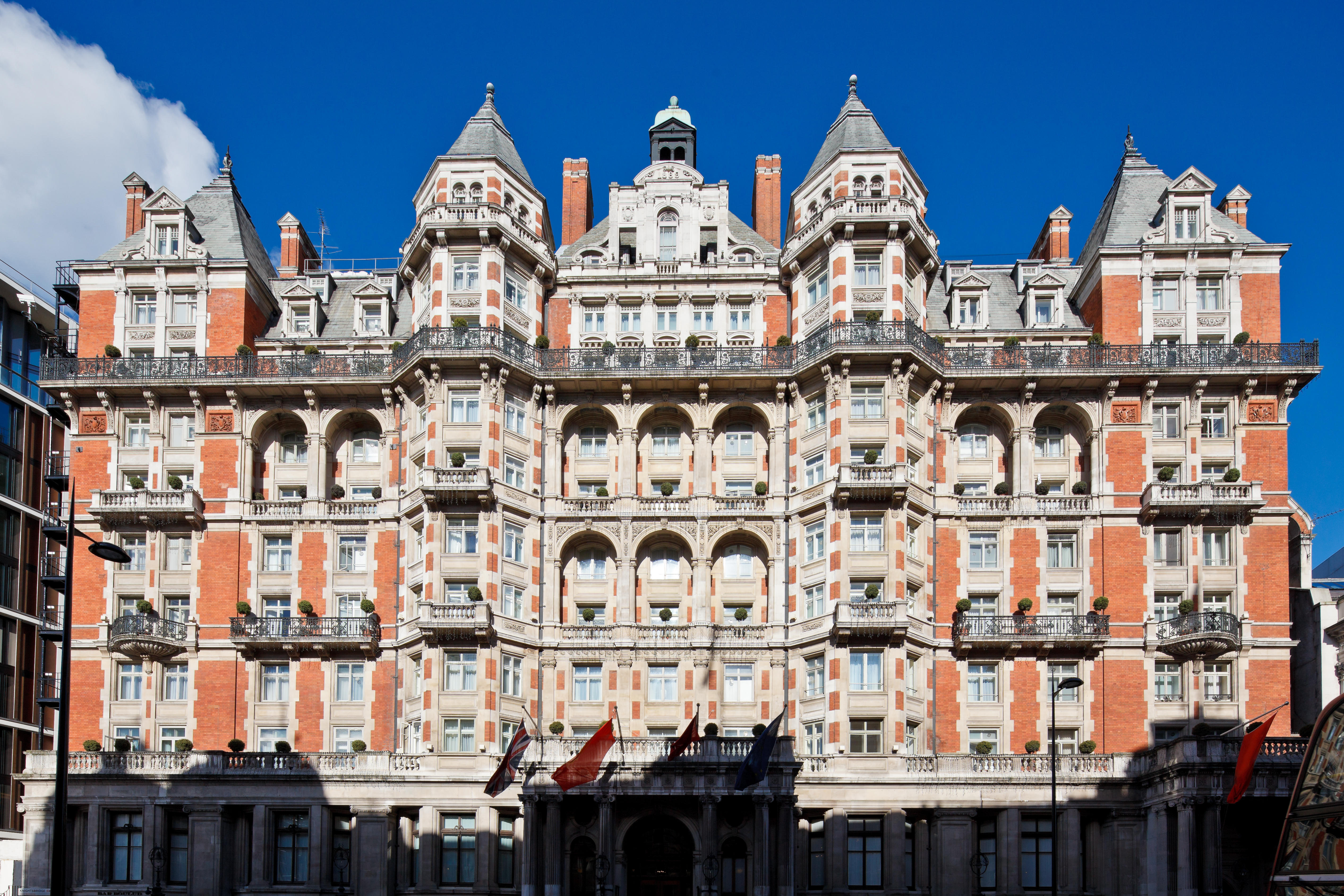 You will find The Savoy on the banks of the Thames and a short distance from Covent Garden, Mayfair, and Knightsbridge. The hotel has been graced by the likes of Judy Garland and Frank Sinatra and has incredible attention to detail.
If you are looking for great food, Gordon Ramsay's Savoy Grill will be the ideal choice or retire to The Beaufort Bar for refreshments.
The rich history even saw Gucci founder, Guccio Gucci, working at The Savoy in his younger years. The stunning rooms and incredible decor are testament to the high quality a stay at The Savoy provides.
This historic hotel dates back to 1865 and has 380 elegantly designed rooms.
The optional Langham Club offers privileges to members who can enjoy continental and hot breakfasts in the third-floor location. Other benefits include champagne, cocktails, canapes, complimentary use of the club boardroom, complimentary pressing of up to three garments per day, and a 25% discount between 6.30 pm and 11 pm at Palm Court.
Palm Court offers all-day dining and afternoon tea, and you will be able to explore other great dining options at Sauce by Langham, The Wigmore, Roux at Landau, and Artesian.
The health club and wellness centre have a 24-hour, state-of-the-art fitness studio, swimming pool, and spa to enjoy some pampering in the treatment rooms.
Dating back to 1873, St. Pancreas Renaissance Hotel in the heart of London offers its guests five-star service in an iconic location. The grand decor throughout the hotel is jaw-dropping, and the rooms are spacious and tastefully decorated.
St. Pancreas Spa offers a level of luxury you will find hard to beat. The beautiful indoor swimming pool is lavishly decorated, and the sauna and steam room provide a great way to revitalise your body. Relax with aromatherapy treatments or treat yourself to some spa products you can enjoy even after your stay has ended.
Dining options are excellent thanks to the Booking Office 1869, The Hansom, MI + ME, and the Roof Garden. Just a stone's throw from King's Cross Station and near to Camden Town, Covent Garden, and other London essentials, it is a great option.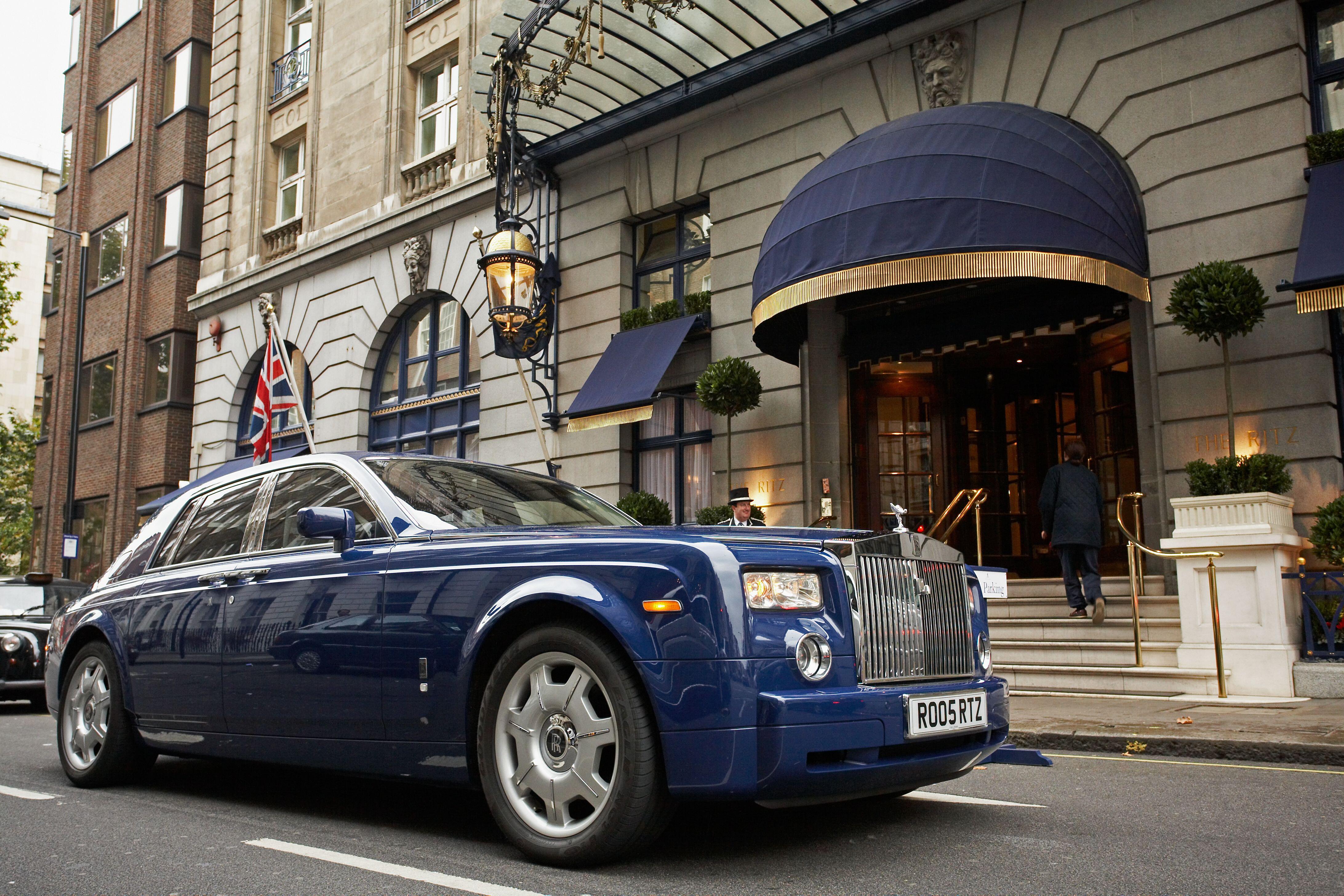 After celebrating 115 years of incredible history in 2021, The Ritz continues to be a favourite hotel of the rich and famous. The hotel's restaurant boasts a Michelin Star and offers an exquisite afternoon tea service with a choice of 18 loose leaf teas.
The hotel and its restaurant have played host to royalty, and amenities include a cigar room, massage treatments in their spa, hair and beauty treatments at Hiro Miyoshi, and the opportunity to hire the chauffeur-driven Rolls Royce Phantom.
The five-star luxury hotel is centrally located, situated next to Green Park, making it the ideal choice for anyone that wants to see the city before returning to their luxurious accommodation. 
The Lanesborough is an Oetker hotel known for its luxurious rooms, suites and desirable location. The historic mansion has been transformed into one of London's best hotels and can be found next to Hyde Park and Knightsbridge.
Explore their super collection of bars and restaurants, including Celeste, The Library Bar, The Withdrawing Room and the Garden Room for exceptional cuisine and a fantastic atmosphere.
The hotel has won countless awards for its various amenities, and the state of the art gym and spa typify the quality the hotel exudes. Enjoy massage and body treatments, salts and scrubs, manicures, pedicures, and Tata Harper treatments to relax and rejuvenate you on your stay.
Located on London's famous Regent Street, the Hotel Cafe Royal has welcomed celebrities like David Bowie, Muhammad Ali, and Winston Churchill over its 150 years.
Enjoy award-winning well-being at the spa, where you will be able to enjoy treatments and fitness classes. You can also make the most of a great range of options for dining or refreshments, including the great Cakes & Bubbles option that will see you relax on the heated terrace enjoying champagne and cake.
The stylish rooms offer an excellent level of luxury and relaxation, and you will be able to choose from guest rooms, suites, or signature suites, including the 292 square meters Dome Penthouse.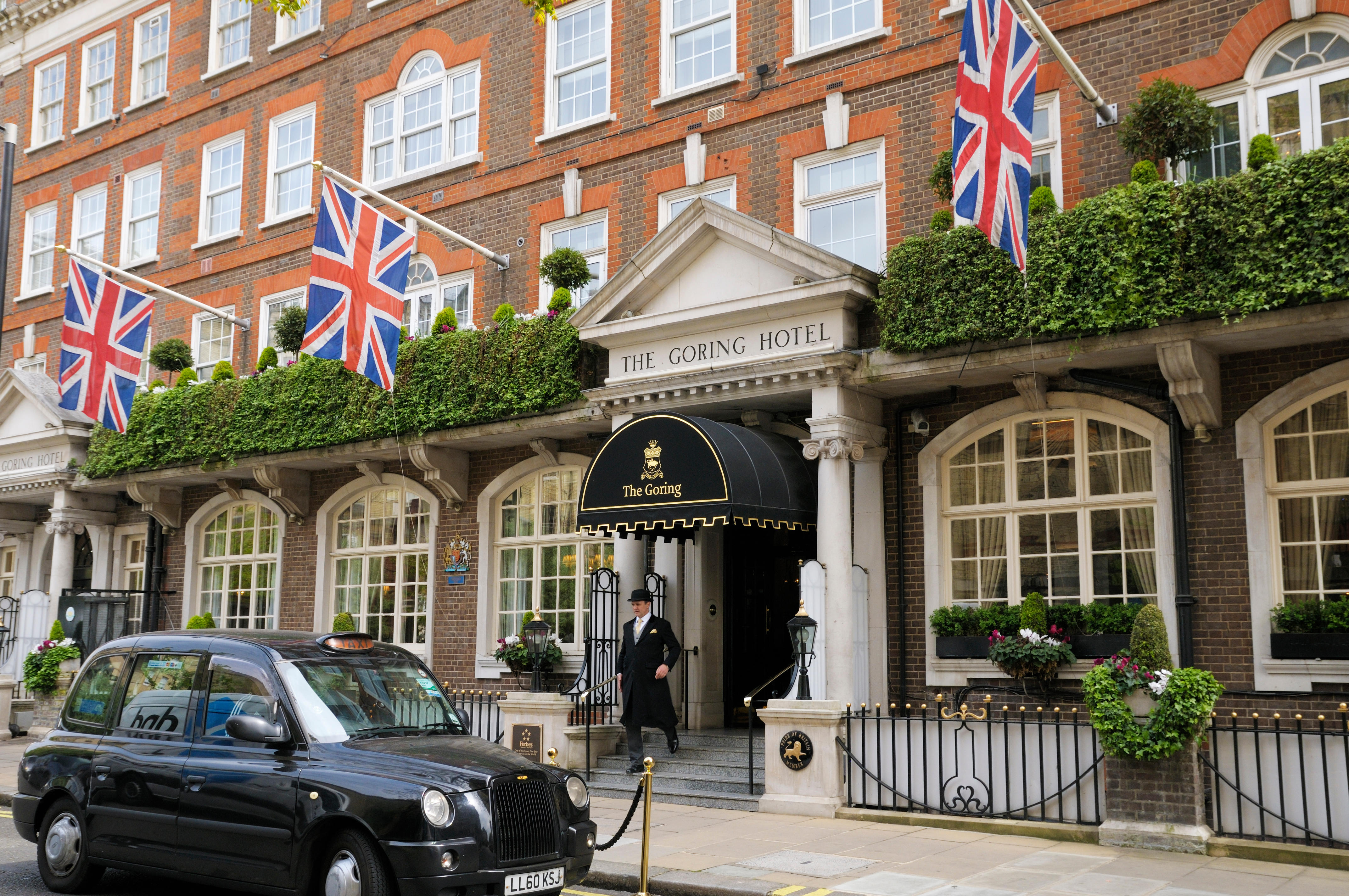 When you think of family-run hotels, it might conjure up images of small B&Bs. The Goring could blow these preconceptions out of the water.
Located in the affluent Belgravia area of central London, The Goring is just a ten-minute walk from Buckingham Palace and has a beautiful garden that some rooms look over.
Fine dining at The Goring is possible thanks to the Michelin-starred, three AA Rosettes-winning restaurant, The Dining Room. You will be able to enjoy traditional British food cooked to the highest standard in this first-class dining room.
This hotel has won even more awards away from its dining, thanks to its beautiful, traditionally decorated rooms and impeccable service.
The Kensington Hotel is located in close proximity to some of London's top attractions and shopping destinations, including The Natural History Museum, Harrods, and Harvey Nichols. You will also enjoy easy access to the South Kensington underground station.
Guests will enjoy a great selection of amenities, including complimentary Wi-Fi, air conditioning, allergy-free rooms, high-quality bed linen, and flatscreen TVs.
Enjoy dining and relaxing at the Town House bar and restaurant in this beautifully decorated, chic luxury hotel.
London's eclectic Soho area has been drawing visitors for decades thanks to its friendly, vibrant atmosphere. Here you will find Ham Yard Hotel, beautifully set around a central garden.
Each room, apartment, and suite is uniquely designed and decorated, giving guests an incredible experience. You will be able to relax in this beautiful hotel after experiencing London, but there is also lots to do here too.
The drawing room and library offer guests a relaxing, laid-back atmosphere to wind down in. Alternatively, you will be able to make the most of their great spa treatments or keep fit in their gym. You will also find a theatre and '50s style bowling alley to keep you busy.
Anyone that has played Monopoly will understand have a high opinion of Mayfair, and for a good reason. The wonderful London area is home to some of the best restaurants, retailers, and hotels, and one of those is The Dorchester.
Whether it is making use of the concierge service to help plan a trip or the exquisite quality of the rooms and furnishings, the standards at this world-famous hotel never drop.
The biggest issue with dining at The Dorchester is deciding where to eat with The Grill at The Dorchester, Alain Ducasse at The Dorchester, Orchid Room, China Tang at The Dorchester, The Spatisserie, Parcafe, and Chef's Table all great options.
As well as luxurious rooms and fine dining, the Dorchester Spa offers body treatments, facials, massage therapy, and much more so you can be pampered on your trip.
Overlooking Hyde Park, 45 Park Lane is a modern, luxurious hotel that gives guests a unique and personalised stay. Each room has a host that will help you with everything you need to ensure your stay is as comfortable and enjoyable as possible.
Every room in the hotel is decorated to a high standard and offers views of Hyde Park. The beautiful scenery is in contrast with how close it is to the bustling shopping thoroughfares that make London one of the best cities in the world to visit for some retail therapy.
Cut at 45 Park Lane and Bar 45 will provide you with fine dining and refreshments, while the stunning indoor swimming pool and spa facilities will let you relax in style.
The Connaught is another fine choice located in Mayfair that has everything you could want for a luxury stay in London. The elegant hotel is beautifully furnished and provides a beautiful retreat for guests to enjoy.
Dining at The Connaught Grill will let you enjoy a great choice of British produce, and Hélène Darroze at The Connaught won its third Michelin star making it a worthy alternative. Enjoy a cocktail at The Connaught, which has the impressive accolade of being named the best bar in the world.
The Aman Spa allows guests to take a dip in the swimming pool or make the most of treatments tailored to their needs.
Bedrooms are wonderful and offer a level of comfort that is great after a hard day exploring the streets of London. You will be able to enjoy complimentary Wi-Fi, flatscreen TVs, bathrobes, and a private balcony, among other amenities.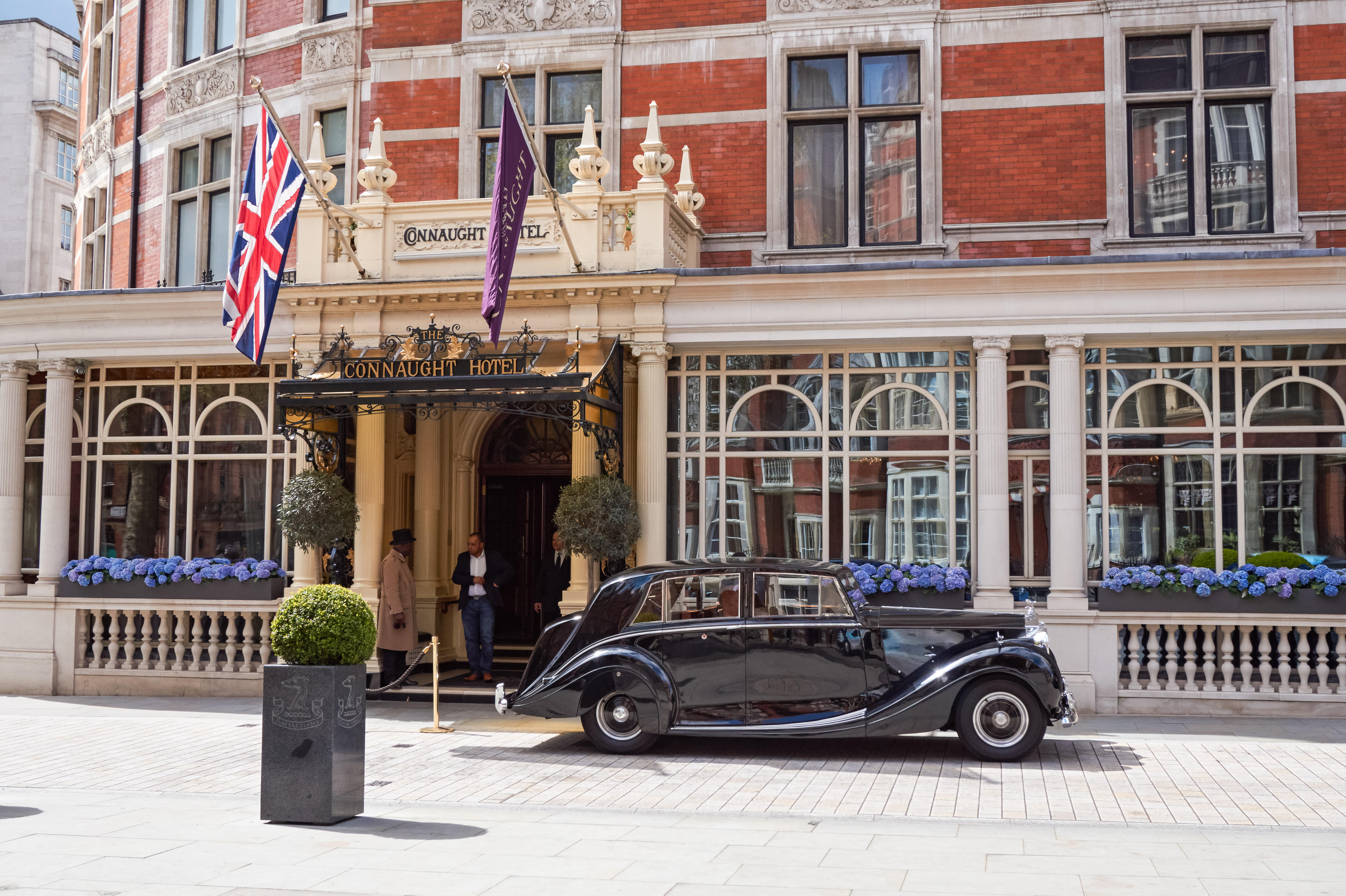 The Bulgari Hotel in London's Knightsbridge provides impeccably decorated luxury accommodation for its guests. The stunning rooms and suites are finished to the highest quality.
Thanks to the Sette Restaurant and Nolita Social Bar and Lounge, dining options are equally impressive. You will also be able to enjoy the Edward Sahakian Cigar Shop and Sampling Lounge.
Explore the incredible treatments and Neville Hair and Beauty options so you can look and feel as good as possible during your stay. You can also keep fit and active with the workshop gymnasium and pool.
Claridge's is the Art Deco, Mayfair hotel that has been providing five-star accommodation and service to stars like Audrey Hepburn, Kate Moss, and Cary Grant since 1856.
The iconic marble chequerboard floor and chandeliers welcome guests in before they are swept up the curving staircases to their rooms and suites.
Yet another Michelin-starred restaurant is located in a Mayfair hotel, thanks to the Davies and Brook Restaurant. Le Fumoir Bar is a stunning space to relax in, as is the rooftop spa where you will be able to pamper yourself with a collection of great treatments.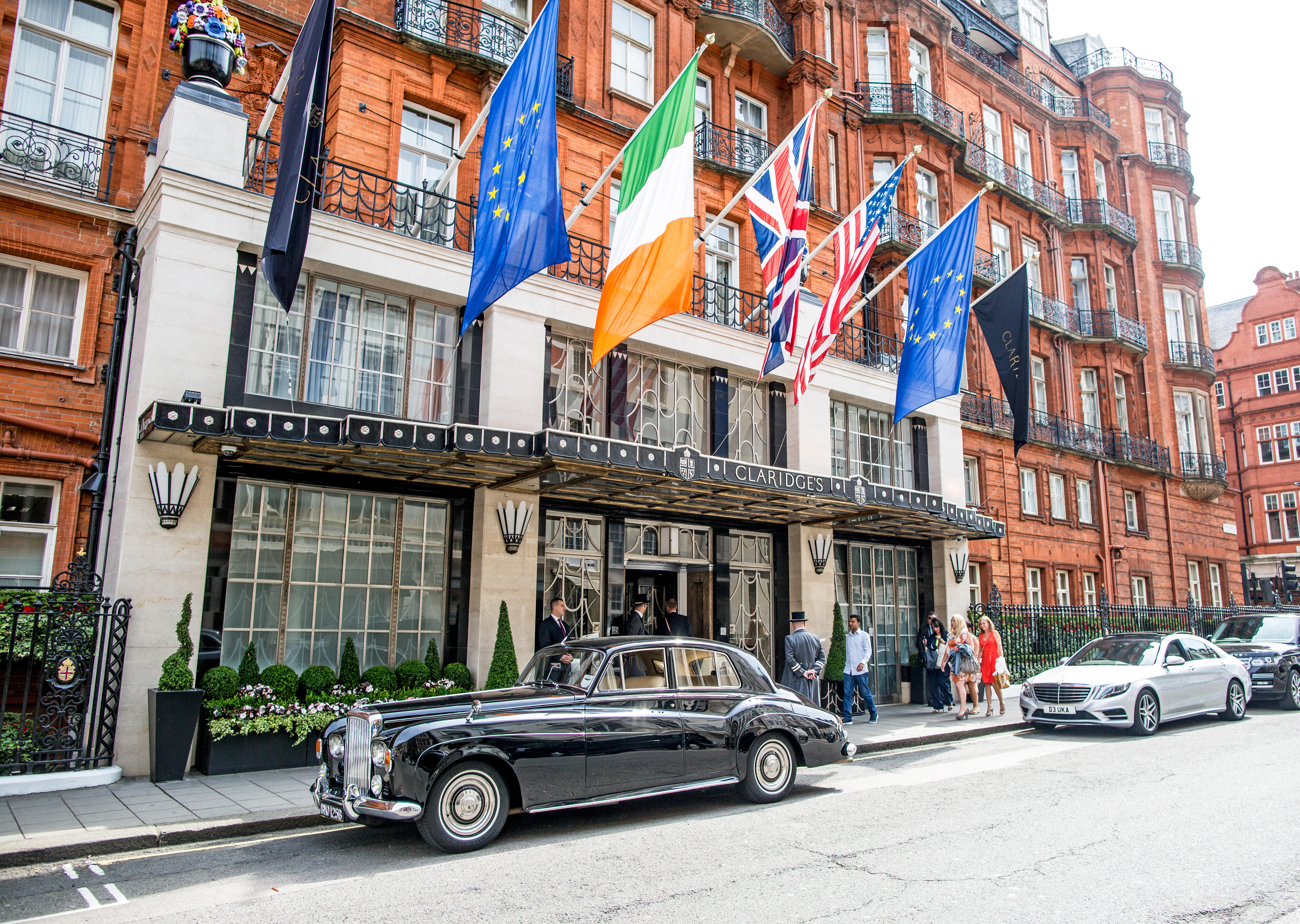 The Four Seasons Hotel, London, is located on the prestigious Park Lane, giving guests easy access to the beautiful Hyde Park and the nearby shopping streets.
Explore the great selection of rooms and suites to find the perfect one for you, including the Terrace Suite that opens out onto a spacious terrace, the Presidential Suite with floor to ceiling windows, and the gorgeous open plan Hyde Park Suite.
There is an excellent choice of restaurants and lounges to suit your needs, including the modern Amaranto Restaurant, On the Terrace for an alfresco experience, or make the most of the 24-hour in-room dining options.
The spa offers guests a way to pamper themselves with hair treatments, massage, body treatments, facial treatments, or look after their hands and feet with manicures and pedicures.
Enjoy five-star, city centre luxury in the exciting Shoreditch area of London when you stay at the Andaz hotel. The modern design makes it ideal for city breaks, and the excellent location means you will be able to sample everything that London has to offer.
The fitness centre and health club offer guests a way to keep active with state-of-the-art equipment, and their in-room spa services will let you relax in the comfort of your own room.
Dining options include delicious Japanese cuisine at Miyako, good old fashioned British food at Abercorn's Pub and Kitchen, or the Eastway Brasserie.
As well as being family-friendly, the Andaz hotel also allows pets at the cost of £50. For that, you will be provided with food bowls, beds, and toys for cats and dogs.
The Corinthia London hotel is a luxuriously decorated building close to the Palace of Westminster. The incredible location gives incredible views over the Thames and the London Eye.
Explore the great rooms, suites, and penthouses available, including the Royal Penthouse that offers guests two incredible bedrooms, a personal butler, a large terrace, and access to a sizeable private wine collection.
ESPA Life at Corinthia is a full cover spa experience from health and fitness options to a hair salon and luxury spa treatments.
Thanks to Michelin-starred Tom Kerridge's menu at Kerridge's, the dining experience at the Corinthia is one to remember. Alternatively, there is The Northall by Andre Garrett or The Crystal Moon Lounge, where you can enjoy afternoon tea, cake, or coffee.
FAQs
What pillows does Mandarin Oriental use?
Thanks to their pillow menu, the Mandarin Oriental ensures you enjoy a comfortable stay and a great night's sleep. Pillows available include;
Organic Buckwheat

- These comfortable pillows mould to suit your sleeping position and have an organic sanitised hull filling.

Foam

- The Dacron Hollofil filling of this foam pillow gives guests a supportive, comfortable sleep, and it is anti-allergenic.

Natural Rubber

- More comfortable than it sounds, this is filled with goose down and shredded rubber pieces that support you and will shape to your contours.

Soft Down

- This medium-firm option is a favourite among guests thanks to its 90% down, 10% white goose feather combination.

Bolster

- The bolster pillow is a large comforter pillow made of 10% down, 90% smaller white feathers.

Comfort

- The comfort pillow is made using shredded foam for a soft touch that moulds to the shape of your head and neck.

Contour Health

- Contour health pillows are made entirely of polyurethane foam and are designed to improve posture by aligning the spine.

Butterfly

- The butterfly pillow is named after its shape that supports the head and is made from 30% polyester 70% cotton.
Is parking available at Andaz London Liverpool Street?
Andaz London on Liverpool Street does not have any parking facilities, and the closest car park is the London Wall Car Park (EC2V 5DY). This car park has 218 spaces and six disabled bays and is suitable for vehicles below 2.08m in height. Parking costs at the time of writing are £4.20 per hour, but this is subject to change.
Which luxury hotels in London are pet friendly?
There are several pet-friendly hotels in London, including The Savoy and the Shangri-La The Shard. There are some stipulations, and you should always check when booking if pets are allowed and if there are additional charges.
The Savoy charges an additional £25 per day for pets, and dogs are welcome as long as they are below 20lbs.
What time is check-in and check-out at Shangri-La The Shard, London?
Check-in times are available at the Shangri-La The Shard, London from 4 pm until midnight, with check-out time at 11 am.
Final Thoughts
When it comes to having a great choice of luxury hotels, you will be hard pushed to find a better location than London. With the incredible amount of famous attractions and the luxurious accommodation you can choose from, it is clear why so many visit the nation's capital every year. 
They say that travel broadens your mind, and the opportunity to enjoy so many incredible locations and hotels will appeal to many. Take a moment to browse more great lifestyle articles for inspiration on places to visit or our list of the best luxury hotels in the UK for you to check out no matter where you visit.
Discover more luxury hotels throughout the UK
No matter where in the UK you are looking to go on holiday, we can give you plenty of ideas for luxury hotels you could stay in! Check out our other guides below: