Everyone has their own favourite celebrity crushes, from well-known sex symbols to those that we might perhaps rather keep private.
Last year we looked into the UK's Most Fancied Actors and TV Personalities with Holly Willoughby and Henry Cavill taking the top spots overall, positions they've held onto this year. We've also added in some more famous faces with new entries like Will Mellor knocking Emmerdale's Danny Miller off the top spot for soap stars and Kim Kardashian replacing her sister Kylie this year. 
But which are the faces on our TVs that are getting Brits hot under the collar the most in 2023? 
To find out, here at Slingo we've analysed Google search data from the last twelve months to see which are the actors and TV personalities that we all spent the most time Googling in 2023, alongside terms such as "hot", "sexy" and "calendar".
The UK's Biggest Female TV Crushes

1. Holly Willoughby - 307,890 total searches
Taking first place when it comes to the nation's favourite female faces on TV is This Morning's Holly Willoughby.
She's best known for presenting This Morning and Dancing on Ice on ITV but has also appeared on shows such as Celebrity Juice and Surprise Surprise and is one of the country's most loved presenters.
2. Kym Marsh - 205,700 total searches
Taking second place when it comes to the nation's favourite female faces on TV is Coronation Street's, Kym Marsh.
First rising to fame as a member of the pop band Hear'Say in the early 2000s she turned to acting in 2006, landing the role of Michelle Connor in Coronation Street which she portrayed until 2019. 
3. Alison Hammond - 186,100 total searches
Another popular face from ITV's morning programming comes in second place, with This Morning star Alison Hammond receiving over 186,100 annual searches.
After featuring as a contestant on Celebrity Bake Off it was recently announced that she would be joining The Great British Bake Off as a host for this year's series.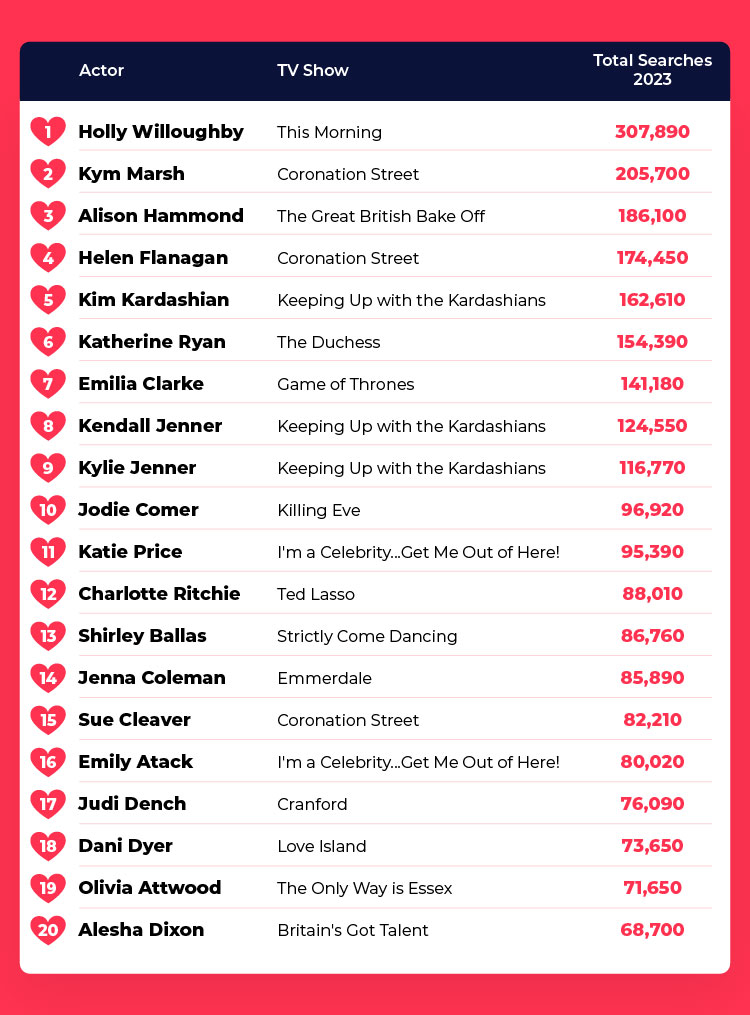 The UK's Biggest Male TV Crushes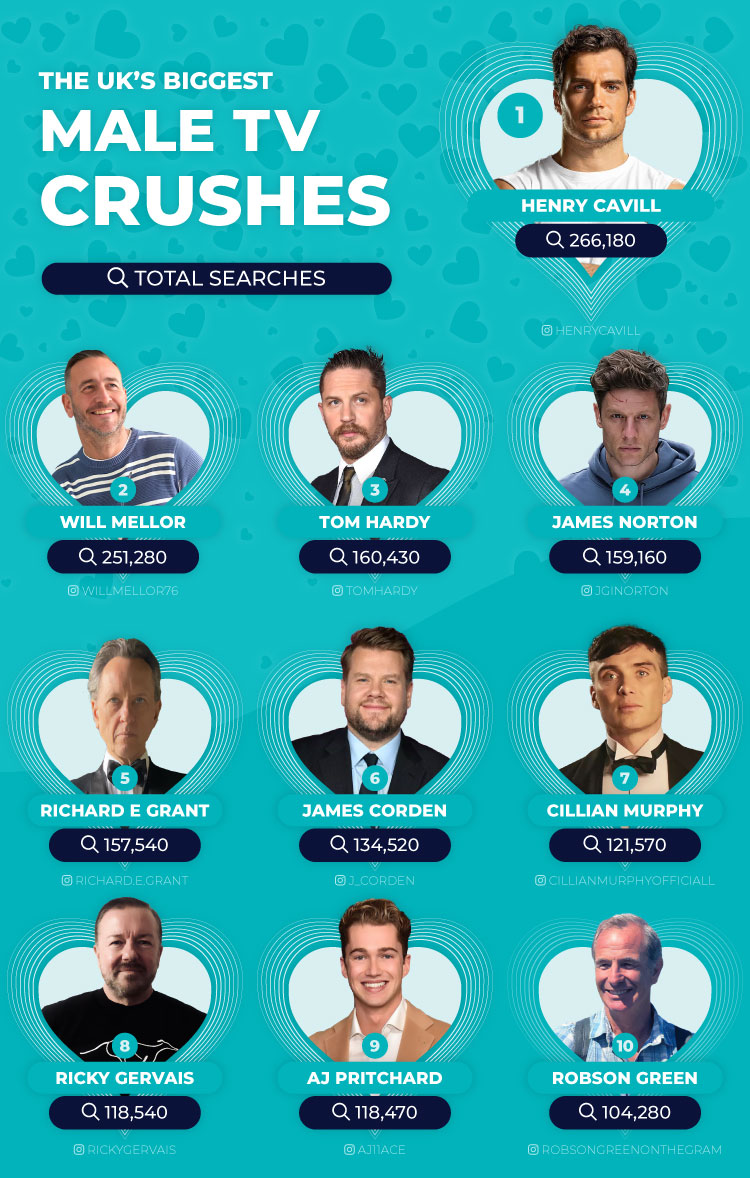 1. Henry Cavill - 266,180 total searches
Taking the top spot for the second year running when it comes to our biggest male TV crushes, Henry Cavill comes out on top with over 266,000 total searches. 
Cavill has frequently been named amongst the world's best-dressed and sexiest men and since 2019 has been appearing as Geralt of Rivia on Netflix's fantasy series The Witcher.
2. Will Mellor - 251,280 total searches
Up next is Will Mellor with the actor best known for his role as Harvey Gaskell in Coronation Street appearing in more than 250,000 searches this year.  
Mellor is rarely off the small screen, with stints in Hollyoaks, Casualty and Eastenders throughout his career. He's also competed on the most recent series of Strictly Come Dancing, being knocked out of the competition in the 10th week.
3. Tom Hardy - 160,430 total searches
Dropping down to third place since last year is Tom Hardy, who alongside his film work has appeared in TV shows such as Peaky Blinders and Taboo as well as other British series earlier in his career such as Wuthering Heights, Band of Brothers and Oliver Twist.
He has been named one of GQ's best-dressed men and is among the UK's most celebrated actors of current times.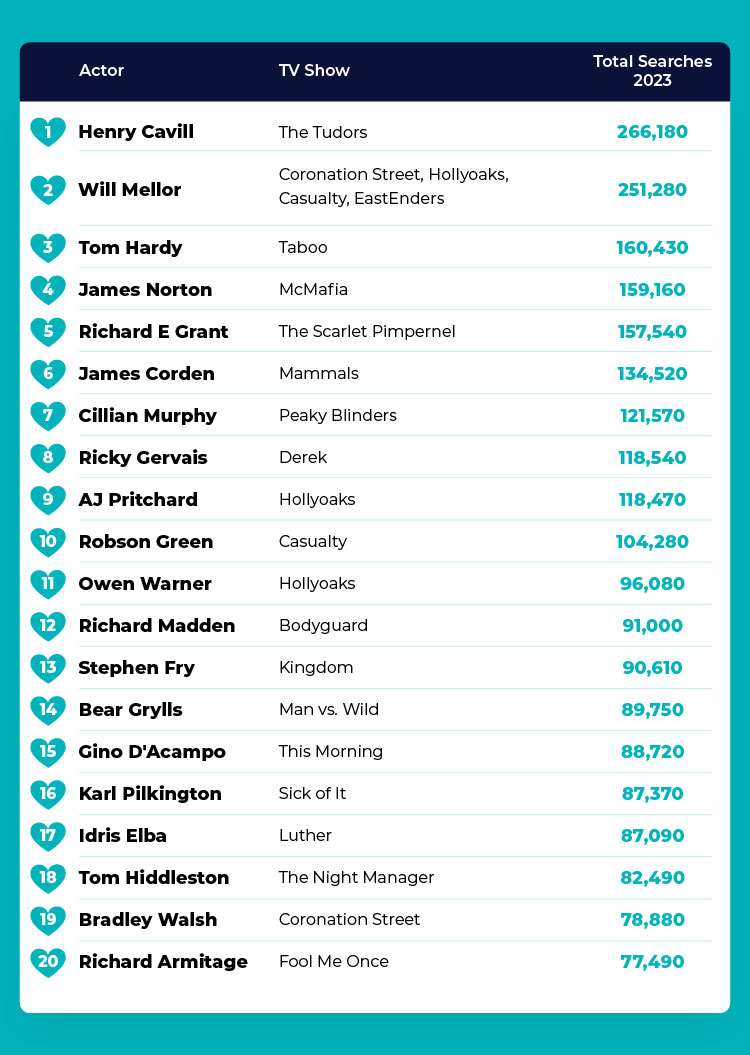 The UK's Biggest Soap Crushes
Female

Kym Marsh (Coronation Street) - 205,700 total searches
Many of the UK's actors have spent time on one of the country's main soap operas, and the one that we've all been crushing on the most is Kym Marsh, with just under 206,000 searches.
While she may be better known to some for her role on ITV's
Coronation Street
, she got her start playing small roles on
Doctors and Casualty
and was nominated for awards at both the British Soap Awards and Inside Soap Awards.
Male
Will Mellor (Coronation Street, Hollyoaks, Casualty, EastEnders) - 251,280 total searches
With the bulk of searches for this actor dedicated to finding out his relationship status, the male soap star with the most searches was the star of Coronation Street, Hollyoaks, Casualty and EastEnders, Will Mellor.
Will has been nominated for three awards including most popular actor, best actor at the TV Choice Awards and best villain at the Inside Soap Awards.
The UK's Biggest Reality TV Crushes
Female

Kim Kardashian (Keeping Up with the Kardashians) - 162,610 total searches
The hottest reality TV star, at least according to Google searches, is Kim Kardashian, with just over 186,000. 
Kim is perhaps one of the most famous people in the world these days but first appeared alongside her family on Keeping Up with the Kardashians in 2007 and has since become a huge star on social media, as well as owning several successful businesses.
Male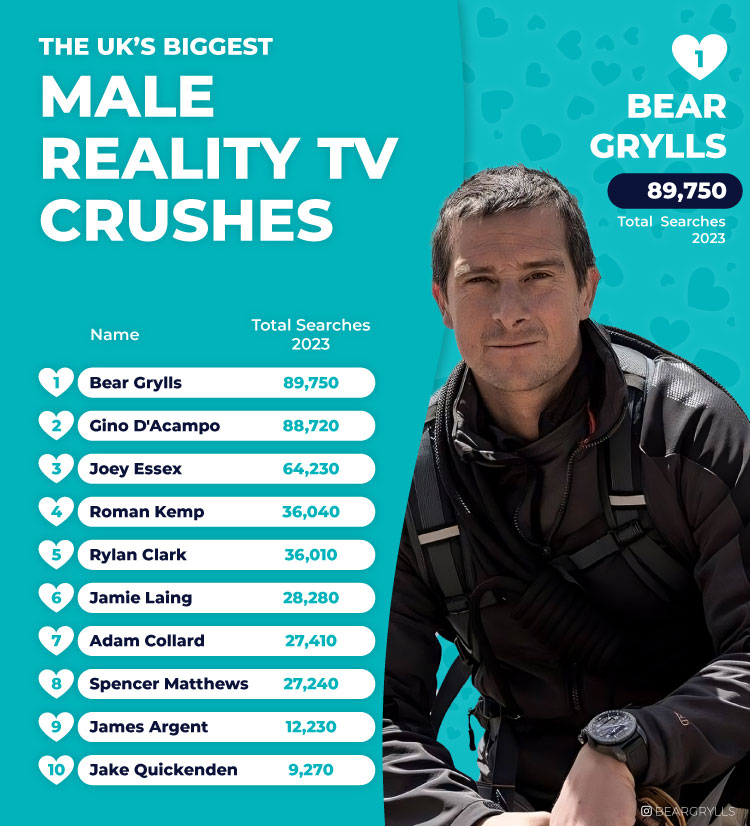 Bear Grylls (Man vs. Wild) - 89,750 total searches
And for the guys, the most searched male reality crush in the UK was Man vs. Wild's Bear Grylls. Bear first appeared on our screens way back in 2005 presenting the show Escape to the Legion 
Since appearing on the show, he's presented a string of other survival reality programmes, such as
Man vs. Wild
and
The Island With Bear Grylls.
2022 vs. 2023 Results
The UK's Biggest Female TV Crushes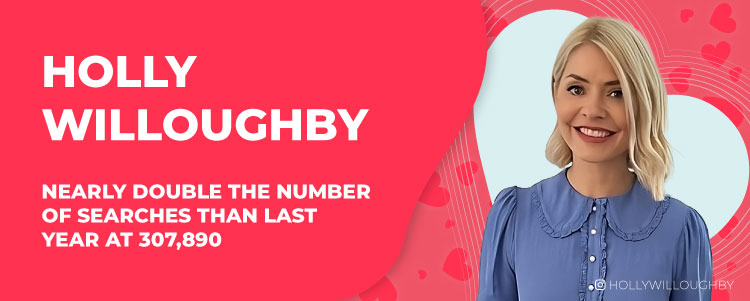 Keeping the top spot this year is ITV's This Morning host Holly Willoughby, with nearly double the number of searches than last year at 307,890. 
Kym Marsh has seen a meteoric rise this year, going all the way from 50th place in the overall female ranking last year to second in 2023, unseating Good Morning Britain presenter Susanna Reid. 
Alison Hammond is a new entry on the list, with the presenter stealing third place this year with 186,100 searches from Amanda Holden who previously held the position.
The UK's Biggest Male TV Crushes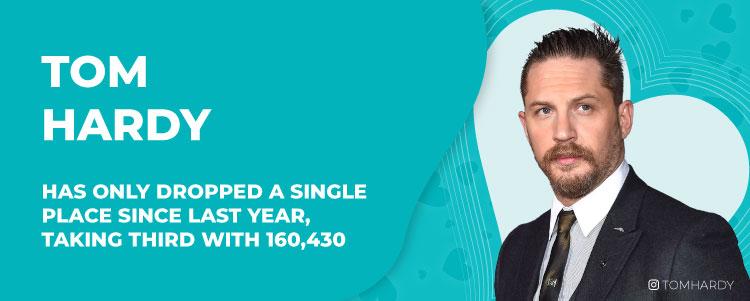 Up from third place last year with 266,180 searches, Henry Cavill steals the top spot from last year's leader with a huge increase of more than 250,000 searches since 2022. This knocks 2022's leader Sebastian Stan out of the ranking entirely. 
Tom Hardy has only dropped a single place since last year, taking third with 160,430 searches over the last 12 months. Stealing second this year is a newcomer to the top 25, soap actor Will Mellor.
The UK's Biggest Female Soap Crushes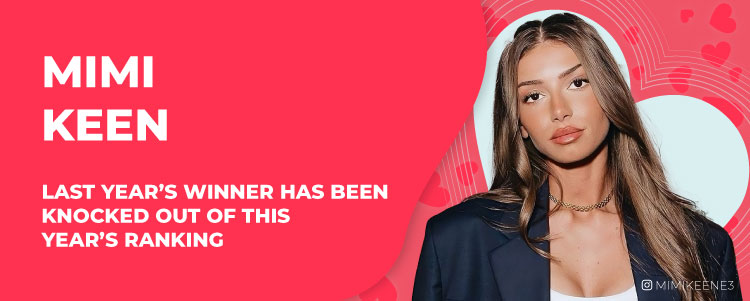 Last year's winner in this category, Mimi Keen best known for her role as Cint Williams in EastEnders has been knocked out of this year's ranking, with Kym Marsh stealing the top spot for 2023. 
Up five places from last year is Helen Flanagan. The Corrie actor takes second place with 174,450 searches in 2023. She takes the position from Jenna Coleman, who drops down a place to third this year with 85,890 searches.
The UK's Biggest Male Soap Crushes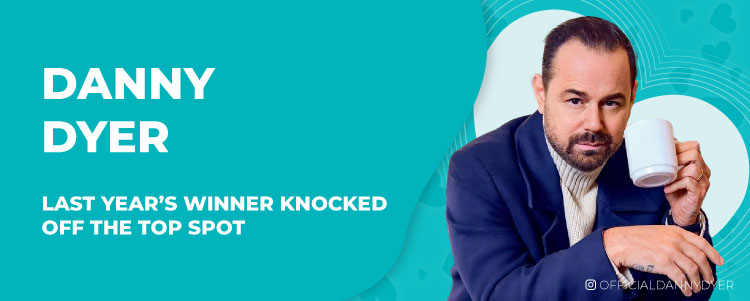 Knocking last year's winner Danny Dyer off the top spot is a newcomer to the top 25 and fellow EastEnders actor Will Mellor with more than 250,00 searches, more than five times Danny Dyer's total this year. 
Another newcomer to the top 25, AJ Pritchard steals second place from fellow Hollyoaks actor Duncan James this year, with 118,470 searches over the last 12 months. 
Casualty's Robson Green takes third place from Emmerdale star Danny Miller who only managed to rack up 8,620 searches in 2023. Green has 104,280 searches, beating Miller by a whopping 95,000 searches.
The UK's Biggest Female Reality TV Crushes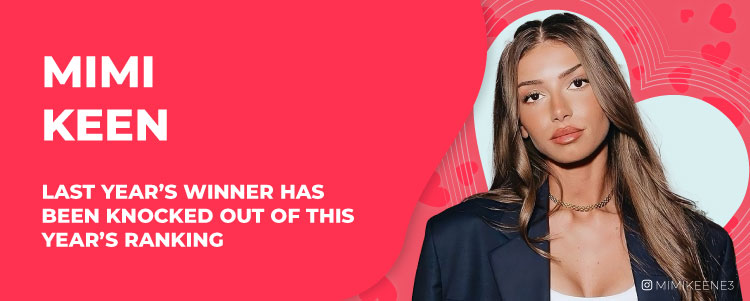 Kim Kardashian takes the top spot this year, dethroning her sister and fellow Keeping Up With The Kardashians star who takes second place with 124,550 searches.
Yet another member of the Kardashian clan features in 2023's top three with Kendall Jenner taking third place, usurping Love Island's Maura Higgins who held the position in 2022.
The UK's Biggest Male Reality TV Crushes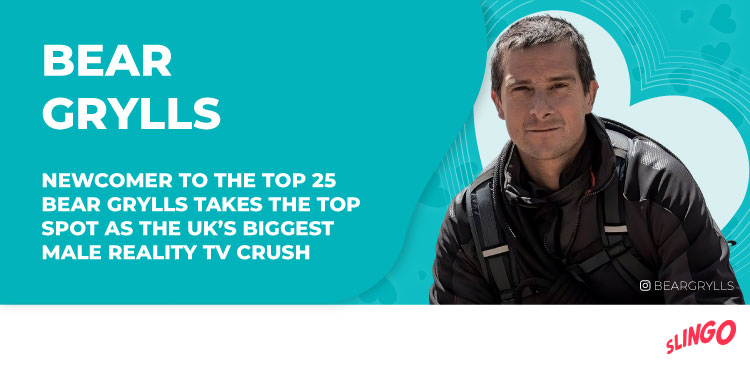 Newcomer to the top 25 Bear Grylls takes the top spot as the UK's biggest male reality TV crush in 2023 with 89,750 searches, beating last year's winner Joey Essex by a margin of more than 25,000 searches over the last 12 months. This knocks the TOWIE star all the way down to third place. 
Celebrity chef Gino D'Acampo didn't feature in last year's list, however, he stormed the 2023 ranking with 88,720 searches, giving him second place.
Methodology
For each celebrity, we used Google Ads Keyword Planner to find the number of times the following terms have been searched throughout 2023 in the United Kingdom:
[Celebrity] hot

[Celebrity] sexy - Female celebs only

[Celebrity] calendar

[Celebrity] boyfriend

[Celebrity] girlfriend

[Celebrity] husband

[Celebrity] wife

[Celebrity] partner 
The total number of searches for each of the above terms in the last year was then taken for each celebrity.
Note that we only looked at celebrities that have well-known television careers, whether as an actor, presenter, reality TV star or contestant.
---
DISCOVER SLINGO
YOUR OFFICIAL SITE FOR SLINGO GAMES
Slingo is a vibrant online casino with a fantastic selection of Slingo games, online slots, live tables and more.
Join The Fun on Slingo.Com!