On-Screen Crushes
Who are the UK's most fancied actors and TV personalities?
Everyone has their own favourite celebrity crushes, from well-known sex symbols to those that we might perhaps rather keep private.
But which are the faces on our TVs that are getting Brits hot under the collar the most? 
To find out, here at Slingo we've analysed Google search data from the last twelve months to see which are the actors and TV personalities that we all spent the most time Googling in 2021, alongside terms such as "hot", "sexy" and "calendar".
The UK's biggest female TV crushes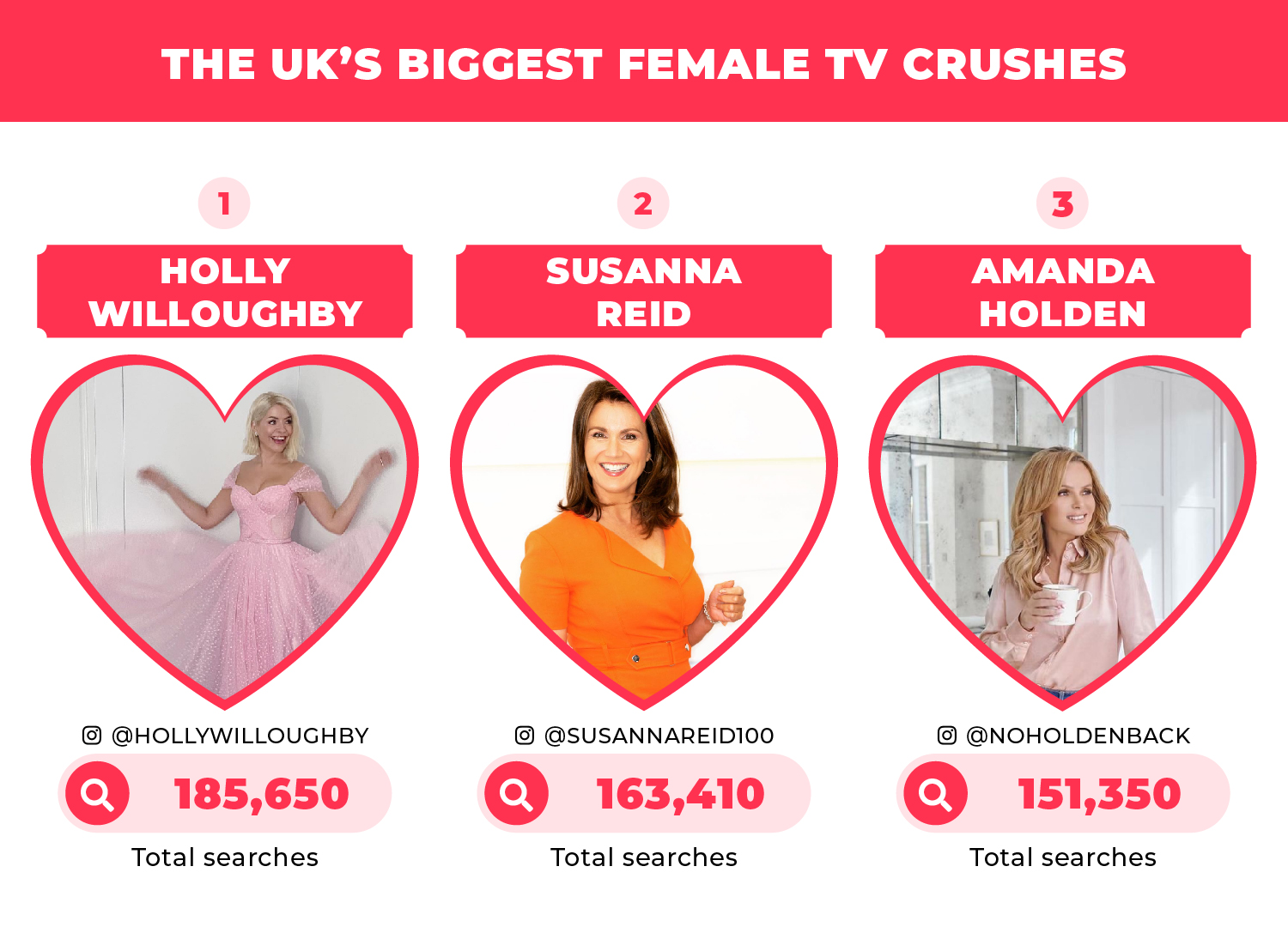 Holly Willoughby - 185,650 total searches
Taking the first place when it comes to the nation's favourite female faces on TV is This Morning's Holly Willoughby.
Alongside Phillip Schofield, she's best known for presenting This Morning and Dancing on Ice on ITV but has also appeared on shows such as Celebrity Juice and Surprise Surprise and is one of the country's most loved presenters.
Susanna Reid - 163,410 total searches
Another popular face from ITV's morning programming comes in second place, with Good Morning Britain's Susanna Reid receiving over 160,000 annual searches.
After 11 years presenting BBC Breakfast, she moved to GMB in 2014, a year after finishing as runner up on Strictly Come Dancing.
Amanda Holden - 151,350 total searches
Another presenter comes in third place, with Amanda Holden being searched for over 150,000 times in 2021.
Holden has been a common face on our screens for over three decades now, having also appeared in shows such as Wild at Heart but clearly, her popularity remains as high as ever, with over 180,000 searches in the last year.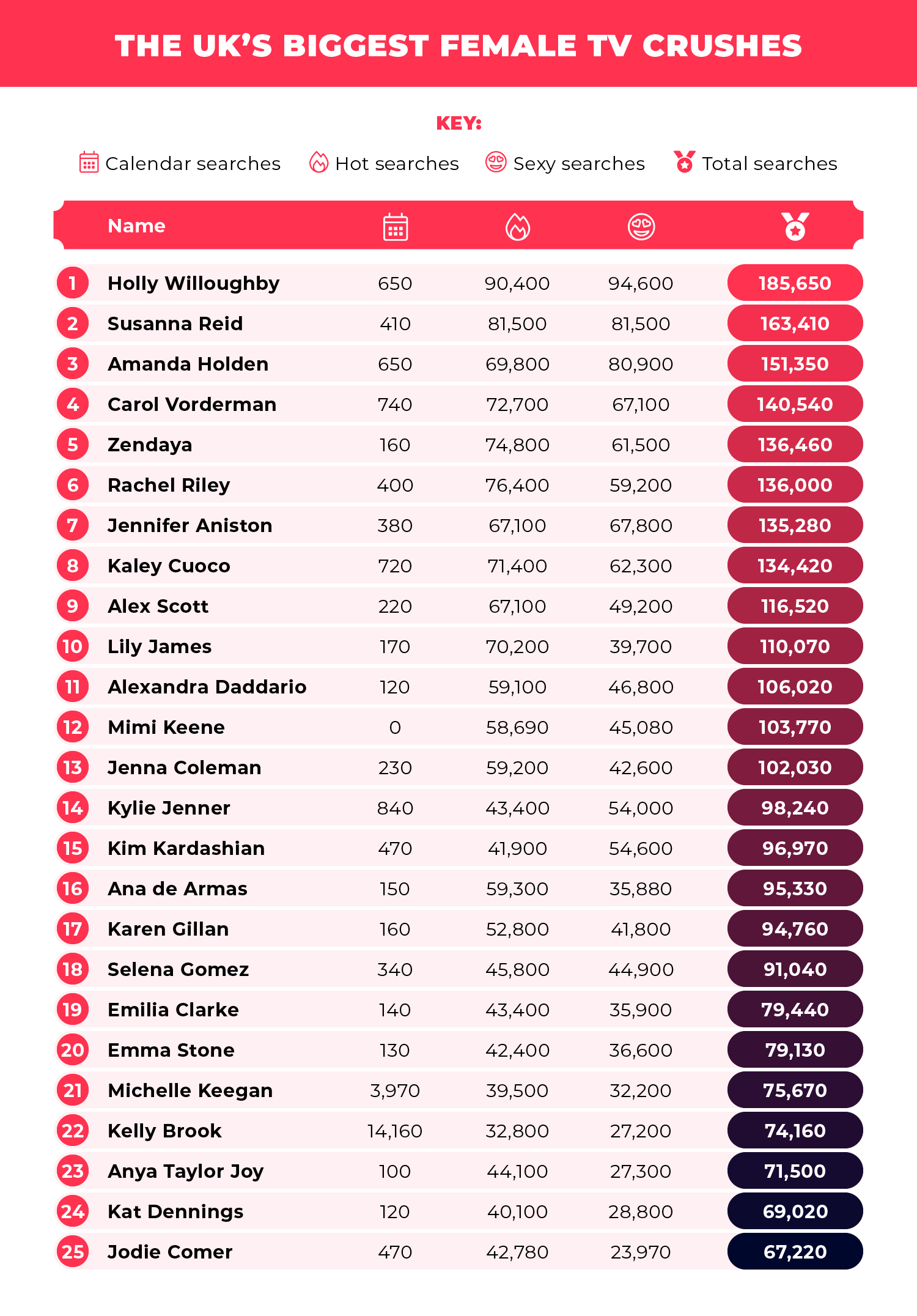 The UK's biggest male TV crushes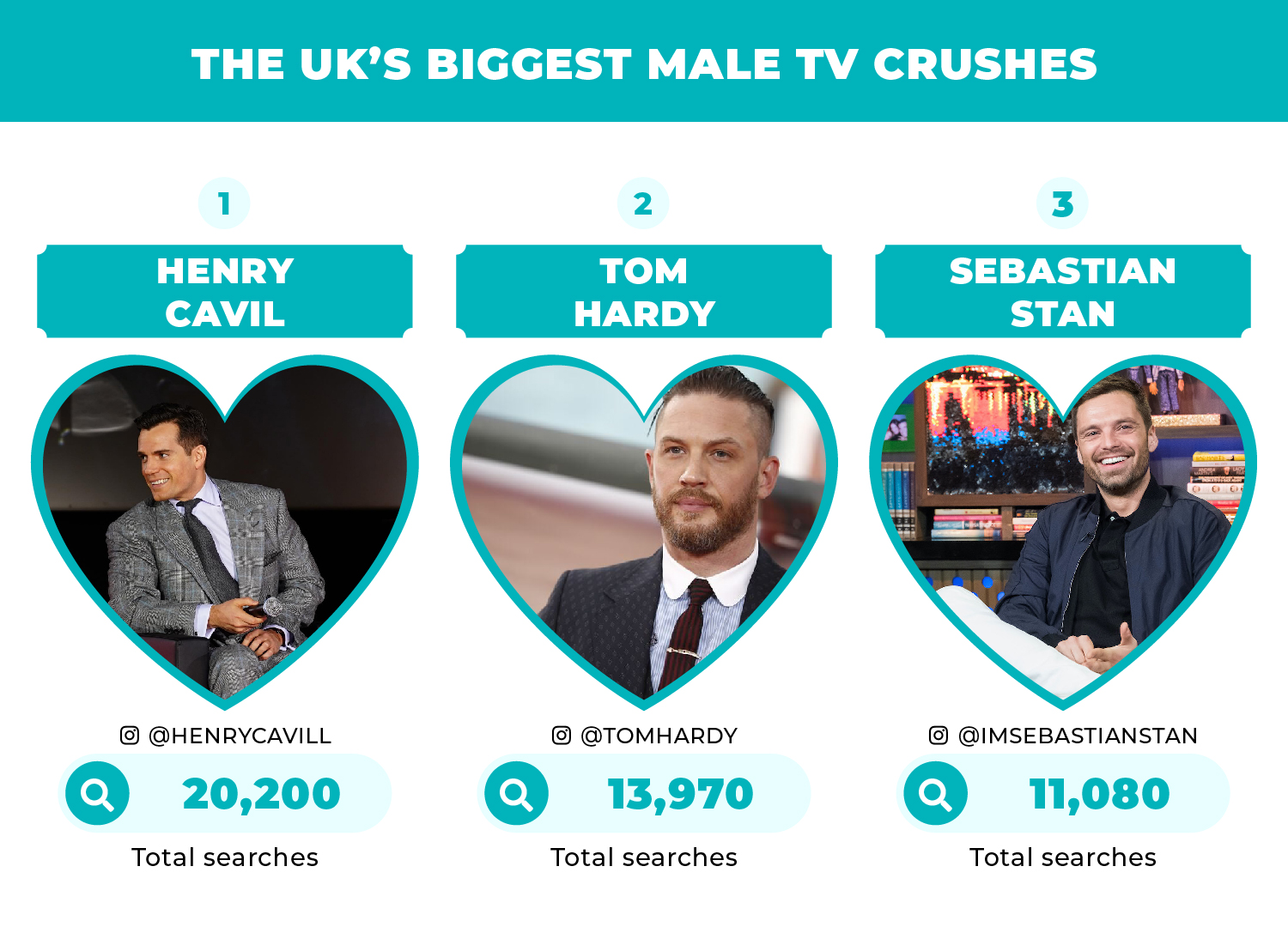 Henry Cavill - 20,200 total searches
Taking the top spot when it comes to our biggest male TV crushes, Henry Cavill comes out on top with over 20,000 total searches.
Cavill has frequently been named amongst the world's best dressed and sexiest men and since 2019 has been appearing as Geralt of Rivia on Netflix's fantasy series The Witcher.
Tom Hardy - 13,970 total searches
In second (although some way behind Mr Cavill!) is Tom Hardy, who alongside his film work has appeared in TV shows such as Peaky Blinders and Taboo as well as other British series earlier in his career such as Wuthering Heights, Band of Brothers and Oliver Twist.
He has been named amongst GQ's best-dressed men and is amongst the UK's most celebrated actors of current times.
Sebastian Stan - 11,080 total searches
Sebastian Stan first became well known for playing Bucky Barnes (also known as the Winter Soldier Solider) on the big screen but has had a number of TV roles too.
As well as reprising his Winter Solider role on the small screen he has appeared in shows such as Gossip Girl, Kings, Once Upon a Time and Political Animals, although most recently his biggest TV role has been as Tommy Lee in Pam & Tommy.
The UK's biggest soap crushes
Female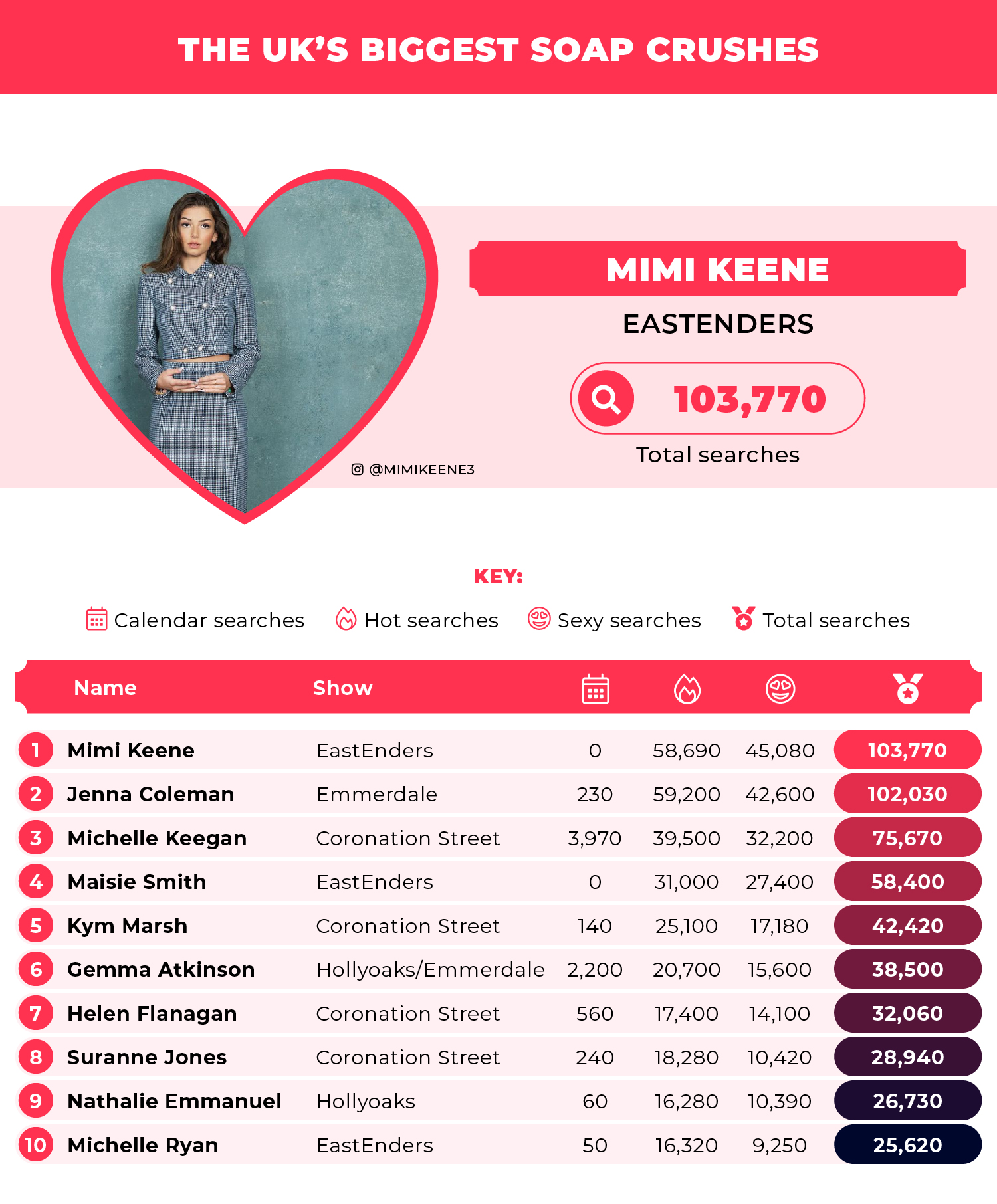 Mimi Keene (EastEnders) - 103,770 total searches
Many of the UK's actors have spent time on one of the country's main soap operas, and the one that we've all been crushing on the most is apparently Mimi Keene, with just over 100,000 searches.
While she may be better known to some for her role on Netflix's Sex Education, she got her start playing Cint Williams on EastEnders for two years and was nominated for awards at both the British Soap Awards and Inside Soap Awards.
Male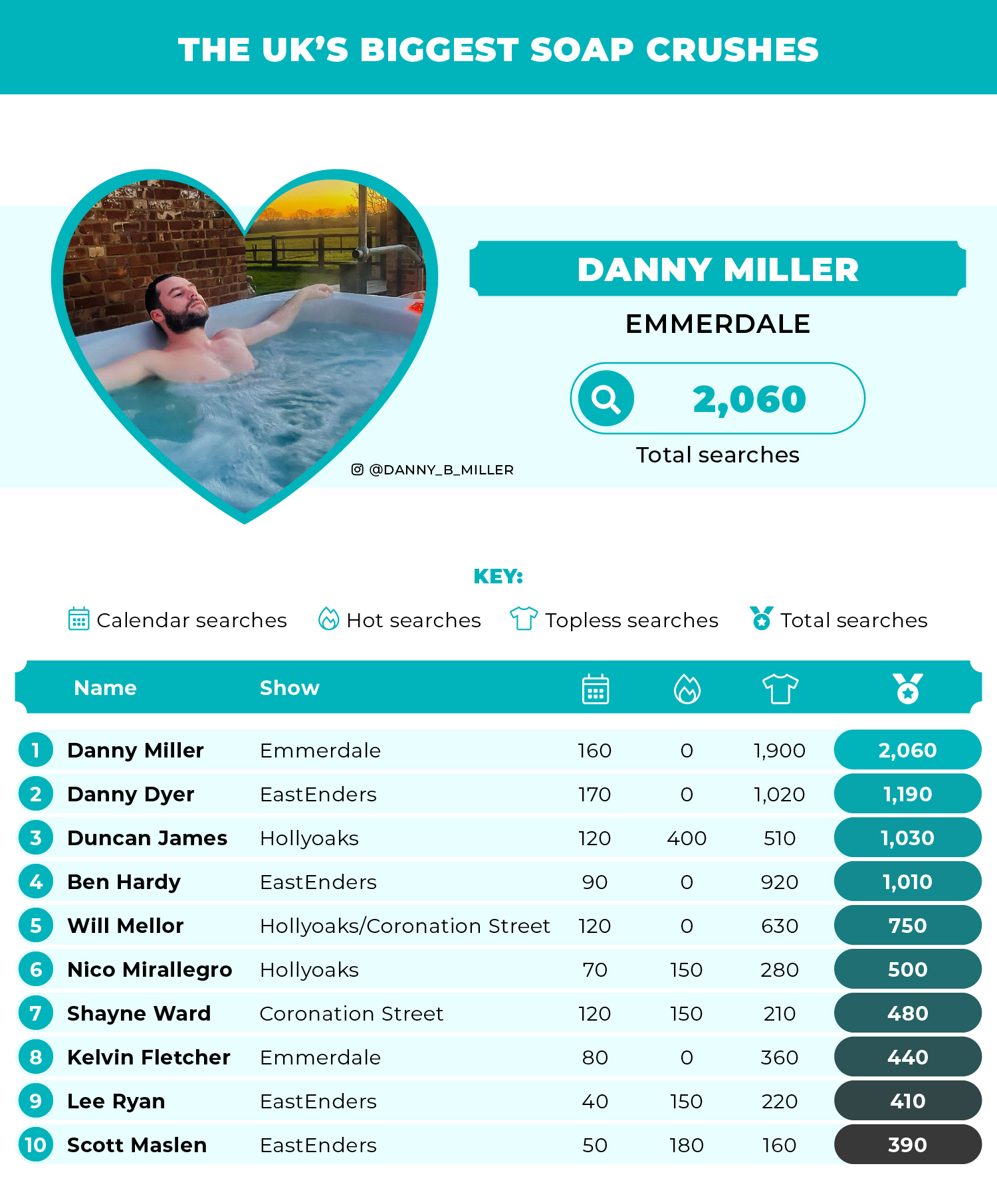 Danny Miller (Emmerdale) - 2,060 total searches
While male soap stars didn't receive anywhere near as much online attention as their female counterparts, the male soap star with the most searches was another former Emmerdale star, Danny Miller.
Danny has won the award for Best Male Actor at the British Soap Awards three times for playing Aaton Dingle and recently left the role after being named King of the Jungle on I'm a Celebrity...Get Me Out of Here!.
The UK's biggest reality TV crushes
Female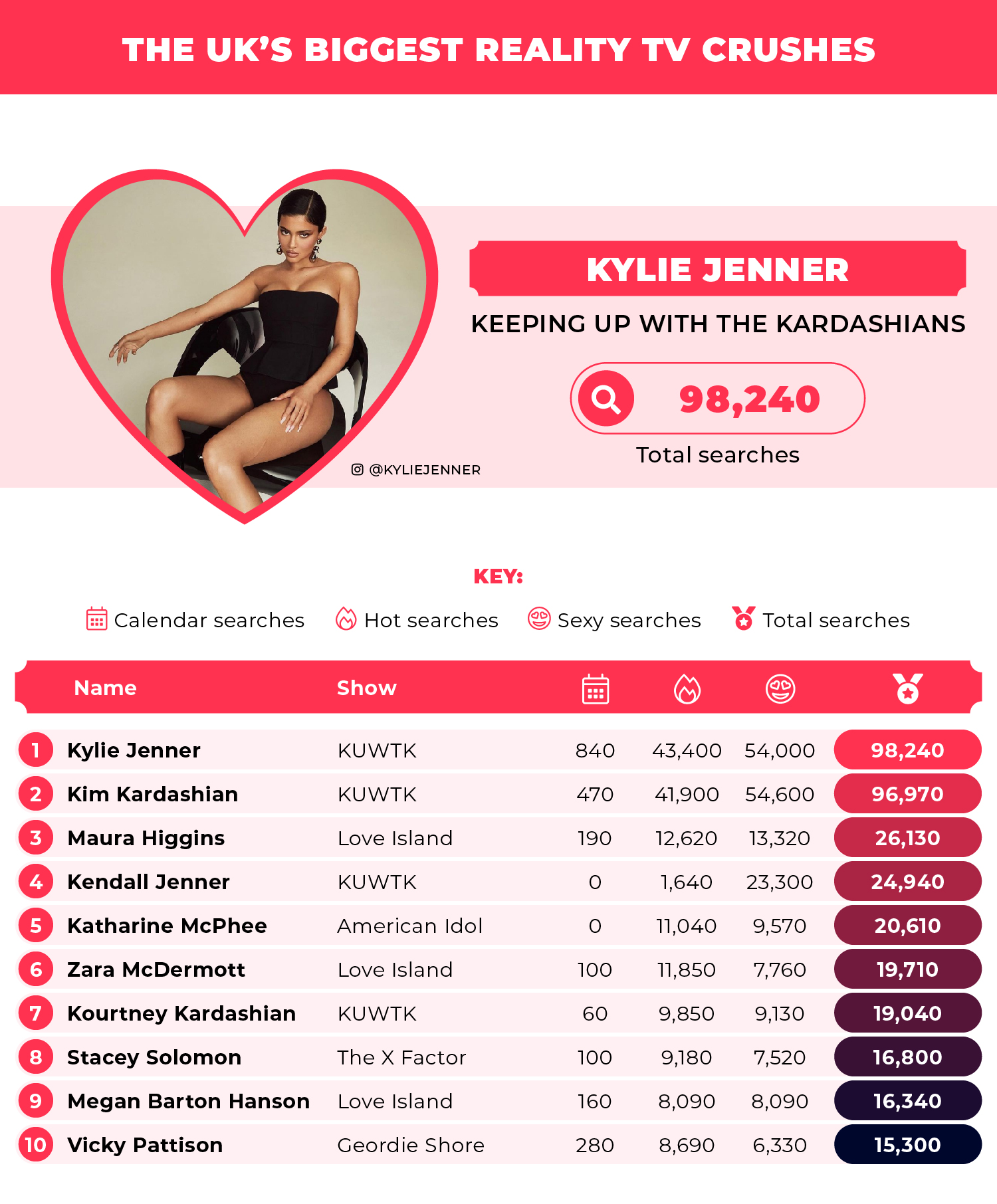 Kylie Jenner (Keeping Up with the Kardashians) - 98,240 total searches
The hottest reality TV star, at least according to Google searches, is Kylie Jenner, with just under 100,000.
Kylie is perhaps one of the most famous people in the world these days but first appeared alongside her family on Keeping Up with the Kardashians in 2007 and has since become a huge star on social media, as well as owning several successful businesses.
Male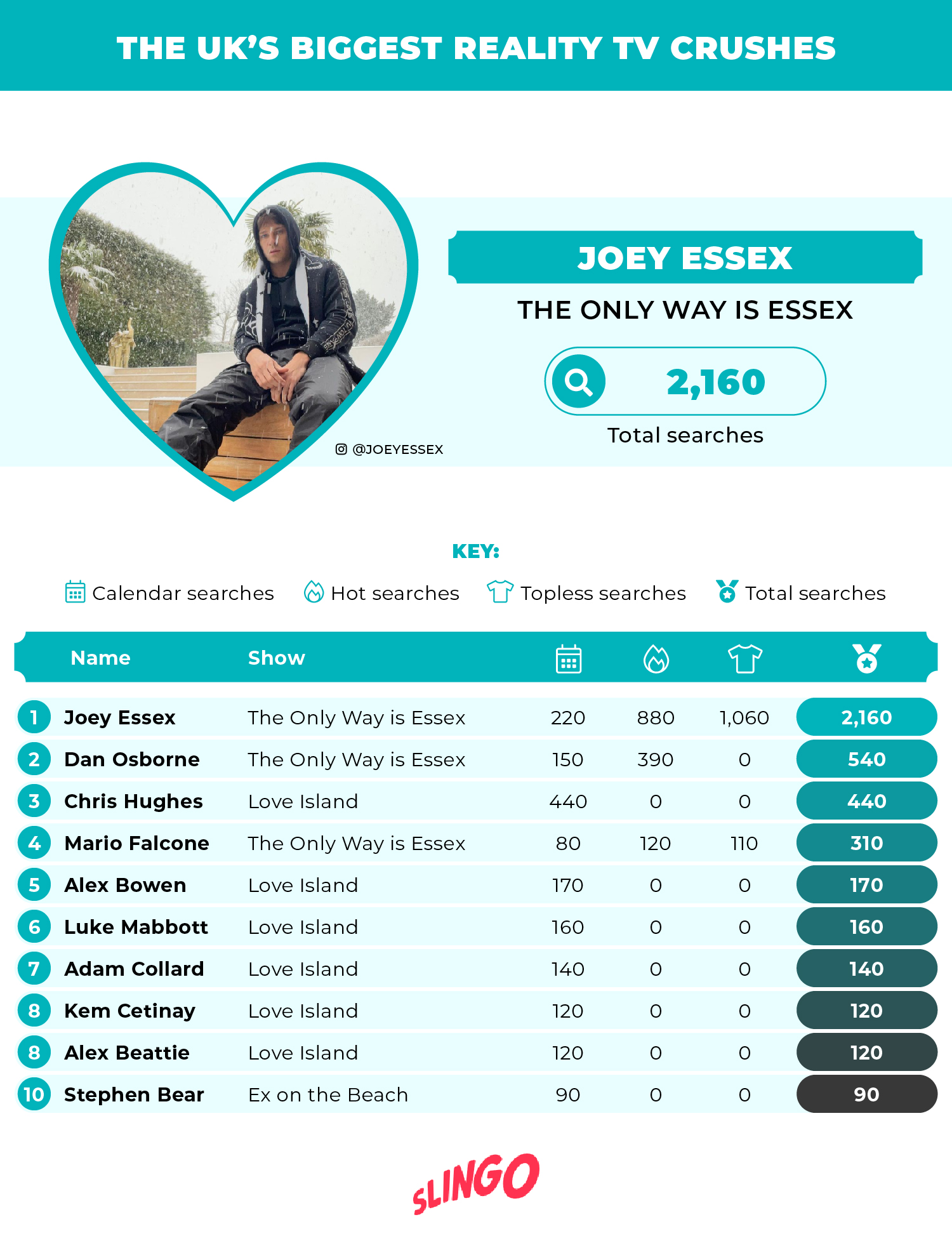 Joey Essex (The Only Way is Essex) - 2,160 total searches
And for the guys, the most searched male reality crush in the UK was The Only Way is Essex's Joey Essex.
Since appearing on the show, Joey has also appeared on a string of other reality programmes, such as Splash!, The Jump and I'm a Celebrity...Get Me Out of Here! (in both the UK and Australia).
Methodology
For each celebrity, we used Google Ads Keyword Planner to find the number of times the following terms have been searched throughout 2021 in the United Kingdom:
[Celebrity] hot

[Celebrity] sexy - Female celebs only

[Celebrity] topless - Male celebs only 

[Celebrity] calendar
The total number of searches for each of the above terms in the last year was then taken for each celebrity.
Note that we only looked at celebrities that have well-known television careers, whether as an actor, presenter, or reality TV star or contestant.