Enjoying a getaway in the UK is easy, thanks to the countless beautiful and diverse locations to choose from. But choosing accommodation can be tricky when trying to tick all the boxes you want in a hotel.
Exploring the superb collection of luxury boutique hotels across the UK will offer you a unique experience that will be memorable for all the right reasons.
Boutique hotels tend to be smaller, more intimate hotels that offer a personalised experience in a sought-after area. You could expect a boutique hotel to have between ten and one hundred rooms and be aesthetically pleasing with an enjoyable atmosphere.
Staying in a luxury hotel also gives you somewhere you will enjoy unwinding in and feel like a real treat. Luxury boutique hotels will have different amenities to suit different guests and will provide you with an excellent, unique perspective of the location you visit.
The purpose of this article is to show you some of the best luxury boutique hotels in the UK so you can live the lifestyle you have always dreamed of.
These are the Best Boutique Hotels in the UK
Anyone visiting London will know just how busy and bustling the streets of this fantastic city can get. That is why finding a great hotel to unwind in can be invaluable.
The Franklin is a stunning option located in the Knightsbridge area of London. The 5-star hotel has 35 beautifully decorated rooms and is set among beautiful leafy garden squares in a traditional, Victorian building.
Boasting a gourmet Italian restaurant, a cocktail and champagne bar, and a library for private meetings and gatherings, you will also benefit from 24-hour room service, a personalised concierge service, a hammam, and a fitness suite. The incredible neighbourhood also includes the Natural History Museum, Victoria & Albert Museum, Science Museum, and the world-famous Harrods department store.
Looking for other luxury hotels in London to keep your options open? We have a list of 22 of the best to help you find the perfect hotel for your trip!
The Witchery on Edinburgh's Royal Mile is one of the smaller hotels we will look at with just nine rooms. Still, anyone looking for a unique hotel with an incredible history will not be disappointed.
Located in Edinburgh's historic Old Town, the five-star hotel takes its name from the hundreds of women and men that were killed on Castlehill after being accused of witchcraft.
The building dates back to 1595. Each of its nine guest rooms is designed in a dramatic gothic style and comes with excellent modern amenities, including a TV, adjustable lighting, GHD hair straighteners, Dyson hairdryers, a fridge, a Nespresso machine, and an Amazon Echo.
The Witchery also has excellent dining options in either the historic dining room or secret garden.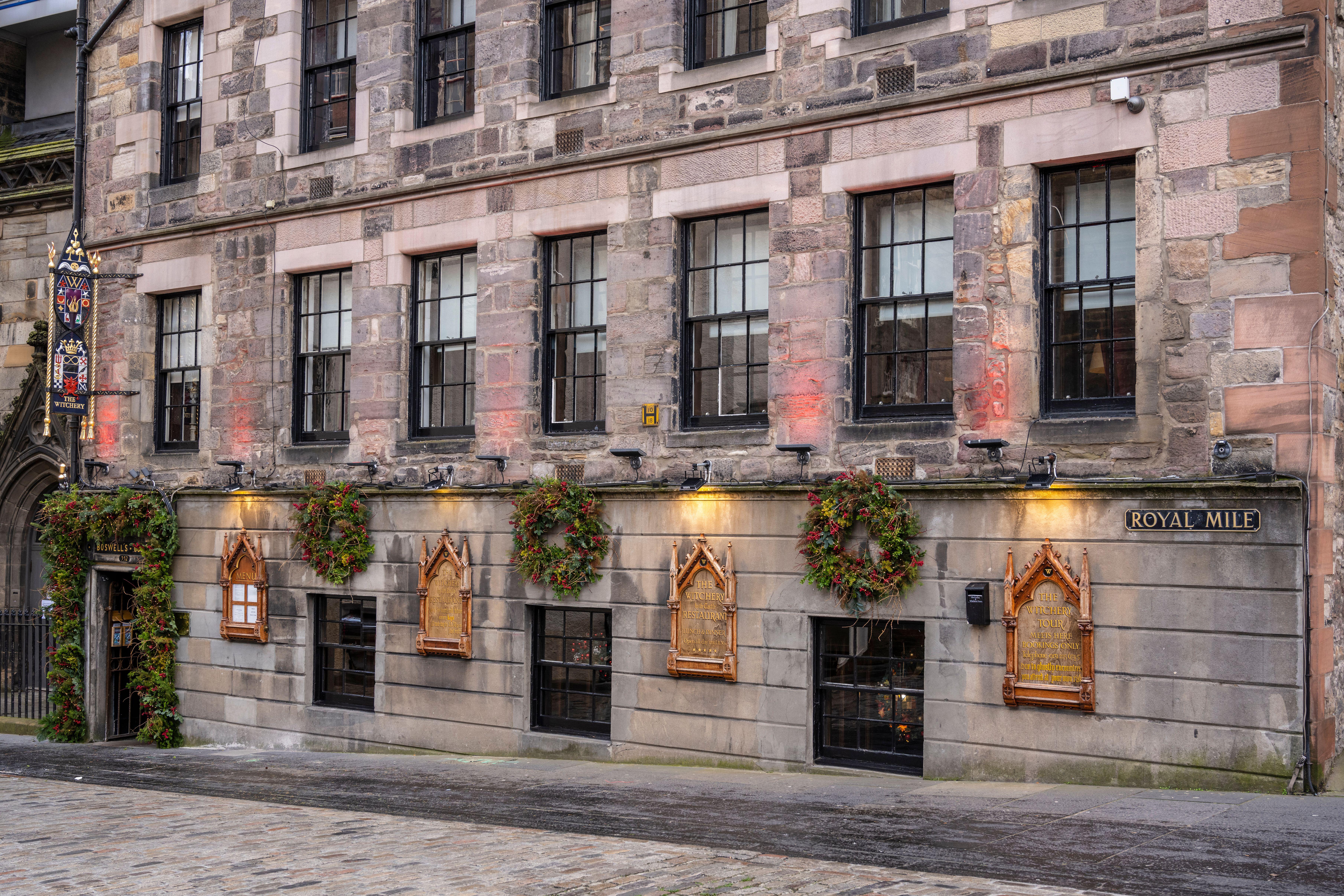 Explore the stunning landscape of Grasmere that inspired so much of Wordsworth's work when you stay at The Forest Side. Choose from 20 rooms that offer luxury, cosy, and dog-friendly options.
The stunning gothic mansion was initially built in 1853 and boasts incredible gardens and grounds, but it hasn't always been plain sailing for this Lake District location.
After falling into disrepair, the building was acquired in 2014 and has had substantial work completed to get it to the high standard we see today.
You will be able to dine at the award-winning Forest Side restaurant on the ground floor, famous for its excellent wine list and fresh produce.
The 13-bedroom Georgian Zetter Townhouse is ideally located for a visit to London and offers an excellent place to relax in style. The eccentrically-designed hotel offers unique and eye-catching accommodation in its rooms and suites.
You will be able to enjoy cocktails and food in Wilhemina Lounge, which offers a luxuriously homely feel.
All rooms provide fluffy bathrobes, premium cotton linen, Zetter slippers, and large, comfortable towels.
When you venture outside, you will find Mithfields and Exmouth markets and St Johns Gate Museum nearby and the creative community of Sadler's Wells.
Number One Bruton is a stunning and unique conversion in Somerset. Formerly a row of cottages, medieval forge, and Georgian townhouse, the buildings have been converted to house twelve beautiful and relaxing bedrooms.
The property is over 500 years old, but the state-of-the-art facilities and bright designs would not give this fact away.
As well as enjoying excellent country hospitality, you will get to enjoy a complimentary farmhouse breakfast. You will also be able to enjoy meals at Osip to sample local produce at this farm-to-table restaurant.
The Scarlet Hotel in Cornwall could be right up your street if you want to enjoy nature. Relax and recuperate at the Scarlet holistic spa, and enjoy clifftop hot tubs for an experience you will never forget.
Each of the 37 rooms connects you to the outside thanks to their floor-to-ceiling windows and terraces.
This adults-only retreat is perfect for those that want to unwind, and the excellent hotel restaurant has a number of local specialities and produce.
Monachyle Mhor, Perthshire, offers traditional Scottish hospitality in a uniquely decorated stone farmhouse. You will be able to choose between the cosier House Rooms that have an excellent loch view or the more spacious, designer Courtyard Rooms.
The location gives you everything you want, including the beautiful Loch Voil, nearby woodlands, and snow-peaked Trossach mountains.
Enjoy award-winning cuisine that makes the most of local, fresh produce and take advantage of your beautiful location by walking around Loch Lomond and the Trossachs National Park.
The Rose Hotel in Kent is recommended by Condé Nast thanks to its chic seaside charm, comfort, and excellent cuisine.
With just eight rooms, this classic boutique hotel is smaller but has a lot to offer if you are lucky enough to secure one of the rooms.
The Rose used to be a pub, and its unique, quirky charm makes it difficult to not instantly fall in love with it. You will have lots to see and do when you stay at The Rose, including stunning walks along the cliffs, exploring the coast by bike, visiting the local shops and market, and enjoying the region's history and castles.
Being close to the sea, the restaurant specialises in wonderful fresh seafood and offers seasonal menus that are always enjoyable.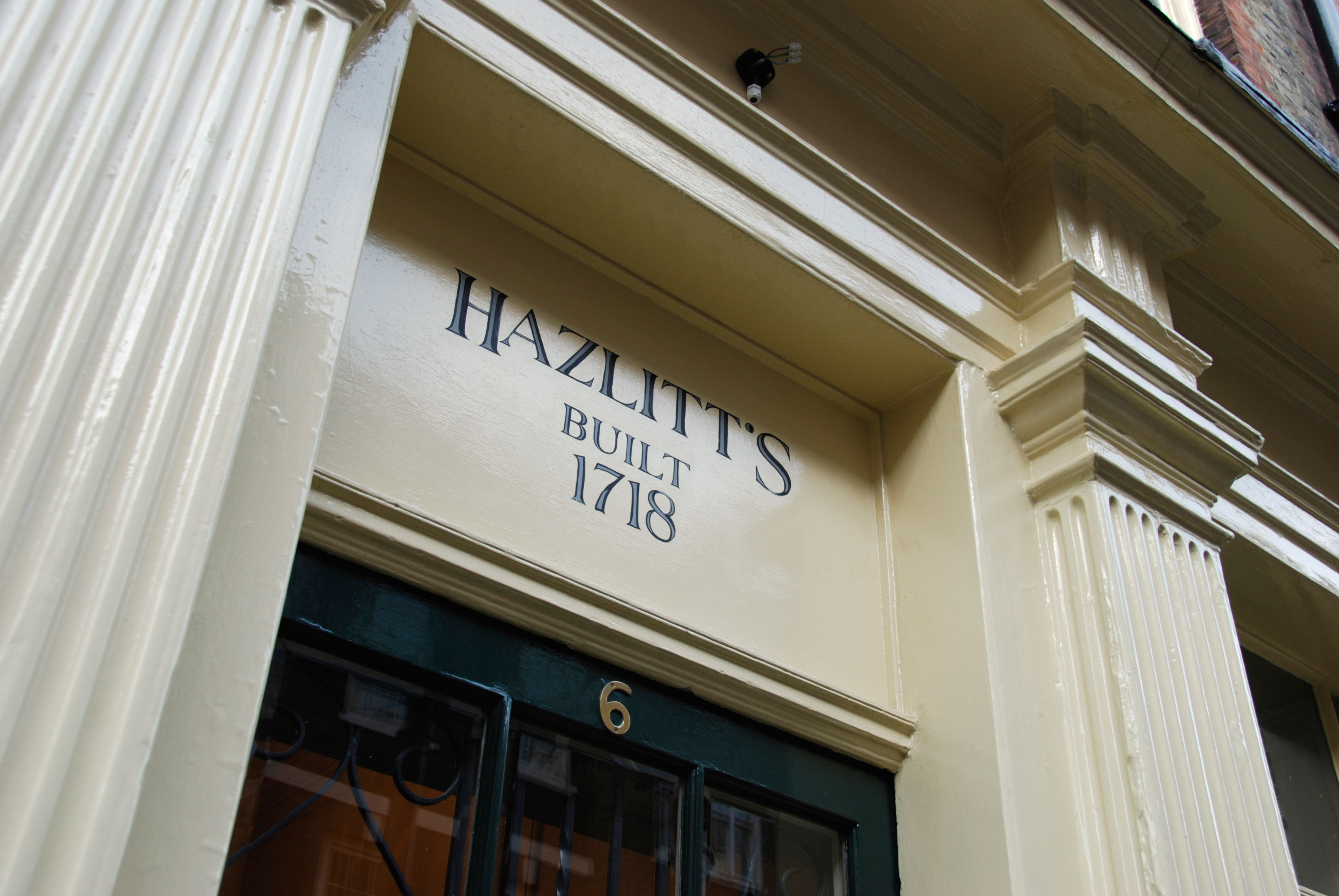 Hazlitt's is a hidden jewel in London and offers a great selection of beautifully decorated, traditional rooms. The 30 rooms offer four-poster beds, historical portraits, high-quality bathrooms, and complete luxury.
If you were looking for a freestanding bath or state-of-the-art showers, you are in luck. Located just a two-minute walk from Tottenham Court underground and five minutes from Leicester Square, you can go from the peace and quiet of your luxurious hotel room to the heart of the city in minutes.
Built in 1718, this hotel gives you everything you could want for a trip to London, and its Soho location gives you easy access to all the most incredible spots.
The hotel has 30 rooms and suites to choose from, all uniquely designed and named after former residents of the house.
Aberdeen's Fife Arms offers the perfect Scottish experience to visitors that want a taste of luxury and tradition. Every room is unique and gives visitors a taste of Scottish style and art.
Located in the village of Braemar, you will experience some of the best Scottish landscapes during your stay and on your travels. Experience the Cairngorms National Park, forests, and the River Dee.
You will have no shortage of choice when it comes to eating and drinking, thanks to The Flying Stag, Clunie Dining Room, Drawing Room, Elsa's Bar, and Bertie's Bar. You will be able to sample local produce and the finest scotch whisky.
If you planned a more quiet, relaxing trip, the various treatment rooms would be perfect for you. Spa treatments include manicures, pedicures, facials, and massage.
With just 14 rooms, the family-run Driftwood boutique hotel offers a truly personal experience. You will be able to enjoy the seven acres of land surrounding the excellent hotel that even includes its own beach.
This is a beautiful seaside getaway that will allow you to relax and unwind. On top of that, the fine dining available at the restaurant is second to none. Enjoy their tasting menu prepared with the highest quality ingredients at this award-winning restaurant during your stay.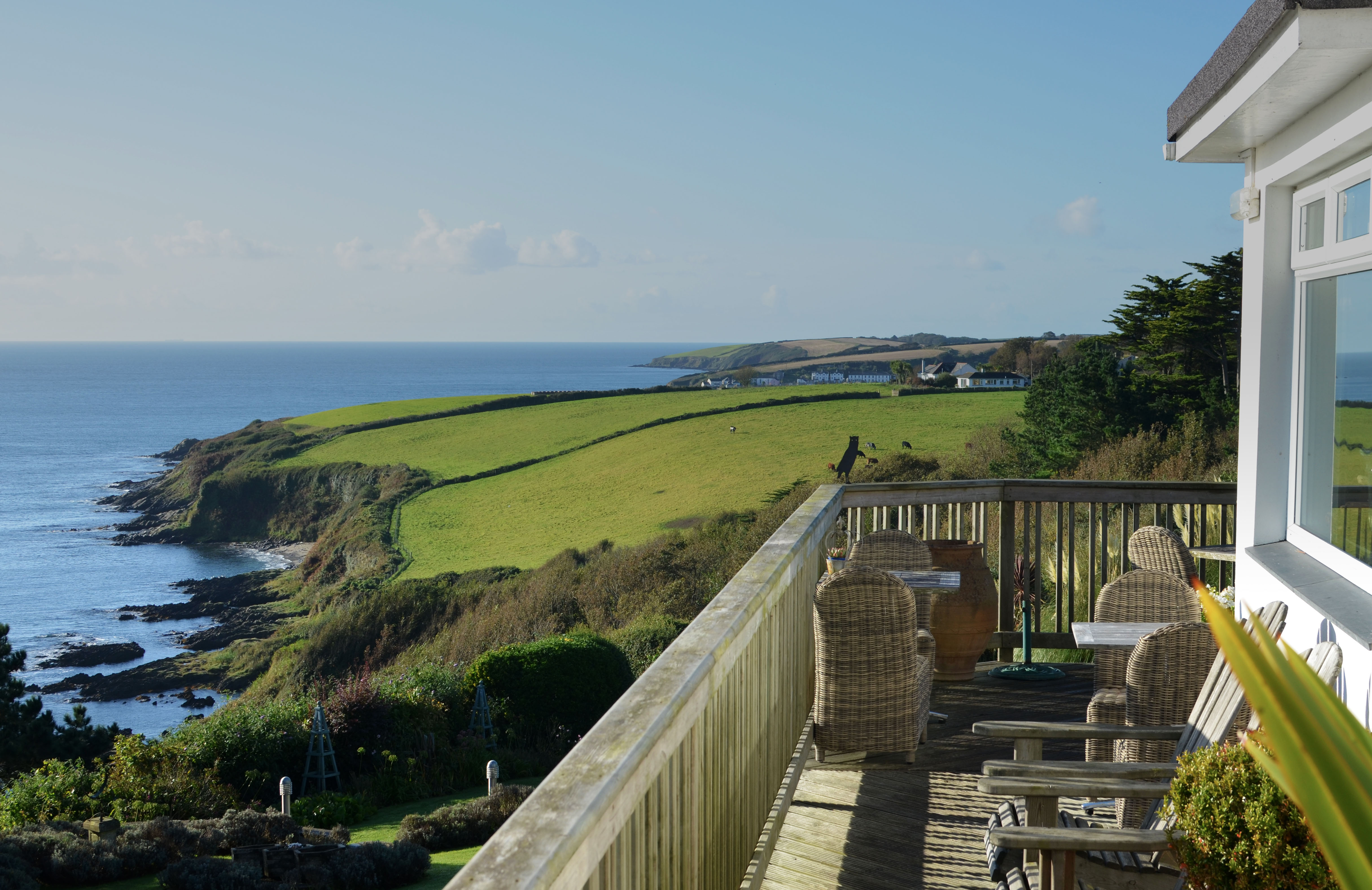 The similarities between the Hotel Gotham and the fictional city home to Batman start and end with the name. This incredible hotel is housed in a Grade 2 listed art deco building that still has its 1930s charm and style.
There are 60 rooms in total, and each is done up to a high standard, guaranteeing comfort for its guests.
Anyone visiting Manchester will love this great hotel that offers easy access to the city centre and local attractions. The breakfast buffet and meals served in the 6th-floor restaurant, Honey, are as impressive as its views over the city.
The charming nature of Bradford-on-Avon makes it the kind of place you would dream of living in. Thanks to Timbrell's Yard, you have the opportunity to get a taste of life here, where you can enjoy the beautiful river lined by willows, cobbled streets, and old-town charm.
The hotel has 17 rooms that have a Nordic, stripped-back style. You will love the comfortable beds, and there's even the option of freestanding baths in the room.
The restaurant is run by Tom Blake, who used to feature in River Cottage and offers guests a wide choice of mouth-watering dishes to choose from.
Cedar Manor's ten rooms are all uniquely decorated with eye-catching wallpaper and high-quality bedding, ensuring you enjoy maximum comfort during your stay.
The building itself dates back to the 1850s and has beautifully-kept lawns, trees, and flowers. The two lounges are stocked with delicious snacks and drinks and are ideal for anyone who wants to enjoy the Lake District in luxury and comfort.
There is even a one-bedroom cottage you can stay in if you are looking for a more private option.
The 28 bedroom Nira Caledonia is located in Edinburgh's cobbled New Town and dates back to 1823. The hotel makes use of two townhouses and gives guests the peace and tranquillity of a luxury hotel, right in the centre of Scotland's capital.
The rooms offer lots of terrific amenities, including iPod docks, Nespresso machines, and toiletries made by L'Occitane. The state-of-the-art stone bathrooms come equipped with sumptuous baths and showers, with some suites offering jacuzzis.
Blackwood's Bar and Grill is a restaurant that offers locally-sourced ingredients in delicious meals.
FAQs
How much does it cost to stay at Hazlitt's Hotel?
Prices will vary depending on the room and date you are looking to book, but you should be able to make a booking from around £220 and above per night. It's worth paying for a room here - it's one of the best hotels in the area!
How old is the Witchery in Edinburgh?
The building The Witchery was built over 425 years ago in 1595, but the hotel that now occupies it opened in 1979.
How many rooms does Fife Arms have?
The Fife Arms has 46 bedrooms that are uniquely decorated and furnished.
Does The Rose hotel allow pets?
The Rose Hotel does allow small, well-trained dogs in some rooms at the cost of £20, but this will have to be advised when booking.
Final Thoughts
Sometimes when booking a trip, we can become too interested in getting the best deals and finding the cheapest travel, museum tickets, or accommodation. When we stop and think about it, spending a few extra pounds to travel in comfort, enjoy a better view of a performance, or enjoy unique accommodation could be money well spent.
The luxury rooms in the UK boutique hotels above will give you everything from four-poster beds, city centre access, sumptuous bedding, freestanding baths, monsoon showers, Michelin Star restaurants, and locations close to the West End, Edinburgh Castle, and Grasmere.
Why not treat yourself to a holiday in the United Kingdom where you can enjoy a hot tub, roof terrace, steam room, or wood-burning stove? Sometimes the right hotel can make your trip even better than you imagined.
These are just some of the best boutique hotels around the UK, with lots more luxury hotels worth exploring to find the perfect accommodation for your trip.
Discover more luxury hotels throughout the UK
No matter where in the UK you are looking to go on holiday, we can give you plenty of ideas for luxury hotels you could stay in! Check out our other guides below: