What says luxury better than spending a few unforgettable nights at one of the finest five-star hotels in London?
Whether you're looking for historical splendour, incredible skyscraper views, views overlooking Hyde Park, or Michelin-star restaurants - London hotels are unmatched.
Hunting for the most luxurious hotel in London? We've narrowed it down to the cream of the crop. Our top selection of hotels will leave you feeling like you've stepped into another world.
Here Are 15 of the Most Luxurious Hotels in London
This award-winning London icon combines Victorian charm with touches of modern flair.
The Langham has long been known as one of London's very best esteemed hotels, providing personalised service and timeless elegance since 1865.
Enjoy Europe's first Grand Hotel's recent addition of lavish suites, British Tavern, The Wigmore and a brand new spa (Chuan Body + Soul).
This London hotel is located on Regent Street, close to many top attractions and popular shopping destinations.
Shangri-La Hotel is nothing short of impressive. Expect a pure sense of serenity and unrivalled 360-degree views of the city from the tallest building in Western Europe.
We suggest sipping on a cocktail in the magical heated infinity swimming pool on the 52nd floor or enjoying a unique Asian-inspired fine-dining experience.
This spectacular hotel boasts 202 modern rooms and suites decorated with marble, leather and silk and floor-to-ceiling windows so that you can make the most of the breathtaking views.
They also offer packages for wellness, honeymoons and weddings, as well as babysitting, butler and limousine services.
Did you know that the Savoy was the first hotel in the UK to have elevators and electric lights?
This world-renowned hotel is rumoured to have been loved by Marilyn Monroe and Marlene Dietrich (one of the suites is named after her).
Think awe-inspiring rooms, classical décor, beautiful watercolours in gilt frames, and windows from floor to ceiling with sweeping views of the Thames and South London.
You can't go wrong dining at the Savoy's distinguished restaurants. From Simpsons on the Strand to Winston Churchill's favourite - The Savoy Grill - it's pure extravagance.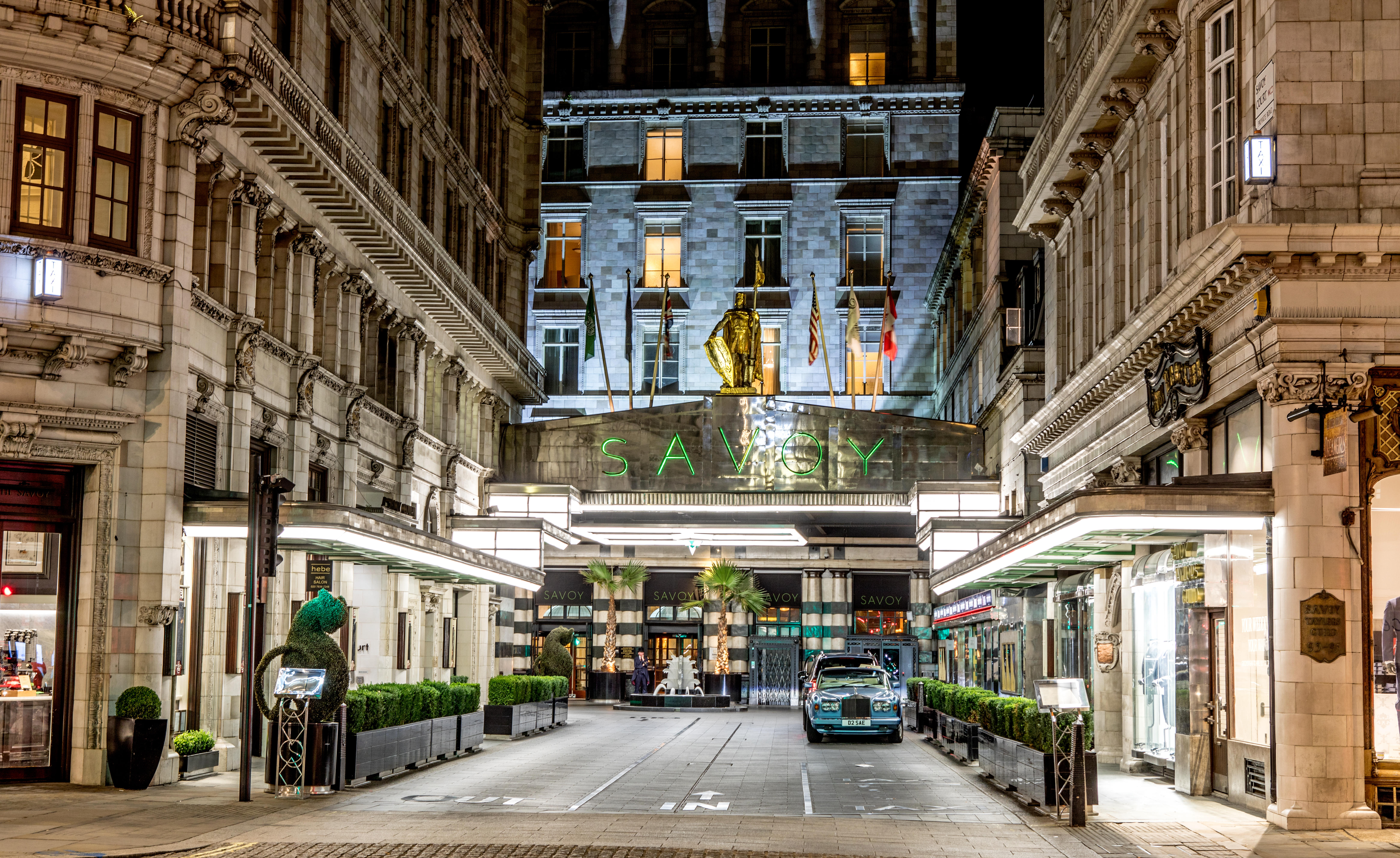 From the contemporary design of the lobby to the chic rooms and the lavish suites - you'll immediately see why this spectacular hotel received three Trip Advisor awards.
They offer unmatched traditional afternoon tea, Asian-infused meals, a stylish cocktail bar and an exquisite wellness and fitness sanctuary.
Unwind after a busy day at The Montcalm Spa's swimming pool, sauna, and steam room, or relax on the heated loungers.
The grand hotel sits at the top of Park Lane, a short distance away from London's top sites, including Mayfair, Oxford and Regent Streets, Marylebone, Edgware Road and Hyde Park.
Ever experienced a glamorous stay in a legendary revamped former bank? You're missing out!
The Ned offers an impressive 250 luxury bedrooms, 17 bars, nine restaurants, two swimming pools, a spa and a gym.
The once-bankers office rooms have a retro flair with deluxe mahogany beds, crystal chandeliers, velvet drapes, and old-fashioned alarm clocks and telephones.
The old bank vault has been converted into a 24-hour cocktail lounge behind a 20-ton, 6.5-foot-wide door. Here you can enjoy DJs, live music and premium events.
This phenomenal hotel is discreetly located between the River Thames and Trafalgar Square in the heart of London.
Be sure to take in the views of the London Eye and St Paul's Cathedral from your bedroom window, and enjoy a sumptuous meal at the hotel's popular restaurant and dining room, The One Twenty One Two.
The Royal Horseguards has an interesting history. It was previously the home and office of Sir Mansfield Cumming - the first Chief of the Secret Intelligence Service (MI6).
Rumour has it that the hotel once had a secret tunnel leading to the Ministry of Defence that was used during both the World Wars.
The capital's top attractions like Buckingham Palace and Westminster Abbey are within walking distance from this impressive Victorian-inspired hotel.
The Laslett converted five Victorian mansions into an extravagant boutique hotel in the heart of Notting Hill.
You'll feel completely at home in one of the 51 elegant rooms, which all feature a selection of antique furnishings and beautiful paintings by local artists. Every room also has its own fully stocked bar with craft beers and spirits.
Look forward to a peaceful stay in a tranquil London neighbourhood conveniently located near the tube and Hyde Park.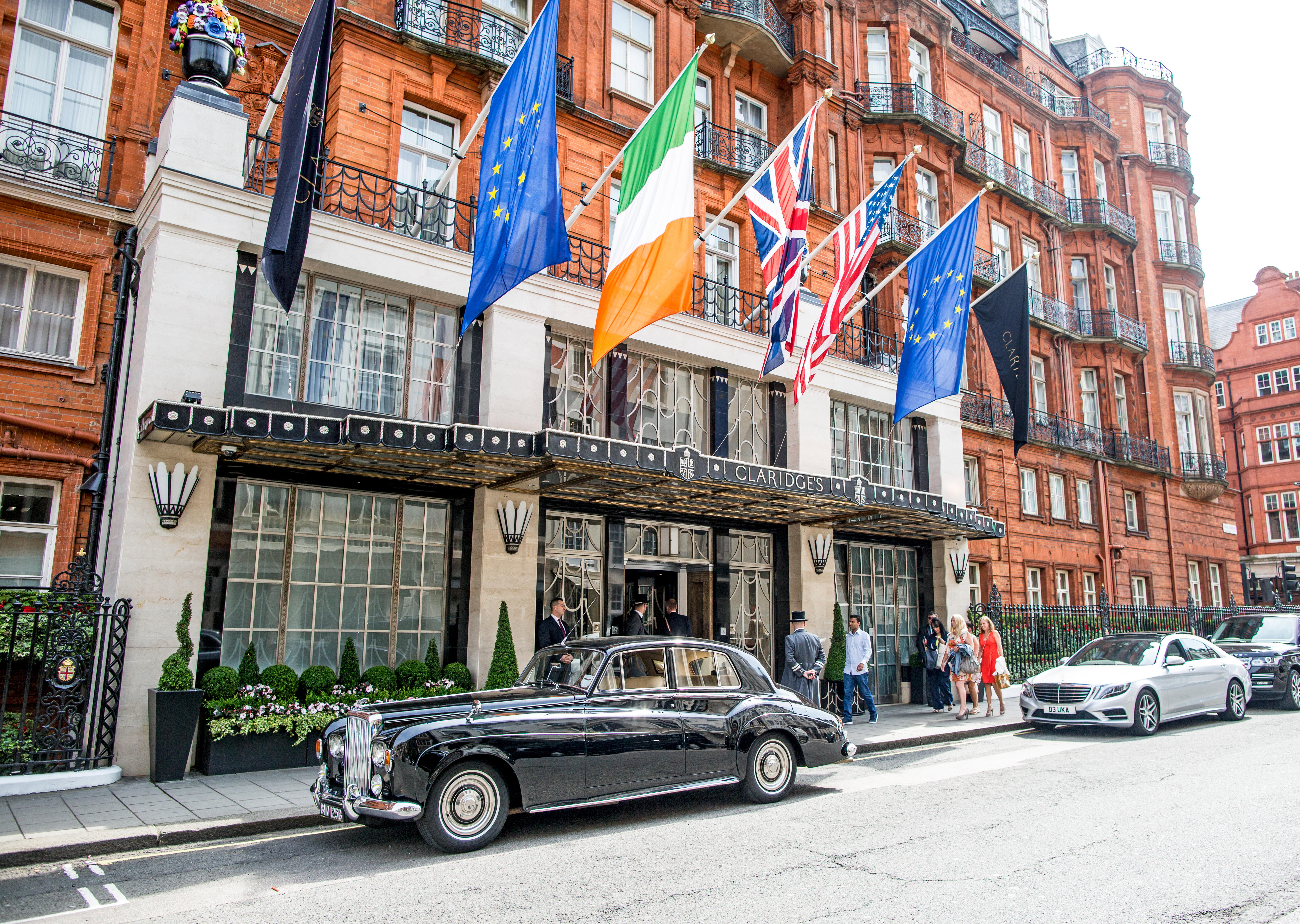 Looking for the ultimate grande dame hotel experience? Claridge's Hotel is the height of sophistication.
Relax in one of the 208 lavish rooms and suites, enjoy London's best afternoon tea, celebrate at the Michelin-starred dining room or get pampered at the tranquil rooftop spa and indoor pool.
This magnificent hotel welcomes you with a classic English feel; marvellous chandeliers, polished checkerboard floors and outstanding floristry displays.
The famous shops of Oxford Street and Bond Street are just a stone's throw away. 
Bankside is more than just a luxurious place to stay; it's a unique social hub for art-lovers and anyone passionate about culture and food. 
Incredibly gifted artists take turns decorating the hotel's interiors with standout pieces. Think of it as a living gallery. Every visit will be unique and exclusive.
Choose from 161 delightful bedrooms and seven grandeur suites boasting eclectic artwork and high-tech touches.
Enjoy the fresh seasonal food and vibrant, healthy dishes at The Art Yard Bar and Kitchen. Be sure to try the rejuvenating and masterfully-crafted cocktails.  
This superb hotel is just five minutes from Tate Modern and the South Bank Centre.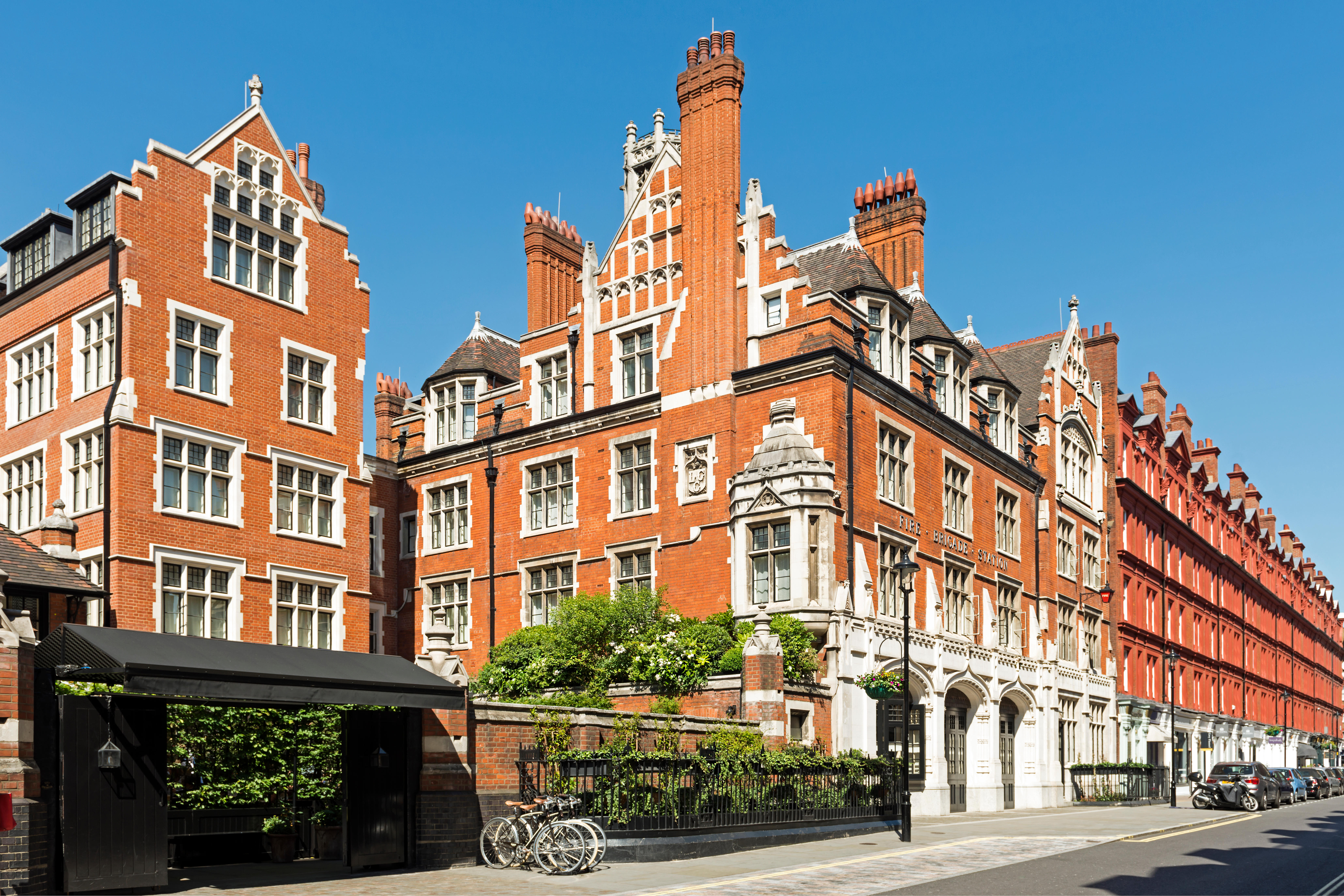 Wondering where all the celebs stay on their trips to London? It's no secret that Chiltern Firehouse is the most popular hangout.
The iconic red-brick building originally served as one of the first fire stations in London and is now a very successful luxury hotel and award-winning restaurant.
This trendy hotel boasts 26 glamorous rustic-styled rooms featuring deluxe beds with bespoke sheets, gas fireplaces, and heated bathroom floors.
The charming Beaumont Hotel is immaculate in every sense. From the moment you enter The Beaumont, you are welcomed by friendly top-hatted doormen and a perfect ambience.
This renowned hotel has an Art Deco exterior that matches its awe-inspiring interior, with original artwork and antiques. The traditional yet elegant rooms are spacious and styled in glorious shades of stone.
Polished checkerboard floors, velvety chairs, bronze statues, black-and-white photos and marble restrooms will have you wondering why you hadn't visited sooner.
Treat yourself with the luxurious spa treatments, or work out in style at the well-equipped gym.
The Great Scotland Yard Hotel is a perfect example of the fusion of tradition and luxury.
The place now known as Great Scotland Yard was most notoriously the original home of London's Metropolitan Police and used as a central location in the Sherlock Holmes detective novels.
The interior decor signifies its police heritage – from uniforms, batons and handcuffs to historical evidence alluding to famous criminals. Contemporary artwork lines the walls creating a beautiful balance.
The Parlour draws guests for afternoon tea, while the Veuve Clicquot Champagne Terrace is a hidden-gem-rooftop for sundowners overlooking the beautiful Westminster cityscape.
You don't want to miss dining at the Michelin-starred restaurant run by star-chef Niklas Ekstedt. Meals are cooked over a wood fire, combining Scandinavian cooking techniques with the finest of British ingredients.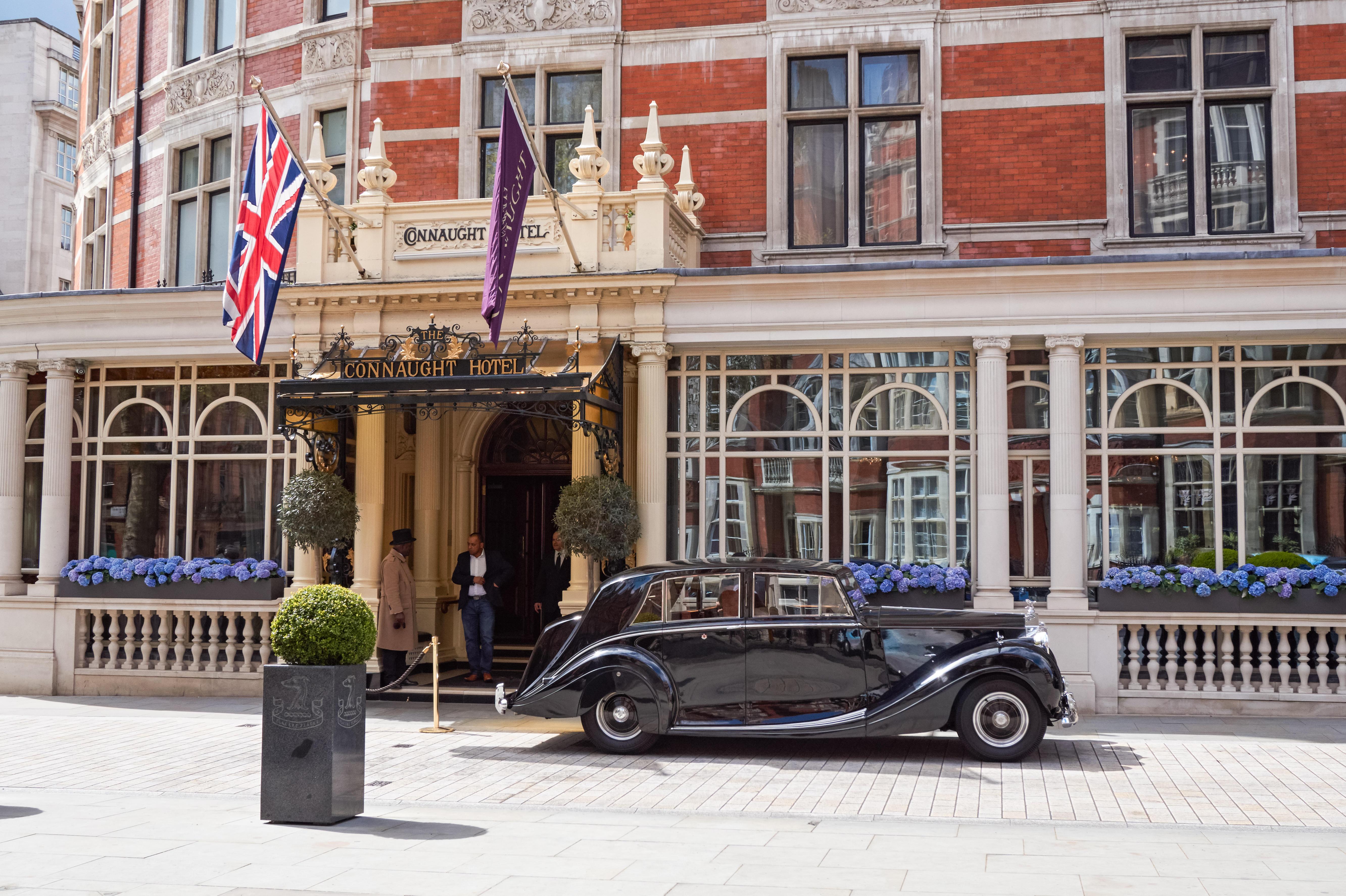 Ever had your own personal butler? The Connaught is guaranteed to give you a taste of British luxury and English grandeur.
Expect to receive world-famous service levels as you are welcomed by your highly personalised butler, contemporary art, and a warm, sophisticated atmosphere.
The hotel features spacious rooms and majestic suites, boasting traditional and modern designs.
Treat yourself to Michelin-starred feasts from Hélène Darroze or enjoy 24-hour gourmet dining at Jean-Georges.
Don't miss sipping on the heavenly cocktails at the world-famous Connaught Bar (the only bar on earth to have won World's Best Cocktail Bar twice!).
Looking for a luxurious stay away from the hustle and bustle? Enjoy quiet sophistication at The Stafford in the hushed St James neighbourhood, close to Green Park and St James's Palace.
This hotel has a rich history. It sits on top of a 380-year-old wine cellar (thought to be the oldest in London). The famous American Bar is filled with memorabilia and celebrates the hotel's past as a World War II billet by the US army.
There's nothing not to love about the vintage suites, decorated with dark woods, polished leather chairs, and marble bathrooms. Legendary care and attention are evident in these grandiose rooms.
The Standard's first luxury hotel outside of America is located in the thriving neighbourhood of Kings Cross, near Covent Garden.
It's been named "The hottest hotel in London" by Travel & Leisure.
A distinct pill-like red elevator visible from the outside sets the mood for the brightly decorated pod-like rooms with outlandish furnishings.
These exquisite rooms come in various sizes, from fun train carriage–style studios to spacious suites with balconies and outdoor bathtubs.
Styles vary from retro '70s swirly carpets to black-and-pink-tiled bathrooms to dark woods and emerald leather. Every room comes with a local minibar and fun cocktail shaker.
This unique luxe hotel has an in-house recording studio and a DJ booth in the main lounge (don't expect an early night!).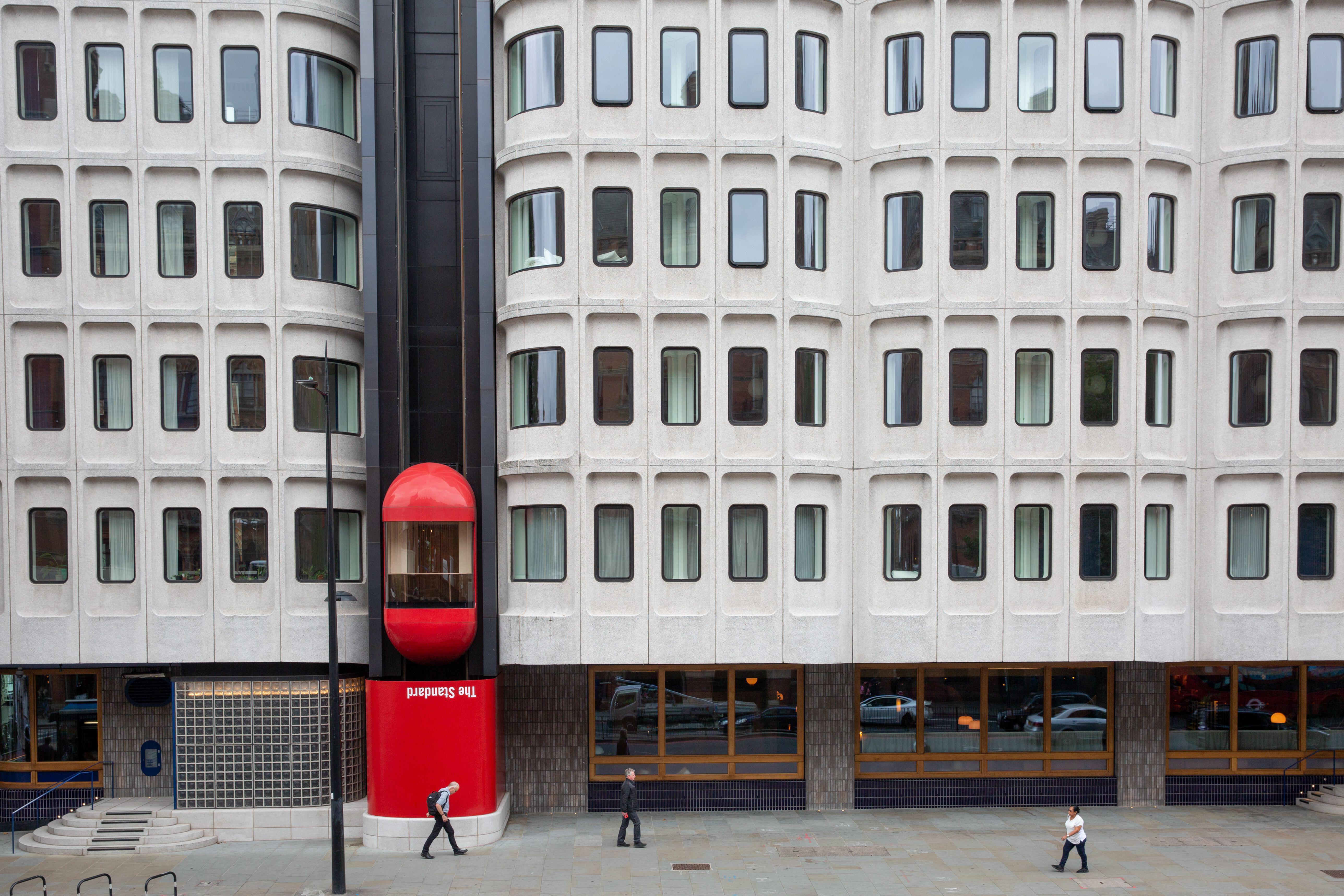 FAQs
How far is The Standard in Kings Cross from the centre of London?
They are only 1.6 miles apart. You can get to The Standard Hotel in 5 minutes by riding the underground from central London. Or, a cab will take about 10-20 minutes, depending on the traffic.
How much does it cost to stay at The Stafford London?
A luxurious one-night stay will cost you anywhere between £480 - £620 at The Stafford. You can choose to stay in one of their excellent classic rooms or elegant suites.
What is there to do at The Beaumont Hotel?
Guests at The Beaumont Hotel can spend their time relaxing in luxurious rooms, enjoying the spa and 24-hour gym, or eating spectacular food at the restaurant.
The hotel offers the following activities:
Spa facilities

Steam room

Sauna

Massage

Turkish/Steam Bath

Fitness centre

Restaurant and bar
Which luxurious hotel in London is pet friendly?
Think you have to leave your furry friends behind when you stay at London's finest hotels? The good news is you can bring them with you and have them pampered too!
If you're looking for a pet-friendly five-star hotel in London, here are our best picks:
Final Thoughts
When searching for the best luxury hotels in London, you are spoilt for choice.
Whether you're looking for a historic hotel to take you back in time or a modern shimmering skyscraper with surreal views - London has it all.
So what are you waiting for? Spoil yourself at one of the phenomenal hotels on our list.
Take full advantage of the hotel amenities - the extravagant spas, heated pools, premium gyms, elite bars, private dining rooms and world-class restaurants. 
Keep up to date with the latest lifestyle news at Slingo, inspiring you to live the life you have always dreamed of!
Discover more luxury hotels throughout the UK
No matter where in the UK you are looking to go on holiday, we can give you plenty of ideas for luxury hotels you could stay in! Check out our other guides below: