Renegades is the embodiment of female strength, with a cast of fierce and gorgeous female warriors. The battle maidens take center stage in this 243 Ways to Win online slot, which boasts 5 stunning renegades as your guides, as well as amazing jackpots up to 400x your stake and a large free spins bonus round.
Renegades Slot Game 
Women are usually portrayed in a sexual way in online slots, but the Renegades slot machine is a one-of-a-kind online slot game with fierce female warriors. It's exciting to see something new that empowers women and shows what they are capable of! Female slot enthusiasts will undoubtedly want to investigate how this game differs from other female-oriented casino games.
Renegades has 243 ways to win, which means that every time you spin the reels, you may win a large sum of money. Rather than paying for each pay line separately, as you would on a pay line-based slot, a game like Renegades enables you to deposit a single stake ranging from 40p to £80, making it accessible to players of all budgets.
Theme & Symbols
This game offers fascinating theming and interesting characters, with a cast of women who have ventured out on their own in search of adventure and fortune. The Renegades slot online features a range of strong female characters, from pirates and aviators to steely warriors. The background of the slot shows the origins of the characters, with an imposing castle, an airplane in flight, tall mountains, and a stormy sea. 
Our fearless heroines feature on the reel symbols, and in order of highest to lowest payout are:
Freya, Valkyrie of Valhalla - a fearsome icy warrior, rumored to be descended from Odin himself.

Harriet Hellstorm - is a celebrated aerial ace and pilot who strikes fear into her opponent with her flying acrobatics.

Valda Dragonslayer - a beautiful but deadly knight, Valda is renowned for her sword skills.

Raffaella Blaze - this gal is a gunslinger of great prowess, so don't be fooled by her good looks.

Ivy Sabreclaw - queen of the forest, this green goddess can reportedly summon fearsome beasts to fight by her side.
The Basics: How to Play Renegades Online Slot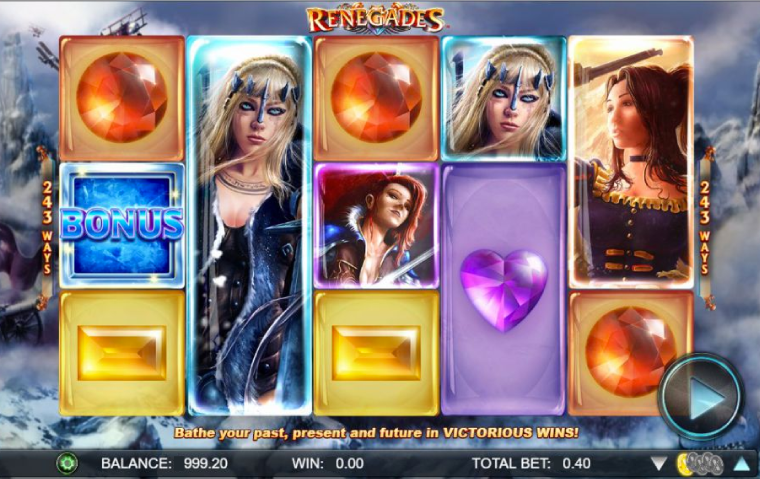 Go to slingo.com and load the game to start playing the Renegades slot machine. You can also play this as a mobile slot on your phone or tablet. The next step is to put your bet. Renegades is a five-reel, three-row slot with 243 ways to win, meaning there's a lot of money up for grabs. Instead of putting a separate stake on each pay line like you would on a pay line-based slot, a game like Renegades allows you to deposit a single wager between £0.80 and £80 on the whole set of reels.
Renegades an all ways pay slot machine. Players get 243 opportunities to win on each spin thanks to the 3x5 format, and all they have to do is match identical symbols from left to right across the screen, with no pay lines to contend with. Various jewels have a lower value in terms of symbols, but matching the Renegades symbols delivers the greatest rewards, with Freya at the top of the paytable.
Renegades Slot RTP & Wager Limits
The minimum bet for Renegades slot UK is 40p per spin, and the maximum bet is £80 per spin! The RTP is a potential of 96.37%.
Renegades Bonus Features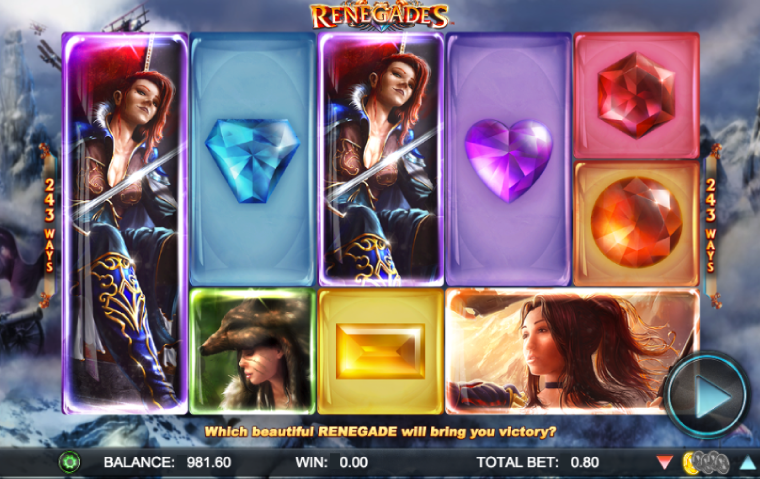 Wild Symbol
Flames are the Renegade reels' wild symbol, and they may be utilized to form winning combos with any other non-special symbol.
Mega Symbols
The first three reels will sometimes freeze in place, leaving only one big symbol visible when all symbols are halfway stacked. After that, the remaining two reels will spin slowly in order to turn that repeated three-of-a-kind wins into four or five-of-a-kind winners.
Scatter Symbols and Renegades Slot Free Spins
If you get three scatter symbols anywhere on the screen, you'll gain eight free spins. One of the five Renegade women will be chosen as the lone high-paying symbol to appear on the reels at that moment, lowering the diversity of symbols on the reels and raising your chances of greater and higher winnings; now that's some real girl power!
Play Renegades Online on Slingo
If you fancy hanging out with some badass beauties, head on over to slingo.com! You can also check out our wide range of other slot machines and bingo games too!