Welcome to our Slingo review of the brand-new Evolution live game show, Funky Time! Read on to get the lowdown on this exciting new release, including bonus rounds, theme and design, and more.
Funky Time Game Information
Game Name:
Funky Time
Game Provider:
Evolution Gaming
RTP:
95.99%
Max Win:
€500,000
Date for Slingo Release:
10th May 2023
Date for Global Release:
24th May 2023
Slingo's First Spin with Funky Time Live Game Show: An Overview

Evolution is one of our favourite game providers, so we couldn't be more excited about their new live game show! Evolution has made a name for itself with its live casino games – just like Slingo Originals has become known as the place to be for Slingo games.
Funky Time is their latest release, and it builds on the success of hugely popular live game show Crazy Time. It features a wheel of fortune-style prize wheel, plus four exciting bonus rounds and a fun 70s theme!
In this blog we'll provide our exclusive review, including theme, gameplay and bonus features. If you're looking for a complete guide on how to play the game, visit the Funky Time game page instead.
Funky Time will be available to play at Slingo soon (ahead of its general release!). In the meantime, read on to find out all about this exciting new online casino game before you play.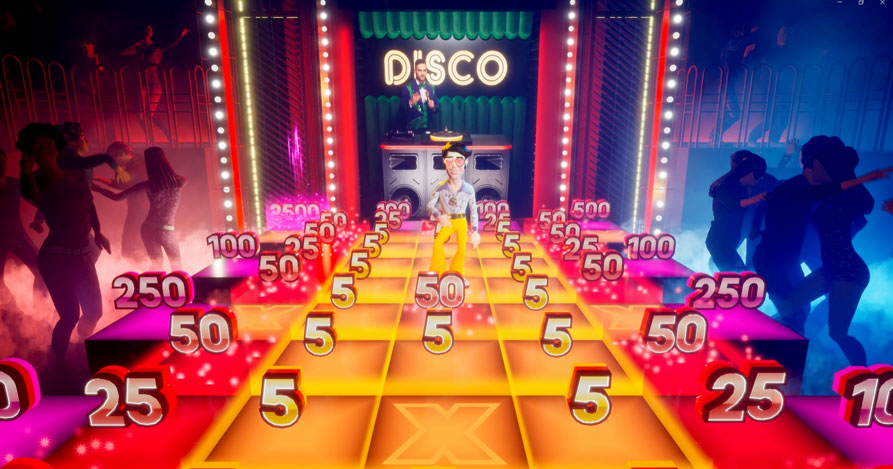 Funky Time Live Game Show: Key Highlights
Funky Time is an exciting live game show with lots of great features! Here are some of our favourite things about the game:
Four fun bonus games: Bar, Stayin' Alive, Disco, and VIP Disco.

A friendly and professional live dealer to make sure you have the best gaming experience.

Groovy 70s theme to get you in the mood for dancing.

Innovative gameplay that blends elements of a wheel of fortune-style game with live roulette.
Funky Time's Groovy Theme & Design
Funky Time has a vibrant, 70s-inspired theme that will have you reaching for your flares and platform shoes! The theme matches the wheel of fortune-style gameplay perfectly, since the first-ever episode of Wheel of Fortune aired back in 1975!

Now you too can enjoy the thrill of spinning the wheel in the hopes of winning a cash prize - all from the comfort of your own home.

We love the retro design of Funky Time, which features a multicoloured disco ball, plus four fun bonus games including Stayin' Alive, Disco and Disco VIP. In the latter two games you'll even meet Mr Funky himself, who will bust some moves on the dancefloor to hopefully win you multiplier prizes!

Play Funk-tastic Roulette with Funky Time's Gameplay
We've had a sneak peek at playing Funky Time, and we can't wait for you to try it! If you've played Crazy Time before then it will feel somewhat familiar, but with a fun new 70s twist and some exclusive bonus features.
We love spinning the wheel to see what segment it lands on, and if you're lucky enough to trigger one of the four bonus games you're in for a treat (more on those later!).
To give you more of an idea about what it's like to play Funky Time, check out the info below to learn about the different bet types and segments on the wheel. 
Number 1 Bet Spot
There are 28 segments marked with a number 1. Choose this option to bet on any number 1 on the wheel.
Letter Bet Spots
Place a bet on any of the letters that spells out 'PLAY FUNK TIME' for a chance to win.
Bet on 12 Letters
Choose this option to bet on all 12 letters on the wheel at once.
Bonus Game Bet Spots
Pick which of the four bonus games you think that the flapper (that's the thing that marks where the wheel stops!) will land on.
Bet on 4 Bonuses
Bet on all four bonus games on the wheel at once.
Read on to find out more about the Funky Time wheel, including the different payouts available!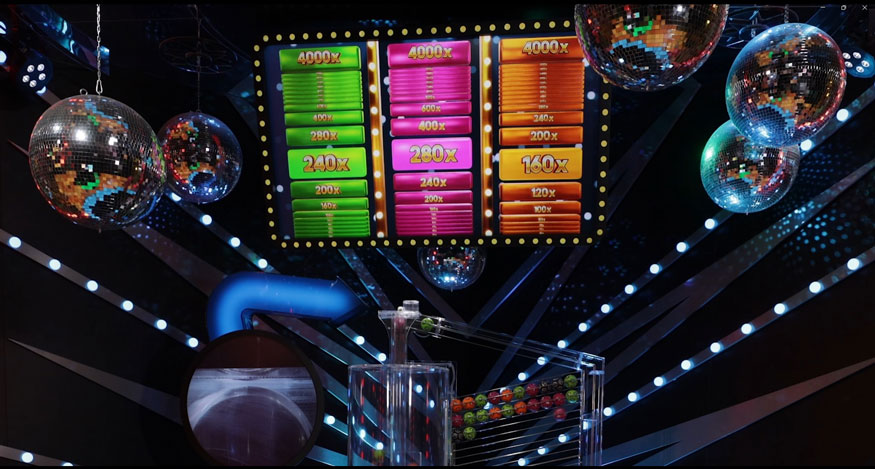 Discover Funky Time's Colourful Wheel and Payout Ranges
The Funky Time game has a number of different payouts and ways to win – just like Crazy Time, for those who are familiar with it! Let's take a closer look at the payout ranges that are available in Funky Time:
Number 1
If the flapper lands on a number 1 and you have placed a bet on it, the payout is 1:1. This means you will win back the value of your bet multiplied by 2.
Letters
If the wheel stops on the letter you have bet on, you will receive a payout of 25:1. For example, if your bet was £1, you'll win 25x your bet (£25), plus your £1 stake = £26.
Bonus Games
In each of the bonus games, there's the potential to win up to 10,000x your bet (maximum win is €500,000, or the equivalent in your currency).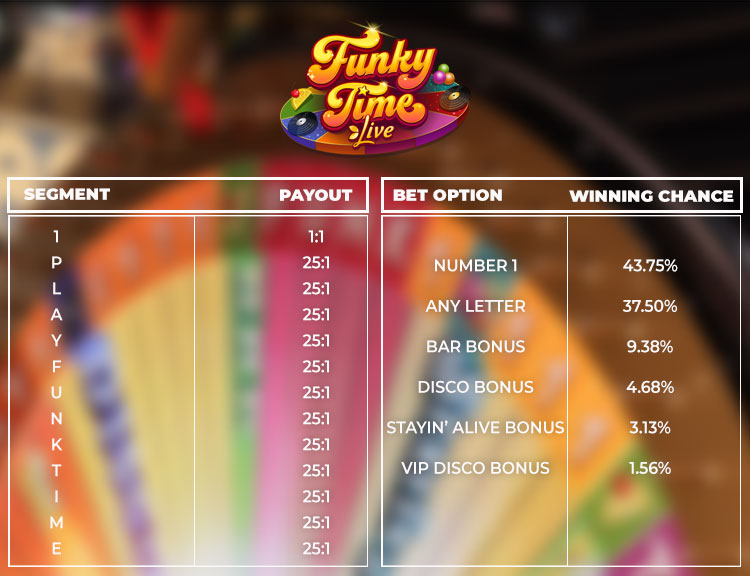 Meet Mr. Funky Himself in the Funky Time Bonus Games
One of our favourite things about the Funky Time slot is the Mr Funky character! You'll meet him if you're lucky enough to trigger one of two bonus games: Disco and VIP Disco. This groovy guy will show you his best dance moves and hopefully win you some multiplier prizes along the way!
Let's find out more about the four bonus games in Funky Time:
Bar
If you land on the Bar segment of the wheel, you'll trigger the corresponding bonus game. But this isn't your average bar – in Funky Time the bartender is a robot!
Choose one of three empty glasses at the bar, then watch as the bartender fills them up with multipliers. You'll win the corresponding multiplier of the glass you chose.
Stayin' Alive
This fun bonus game has an element of bingo to it, which we're big fans of! Choose a team colour and advance up the multiplier ladder, with your progress determined by the colour of the balls which are drawn. With a 20-level multiplier ladder and a top prize of 10,000x your bet, you could win some serious money in this bonus round!

But watch out - if a black ball is drawn you'll lose a life and stay at the same ladder position as before! The game continues until no more lives are left on the counter.
Disco
Land the Disco segment on the wheel to party with Mr Funky! You'll be taken to a new screen showing a crowded dance floor with 37 squares, with Mr Funky strutting his stuff in the middle. The presenter will spin a mini wheel to determine which direction Mr Funky will move in, and he'll collect you multiplier prizes as he passes them.

The game continues until he dances himself off the edge of the dance floor!
VIP Disco
This game is very similar to the Disco bonus above, except this time there are 63 squares - giving Mr Funky more space to strut his stuff and hopefully win you even more prizes.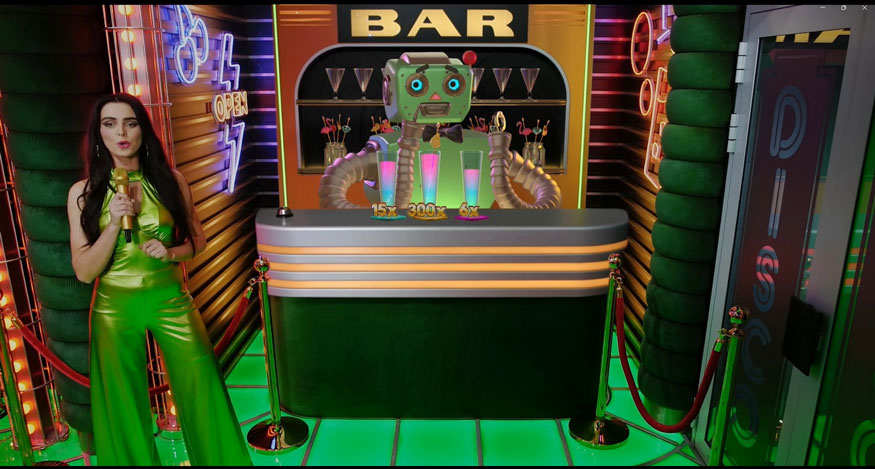 Slingo's Final Spin: Our Verdict on Funky Time
All in all, we love Funky Time and we know you will too! Its simple gameplay, fun bonus rounds and friendly live presenters make for an amazing gaming experience that's at the forefront of live casino gaming.

We can't wait for you to try it!
Be the First to Play Evolution's Funky Time Live Game Show Here at Slingo
You can play Funky Time here at Slingo from 10th May onwards, ahead of its general release! Sign up now and browse our selection of Slingo, slots and live casino games!