The Slingo Originals team are always coming up with exciting new ideas for Slingo games. This time we thought we'd take a closer look at one of our favourite Slingo themes: Chinese-inspired games! From Slingo Fortunes to Slingo Golden Envelope and more, read on to find out more about these unique and wonderful slot games.
---
*Terms and conditions apply.*
---
Why Are Asian-Inspired Games so Popular?
Slot games inspired by Asian cultures (including Chinese, Japanese, Korean, and more) are hugely popular, especially in the online casino world, and it's easy to see why. One of the themes with lots of games under it would be the Chinese-inspired. We love the beautiful design of Chinese slot games, which often feature important symbols of Eastern culture such as dragons, gold coins, red envelopes and paper lanterns.
Many Asian-inspired casino games focus on cultural traditions and beliefs about luck and prosperity. For example, both Slingo Fortunes and Slingo Golden Envelope feature red envelopes that are usually filled with money and given to loved ones at the beginning of Lunar New Year. This tradition often symbolises bringing good luck for the year ahead. Of course, luck and prosperity are attractive themes for slot games with real money prizes up for grabs!
Read on to learn more about our selection of Slingo games with an Asian theme.
Slingo Fortunes 
Slingo Fortunes is a fun Slingo game that was released last year with gameplay that is similar to Slingo Deal or No Deal. At the start of the game you'll see 26 red envelopes on the screen, and you'll be invited to choose one as your lucky envelope.
The lucky envelope will be removed from the screen, and you'll spin the Slingo reel to match up numbers on the grid and complete Slingos. Get four or more Slingos and you'll be given the option to gamble the mystery value of your red envelope for a cash prize. You decide whether to accept the offer, decline it and take your mystery prize, or keep spinning.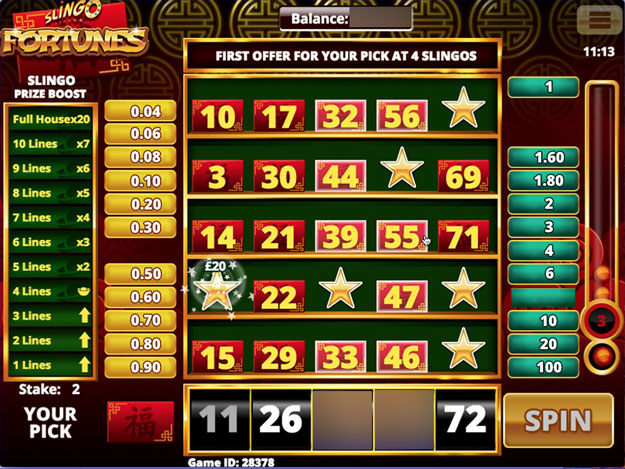 Slingo Xing Yun Xian 
Slingo Xing Yun Xian is all about lucky lines and completing Slingos, and its unique take on the familiar Slingo mechanic makes for a fantastic gaming experience.
This time the famous Slingo grid has been transported to a stunning mountain setting complete with a beautiful sunset and pretty red lanterns. Match the numbers on the reel with those on the grid to complete lines and win Slingos, with a top prize of up to 500x your original stake.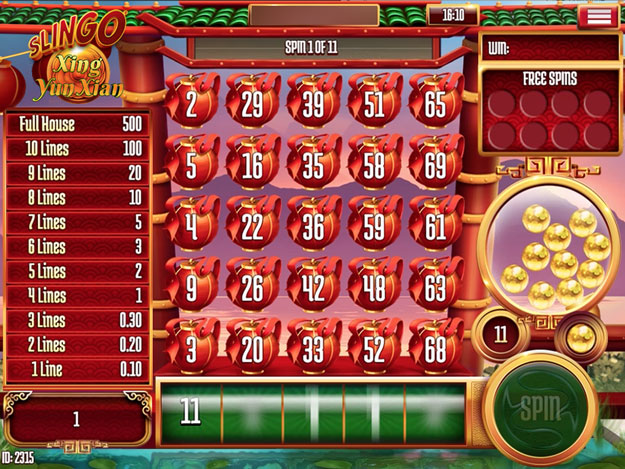 Slingo Golden Envelope 
Last but certainly not least is Slingo Golden Envelope, a unique Slingo game inspired by Asian culture and the Lunar New Year that was released only this year.
In this Slingo game, both red and gold envelopes have an important part to play. Collect eight red envelopes (from either the reel or the grid) to trigger the Red Envelope feature. You'll receive a predetermined number of picks, with each red envelope you choose awarding you additional picks, a cash prize or a multiplier.
Complete Slingos to make it to the top of the pay ladder and play the Golden Envelope jackpot bonus game, with five fantastic jackpots up for grabs.

To learn more about the Slingo Golden Envelope game, check out our recent blog post.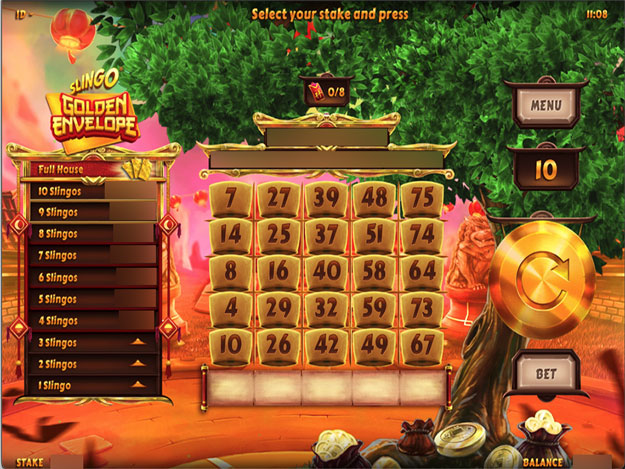 Play Chinese-Inspired Slingo Games at Slingo.com 
Slingo.com is the official home of Slingo Originals, including all of the games featured in this blog. With an amazing selection of slots, Slingo and casino games plus fantastic customer service, Slingo.com is the place to be. Sign up now and play Slingo games!