Don't Know Which Slingo Game To Choose? Let Us Help You
Variety is the spice of life, right? That's why we've developed a range of fast, fun and exciting Slingo games to make sure you can always find one you'll love. We've applied our magic Slingo formula – a cross between slots and bingo – to a range of different games and themes to offer you a high-quality gaming experience like no other. We've even won awards for some of our creations!
However, sometimes it can be difficult to decide which game to play. Well, scroll no more: we've come up with a guide to help you choose your perfect game based on your interests. Whatever you're into, we've got something for you: whether you're a foodie or a film buff, a game show fanatic or an animal lover, we've got you covered. Read on to find out more!
For the Foodies
Love whipping up tasty creations in the kitchen? Then you'll love our range of food-themed games. With their cute, mouth-watering graphics and fun, immersive gameplay you won't be able to resist our sweet selection of Slingo goodies!
Baking Bonanza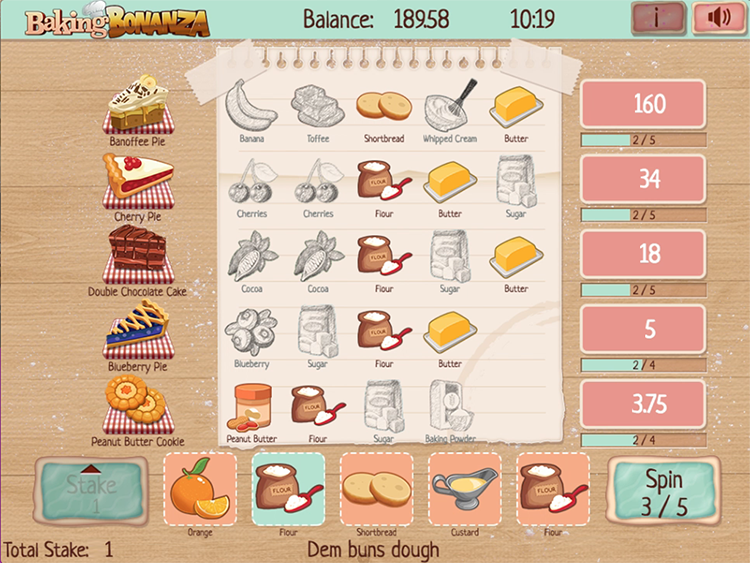 Baking Bonanza is the perfect game for sweet-toothed Slingoers. Choose which delicious cakes you'd like to bake and match ingredients on the reels to be rewarded with real cash prizes! Choose from billionaires shortbread, strawberries and cream, blueberry pie and much more in this egg-cellent adventure. And with potential prize money of over 2,000x your bet, Baking Bonanza is sure to give you an exhilarating sugar rush, too!
Frooti Booti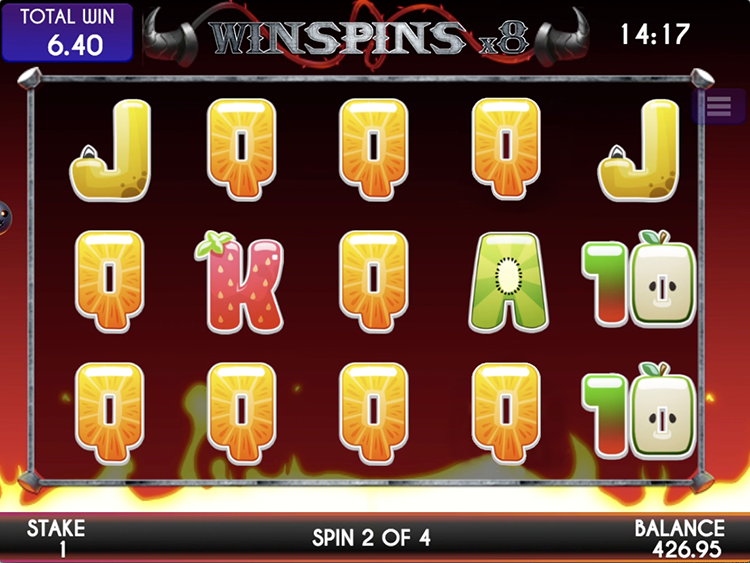 Make sure you're getting your five a day with this fantastically fruity game. With this mouth-watering selection of cartoon kiwis, watermelons, strawberries and more, you're in for a chance to win some juicy real money prizes! Activate the amazing Win Spin Bonus at Frooti Booti to choose between three themed levels with different volatilities, from Walk in the Lime with its relaxing country music soundtrack to Hard Core, where you can play for the tastiest prizes accompanied by heavy metal music.
For the Game Show Fanatics
Are you feeling nostalgic for classic game shows like Deal or No Deal or The Price Is Right? Never fear: Slingo has brought them back to life by creating innovative new games that you can play from the comfort of your own home!
The Price is Right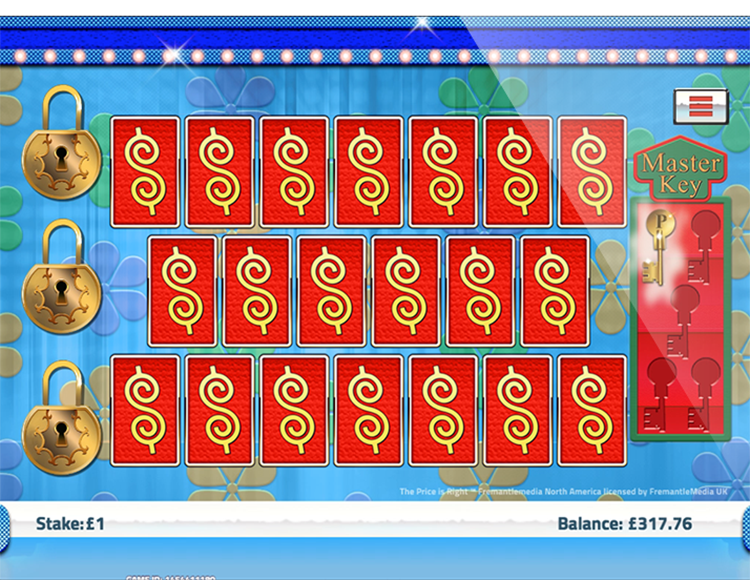 Nice to see you, to see you… nice! This glitzy slot takes its inspiration from the much-loved gameshow of the same name, where contestants were asked to guess the price of consumer items to be in with a chance of scooping big wins. This innovative slot features a range of lucrative bonus rounds based on the original show, from Cliff Hangers to the Master Key round and even the nail-biting Plinko game. And with the retro graphics and immersive gameplay of The Price is Right, you'll almost feel like you're up on stage with Brucie!
Slingo Britain's Got Talent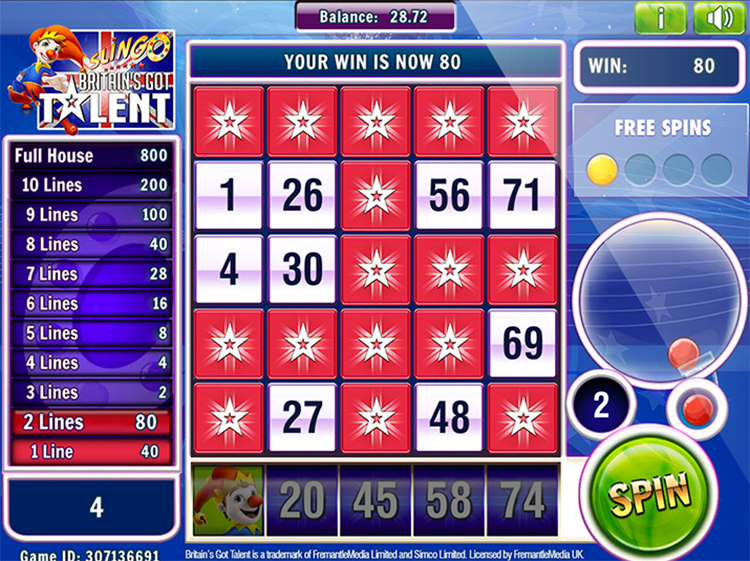 If you love nothing better than catching up with BGT on a Saturday night, you'll love this exciting Slingo slot. Match the numbers on the reels to the grid above and watch as the corresponding numbers are replaced by the iconic Britain's Got Talent star logo. This slot has the potential for superstar wins, with a jackpot of up to £20,000 up for grabs! The cash prize increases with every win, with Super Jokers and bonus coins thrown in to make for an unforgettable performance!
Slingo Deal or No Deal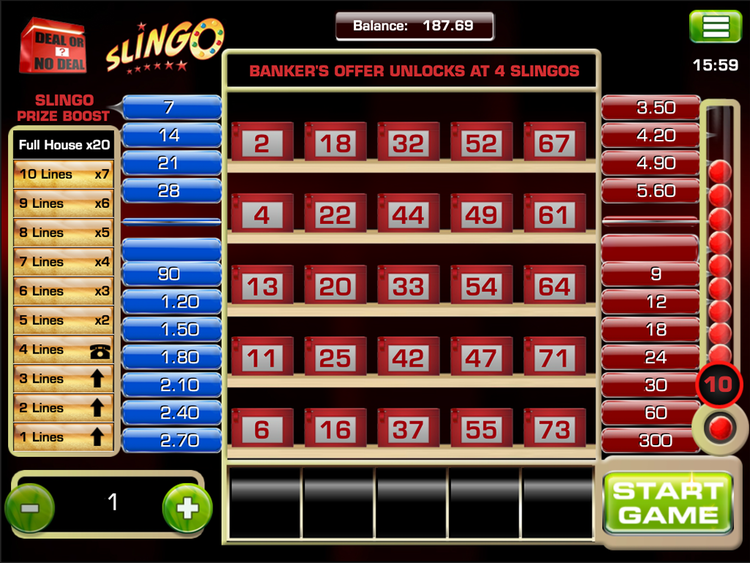 If Deal or No Deal is more your thing, you can relive all the excitement by playing Slingo Deal or No Deal! In this thrilling game, the familiar Slingo grid is filled with numbered boxes just like those from the show. Match the numbers on the grid to those in the reel below to win Slingos and work your way towards the Banker's Offer. Watch as the famous phone rings and the Banker makes you an offer: it's up to you to choose 'Deal' or 'No Deal', with the chance to walk away with up to £100,000!
For the Animal Lovers
Whether you're a cat person, a dog person or even a unicorn person, you'll love our selection of animal-themed games with cute, cuddly characters. Play Kat-Ching and you could score with the help of our furry feline friends, or find out what happens when pigs DO fly in the fun-packed slot Pigasus and Friends.
Pigasus and Friends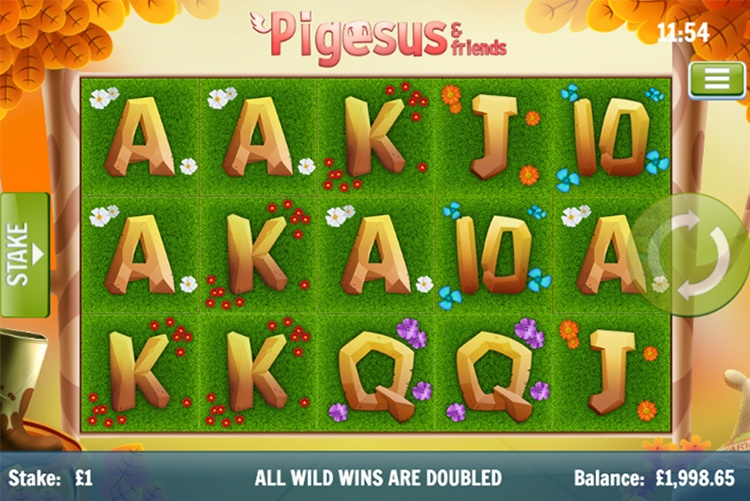 In this bright, cheerful slot we're transported to a farmyard where some rather… unusual animals live! Meet Pigasus the flying pig and his friends, a ewe-nicorn (a sheep with a unicorn's horn), a cute purple bird, and a three-headed giraffe! Just remember to watch out for the Big Bad Wolf – although he increases the multiplier, you'll also lose a life in this high-energy slot. And with the chance to win unlimited free spins, you'll be bringing home the bacon with Pigasus and Friends.
Kat-Ching!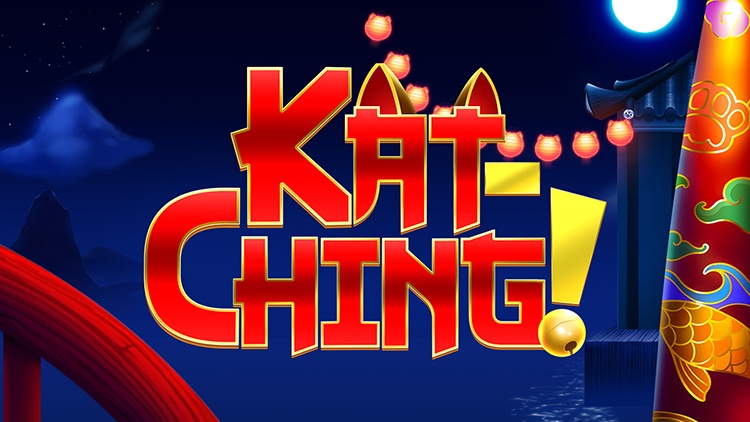 KatChing is a slot based on the Japanese Maneki-neko "lucky cat" figurines that are said to bring good luck and fortune to their owners. Spin the reels to match winning combinations, and look out for the Pawtune Respin. When it's activated, a colourful red kitty with a rainbow tail will appear on the screen to award you with up to 30 dizzying respins!
For the Adventure-Seekers
For the thrill-seekers among you who love nothing more than fast-paced, fun-filled action games, we've got a special selection just for you. With action-packed gameplay and special features better than any Bond movie, you'll love our adventurous offerings.
Hot Stepper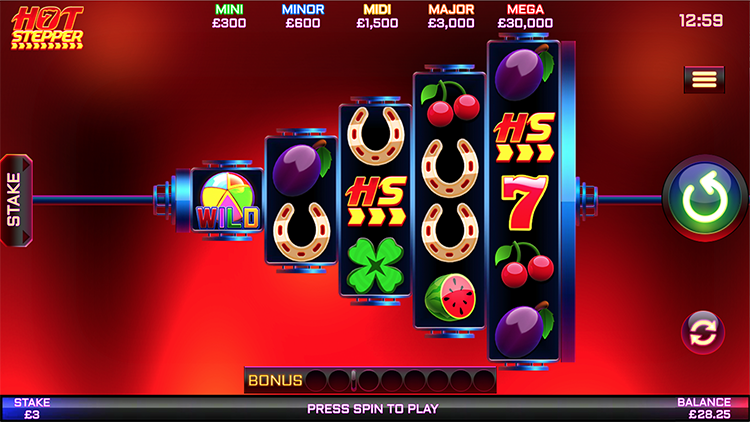 Hot Stepper is a fiery new take on the classic fruit machine slot, with a unique stepping reel mechanic and colourful arcade-style graphics. Any win steps the reels to the right and spins a new, bigger reel to give you the chance to win even bigger cash prizes. The reels keep stepping until they're fully inverted, and a Mega Jackpot of up to 10,000x your bet is also up for grabs!
Slingo Reel Extreme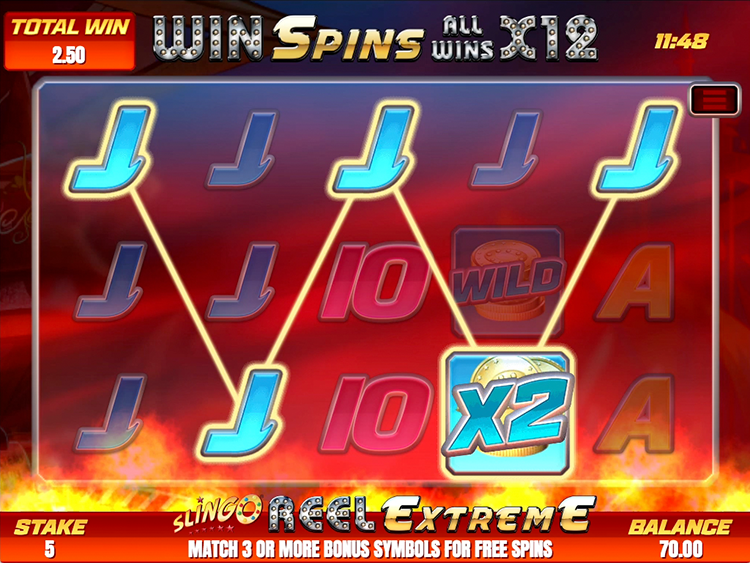 This red-hot version of Slingo Reel Riches really brings the heat! With its fast-paced gameplay and rock 'n' roll soundtrack, this sizzling slot will have you on the edge of your seat. Bonus symbols are held across five spins to give you the chance to win, and it has an exciting Spins Bonus. Can you take the heat of Slingo Reel Extreme? There's only one way to find out!
Slingo Wild Adventure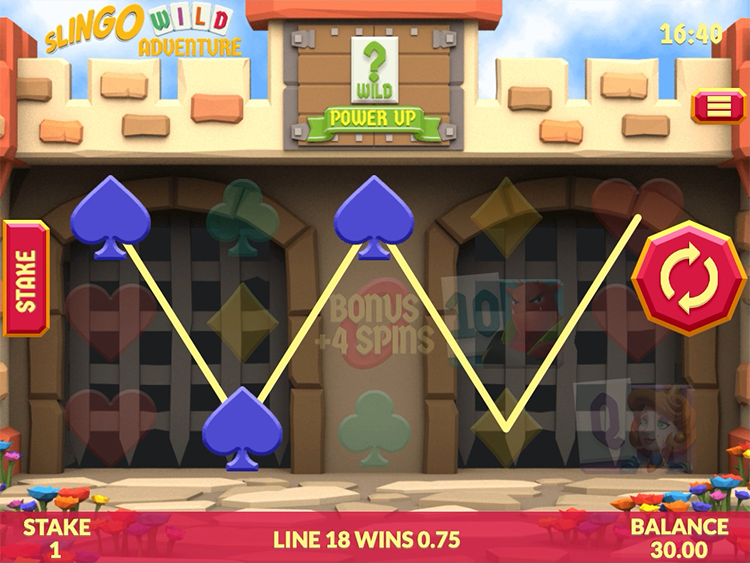 If you're in the mood for some medieval madness, Slingo Wild Adventure is the slot for you. This exciting cartoon-style game is set in a castle complete with knights in shining armour and beautiful princesses just waiting to be rescued! Find fortune in the form of Wilds, Multipliers and Bonus Spins, and gallop to victory by marking off Slingos on the grid to boost your win by up to 100x your bet! That's what we call a fairytale ending!
Film Lovers
If your perfect Saturday night consists of getting the popcorn in, curling up on the sofa and watching the latest blockbuster, you'll love our selection of games inspired by hit movies. Meet your favourite characters as you become part of the story, and play for some superstar cash prizes!
Mad Scatters Tea Party
Ready to venture down the rabbit hole to a world where nothing is as it seems? Mad Scatters Tea Party is based on the darker elements of Alice in Wonderland, featuring a gothic-looking Alice as well as the Dormouse, the March Hare, and of course the Mad Hatter himself. The game lets you choose your scatter, and watch as those free spins come rolling in when you land the Teapot Bonus!
Tutan's Treasure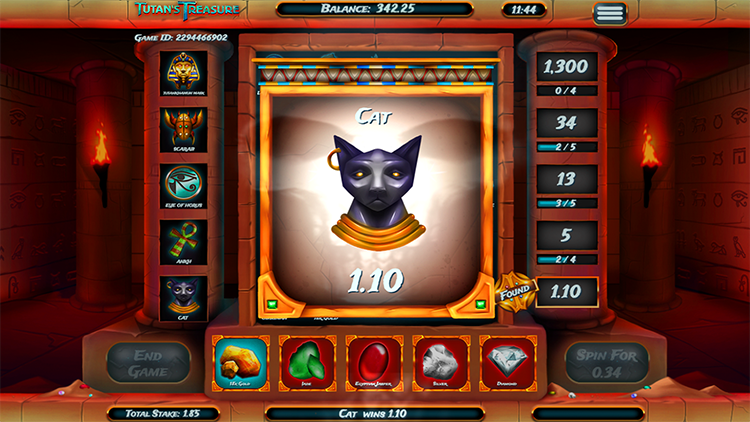 If Ancient Egyptian tombs, treasure and mystery are more your thing you'll love Tutan's Treasure. This exhilarating slot takes its inspiration from the classic treasure-hunting movies we all know and love, and the aim of the game is collect gems to complete artefacts  for a chance to real cash prizes. And with the chance to win an incredible 2,450x your bet, there's everything to play for in this Egyptian adventure!
For the Globetrotters
If you've got a serious case of wanderlust and love nothing better than exploring exotic new destinations, we've got a selection of games that are right up your street. And the best thing is that they can transport you to another world without you even leaving your sofa! So, where are we off to first?
Slingo Cascade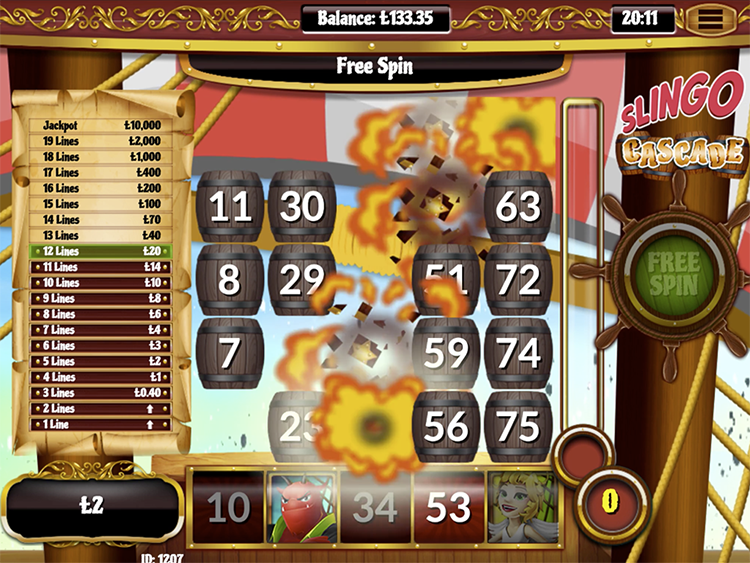 Ahoy there, captain! Slingo Cascade takes place on a beautiful sunny day out on the high seas. Navigate your crew to victory as you spin the wheel to match the numbers in the reel with those in the grid. Watch as barrels explode on the screen when you score winning combinations, helping you to climb to the top of the prize ladder. And with a jackpot of 5,000x your bet there for the taking, there are some serious wins to be won!
Slingo Advance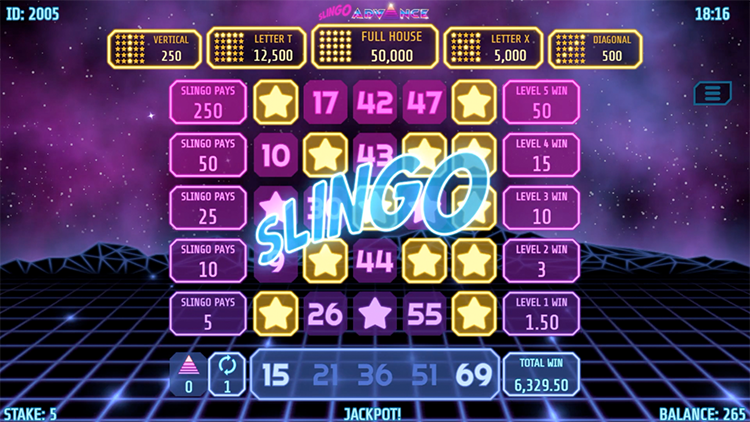 Journey into outer space with Slingo Advance, a retro arcade-style game with an intergalactic theme! Advance through five different levels and match symbols on the grid with those on the reel to win real cash prizes, with an out-of-this-world prize of 10,000x your bet for landing a full house! Ready for lift- off? Let's Slingo!
Slingo Berserk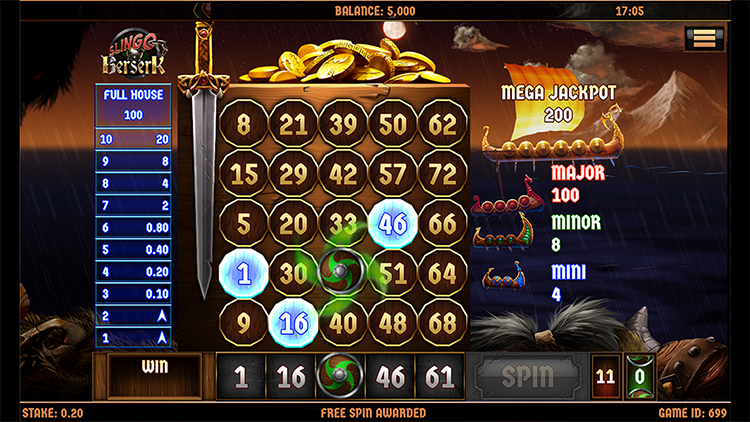 You're in for an epic adventure with Slingo Berserk, a swashbuckling slot set far away on the stormy seas! This Viking-themed game features an incredible four jackpots, giving you the chance to win up to 1,000x your bet. With coins galore and a Wild Lightning Hammer that appears randomly throughout the game to help you score more Slingos, there's never a dull moment in this exhilarating experience!
Whatever floats your boat, at Slingo.com we've got the perfect game for you. From animal adventures to game show glory and everything in between, find your favourite and get spinning those reels! All of our games are fully optimised for desktop and mobile use, meaning you can play whenever and wherever the mood takes you. Ready to explore? Let's Slingo!