Slingo Spotlight:
Slingo Rainbow Riches Review
Welcome to our first ever Slingo Spotlight blog post! In this blog series, we'll be taking a closer look at some of our most popular Slingo games. We'll talk about their themes, features, gameplay and more to tell you everything you need to know about our favourite Slingo games.
To kick off our blog series, the Slingo Spotlight is firmly on Slingo Rainbow Riches. For those of you who don't know, Rainbow Riches is one of the most popular slot games on the planet! So when Slingo got the opportunity to create its own unique version of the game, we jumped at the chance.
Slingo Rainbow Riches features all the best bits from the original game, plus a few exclusive Slingo surprises. With seven bonus rounds and a top prize of up to 1,000x your bet, Slingo Rainbow Riches is an action-packed game with plenty of opportunities to win real money prizes.
Read on to find out more about one of our favourite Slingo mash-ups yet! 
Slingo Rainbow Riches Theme & Design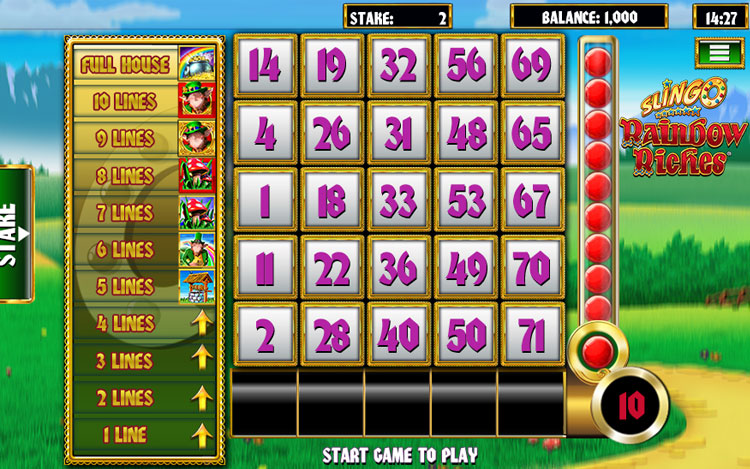 Just like the original game, Slingo Rainbow Riches has a cheerful Irish theme and a fun, colourful design. The Slingo game is set in the rolling hills of the Emerald Isle on a bright, sunny day. If you're lucky, you might even catch a glimpse of a friendly leprechaun or two!
Although the design of the base game screen is fairly simple, it's during the seven bonus rounds that the game really comes to life. With colourful rainbows, pots of gold, wishing wells and toadstools to help set the scene, we love the look and feel of this highly detailed Slingo game.
Game RTP & Wager Limits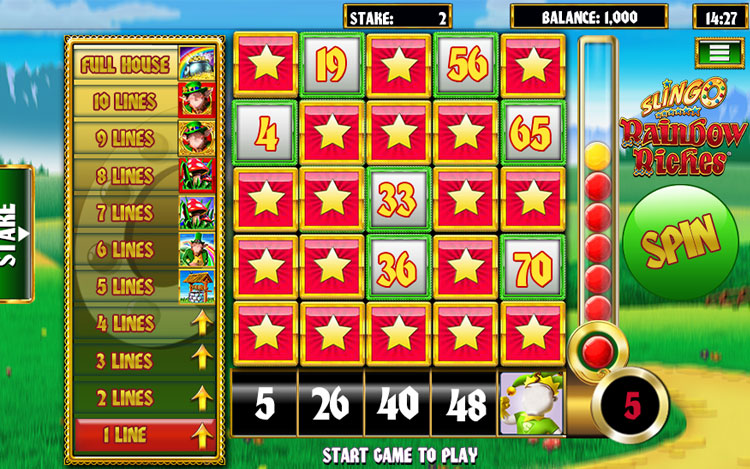 For those of you who are interested in the more technical aspects of the game,  Slingo Rainbow Riches has an RTP (return to player) of 95.6% Percentage return to player (% RTP) is the expected percentage of wagers that a specific game will return to the player in the long run.. This means that for every £100 wagered on the game, it should pay out £95.60 over time.
This RTP makes the Slingo game medium volatility. With statistics like these, Slingo Rainbow Riches is well-suited to both experienced players and those who are newer on the scene.
And with a minimum bet of £0.50 and a maximum bet of £100, the game appeals to players with a wide variety of budgets.
The top prize on this 5x5 grid game is 1,000x your initial bet, so fingers crossed you find your pot of gold at the end of the rainbow!
How to Play Slingo Rainbow Riches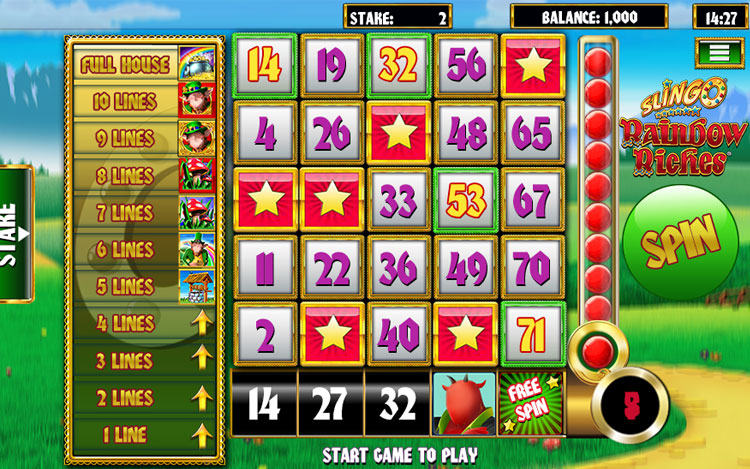 Before playing Slingo Rainbow Riches, you'll need to decide on your stake and then hit 'Spin.'
The aim of the game is to match numbers on the reels at the bottom of the screen with those on the grid, and each game lasts for 10 spins.
You'll win a Slingo for marking off five numbers on one of 12 win lines. With each Slingo you win, you'll progress further up the ladder on the left.
Complete five or more Slingos to access one of seven exciting bonus rounds!
To help you along your way, there are a few important symbols to be aware of.
The Joker with a green background lets you mark off any number in the column above to help you complete Slingos. There's also a Super Joker (lilac background) that enables you to mark off any number on the entire grid.
The Devil acts as a blocker to try to stop you from completing Slingos, and the Free Spin symbol awards an extra spin at the end of the game.
You'll meet the game's main character, Larry the Leprechaun, during the Road to Riches bonus round. He'll be the one spinning the wheel of fortune during the bonus, and hopefully, some of his Irish luck will rub off on you!
Slingo Rainbow Riches Features
Bonus Game Features
Slingo Rainbow Riches has an incredible SEVEN bonus features to unlock! Here's a quick summary of each of the bonus rounds:
In this bonus, you'll choose your lucky wishing well to win prizes and multipliers.
In Cash Crop, 50 coins will spin in front of you. Each one has different multipliers behind it up to 10x, and the coin that stops will show what you have won. Next a coin flip will decide your fate: will you get another go, or is it time to collect your winnings?
Magic Toadstool (7 Slingos)
Choose three magic toadstools to win multipliers of up to 5x, or a fairy. Each fairy awards you three more multiplier values, potentially increasing your total win!
     

Magic Toadstool Red (8 Slingos)
During this bonus round, the same rules for Magic Toadstool apply except you get to choose four toadstools this time. This gives you an extra chance for bigger wins!
Road to Riches (9 Slingos)
In this round, Larry the Leprechaun will spin the wheel of fortune to determine the number of steps you can take along the golden trail. In this round, you can win multipliers from 7x all the way up 500x!
Road To Riches Red (10 Slingos)
In Road To Riches Red the same rules from Road to Riches apply, only this time the multipliers' values are doubled. In this round, you can get from 14x up to 1000x multipliers, giving you the chance for some huge wins!
Pots of Gold (11 Slingos/Full House)
Reaching the top of the bonus ladder takes you to the pot of gold symbol and the final bonus game. You'll see a gold, a silver and a bronze pot spin around on the screen. Whichever one comes to a stop represents your prize, with multipliers from 50x to 1,000x! 
Slingo Rainbow Riches Mobile
Like all Slingo games, Slingo Rainbow Riches is fully optimised for desktop and mobile use so that you can play whenever and wherever suits you best. With Slingo's high-quality gaming platform and user-friendly interface, playing our games on your mobile is a breeze.
Play Slingo Rainbow Riches on Slingo
With its fun Irish theme plus seven amazing bonus rounds, Slingo Rainbow Riches is one of our favourite Slingo collaborations ever! And where better to play it than the official home of Slingo? Join us now for an exciting gaming experience in a safe, secure environment that puts you first.