If we could summarise Slingo Space Invaders in one word it would be: nostalgic! We love seeing how the Slingo team have put their own spin on one of the most well-known computer games of all time, and it's almost making us misty-eyed for simpler times spent playing computer games down at the arcade…
In this review we'll explore what it's really like to play one of the newest Slingo games, and what we love about it. If you're looking for a step-by-step guide on how to play, visit our Slingo Space Invaders page.
---
*Terms and conditions apply.*
---
Slingo Space Invaders Information
| | |
| --- | --- |
| Game Name: Slingo Space Invaders | RTP: 94% |
| Game Provider: Slingo Originals brought by Gaming Realms | Reels: 5 |
| Theme: 2D/3D, Alien | Paylines: 12 |
| Feature/s: Multipliers, Wilds, Super Wilds and Extra Lives | Min & Max Bet: £0.10 - £100 |
| Volatility: Medium | Biggest Possible Win:  |
HIGHLIGHT ONE: Slingo Space Invaders Gameplay
Slingo Space Invaders is a fun Slingo game that is simple to play, whether you've played Slingo games before or not. The aim of the game is to match up the numbers that appear on the grid with those on the reels – it's like a cross between slots and bingo, hence the name Slingo!

If you have played Slingo before you'll notice that in Slingo Space Invaders the numbers on the grid are more spaced out than they usually are. This makes the base game feel different to play, while the bonus round ups the excitement with a Space Invaders-style shoot 'em up. Keep reading to find out more about the game's theme, symbols and bonus features.
HIGHLIGHT TWO: Slingo Space Invaders Game Theme
The Slingo Space Invaders game has a retro, arcade game-style theme that is inspired by the original Space Invaders game. The design of Slingo Space Invaders makes it look like we have just landed on a mysterious distant planet, and if you look closely you'll see mountains, craters and some kind of futuristic weapon that could be used to defend yourself against alien invaders.
At the side of the reels there's a monster from the Space Invaders game series, and fans of the original game will notice iconic symbols like cannons, UFOs and various Space Invader shapes.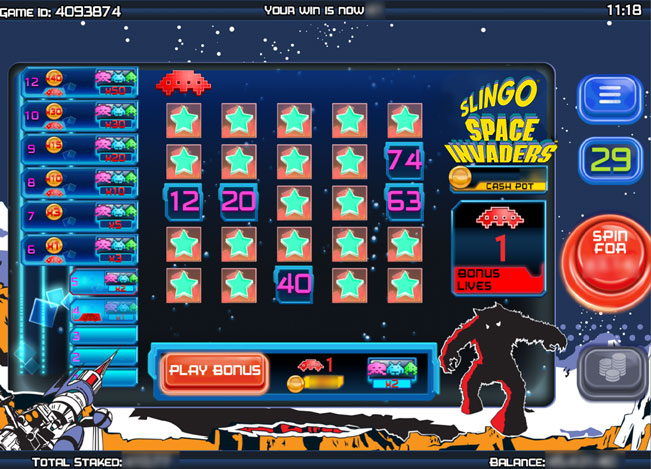 HIGHLIGHT THREE: Slingo Space Invaders Symbols
In the Slingo Space Invaders game there are a few different symbols to look out for. Here's a quick summary:
Red Wild: Enables you to mark off any number in the column above the one it appears in.

Gold Super Wild: Allows you to mark off any number in the entire grid.
Cannons: Can fire beams at UFOs in both the base game and the bonus game. In the bonus game, double and triple cannons can appear.
Red UFOs: Can appear in the base game after completing 4 Slingos, or in the bonus game. Awards an extra life in the bonus game.
Gold UFOs: Can appear in the base game after completing 1 Slingo, or in the bonus game. Awards a cash value.
Coins: As you accumulate Slingos, your prize will be multiplied by the values on the coins in the pay ladder.
Octopus, Crab, and Squid Space Invaders: Appear in the bonus game, with a prize value of 0.1x, 0.2x and 0.4x your bet.

Bunkers: Can appear above the reels to absorb shots from the cannon, acting like a blocker. Bunkers are destroyed in three shots.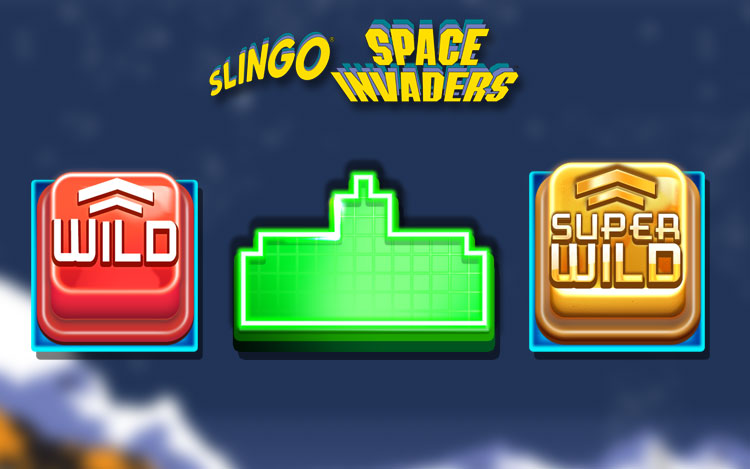 HIGHLIGHT FOUR: Slingo Space Invaders Game Bonuses
Slingo Space Invaders has one bonus game, which has a number of unique features and symbols within it. Here's some more information about how it works:
Space Invaders Bonus Game
Get three or more Slingos on the reels to trigger the Space Invaders bonus game at the end of the current game. You'll be taken to a new screen, where you'll see an array of space invaders. Your goal is to shoot them down using single, double or triple cannons that appear on the reels to win a multiplier prize.
The game also features red UFOs, which award an extra life if you shoot them down, and gold UFOs which can award a cash prize. 

FINAL HIGHLIGHT: Slingo Space Invaders Summary
Slingo Space Invaders is an engaging Slingo game that does a great job of blending the two worlds of Slingo and Space Invaders. We love playing the shoot 'em up bonus game, and the chance to win extra lives is a neat feature.

Want to learn more about Slingo Originals, including a list of our favourite Slingo Originals x Gaming Realms releases to try? Read our blog post to discover more Slingo Originals games.

Play Slingo Space Invaders at Slingo
Slingo UK is the official home of Slingo Originals and new Slingo games, including Slingo Space Invaders. This game is one of our hottest mash-ups yet, combining the familiar Slingo grid with iconic Space Invaders gameplay in the bonus game. Shoot down red and gold spaceships for your chance to win extra lives and cash prizes! Ready for your space mission? Sign up now and play Slingo Space Invaders online at Slingo!