As the days get shorter and the nights get darker, it's the perfect time to play spooky slot games! This time the spotlight is on Immortal Romance, one of our most popular Halloween slots.
Read on to learn more about this immersive, story-led slot, from theme and design to bonus features and more.
Immortal Romance's Story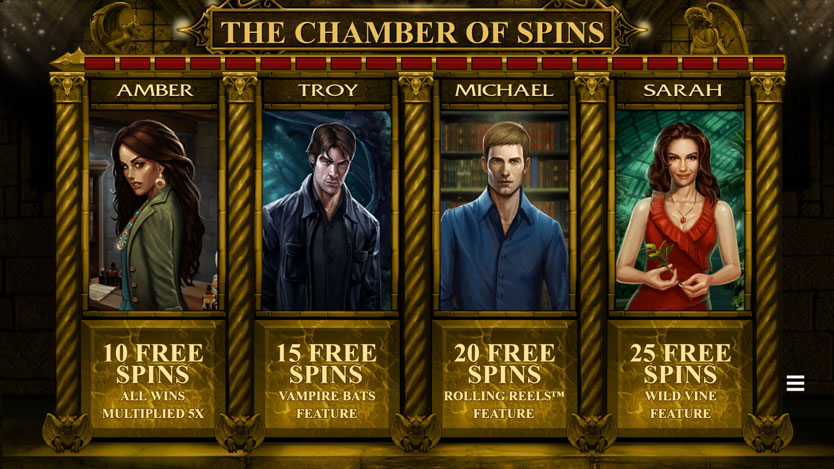 Immortal Romance has one of the most detailed storylines we've ever come across in a slot game. Watch as the story unfolds as you play, and get to know the four mysterious characters. 
The main character is Sarah, a scientist who believes she is close to solving the mystery of immortality through her research into human blood.
She meets Michael, who lets her analyse his blood - but little does she know that he is an 800 year old vampire!
Michael proceeds to fall madly in love with Sarah, while keeping his true identity a secret from her. 
To make matters more complex, the game also features a white witch called Amber who is descended from a long line of Caribbean witches. Amber is Sarah's best friend, and as well as being a pharmacist she also has psychic powers.
Of course, she soon finds out that Michael is a vampire, and threatens to curse him forever if he harms Sarah or makes her immortal too.
But Amber is thrown off course when she meets Troy, a 'young' 200 year old vampire who is irresistibly drawn to her and her psychic abilities.
Will the fearless foursome find love despite their differences? You'll have to play the Immortal Romance slot to find out!
Symbols, Theme and Design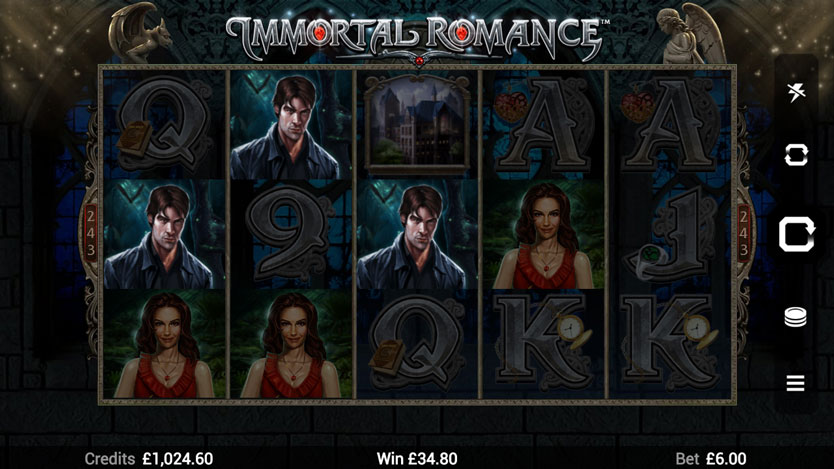 The Immortal Romance game takes place inside a mysterious gothic castle and features a specially designed soundtrack that helps to create a spooky Halloween theme. Each character has their own theme tune, which can be activated during the bonus Chamber of Spins round. The soundtrack is so popular that it is available to download on its own, and it really helps to bring the game to life.
However, before you start playing you'll need to familiarise yourself with some of the characters and symbols you'll meet along the way.
The highest paying symbol is the Immortal Romance logo, which pays a whopping 1,500x your original line bet for landing five adjacent symbols on a payline. It's also the game's Wild, and will double any win if it's used to create a winning combination.
Next is our heroine, Sarah. She can win you up to 500x your line bet if you're lucky enough to land five symbols on a payline. She's followed by her vampire lover, Michael, who can win you up to 450x your line bet.
The next highest paying symbol is Troy, Michael's younger vampire apprentice. This dark, handsome fellow will win you 400x your line bet if you land five adjacent symbols on a payline. He's followed by Amber, Sarah's best friend, who can win you up to 350x your line bet.
Next is the spooky castle and the candlelit book, which are worth up to 300x and 250x your original bet, respectively. The lower paying symbols are the traditional card values A – 9, which are worth between 100x and 150x your line bet for landing five-of-a-kind.
Another important symbol is the bonus scatter, represented by the lion-shaped door knocker. Landing five of them on a payline is worth 200x your line bet, and landing three or more of them activates the thrilling Chamber of Spins bonus round.
Unique Bonus Features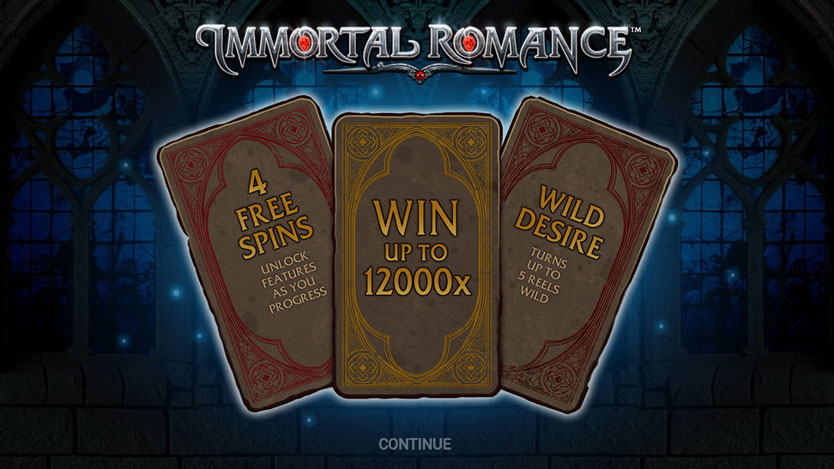 One of our favourite things about the Immortal Romance slot is the exciting Chamber of Spins feature.
The first time you activate this feature, you'll only have access to Amber's bonus round. She'll give you ten free spins and all wins will be multiplied by five. 
As you progress throughout the game you'll unlock the other characters' bonus features, from Troy's Vampire Bats round to Sarah's Wild Vine bonus round. In the latter, you'll have the chance win an amazing 25 free spins! Watch as the wild vine snakes its way up the third reel to turn symbols wild and give you the chance to score winning combinations.
Another exciting feature is the Wild Desire round, which is triggered randomly throughout the game. Watch as the reels spin faster and faster until one of them disappears in a flash of light as a spell is cast! The word 'Wild' will appear dripping blood in a vertical line, turning the whole reel into a Wild!
Play Immortal Romance at Slingo.com
Discover the secrets of the afterlife with Immortal Romance at Slingo.com! With its detailed story, original soundtrack and exciting gameplay, Immortal Romance is one of our favourite Halloween slots ever. Sign up with Slingo today and browse our selection of Halloween slot games!