Slingo Inca Trail is an epic Slingo Originals game that burst onto our screens back in 2022. With its unique theme, fun Bonus Trail and multiplier prizes, Slingo Inca Trail is a real adventure.
Read on to find out what makes this Slingo title so special – maybe after you've finished reading you'll be inspired to try it for yourself!
---
*Terms and conditions apply.*
---
Go on an Epic Journey with Slingo Inca Trail
Slingo Inca Trail is a fun Slingo game inspired by the journey to Machu Picchu in Peru. This ancient Incan citadel dates back to the 15th century and lay hidden in the mountains of Peru for hundreds of years, until it was discovered in 1911!

The Slingo Inca Trail game features the familiar Slingo grid, although this time there's a Bonus Trail running along the top of the reels. Find arrows on the reels to advance further along the trail and unlock an exciting bonus round.
And with Free Spins, Wilds and Super Wilds to help you along the way, there are plenty of chances to win a cash prize.
Read on to find out our top three game features in Slingo Inca Trail!
Unique Theme 
The Slingo Inca Trail game is beautifully designed, with lush green trees swaying gently in the wind and an Incan temple hidden behind the reels. There's even a friendly llama to keep you company beside the reels and watch all the action.
In case you're not familiar with Machu Picchu and the Incas, here's a quick summary. The Incan empire dominated western South America in the 15th and 16th centuries. Machu Picchu was an Incan citadel built high in the mountains of Peru, and is thought to have been a royal estate and a place to keep its most important citizens safe from attack.
The location was so remote and well-hidden that it was not discovered by the Spanish in their conquest of South America – in fact, Machu Picchu was kept a secret until an American explorer found it in 1911 with help from locals. For this reason, it is also known as 'The Lost City'.
Today Machu Picchu is one of the seven wonders of the world, and attracts thousands of tourists every year!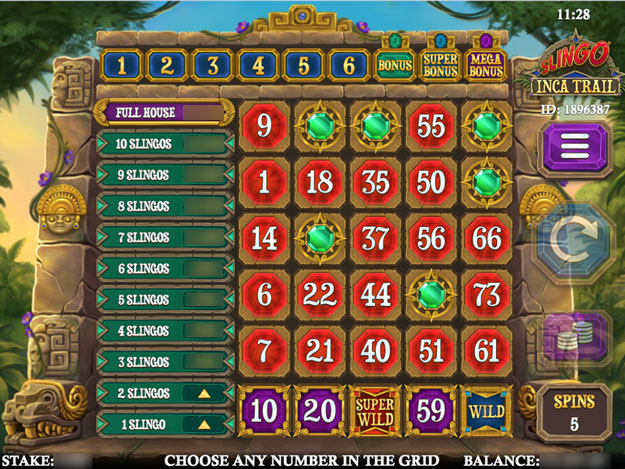 Inca Trail Bonus 
The Inca Trail Bonus is activated by reaching the Bonus, Super Bonus or Mega Bo nus squares on the bonus trail above the reels. At the end of the game you'll be taken to a new screen where you'll see a map with a trail on it. Each spin of the wheel will select a different bonus icon. Keep on spinning until you land on Collect, or until you reach the end of the trail.
If you reach the end of the Inca Trail, you've made it to Machu Picchu! You'll get to play a fun picking game where you'll choose one of six precious artefacts. Behind each artefact is a mystery multiplier that will be applied to your prize total.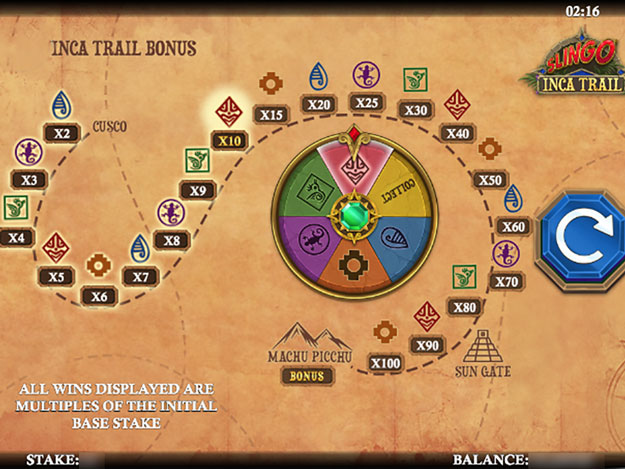 High Multiplier Win Potential
Although it's definitely not all about the money, the potential win multiplier of up to 5,000x your original stake certainly adds another degree of excitement to the game! This prize can be unlocked in the Inca Trail Bonus Game after you've reached Machu Picchu – if you choose the winning artefact, that is!
For those of you who are interested in the more technical side of things, Slingo Inca Trail is a high volatility game, which means that although prizes may be awarded less frequently than some other games, they will be greater in value. And with a high RTP (Return to Player) of 96.47%, Slingo Inca Trail is an attractive game for players of all budgets.
Play Slingo Inca Trail at Slingo.com
Slingo.com is the official home of Slingo Originals, including Slingo Inca Trail. This unique game gives you the chance to discover the mysteries of Machu Picchu, all from the comfort of your own home. With its original theme, simple gameplay and exciting bonus rounds, you'll love this innovative Slingo game. Ready for an adventure? Register at Slingo and play Slingo Inca Trail now!