With so many great Slingo games to choose from, it can be difficult to decide which one to play first! Some players decide to narrow it down by choosing Slingo games with high volatility, free spins, or their favourite theme.
In this article we're going to focus on our most popular high volatility Slingo games, and hopefully give you some inspiration for what to play next. From the fiery Slingo XXXtreme to the sugary sweet Slingo Sweet Bonanza, there's something to suit all tastes here.
Not sure what high volatility means? Don't worry - we explain all below!
---
*Terms and conditions apply.*
---
What Does High Volatility Mean?
To put it simply, volatility in slot games refers to the level of risk the game has. Without getting too technical, it is the game's hit rate (how often you can expect to win), in combination with its maximum exposure (the biggest possible win in the game). 
High volatility games are those with a higher risk, but bigger potential rewards. These types of games tend to pay out less frequently - but the prizes tend to be bigger when they do pay out. For this reason, they are a popular choice with many excitement-seeking players! However, remember that it may be necessary to place bigger bets on these games to achieve a reward. Always gamble responsibly, and never spend more than you can afford to lose.
Try Our Most Popular High Volatility Slingo Games
Here at Slingo we have a great selection of our own high volatility games to choose from. Keep reading for more information about our most popular high volatility titles:
Slingo XXXtreme
First up is Slingo XXXtreme, a fiery Slingo game with a top prize of up to 10,000x your bet. In terms of gameplay this one is fairly straightforward, with Jokers and Super Jokers to help you mark off numbers on the grid and a Free Spins symbol that can award you an extra spin. Slingo XXXtreme also gives you the option to buy potentially unlimited spins at the end of each game, to give you a chance to climb higher up the pay ladder.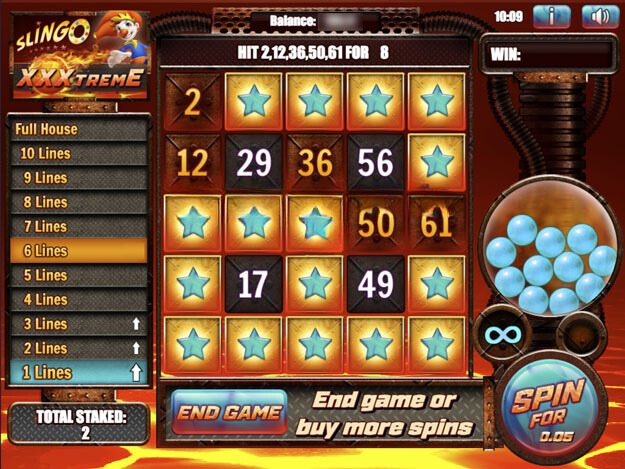 Slingo Sweet Bonanza
Slingo Sweet Bonanza is a fast-paced, fun-filled Slingo game based on the hit slot game Sweet Bonanza. Complete Slingos by matching numbers on the reels with numbers on the grid and work your way up the bonus ladder. To gain access to the sugar bomb bonus game, you'll need to complete eight Slingos or more. You'll then be directed to a new screen, where you'll select one of four brightly coloured candy bombs to reveal multiplier values. You'll gain more picks the more Slingos you complete!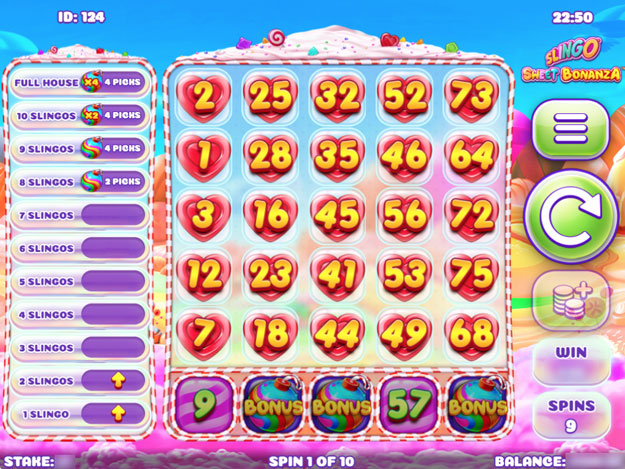 Slingo Advance
Slingo Advance has a stylish, retro design that takes us back to the video games of our youth. With a pink and purple colour scheme and stars that twinkle in the distance, the game is set in a galaxy far far away. This innovative game offers an exciting new way to play Slingo, with different levels of the grid unlocking when you match a number on the grid with one on the reels. The aim of the game is to achieve vertical or diagonal lines, the letter 'T', the letter 'X' or a full house on the grid as you advance through five different levels to be in with a chance of winning a jackpot!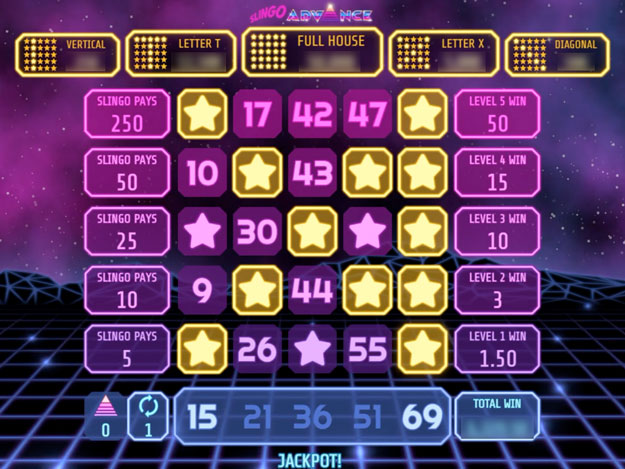 Bar X XL
Bar X XL is a unique Slingo game with a retro style. Its simple black, white and red design is based on the iconic Bar X machines which first appeared in arcades and casinos in the '80s. They were often called OXO machines because of their O and X symbols, which you'll also find in the Bar X XL game. With colossal symbols that can trigger a respin plus up to 30 free spins, Bar X XL is an exciting Slingo game that has become a modern classic. The game is also based on an earlier Slingo game, Bar X Colossal, which is another high-volatility slot that's worth giving a try!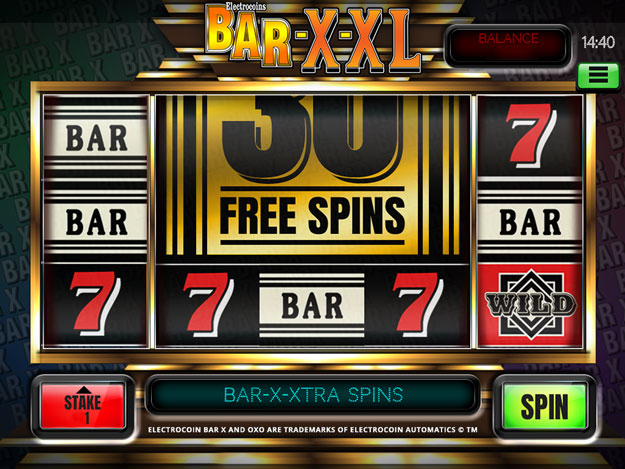 Play High Volatility Slingo Games at Slingo.com
Find all these high volatility Slingo games and more at Slingo.com, home to all the latest Slingo, slots and casino games. Join us now for an amazing gaming experience in a safe, secure environment that puts you first. Always gamble responsibly, and never spend more than you can afford to lose.