Creators of Slingo Showdown; Slingo Originals know how to shake up their awesome Slingo game formula in just the right ways and no other game exemplifies this quite like Slingo Showdown. Adding poker into the mix, and infusing the game with a fun Western theme, Slingo Showdown is an exciting game that even the most avid Slingo players will find refreshing. In this article, we'll be taking a closer look at this title, with the emphasis on how to land free spins, so if that sounds interesting to you, then keep on reading!
Slingo Showdown: Do You Have the Cool to Enter the Saloon
The Slingo Showdown slot machine online, which is set in the Slingo Saloon, combines the excitement of the Wild West with the thrills and spills of Slingo. The Slingo Showdown online slot is unlike anything you've ever played, so fasten your seatbelt, mate! The Slingo Showdown slot machine offers players additional incentives for achieving poker hands as well, so you get to enjoy all the usual Slingo fun with all the extras present and right!
Cards from the slot reel and playing cards can be used to fill in any matching spots on the 5x5 game grid. The Slingo Showdown game is a fresh spin on Slingo, offering multipliers for obtaining 4 or more Slingos as well as bonuses for finishing poker hands. Slingo Showdown is very different from the Slingo games you've played before so let's move on to how to play this unique title. 
Slingo Showdown: Game Basics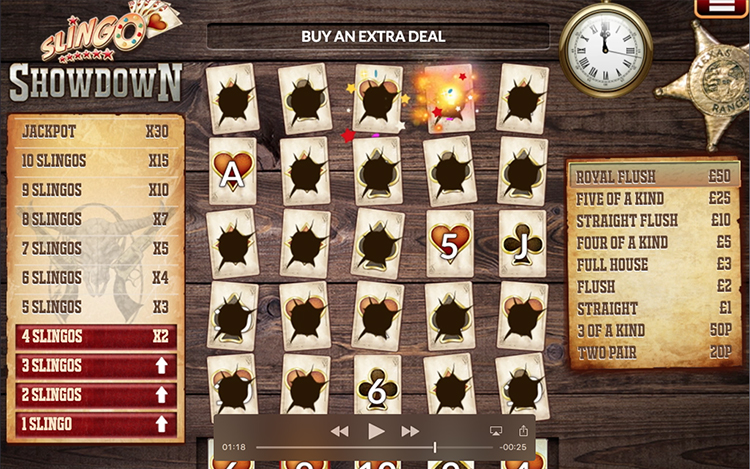 To start playing Slingo Showdown, set your stake using the + and - buttons on the bottom left corner of the game screen. When you're happy with your stake amount, click the "start" button. Once your cards have been dealt, the game grid will be cleared of any matching suits or numbers. The object of the game Slingo is to cross out rows of numbers. Your score will increase with each Slingo you obtain.
Nine rounds or deals make up the game (instead of the traditional Slingo spins). The paytable is located on the right side of the gaming screen, and it includes further information if you receive a poker hand during your deal. If you want to continue trying to complete Slingos after the main game is over, you can choose to purchase more deals at the cost listed above the deal button.
Slingo Showdown uses the following symbols:
Any card in the column above its reel position can be marked off by the

Joker.
Super Joker:

The Super Joker serves as a wild card for poker hands and can mark off any card in the grid.

Devil:

The Devil prevents possible matches.

Free Deal Cards:

The player receives an additional deal, and the cards also serve as wild cards for poker hands - but more on this in the following section. 
How to Get Free Spins on Slingo Showdown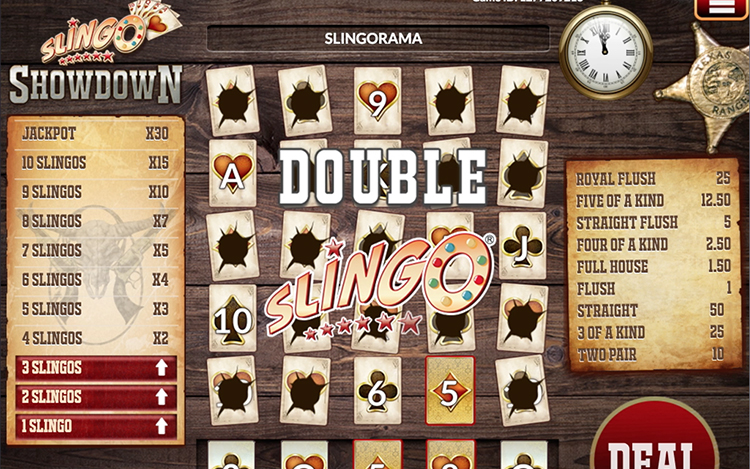 Like with most Slingo games, getting free spins is an incredibly straightforward process and just requires a little bit of luck. All you need to do is land a 'Free Deal' card to receive a new hand; the equivalent of free spins, as Slingo Showdown is all about dealing out those winning poker hands. Free Deal cards also have a fantastic additional feature. When they're landed in a hand they will also become a wild card, which can help you to land additional Slingos, while still adding to your free spins tally. All free spins will be played at the end of the game, and aside from this, players can also purchase extra spins after the free spins have concluded, though, of course, these extra spins aren't free. 
Play Slingo Showdown at Slingo.com
So, if you're ready for a standoff at dawn look no further than the Slingo Showdown slot game available to play right here at Slingo.com. At Slingo.com you can find a whole host of epic slot games, bingo games, Slingo titles, and a lot more. Sign up and join in on the Slingo fun today.