Slingo Shark Week takes its inspiration from the popular Discovery Channel's annual event, where the channel is dedicated to all things shark!
In the game you'll match up numbers on the familiar Slingo grid to complete Slingos and hopefully trigger one of five exciting bonus rounds.
Bonus games include Break the Cage, Fish Grab, What Did the Shark Eat and more. Spin the Shark Wheel to trigger enhanced bonus rounds or win multiplier prizes!
And with Free Spins, Wilds and Super Wilds to help you along the way, there are plenty of chances to win in this action-packed Slingo game.
In this guide we'll cover everything you need to know to play Slingo Shark Week, from key characters and symbols to information about the different bonuses on offer. Read on to find out more!
Slingo Shark Week Gameplay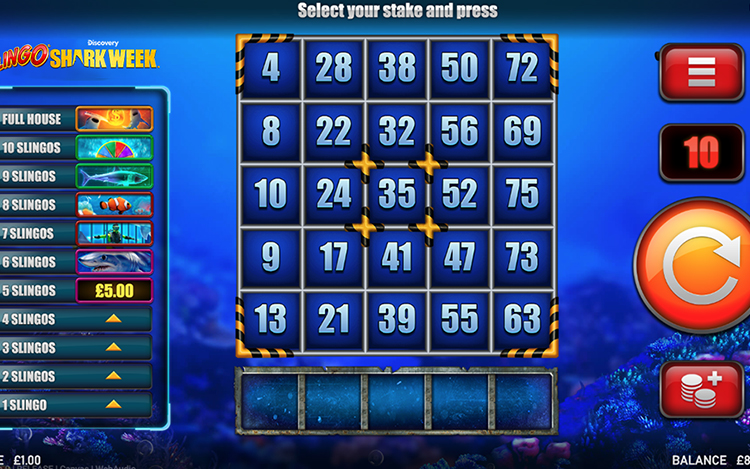 Before playing Slingo Shark Week online, you'll need to decide on your stake. Once that's sorted, it's time to begin!
The aim of the game is to match up numbers on the reel with those on the grid. Just like in other Slingo games, you'll win a Slingo for marking off five numbers on the grid – vertically, horizontally or diagonally.
Completing a Slingo on the grid will move you up the bonus ladder, and your goal is to mark off every number on the grid to achieve a full house and win the corresponding prize.
 Wilds and Super Wilds can help you towards this goal by allowing you to choose specific numbers to mark off on the grid.
Complete five Slingos or more to gain access to an exciting bonus round at the end of your game. With fun bonus games like Break the Cage, Fish Grab and more, you could be in with a chance of supersizing your winnings.
Get ten Slingos to spin the Shark Wheel, which is full of enhanced bonus rounds and multipliers of up to 100x your bet!
Slingo Shark Week Theme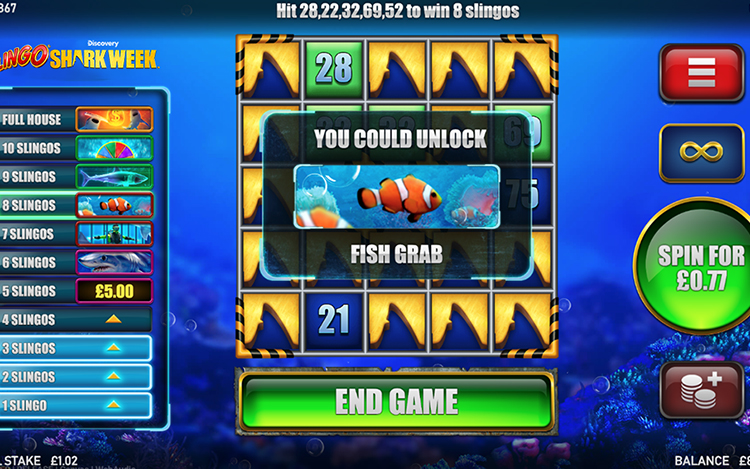 We love Slingo Shark Week's unique theme. The game is set in the deep blue sea, where beautiful fish – and menacing sharks – can be found swimming around on the screen.
But what is Shark Week, and where did it come from?
Shark Week is an annual, week-long programming event on The Discovery Channel. The first-ever Shark Week took place back in 1988, making it the longest-running TV programming event ever!
Shark Week soon gained cult status, and it's one of the best ways to learn more about one of the ocean's most famous – and most feared – creatures.
How to Win in Slingo Shark Week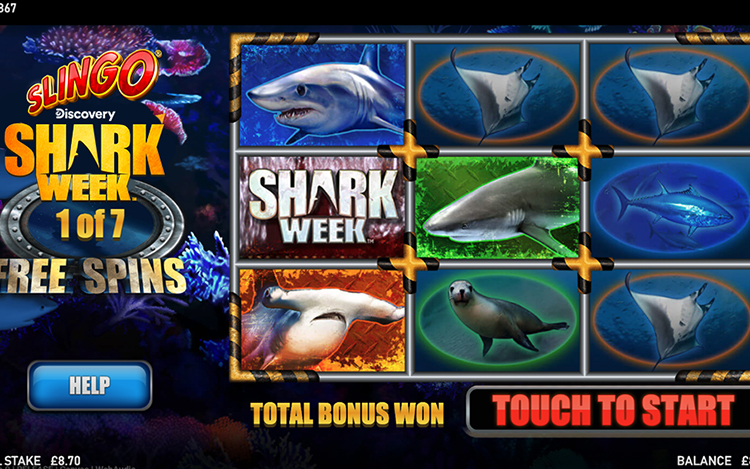 Since all online slots and Slingo games are games of chance, there are no hacks or ways to guarantee a win. All outcomes in Slingo Shark Week are determined by an RNG (random number generator) - a computer system that is almost impossible to predict.
However, our top tip for playing Slingo Shark Week is to use the Wilds and Super Wilds wisely. When these symbols appear on the reels they enable you to choose numbers to mark off on the grid - so choose carefully!
The aim of the game is to mark off lines (or 'Slingos') on the grid to work your way up the bonus ladder on the side of the grid.
If you're given the chance to mark a number off on the grid, think about it carefully to see which grid position you think will help you to complete Slingos! Sometimes the choice may be obvious (e.g., if you've only got one number left to complete a Slingo), but at other times you might need to carefully weigh up your options.
Make the Most out of Slingo Shark Week's Bonus Features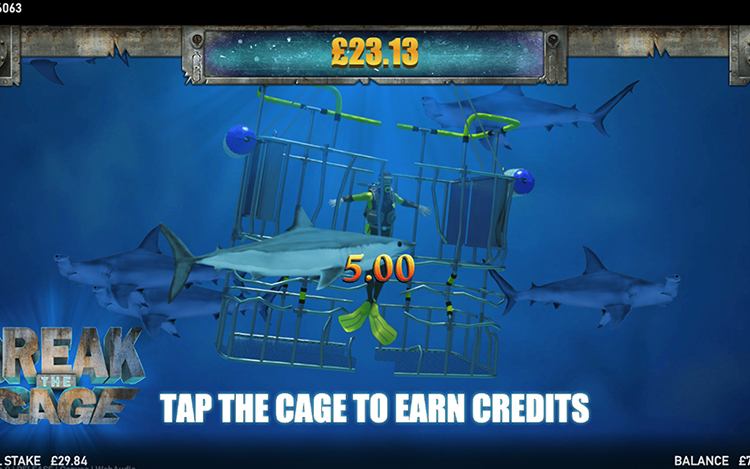 Slingo Shark Week has five fun bonus rounds, which offer players the chance to bag additional win multipliers and supersize their wins. Complete five or more Slingos to unlock a bonus round, which will play at the end of the current game.
You'll have the chance to play the bonus game, or purchase extra spins to try to unlock the next game up the bonus ladder.
From the Fish Grab Bonus to the 'What Did the Shark Eat?' game, each round has a unique theme and set of prizes to be won.
Get ten Slingos to spin the Shark Wheel  – a colourful wheel full of enhanced bonus rounds and multiplier prizes. If you're lucky, you could even win up to 100x your bet!
Play Slingo Shark Week at Slingo.com
Brave the shark-infested waters with Slingo Shark Week! And where better to play it than the official Slingo site? With over 1,200 Slingo, slots and casino games plus amazing customer service and a fun gaming environment, Slingo.com is your #1 destination for a fantastic gaming experience. Sign up and play Slingo Shark Week here at Slingo.