Advance to Slin-go with Our Monopoly Slingo Tips! 
Monopoly Slingo is one of our favourite Slingo collaborations ever! This feature-packed game gives you the chance to play a fun, fast-paced version of the classic board game wherever you are. And with four different volatilities to choose from, Monopoly Slingo is perfect for both experienced players and complete beginners.
To help you make the most of this exciting Slingo game, we've come up with a few top tips. Read on for info about how to play, volatility levels, bonus features and more!
First, How Do You Play Monopoly Slingo?
At the start of the game, you'll need to select the profile you'd like to play with using the 'Choose Profile' button. This will determine whether you have 7 or 8 rolls of the dice, and some of the profiles offer higher prizes or extra rolls (we'll come back to this in the next section!). There are four profiles to choose from, which are inspired by some of the silver playing pieces: T-Rex, battleship, Racing Car or Dog.
Place your bet using the 'Stake' button, and then you're ready to go! Click the 'Start 7/8 Rolls' button to begin, and roll those dice!
Make your way around the board, collecting properties as you go. Once you land on a property, every property of the same colour is marked off on the Slingo grid in the centre of the board.
Every time you pass Go, cash will be added to 'free parking.' If you're lucky enough to land on free parking, you'll get to collect the cash.
Just like the original, the Monopoly Slingo game features Chance and Community Chest cards. If you land on them you'll be dealt a random card with either a reward or a penalty. You might be sent to another property or to jail, or you could win a cash prize!
Choose the Volatility Level
As we mentioned above, before playing Monopoly Slingo you'll need to determine your volatility level by choosing one of four profiles to play with. Here's a table to show you the number of rolls and the top prize for each volatility level: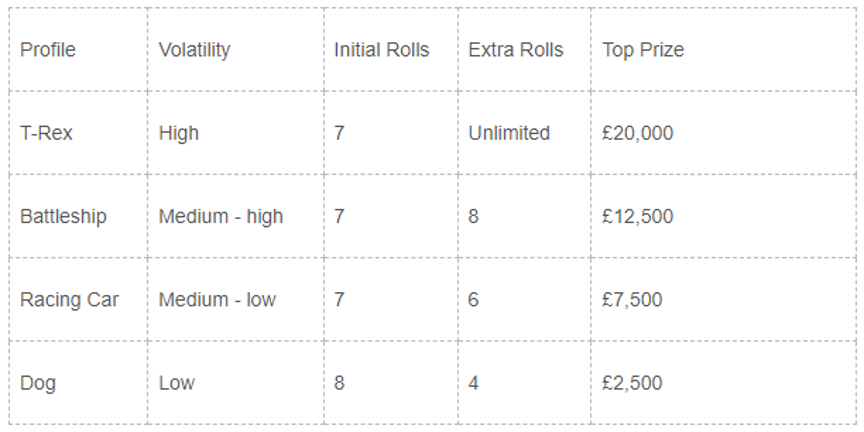 As you can see, the T-Rex has the highest volatility. This means that the top prize will be greater, but your chances of winning it may be less than if you were playing at a lower volatility (as the Dog, for example).
Make the Most Out of the Bonus Features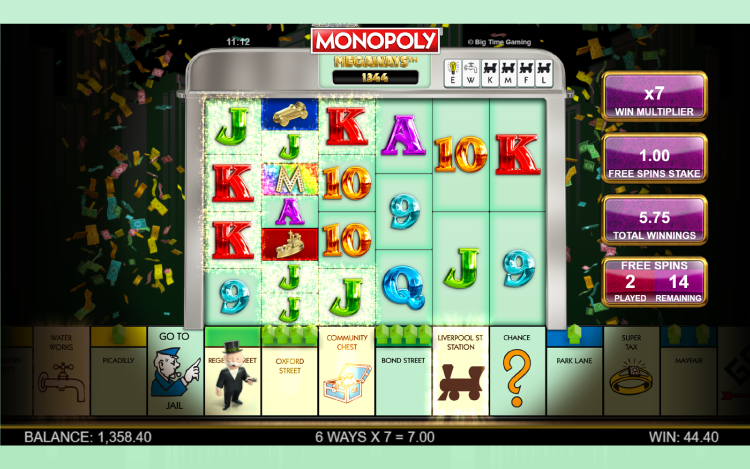 Monopoly Slingo has plenty of bonus features to explore! Here's quick summary:
The Joker
When the Slingo Joker appears, Mr Monopoly will select a card from each property set. You'll then advance to whichever property he has chosen.
Passing Go & Free Parking
In the original board game, you get additional cash whenever you pass "Go". In Monopoly Slingo, every time you pass "Go" cash will be added to the Free Parking square. When you land on the Free Parking slot, you get to collect the accumulated cash.
Chance and Community Chest
When you land on a Chance card or a Community Chest you will be rewarded. You can get Free Rolls, cash prizes, a "Get Out of Jail Free" card, or the chance to move your position on the board (this can include jail!).
Slin-Go to Jail
Landing on this will send you to jail for three rolls or until you roll a double. Or if you're lucky enough to have a 'Get Out of Jail Free' card, it will automatically set you free!
Double Roll Bonus
Rolling a double will reward you with a Free Roll.
Bonus Property
On the board, there are 25 property cards. The 26th is dealt with as the "Bonus Property". If you land on the Bonus Property (which can be seen at the bottom of the prize ladder) you win an instant cash prize!
Play Monopoly Slingo Online at Slingo.com
Slingo.com is the official home of all Slingo games, including Monopoly Slingo. Join us now for an amazing gaming experience in a safe, secure environment that puts you first. Ready to play? Let's Slingo!