With its cascading waterfalls, boundless beaches, and stunning sea views, a holiday in Devon can often feel like a trip abroad. It's a prime option for couples seeking a romantic getaway or a favourite for a weekend away with friends.
Its glorious coastline is what makes this county special, with such idyllic beaches as Woolacombe and Croyde. Other highlights include the sprawling Dartmoor National Park, which has endless hiking and adventure opportunities for weekend getaways.
Looking for something less action-packed? Devon is also home to the Plymouth Gin Distillery, Exeter Quay, and Sandridge Barton - the home of Sharpham Wine.
If you're looking for luxury hotels, Devon has plenty of them! This article will highlight the top 20 hotels in Devon to help you decide how to spend your Slingo winnings.
Here Are 20 of the Best Luxury Hotels in Devon
It's not just the art deco design of the Burgh Island Hotel that harks back to the 1930s: this hotel celebrates the swing era by hosting themed nights and having a strict shirt and tie dress code in the dining room. Step back in time to the sound of a brass band, and sink a few espresso martinis as you gaze out onto the stunning coastal views.
Positioned on top of the tidal island of Burgh, this hotel is perfect for couples seeking an exclusive and different getaway. When you're not relaxing in the billiards room or taking a dip in the lagoon, you can take a quiet stroll along the sandy beach.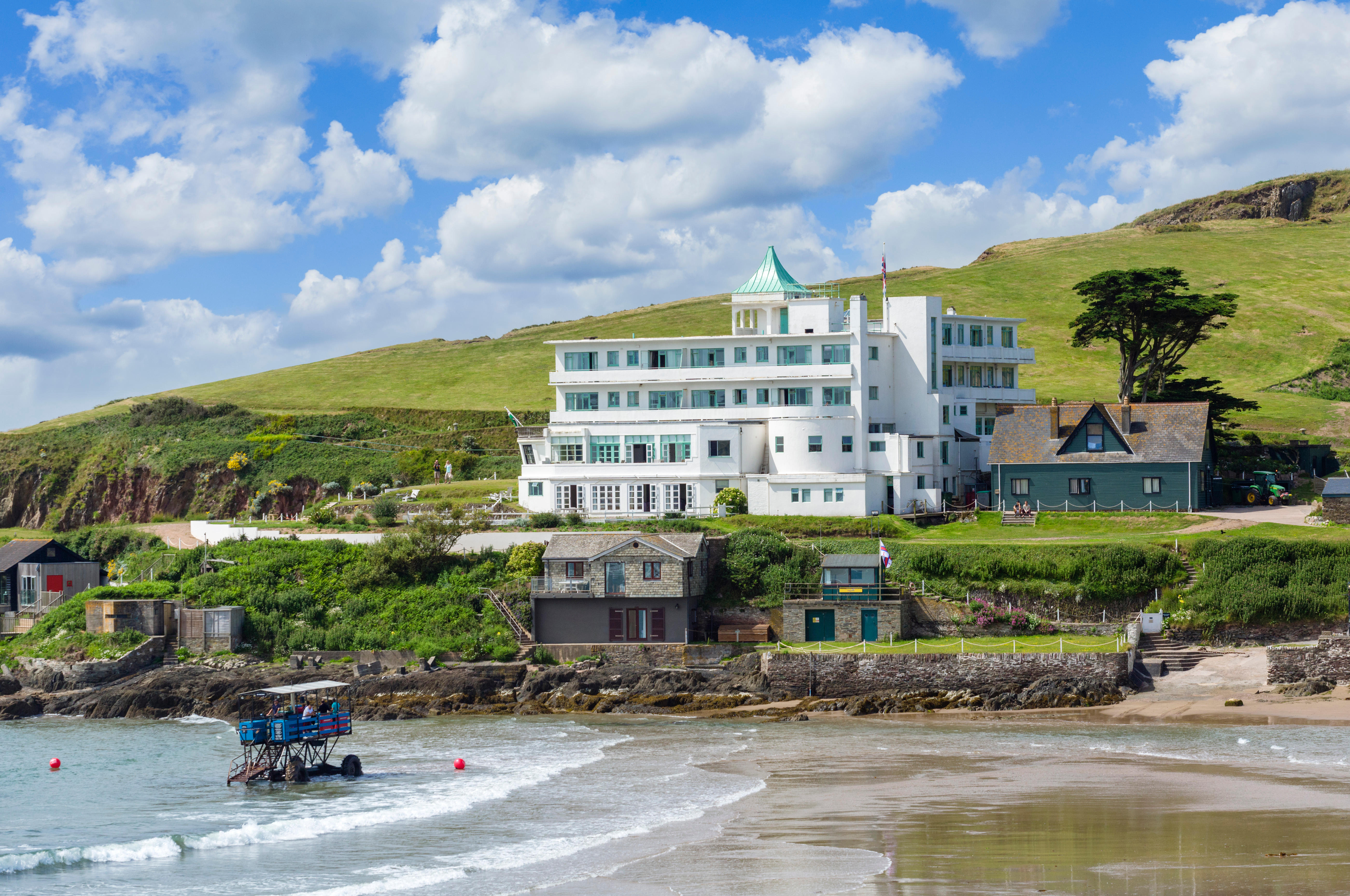 This stately home takes up 275 acres of Dartmoor National Park and is the perfect retreat for those looking for a spa break. Bovey Castle is home to the Elan Spa, where guests can luxuriate in the sauna and steam room facilities. There's also a whirlpool, heated swimming pool, and a large gym facility.
With two onsite restaurants - the Great Western and the Mediterranean Smith's Brasserie - you'll never have to leave the Bovey Castle grounds! 
There's also an 18-hole golf course, as well as fly fishing, woodland walks, and clay pigeon shooting opportunities, which provides guests with everything they need to enjoy some stately countryside living.
The bedrooms afford awe-inspiring views over the Dartmoor National Park. 
Book a couple of nights at the charming Hotel Endsleigh to fulfil your fairy tale fantasy. Built in 1812 as a nature retreat for the Duchess of Bedford, this grand wood-side house is the perfect getaway destination for those looking to escape the hustle and bustle of city life. The surrounding gardens and River Tamar make this hotel feel extra peaceful.
You'll find an alfresco dining area outside, which is a great location for breakfast, lunch, and dinner, but is particularly special for afternoon tea. Here, you can enjoy fresh scones and cream teas. There is also a bar area and a shared lounge.
With only 19 rooms in total, the Hotel Endsleigh offers a slice of privacy, which is why we consider it one of the best hotels in Devon.
Gidleigh Park can be found deep in the woods of Dartmoor National Park and boasts 107 acres worth of private gardens and trails. Positioned along the banks of the River Teign, we'd recommend this property for those who want to get out there and explore the great Devon countryside. It's also ideal for foodies, with an onsite two-Michelin-starred restaurant.
A room or suite at Gidleigh Park is the perfect place to retire at the end of a long day of exploring, with super soft linen and comfortable furnishings. Some rooms even come equipped with a fireplace!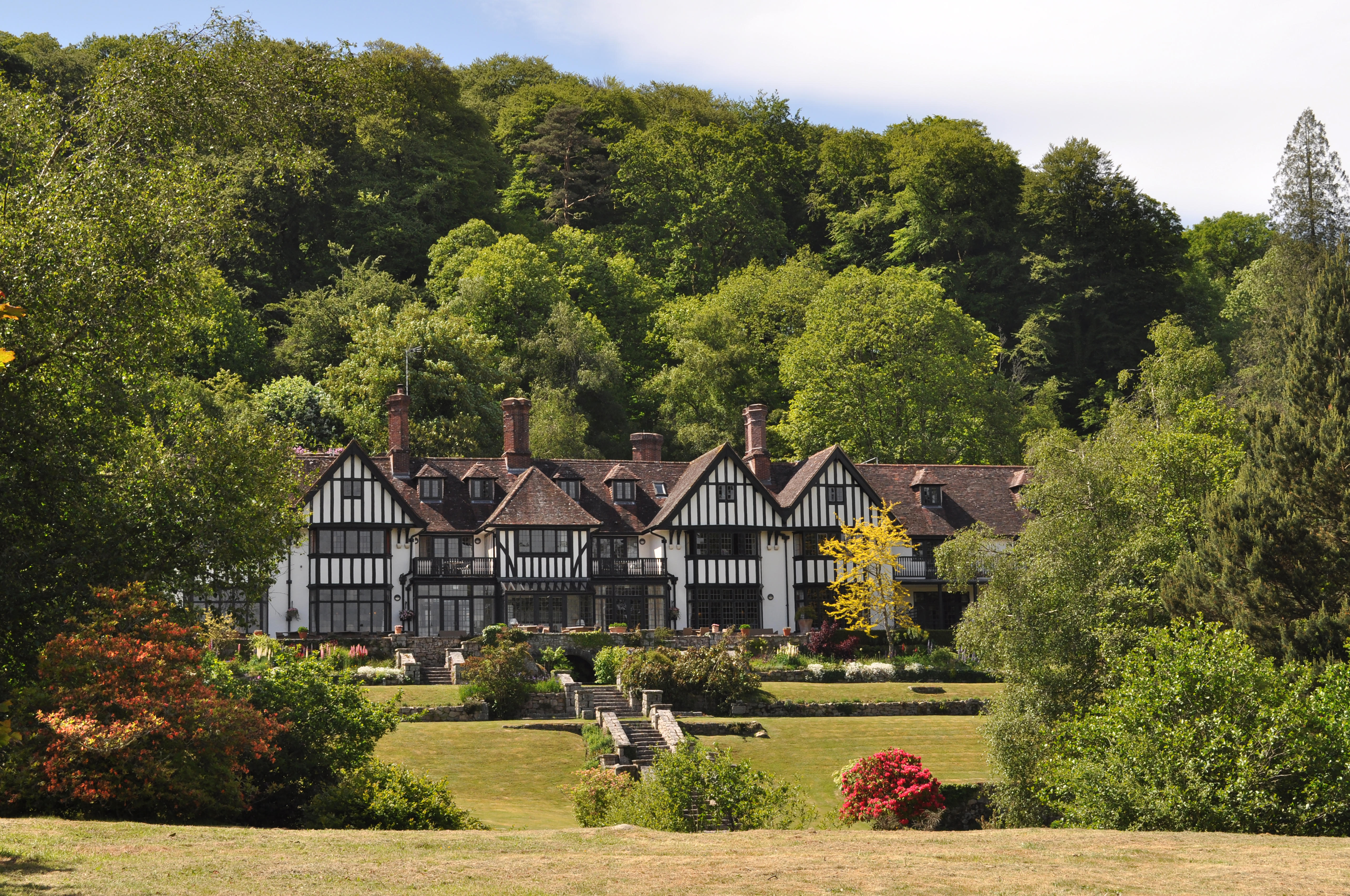 Potentially the oldest luxury hotel to make this list, the Lewtrechard Manor dates back to 1626. While staying here, you'll have plenty of opportunities to admire the wood-panelled drawing rooms, stucco ceilings, oil paintings, and numerous other relics that have been kept in the manor house over the centuries.
The middle of the building opens up onto a spacious courtyard, where guests can sit and enjoy some sunshine. Several of the rooms and suites look out onto this area, providing idyllic window views. You can also find a living room and en-suite bathroom in each of the 14 rooms.
Experience fine dining at the award-winning restaurant, or try a gin you've never had before at the extensive bar area.
Featuring one of the largest spas in Devon, Boringdon Hall Hotel is another top choice for those looking for a boutique hotel to rejuvenate in.
Boringdon Hall Hotel features 42 spacious rooms, each with its unique features. Some command unbeatable views over Dartmoor National Park, while others have outdoor heated jacuzzis. 
The Gaia Spa is the real highlight of this hotel, which features a hydrotherapy pool, saunas, steam rooms, a beauty salon, and a large swimming pool. The spa also features a fitness suite for those looking to stay active throughout their break.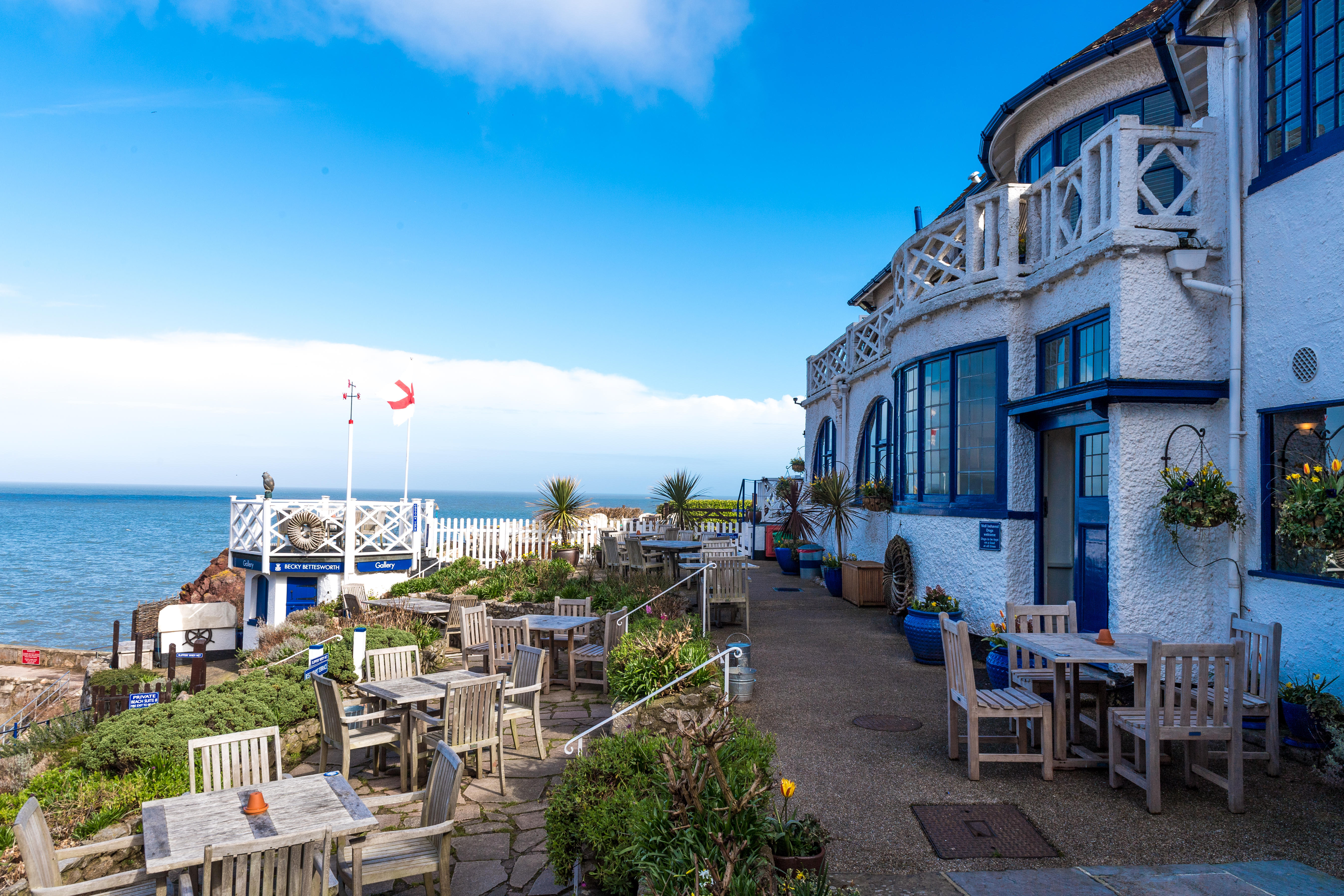 The Cary Arms and Spa offers guests several different room types, from hotel rooms with sea views to private cottages and charming beach huts. Located right on Babbacombe Bay, the Cary Arms couldn't be any closer to one of Devon's most iconic beaches. This boutique hotel carries all the charm of a quaint seaside resort.
The spa features everything you could need, from a hydrotherapy pool to Thalgo treatment services. Other onsite amenities include a restaurant that serves pub-style food made using only the freshest local ingredients. The Cary Arms also features a comfortable terraced seating area and a classic pub with a roaring fire.
Located in Exeter, Southernhay House is a prime location for a ladies' weekend away. With a casual club, cocktail room, and a veranda for taking in the Devon sunshine, Southernhay House offers plenty of space for socialising and fun. Being in the heart of the city, this hotel is also a great option if you're planning on enjoying the Exeter nightlife!
Inside each of the hotel's 12 rooms, you'll find monsoon showers, roll-top baths, double sinks, antiques, and comfortable bolster cushions.
This excellent countryside hall is suitable for all guests, from solo holidaymakers to families. Rooms are spread across the main building, the stable yard, and the surrounding Curlditch Cottages, totalling 57 rooms. The Horsebox room in the stable yard is a real highlight, featuring a super-king four-poster bed, monsoon shower, freestanding bath, and lounge area.
Guests can find a super fresh menu in the restaurant thanks to the hotel's near-coastal location - expect plenty of delicious fish! The three walled gardens outside are used to grow vegetables and herbs, making the meals crisp and garden-fresh. Food can be enjoyed in the conservatory dining area, and guests can also enjoy their evenings at the cosy onsite bar.
As the name implies, this hotel positions guests right on the waterfront and offers plenty of boating and water sports opportunities. Each room features a terrace area, where guests can enjoy a peaceful afternoon looking out onto the harbour, greenery, and dotted pastel cottages. You'll even find complimentary gin in your suite!
The Salcombe Harbour Hotel offers fine dining at the Jetty, serving a delicious range of grilled seafood. Out of all the hotels on this list, the Salcombe Harbour Hotel probably has the most diverse range of facilities, which includes a cinema, indoor pool, and fitness and sauna area. Guests who want to go the extra mile can even rent out the hotel's luxury yacht!
The Lympstone Manor is owned by celebrity chef Michael Caines, so you can expect this luxury hotel to deliver the very best in fine dining.
Not only does the Lympstone Manor House deliver on food, but Caines has also spent a lot of time crafting the perfect wine experience for all guests. Showcasing the very best of Devonshire vineyards, the hotel's two basements house over 600 different wines. There's also a tasting room where you can fully experience the best in locally-sourced wine.
This contemporary country house works best as a couples retreat, with just 21 rooms available - two of which are dog-friendly! Each room features comfortable furnishings and offers breathtaking views of the surrounding East Devon countryside.
The peaceful Paschoe House is located 15 minutes north of Dartmoor National Park and just under half an hour away from Exeter. It's Tudor-gothic in style and offers guests a taste of quaint countryside living, with 25 acres of surrounding private land. It's a good choice if you'd like to experience hiking in Devonshire, being close to the Two Moors Way path.
Several lawns surround the building where guests can dine, enjoy afternoon tea, or sunbathe in the summer. Besides walking, recreational activity at the Pascoe House includes tennis and clay pigeon shooting.
There are only nine guest bedrooms available at this boutique hotel, some of which feature luxurious roll-top baths and three of which are dog-friendly. 
The Gara Rock Seaview Hotel prides itself in being far away from the rest of civilisation. Perched on top of a cliff, looking out onto the Devon coastline, this hotel makes the most of its sea views with an outside terrace and swimming pool. On sunny days, there's nothing better than looking out onto the crashing waves and Salcombe in the distance.
Alternatively, you could spend good weather days hiking along the South West Coast Path. This is Britain's longest National Trail and passes by Gara Rock Seaview Hotel.
Inside the hotel, guests can enjoy the 12-seater cinema or the spa. Each of the rooms boasts either a garden or a private terrace area.
This luxury hotel is just a short walk away from some of the most exciting hiking and cycling trails in Dartmoor. The Glazebrook has only eight rooms, letting guests experience the onsite amenities almost exclusively. This includes the restaurant, which serves up enriching breakfast, lunch, and dinner offerings, including a fantastic English breakfast.
The dining area is also great for afternoon refreshments, where guests can experience Devon cream tea. If you fancy something stronger, the red marble-top bar can serve you a range of cocktails, wine, and beers.
Each private room is dedicated to a character from Alice in Wonderland and comes with unique furnishings, layouts, and views.
The adults-only hotel is ideal if you're looking for a luxury spa hotel close to the centre of Torquay. Being just a 7-minute walk from the marina and the buzzing restaurants and bars of the city, Lincombe Hall Hotel offers the perfect balance between tranquillity and atmosphere.
The Lincombe Hall Hotel has potentially one of the largest spa areas in Devon, with a hydrotherapy and 20-yards lap pool, sauna, ice room, bucket shower, salt room, steam room, and six different treatment rooms! There's also a well-equipped gym area.
The en-suite rooms feature super-king beds, luxury toiletries, and excellent furnishings. For bigger parties, apartment suites are also available.
The beautiful Kentisbury Grange is a restored Victorian stately home found amongst the landscapes and rolling hills that define the Devon countryside. The flora-filled gardens that immediately surround the house make great settings for a relaxed afternoon.
If you wish to go further afield, the Kentishbury Grange opens up onto the Exmoor National Park. This hilly moorland leads to the likes of Bossington and Blacklands Beaches.
The Kentishbury Grange has many rooms available, including garden and cottage suites. Two-bedroom family lodges are also available. Given its position, we'd consider it one of the best luxury hotels North Devon has to offer.
5-acres of spectacular garden space define the Horn of Plenty as one of the best hotel options in the Tamar Valley. Built during the 19th century, this hotel features plenty of period features and antique furnishings that will delight all guests.
Owners of the Horn of Plenty have strived to maintain the original appearance of the main house, with some added contemporary features. Such features include the outside terrace and extended dining area, where guests can enjoy meals prepared in the award-winning restaurant.
The 16 bedrooms have also been kitted out with modern luxuries, including power showers and wet rooms.
Saunton Sands Hotel is perfect if you're into water activities. Looking out onto Saunton Sands beach, guests can start each day racing down to the shoreline to catch some of the perfect waves that form there. From surfboarding to kayaking, Saunton is a prime location for water-based fun.
The area offers everything you'd want from a traditional seaside getaway, with golden sands, beach huts, and even a golf course positioned close by. In terms of the hotel amenities, guests can splash in the indoor and outdoor pools, relax in the thermal suite, or enjoy a yoga session.
Most of the rooms look out onto the Devon coast, with plenty of family suites, couples rooms, and penthouses to choose from.
If you want to spend your Devon getaway in a quaint port town, look no further than the Imperial Hotel. Found in the affluent town of Barnstaple, the Imperial Hotel lives up to its name with its elegant bar, bistro, dining area, and splendid rooms.
4-star luxuries can be found in each of the suites, with king beds, lounge areas, minibars, and large windows offering views of the River Taw.
The town of Barnstaple is where you'll find markets and independent shops, which are both perfect for a Saturday morning browse. You'll also find various dining options, including the Lush Bar & Restaurant.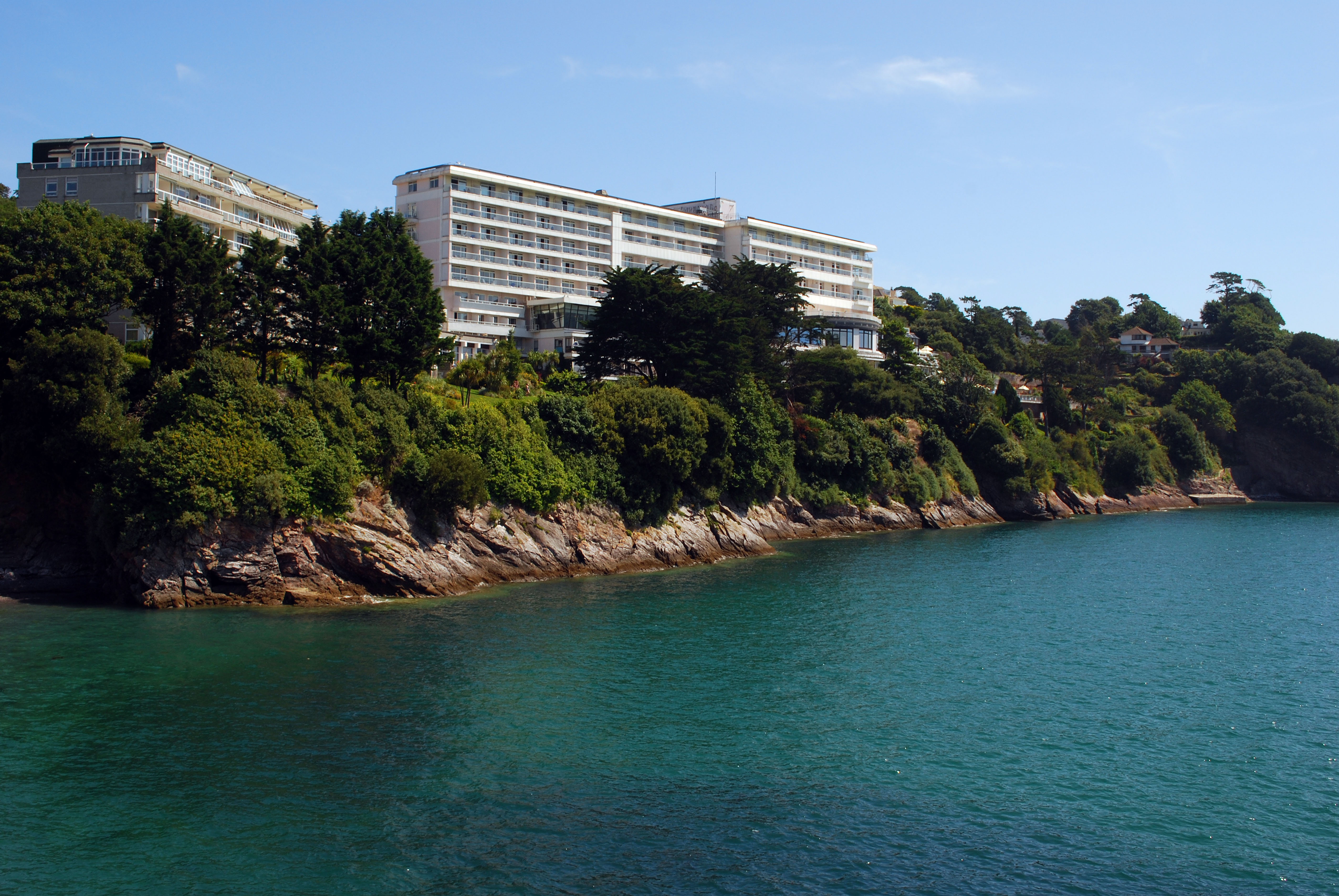 The Moorland Hotel is excellent value for money, considering that it has garnered 4 stars from the AA and 1 Rosette award. Found at the bottom of Haytor Rocks, this small hotel has been a favourite of many celebrities over the years, including Agatha Christie, who penned some of her earliest works here.
The outdoor gardens are perfect for enjoying the afternoon sun or some evening drinks. Evening entertainment takes place each night, with the Tinpickle and Rhum brasserie offering an extensive menu of traditional meals and pouring a delicious range of wines and real ales.
Each room is equipped with an en-suite bathroom, walk-in showers, and extra comfortable furnishings.
FAQs
What are the check-in and check-out times at The Imperial Hotel?
Guests can check in at the Imperial Hotel anytime after 3.00 pm and are required to check out before 11.00 am.
Which popular attractions are close to Hotel Endsleigh?
Guests at the Hotel Endsleigh can check out the nearby village of Milton Abbot or explore the Hidden Valley Discovery Park.
How many bedrooms does Bovey Castle have?
Bovey Castle has 60 unique bedrooms.
Final Thoughts
If you've recently hit the jackpot on Slingo and are wondering what to do with your cash prize, consider staycationing in the southern county of Devon. Offering some of the most luxury hotels in the UK, you're spoiled for choice when it comes to luxury hotels in Devon!
You will be able to enjoy the best in travel and accommodation by following our lifestyle news, giving you the inspiration to live how you want to.
Discover more luxury hotels throughout the UK
No matter where in the UK you are looking to go on holiday, we can give you plenty of ideas for luxury hotels you could stay in! Check out our other guides below: