Despite not having the climate of Mediterranean nations, the UK still offers plenty. With countless seaside towns and villages, and some of the best beaches globally, plenty of visitors flock to the coasts every year to enjoy beautiful beaches, great hospitality, and fantastic water sports.
One particularly popular location can be found on the southwest peninsula of the British Isles, the wonderful county of Cornwall. Surrounded by the Atlantic on its north and west coasts and the English Channel to its south, Cornwall has a number of excellent seaside options for visitors to choose from.
To ensure you make the most of any trip to Cornwall, we have looked at the best luxury hotels that offer everything from an outdoor terrace and private beach to outdoor hot tubs, spas, heated swimming pools, and breathtaking sea views.
If you are on the lookout for the best luxury hotels in Cornwall that give you easy access to the sea, keep reading, we have come up with some incredible options for you no matter what kind of lifestyle you lead.
Here Are 17 Luxury Hotels in Cornwall Near the Sea
With so much to see and do in Cornwall, you will have a great choice of luxury hotels to choose from. This is great because you will be able to pick the perfect location and find the hotel that best suits your needs, whether that's because it boasts an excellent spa and fitness centre, has fine-dining options, or has a private sandy beach for you to explore.
The Idle Rocks in Saint Mawes is a beautiful, laid back luxury hotel on the waterfront, giving you fantastic views and a relaxing stay.
The hotel is located on the harbour, with a terrace overlooking the water as the Percuil River meets the Channel.
It is beautifully perched on the tip of the Roseland Peninsula, which boasts a beautiful microclimate thanks to its sheltered location.
The hotel's style is typical of luxury boutique hotels that offer a unique stay for its guests. There are lots of paintings, sculptures, and other artefacts.
The hotel uses local aromatherapists St Eval to ensure the hotel smells incredible, thanks to its collection of diffusers and candles.
The concierge service will help you find out all the best places to explore, and the sailing instructor is also available for lessons on a 16ft dinghy. Yacht cruises, paddle boarding, swimming, surfing, and kayaking are also options. Alternatively, you will be able to relax in the spa treatment room.
Rooms are beautifully decorated for a luxurious, comfortable, and relaxing stay, and the restaurant makes the most of fresh seafood.
St Michaels Resort in Falmouth offers a luxurious stay with incredible amenities in a beautiful location.
Look out across the beautiful sub-tropical gardens to the beach while enjoying easy access to Falmouth and its great cafes, museums, shops, and art scene.
The property was initially a private residence before becoming a hotel, dating back to the twenties.
It is now known for the quality of its hydrotherapy centre and spa. The hotel boasts a pool, fitness studios, and a large gym.
There are 92 rooms in total, with some decorated traditionally. There are also more contemporary rooms and some that have a Cornish design.
All the rooms are finished to a high standard, and guests also get to enjoy great dining options. The Brasserie on the Bay has a great selection of seafood and incredible sea views. The Garden Kitchen has a beautiful selection of healthy food.
The Scarlet hotel has a great view of Mawgan Porth and its beautiful golden sands from its clifftop position.
A short drive from Newquay and Padstow and boasting great coastal walks, this beautiful, secluded location makes the most of its surroundings.
Glass walls offer incredible views, while the spa has a relaxing atmosphere and rejuvenating treatments, a steam room, meditation room, sauna, and indoor pool.
There are 37 rooms with great views, underfloor heating, and luxurious furnishings. The eco-friendly retreat even has recycled plastic slippers for guests to keep.
The European style restaurant uses fresh, locally-sourced produce for delicious meals served throughout the day.
The Bedruthan Steps in Mawgan Porth offers a more bohemian approach to luxury Cornwall getaways thanks to its patchwork decor and vintage style.
One of the main reasons visitors love this hotel is the spa, which has a sea view sauna, indoor pool, steam room, and whirlpool. There is also a popular craft workshop and outdoor pools open during the summer months.
Its beachfront location makes it ideal for those that love the beach and water, with surfers regularly visiting.
Rooms are unique, and the vintage feel of the hotel spreads into how they are decorated.
Dining options include The Herring, which specialises in freshly-caught seafood, and the more casual Wild Cafe, which makes a magnificent breakfast.
The hotel dates back to the thirties. However, a significant renovation in the nineties transformed the hotel into what we now know.
Art Deco architecture and coastal style combine to offer guests a marvellous, relaxing hotel.
The hotel has excellent amenities, including a tennis court, gym, steam room, sauna, outdoor pool, indoor pool, and hot tub. Those who want to explore will love the beautiful gardens that sweep down to a great coastal walk.
Bedrooms, suites, and villas have a contemporary design and comfortable furnishings that make them bright and welcoming.
The two restaurants, the Shorecrest and Sea Side Restaurants, offer diners plenty of choices. You will be able to enjoy freshly-cooked meals overlooking the Camel Estuary.
St Ives is a beautiful town with lots to see and do, and the stylish Trevose Harbour House is the perfect place to enjoy it from.
With just six beautifully-decorated rooms, you can expect excellent, personalised service in a great location. The quiet cobbled street offers easy access to the town centre and local attractions. Some rooms have great harbour views, with others looking over the quaint street.
The hotel is decorated to a high standard, and the blue and white theme ensures it is bright and welcoming.
There is a friendly bar and garden terrace for relaxing in the sun with a drink after a hard day's exploration.
All the rooms are uniquely decorated with comfortable furnishings, ensuring a luxurious stay. There is not a restaurant in the hotel, but you will be able to enjoy a great breakfast before heading out for the day.
Visitors to St Ives that want a beach view will love the St Ives Harbour Hotel & Spa, which sits on the hillside overlooking Porthminster Beach.
Located just outside the centre of St Ives, you will be able to make the short 10-minute walk into town to enjoy local cafes, art galleries, and shops. Trips to St Michael's Mount and Land's End are also accessible as you can hop straight on the road without the worry of town traffic.
The hotel itself is a gorgeous Victorian building with lots of natural light. The hotel spa has an excellent heated pool, hot tub, sauna, gym, and treatment rooms.
There are 50 rooms that differ in size but are all bright, comfortable rooms with excellent amenities. Guests can dine at the HarBAR Kitchen, which offers delicious meals and beautiful sea views.
The Nare in Veryan-in-Roseland boasts beautiful gardens and fantastic sea views on the Roseland Peninsula.
Looking out over the beautiful golden sands of Carne Bay, there is also easy access to the South West Coastal Path from this wonderful boutique hotel.
It is decorated like a traditional country house with warm, tartan carpets and decorative wallpaper, and it offers guests a friendly and welcoming atmosphere.
The luxurious hotel includes access to a steam room, sauna, sea view hot tub, heated outdoor pool, and indoor pool.
Typical of a boutique hotel, the bedrooms are uniquely designed and make use of antique furniture and Persian rugs to offer a homely feel.
Enjoy casual dining at the Quarterdeck restaurant, or for something a bit fancier, The Dining Room has a great selection of local cuisine.
For a luxurious, adults-only experience, the Fistral Beach Hotel & Spa in Newquay is a great option.
You will enjoy a beautiful sea view at one of the UK's most famous surf locations. A gentle 20-minute stroll will take you into Newquay town for a great selection of pubs, restaurants, cafes, and shops.
The hotel's soft and gentle colour palette offers guests a stylish, relaxing atmosphere, reflected in the beautiful bedrooms.
The spa is one of the major draws for this hotel, with a great steam room, sauna, hot tub, vitality pool, fitness suite, and nine great treatment rooms.
The Dune Restaurant takes advantage of its beachside location with a great range of fresh seafood and other locally-sourced produce to create a contemporary menu.
The Lizard Peninsula is the most southerly point of the British mainland, and the Polurrian Bay Hotel offers great sea and beach views from its clifftop location.
With a history stretching back over a hundred years and the distinction of being Lizard's first hotel, The Polurrian is a remarkably contemporary hotel that uses floor-to-ceiling glass to bring light into its beautiful interiors.
The hotel is excellent for families with a kids' play area, outdoor pool, tennis court, and a private beach to explore.
Those looking for a more relaxing, luxurious stay will be able to enjoy the Elemis spa treatments.
The classically decorated rooms offer luxury and comfort, and dining provides a great selection of fresh seafood.
Fowey Hall is a historic Victorian mansion with great views over Fowey, the river, and the sea.
The grand interiors are true to their history, with baroque features and fireplaces that are enough to impress anyone that walks through the front doors.
The hotel is ideal for family getaways with specially designed kids' rooms, a play area, a games room, and a garden zip wire.
Adult rooms make use of antique furniture, oak beds, muted, restful colour schemes and are furnished to a high standard.
Dining options offer everything from a kids' menu to burgers, steak, fresh seafood, and an excellent range for vegetarian guests.
As a former Seaman's Mission, the great The Old Quay House Hotel offers guests a great location with beautiful harbour views.
The contemporary style is fresh and bright, with natural wood contrasting uniquely. Though you won't find a spa and pool at The Old Quay House Hotel, the lobby bar, terrace, and restaurant are relaxing and comfortable, offering unbeatable views across the water.
The rooms in this boutique hotel are furnished to a high standard, ensuring guest comfort. The decor is designed to have a calming effect, so visitors will be able to relax in this great location.
The casual dining experience and tremendous food make this an excellent place for guests to eat and enjoy local produce and fresh seafood.
Nestled in the hills overlooking the bay, Watergate Bay Hotel in Newquay is an excellent example of luxury hotels in Cornwall that make the most of their surroundings.
Make the most of the beachside location with lessons in surfing, kitesurfing, and paddleboarding. You will also be able to enjoy the hotel's excellent infinity pool and sauna.
The rooms are decorated in warm colours and offer a luxurious and comfortable stay.
The great dining options are perfect for all tastes, with Zachry's offering a great dining experience, the Living Space giving guests a more casual option, and The Beach Hut offering Italian, Asian, Mexican, and more.
You will struggle to find better sea views than those of Lewinnick Lodge, Newquay. Thanks to its remote clifftop location, you will get to be at one with nature.
The rooms are spacious and clutter-free, with sumptuous furnishings and excellent amenities.
All-day dining is available, where you will enjoy a great selection of seafood and other locally sourced products.
Talland Bay Hotel is a stunning country house that offers excellent sea views and a superb location for anyone who wants to explore more of Cornwall.
The house dates back to the 16th century and has a tremendous sub-tropical garden dotted with sculptures.
Dog lovers will love this pet-friendly hotel where their four-legged friends can stay for just £15 per night. Dogs will even be given blankets, two meals, and biscuits. People and pets equally enjoy the walks.
Rooms offer either sea or countryside views and include TVs, Nespresso machines, and White Company toiletries.
The award-winning restaurant uses great local produce, including seafood, locally raised meat, and fresh veg.
Primrose House is a wonderful Edwardian hotel with 11 rooms and an excellent location. You are a short drive from St Ives town and seconds away from Porthminster Beach.
The bedrooms have a contemporary design that makes them light and welcoming and includes private decked terraces, TVs, ensuite showers, and complimentary wi-fi.
The boutique hotel is popular with its guests, thanks to its handy location, and you will enjoy the on-site bar where you can relax after a busy day.
The Godolphin Arms is located in Mount's Bay and offers incredible views of St Michael's Mount.
The beautiful beachfront hotel has a neutral colour palette and timber furnishings, making it blend with its surroundings.
You will be able to choose whether you want a room with a town or sea view, with some boasting beautiful balconies.
All-day dining is available, and the restaurant offers a great selection of freshly-caught seafood.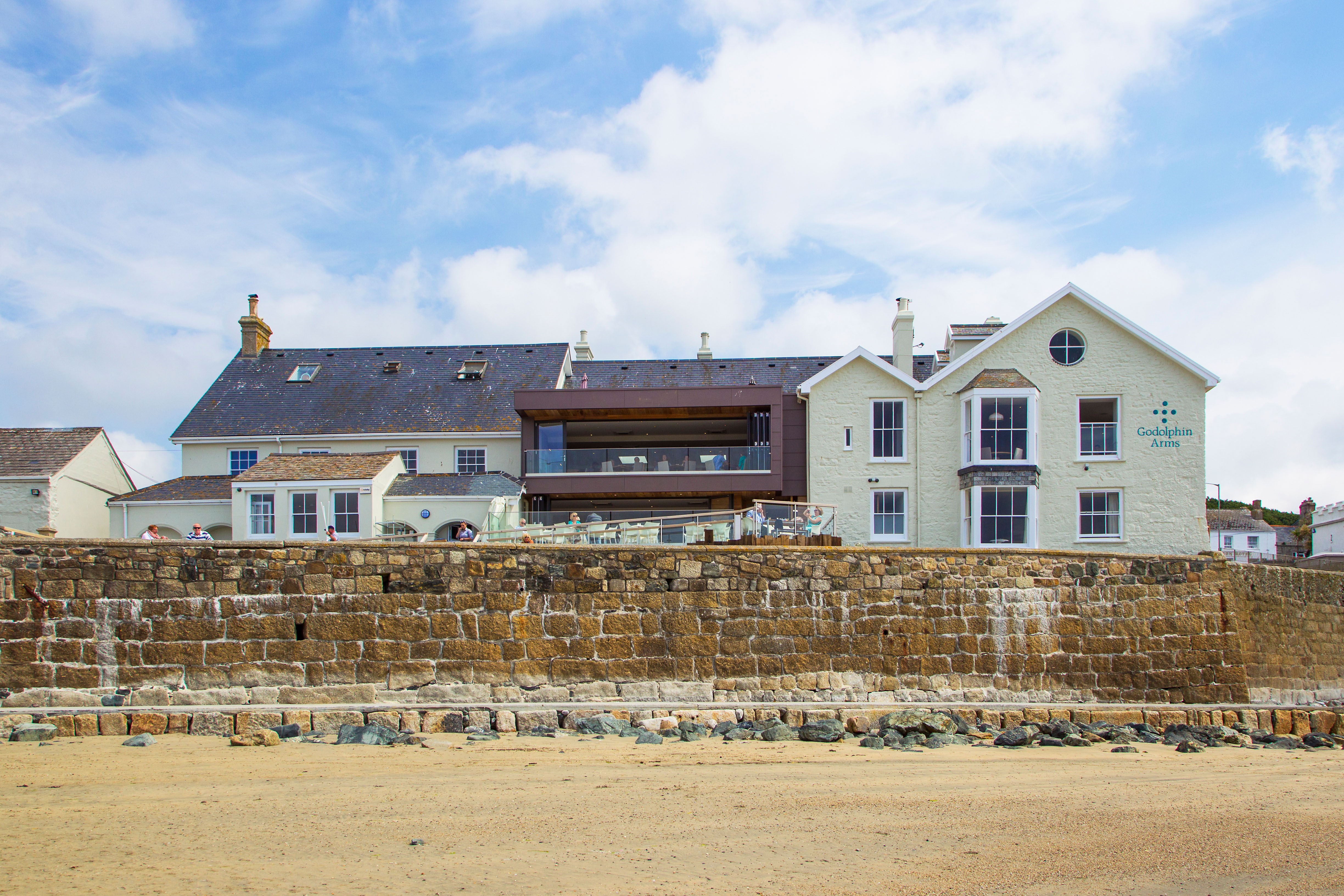 FAQ
Is Godolphin Arms dog friendly?
If you love to travel with your four-legged friend, you are in luck. The Godolphin is a pet-friendly hotel where dogs stay for free.
Dogs are welcome at the Shutters restaurant and bar, and there are more than enough excellent walks and beaches for your dog to enjoy on your trip!
What kind of breakfast is served at Primrose House St. Ives?
You will enjoy a continental breakfast at Primrose House, consisting of pastries, croissants, fruit, cereal, and toast.
What time is check-in & check out Talland Bay Hotel?
Check-out time at The Talland Bay Hotel is 11 am, allowing staff to prepare the room for the next guests. Check-in times are between 2 pm and 10 pm.
What are some of the property amenities at The Nare?
The Nare offers its guests lots of amenities, including a tennis court, sauna, fitness centre, hot tubs, steam room, outdoor heated pool, spa, and indoor pool.
Final Thoughts
There are many reasons why Cornwall is so popular among visitors from the UK and farther afield. The slightly warmer temperatures of the south coast and idyllic views and countryside make it a wonderful option for a romantic getaway, family holiday, or active break that makes the most of the South West Coast Path and water sports available.
We hope our selection of the best beach hotels in Cornwall has given you some inspiration. You will be able to choose from beautiful harbour towns and villages to remote, clifftop locations in a historic hotel or something more contemporary.
One thing is for sure; Cornwall offers some of the best luxury hotels in the UK that will be perfect for your next break.
Discover more luxury hotels throughout the UK
No matter where in the UK you are looking to go on holiday, we can give you plenty of ideas for luxury hotels you could stay in! Check out our other guides below: