Everyone is familiar with at least one celebrity chef or another, whether it's Gordon Ramsay, who's best known for his personality, Alain Ducasse or Anne-Sophie Pic. And, well, everyone can appreciate food outside of the nutritional value it provides. 
But, celebrity chefs are people who are truly at the height of the culinary arts, absolute perfectionists, masters with years of training. Among those at the top, you may wonder who's the most successful? However, there are many metrics by which to measure that. 
We, at Slingo, have looked at the top chefs across multiple factors, such as, which have the most Michelin Stars, how many restaurants they own, how many different countries they have restaurants in and their social media earnings. We have determined which celebrity chefs are the most successful.
The most successful celebrity chefs in the world
This is the overall ranking, based on restaurants owned, stars earning, the best star-to-restaurant ratio, most countries active and social media earnings to give them a score out of ten.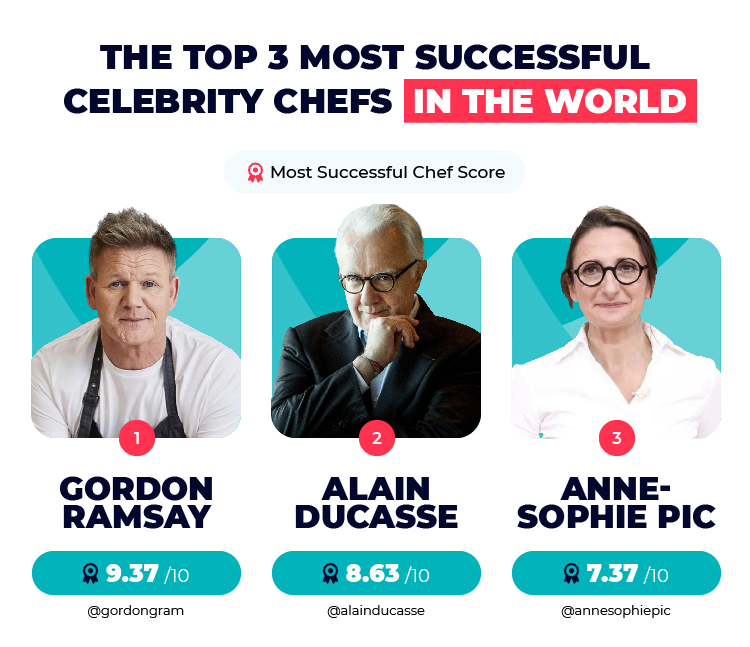 1. Gordon Ramsay
Most Successful Chef Score: 9.37/10
It should probably come as no surprise that Gordon Ramsay scored the highest, he ranked very well across all of the factors, aside from the star-to-restaurant ratio. He's appeared on his own television shows, earned multiple Michelin stars and owns restaurants across the world. He's a successful chef on many different fronts. 
2. Alain Ducasse
Most Successful Chef Score: 8.63/10
He's broken countless Michelin star records and currently holds the highest number of them in the world, Alain Ducasse is undeniably up there with the best. However, his social media standing was far below Gordon's, likely due to people with little interest in food knowing who he is, whereas Ducasse doesn't hold that level of recognition. Despite this, he owns multiple restaurants all over the world and many of them are three-starred, his success is undeniable.
3. Anne-Sophie Pic
Most Successful Chef Score: 7.37/10
Anne-Sophie Pic took over her family hotel and restaurant, Maison Pic after it had lost its Michelin stars, Anne-Sophie then went on to regain all three Michelin stars back. Since then, she has gone on to open some other restaurants and gain six more Michelin stars. In 2011, she was named the world's best female chef by The World's 50 Best Restaurant ranking. She ranked in the top five for Instagram earnings and has one of the highest follower counts, further underlying her renown and reputation as a celebrity chef, worthy of the top three.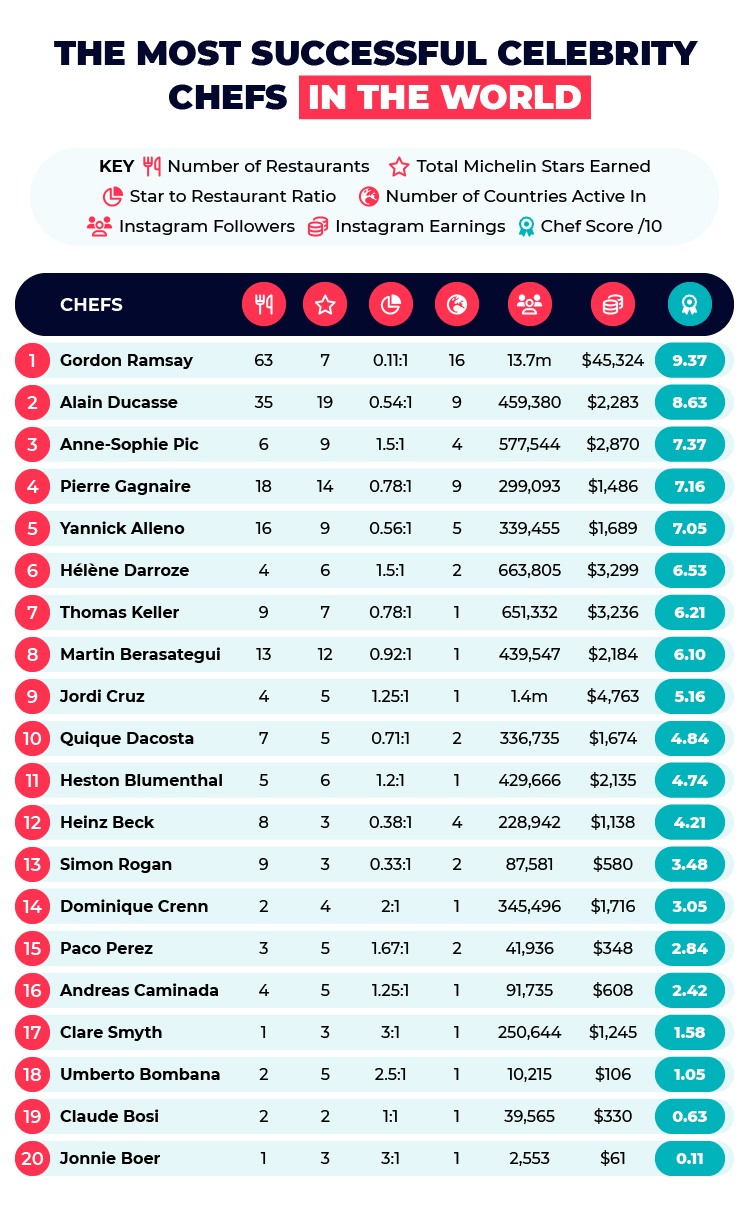 Which celebrity chef has the most restaurants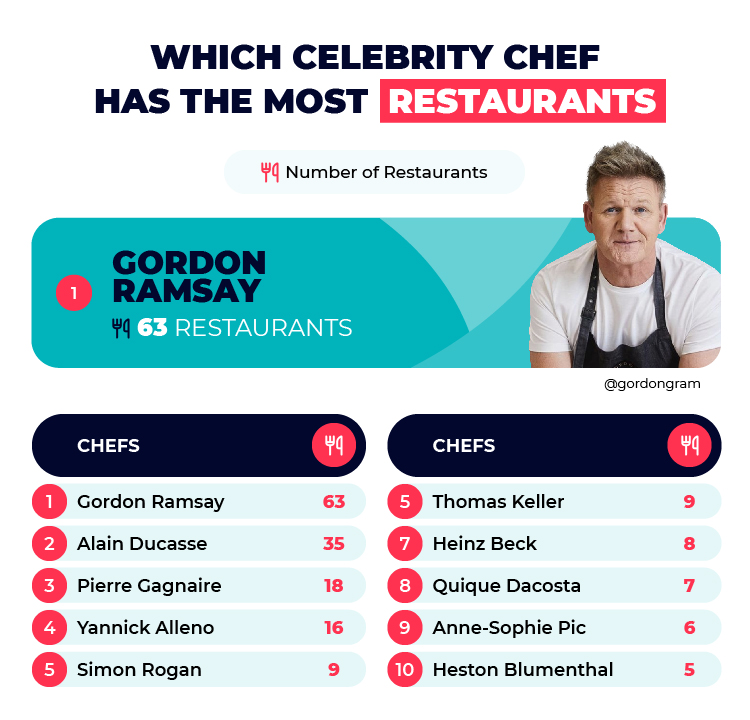 1. Gordon Ramsay - 63 restaurants
Gordon Ramsey, the British chef famed for his particular use of the English language and his high standards for food, has had dozens of restaurants and eateries across the globe, currently, 63 of those are still open for business. That is astonishing, akin to a culinary empire. 
2. Alain Ducasse - 35 restaurants
Next up, is the Frenchman, Alain Ducasse who is widely regarded as one of the best chefs in existence. Though his tally of restaurants is only a little over half of Gordon's, 35 is still a gargantuan feat, accomplished only by the best. 
3. Pierre Gagnaire - 18 restaurants 
Like Alain, Pierre Gagnaire was born in France, one of the world's culinary capitals and he owns 18 restaurants. Again, this is around half the number of restaurants held by the previous ranking, showing how difficult attaining so many restaurants can be. 
Which celebrity chef has the most Michelin stars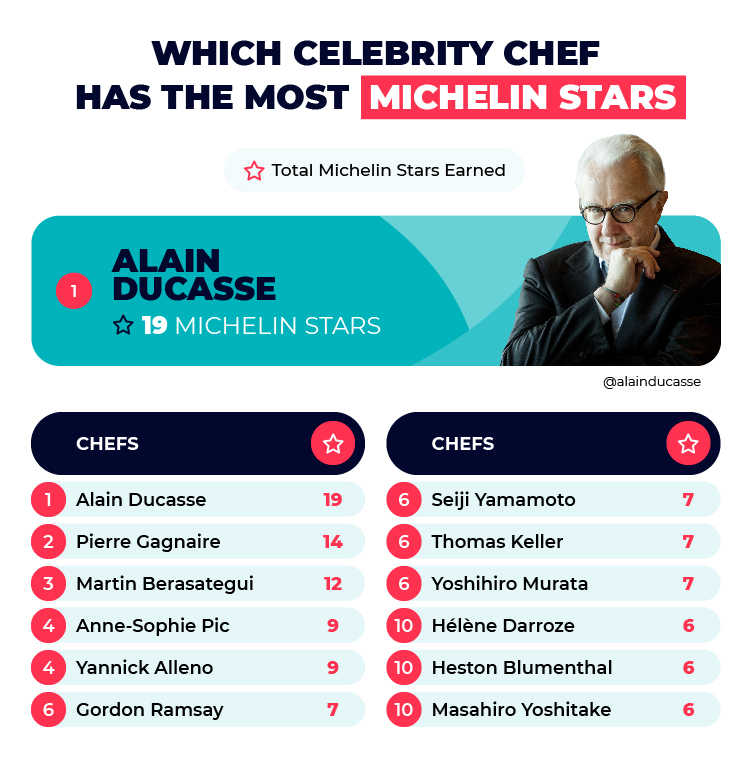 1. Alain Ducasse - 19 Michelin Stars
Born in France, a country that is famed for producing some of the best chefs, Alain Ducasse currently holds 19 Michelin stars - though in 2012 he had 21, becoming only the second chef to hold that many. He owns Alain Ducasse at the Dorchester, which holds a three-star rating from the Michelin Guide. 
2. Pierre Gagnaire - 14 Michelin Stars
Another French chef and also often thought of as one of the best in the world, Pierre Gagnaire has a slew of restaurants through which he has been awarded a total of 14 Michelin stars. In 2015, he was voted by his peers as "the best chef in the world". 
3. Martin Berasategui - 12 Michelin Stars 
Taking a break from France, Spanish chef Martin Berasategui has a total of 12 Michelin stars and is one of the few chefs to own multiple three-star restaurants, Restaurante Martín Berasategui, his parent's restaurant which then became his first and Restaraunte Lasarte.
Which celebrity chef has the best Michelin star to restaurant ratio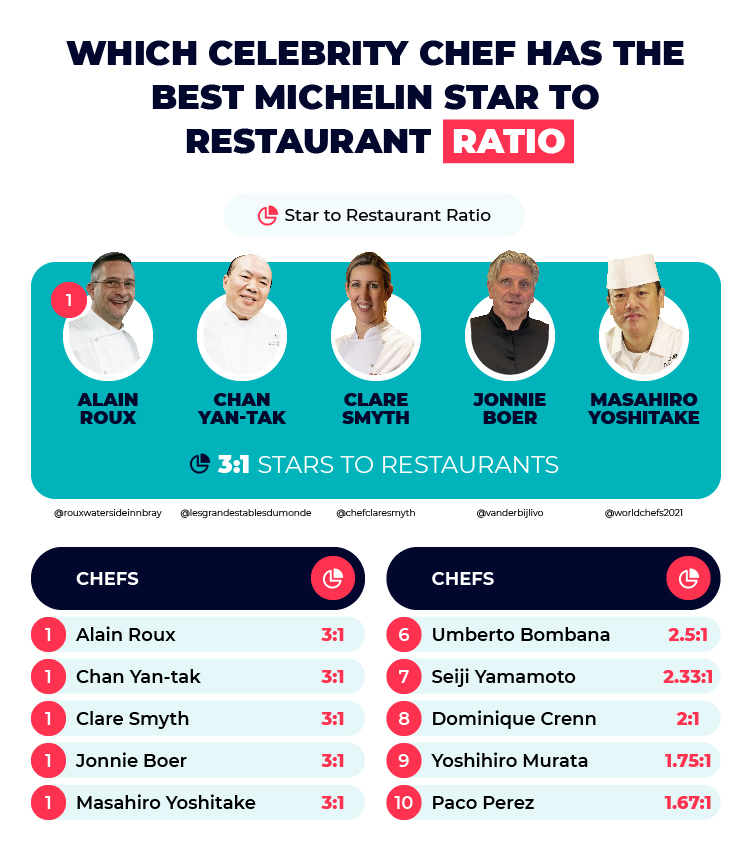 1. Alain Roux - 3:1
We have a five-way tie for the top spot here, the first of which is Alain Roux, with a ratio of 3:1 is Alain Roux. A British chef, he owns his family restaurant The Waterside Inn, a three-star restaurant. It is also the first restaurant outside of France to retain three stars for 25 years.
1. Chan Yan-tak - 3:1
Chan Yan-Tak is a Chinese chef, who was brought out of retirement in 2002 by the Four Seasons hotel to become executive chef at Lung King Heen, where he earned his three stars. In doing so, Yan-tak became the first Chinese national to earn Michelin Stars. 
1. Clare Smyth - 3:1
Having previously worked with Gordon Ramsay at his signature restaurant, Clare Smyth then went on to open her own restaurant in London, Core by Clare Smyth. In 2021, the Michelin Guide gave her restaurant a three-star rating, becoming the first Northern Irish woman to do so. 
1. Jonnie Boer - 3:1
Jonnie Boer owns a series of culinary-related businesses with his wife and business partner, Thérèse Boer. Among these are a hotel (Librije's Hotel) and a cooking/wine school (Librije's Atelier), but their restaurant, De Librije is the main focus here. Taking it over in 1992, he slowly climbed the ranks earning his first star in 1993, the second in 1998 and the last in 2004, finishing the culmination of ten years of hard work. 
1. Masahiro Yoshitake - 3:1
Masahiro Yoshitake is a Japanese chef and the owner of the famed restaurant, Sushi Yoshitake, which earned him his first three stars, it is the only omakase restaurant in Tokyo to earn three stars. In 2014, he opened Sushi Shikon which immediately became a three-star restaurant and has maintained those stars since.
6. Umberto Bombana - 2.5:1
Dropping to a ratio of 2.5:1, we have Umberto Bombana, an Italian chef who has been dubbed the "King of White Truffles". Umberto owns both the 8 ½ Otto e Mezzo and Octavium restaurants, earning him a total of 5 Michelin stars. The former of the two is the only Italian restaurant located outside of Italy to earn three stars. 
7. Seiji Yamamoto - 2.33:1
Seiji Yamamoto is another Japanese chef, holding a total of seven Michelin stars and owns four restaurants. Nihonryori RyuGin is his signature restaurant, which holds three stars and has featured on Pelligrino's list of the World's 50 Best Restaurants. 
Which celebrity chef is active in the most countries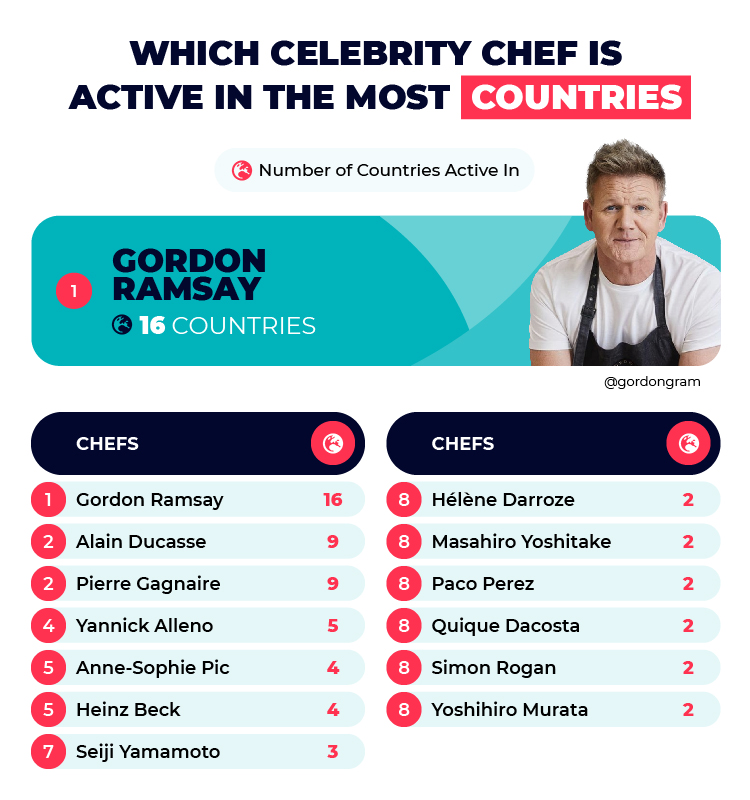 1. Gordon Ramsay - 16 Countries
Gordon Ramsay owns an incredible amount of restaurants, all over the world, from the UK, Italy, Scotland and France, to the United States and Hong Kong and many others. Ramsay truly has a culinary empire.
2. Alain Ducasse - 9 Countries
Another chef to have ranked with a high number of restaurants, Ducasse is also active in several countries, nine total. While the majority of his restaurants are in France, he owns some in Japan, the United States, Hong Kong, Lebanon and Italy. 
3. Pierre Gagnaire - 9 Countries
Again, like his French prior ranking, Pierre Gagnaire owns restaurants in many countries, but the majority of them are in France. And like his countryman, he owns restaurants in the United States and Japan, but also in Vietnam and South Korea. 
4. Yannick Alleno - 5 Countries
And finally, yet another French chef, Yannick Alleno owns restaurants in five different countries. France is the main one again, but also Morocco, South Korea, the UAE and Monaco. 
Which celebrity chef has the highest potential Instagram earnings

1. Gordon Ramsay
Instagram Followers: 13,700,000 
Instagram Earnings: £36,107.36 | €42,251.94 | $45,324.00
His third time ranking top in one of these factors, Gordon Ramsay has the highest Instagram following by far and according to an Instagram earnings calculator he earns up to £36,000 for every post he makes. 
2. Jordi Cruz
Instagram Followers: 1,400,000
Instagram Earnings: £3,794.05 | €4,439.70 | $4,762.50
Jordi Cruz is next, with 1.4 million followers on Instagram and countless fan pages dedicated to him, he stands to earn just shy of £3,800 per post. It is also worth noting that he earned his first Michelin star at the age of 26, becoming the youngest in Spain to do so and the second youngest in the world. 
3. Hélène Darroze
Instagram Followers: 663,805
Instagram Earnings: £2,627.95 | €3,075.16 | $3,298.75
And finally, French chef, Hélène Darroze comes in the final spot for social media earnings. Having over 660,000 followers, each post she makes on Instagram can earn her up to £2,600. In 2012 she was admitted into the French Legion of Honour as a Chevalier, by the then president, Nicolas Sarkozy.
Methodology
We began by gathering a list of famous Michelin-starred chefs, by using lists such as this one on the Truly Experiences blog and those most Googled. 
We then used a combination of Wikipedia, the Michelin Guide and the chef's own website to find out how many stars and restaurants they had and which countries they were active in. We then looked at each chef's Instagram account to get their followers and this Instagram Earnings Calculator to ascertain how much each chef earned on that platform.
Note: we had to remove five of the chefs from the overall ranking, as they lacked social media accounts, adding them in blank would skew the overall results. And all earnings were converted on 6/6/2022 at 11:56 am, GMT. 
We then created an overall rank on all factors to score each chef out of 10 for their overall success. Data correct as of 6/6/2022.