Slingo Spotlight: Slingo Cascade
In this edition of Slingo Spotlight, we'll be taking a look at the unique Slingo Cascade game. With an interesting pirate theme and unique cascading mechanic, Slingo Cascade is a refreshing Slingo title that is sure to excite even seasoned players.
About Slingo Cascade
In the Slingo Cascade online, it's time to join a pirate crew and sail the seven seas. Who knows what kind of treasure you'll find when you play this game, so nab some Slingos and find out! 
The Slingo Cascade has gotten a nautical makeover, as well as some new rules! The line will be deleted and new numbers will fall into the game grid as you finish a Slingo on Slingo Cascade. When you match numbers in Slingo Cascade, the number on the grid is removed from the game grid and is replaced by a new one; if that one also matches, it appears that you're earning more than one prize from a single spin!
It's safe to say that Slingo Cascade is a fast-paced Slingo experience that definitely isn't for the faint-hearted landlubbers among us!
How To Play Slingo Cascade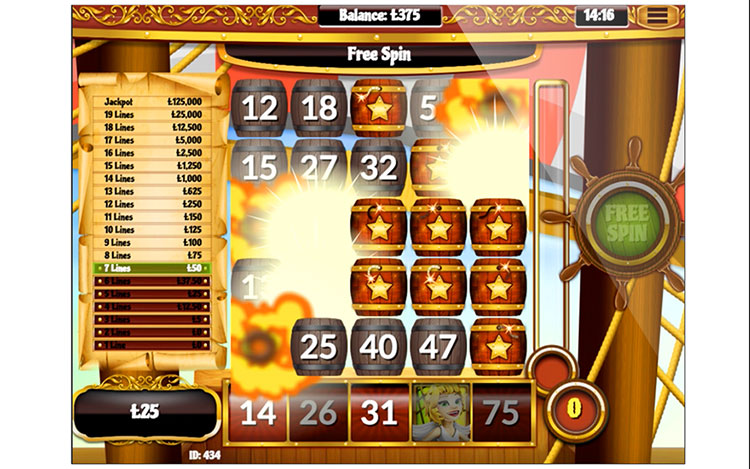 Slingo Cascade is a fast-paced game that is simple to play for new players and Slingo lovers alike. To begin, set your stake amount using the + and - keys, then press the 'start game' button.
You'll see a 5x5 game grid with a 1x5 reel beneath it when you first start the game. The goal of each game is to match the numbers on your game grid with the numbers on the reels throughout the course of nine spins. Slingo Cascade is a game in which you mark off five numbers in a row, and when you do, the line explodes and new barrels come down to take its place. Each Slingo you complete climbs the prize ladder, bringing you closer to some fantastic cash prizes.
You can purchase extra spins at the end of the game to help you complete more Slingos. The cost of each spin is displayed on the green 'spin' button, and it changes with each spin to reflect your game progress. Of course, if you're satisfied with your earnings in the base game, you may press 'collect' to exit the game and take your loot!
Slingo Cascade has kept its symbols to a minimum due to the fast-paced action, and there's no helpful Joker to assist you this time. The  Slingo Cascade game instead includes the following symbols: 
The Devil:

The Devil is a symbol that prevents you from forming matches.

The Cherub:

Also known as the fairy, the Cherub replaces the Joker in Slingo Cascade and can assist you in marking off 1 to 5 digits.

Free Spins:

Landing the free spin symbol at the end of your base game spins will give you an extra spin.
Slingo Cascade RTP and Wager Limits
Games of Slingo Cascade can cost as little as 25p or as much as £25 meaning you should find your perfect wager no matter your budget. The Slingo Cascade Slingo is played at medium volatility and has a theoretical return to player (RTP) of 95%.
Slingo Cascade Features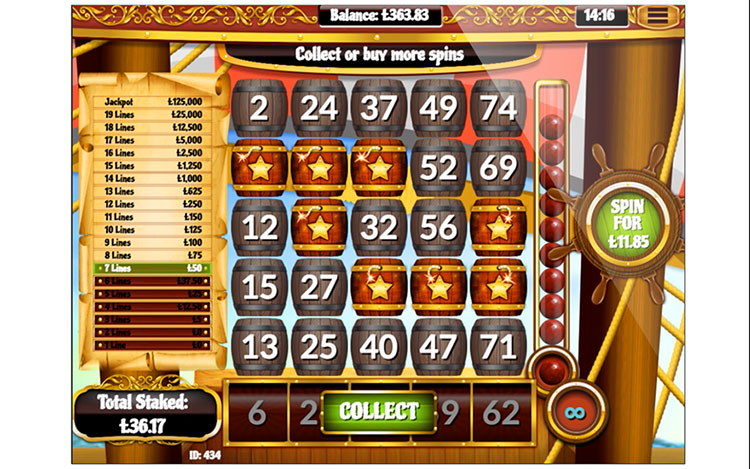 Extra Spins
Players can purchase as many extra spins as they wish at the end of the main game to help them earn more Slingos and move up the pay ladder. The amount of each spin is decided by the players' progress in the game and can be found on the green 'spin' button.
Prize Ladder
As you go up the pay ladder by completing Slingos lines, you will earn more and more money. The top prize is awarded for completing the Slingo grid; this is known as a 'Full House'
Cascade Mechanism
Slingo Cascade is distinguished by its cascade mechanism. The Line explodes when a player completes a Slingo, and new numbers fall in their place. The cascading action on the reels continues, as if you match a number, that number will drop off the reels and be replaced by a new one.

Slingo Cascade Mobile
The Slingo Cascade Slingo game is fully designed for mobile play, so you can sail to the high seas wherever and anywhere you choose. The game works on both Apple and Android devices, and there is little to no difference between playing on a mobile device and a desktop device.
Sail Away with Slingo Cascade on Slingo
At Slingo.com, you can play Slingo Cascade as well as a whole host of other exciting Slingo titles, superb slots, and thrilling casino games. To find out more visit our site today at Slingo.com!