Slingo Spotlight: Slingo Reveal
Slingo is great at coming up with unique twists on the classic Slingo formula and Slingo Reveal is no different. Part Slingo slot, with just a dash of scratchcard and even fruit machine action, Slingo Reveal is an interesting game for sure, which is why we've turned our spotlight to it in this Slingo Spotlight article.
About Slingo Reveal
It's a lot of fun to play the Slingo Reveal online. Why? Not only do you need to collect Slingos, but every time you do, Slingo Reveal rewards you with the possibility to win even more! So, how do you do it? Each time you finish a Slingo (by crossing out a line of five digits), you'll be shown a symbol with a prize sum linked to it. You win that prize if you can collect the correct number of the symbol that has been revealed.
Who knows what you'll reveal next in the Slingo Reveal, which perfectly combines Slingo and instant win game action. With a large possible jackpot payout, who knows what you'll reveal next; you'll have to spin to find out!
How To Play Slingo Reveal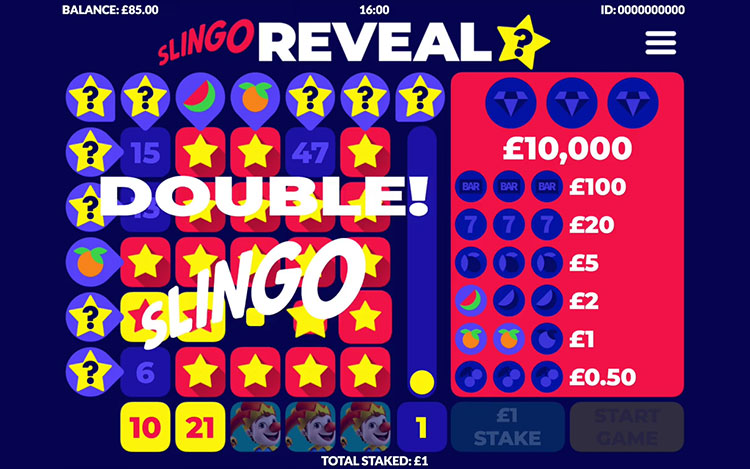 To begin playing the Slingo Reveal game, you must first decide how much you want to bet. Once you're satisfied with your wager, click the 'start game' button to get started; it's really that easy!
Each Slingo Reveal game contains nine spins and a 5x5 game grid with a 1x5 slot reel beneath it. The slot reel will display five numbers or symbols on each spin. These symbols or numbers will be crossed out if they match any of the numbers on your game grid. The goal of the game is to make Slingos, which are lines of numbers that are marked off vertically, horizontally, or diagonally.
A symbol will be revealed after each Slingo you complete. Simply collect the correct number of that symbol while you play to earn the prize associated with the symbol - this is what gives Slingo Reveal its name. 
All the classic Slingo symbols are present and correct in the Slingo Reveal Slingo online game starting with the Joker which has the ability to cross off any number in the column above its reel location. The free spins symbol rewards players an extra spin at the end of their game. During extra spins, the free spin sign is not displayed. The Devil is a blocking sign that prevents you from making a match, and he only appears on the middle reel.
Lastly are the prize symbols which take the form of classic fruit machine symbols such as Cherries, oranges, watermelons, plums, 7s, and BAR symbols.
Slingo Reveal RTP and Wager Limits
Slingo Reveal is an instant win type of Slingo game which has an RTP of  89.5%. This medium volatility Slingo game does have flexible wagering limits, however, and you can play Slingo Reveal for as little as 25p per game all the way up to £25 per game.
Slingo Reveal Features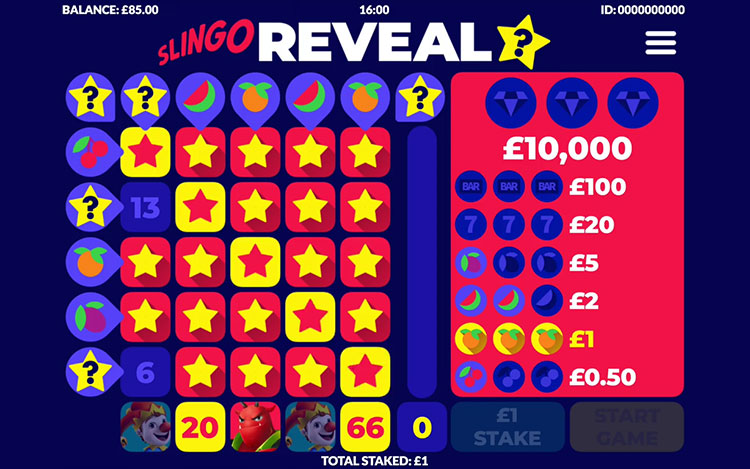 Slingo Reveal closely follows the simple but fun classic Slingo game formula and therefore isn't jam-packed with bonus features like a lot of other Slingo titles. This is great if you like keeping things simple when you play and just want to focus on super-fun Slingo online mechanics without any distractions. There is the opportunity to purchase extra spins at the end of your game, however, which is always handy to have if you're close to completing just one more Slingo but your main game spins are over. In Slingo Reveal there's an unlimited amount of free spins available for purchase and the cost for each spin will always be clearly labelled above the spin button and will reflect the current status of play. 
Slingo Reveal Mobile
Slingo Reveal is an HTML5-based game. Slingo Reveal does not require any third-party software to run, such as Adobe Flash Player. This is wonderful for players since it means they can start playing right away, across all of their devices, without having to worry about compatibility or optimization issues. Slingo Reveal is compatible with PCs, laptops, tablets, and smartphones, including Android and Apple devices.
What Will you Reveal in Slingo Reveal on Slingo
Come and play Slingo Reveal at Slingo and find out what symbols you'll reveal and what prizes you'll win. Our site also boasts the biggest collection of Slingo titles out there, so you're sure to find a game you'll love.