Slingo Spotlight: Slingo XXXtreme
You know the drill by now, in Slingo Spotlight we turn our attention to the most iconic and notorious Slingo games on our site. Today things are going to get pretty spicy because we're talking about the red hot Slingo XXXtreme slot; XXXtreme by name, extreme by nature! Keep on reading to find out more!
About Slingo XXXtreme
Do you enjoy slots and bingo but wish for a more rapid game and a larger potential jackpot?
If you answered yes, then Slingo XXXtreme, a scorchingly intense Slingo title, is for you!
The Slingo XXXtreme slot, not to be confused with its gentler cousin 'Slingo Extreme,'  because, as you'll see, this title deserves its triple X status!
Why is the online slot Slingo XXXtreme deserving of three X's? We've previously mentioned the jackpot that's too hot to handle and the faster action, but there's also the ability to position Jokers and Super Jokers wherever you like, as well as infinite extra spins!
With a blazing theme fit for high-octane action with only four Slingos required for a Full House, you'll want to strap in and get ready for an extreme experience!
How To Play Slingo XXXtreme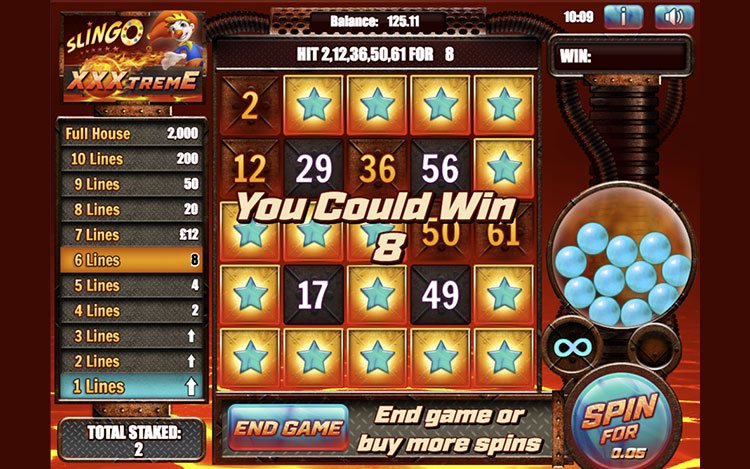 While playing Slingo XXXtreme slot online will provide you with a more extreme experience, the basic game mechanics are very similar to traditional Slingo. There's a 5x5 grid with a reel at the bottom of the screen, the same as in other games.
Each game consists of 11 spins, each with five numbers landed on a 1x5 reel. Any numbers on the reel that correspond to the numbers on the game grid will be crossed out. If you complete a line of numbers (horizontal, vertical, or diagonal), you will earn a Slingo and a prize according to the Slingo XXXtreme paytable. Complete four Slingos to earn a 'Full House,' which earns you the top prize payout.
Follow these instructions to get started with the Slingo XXXtreme Slingo game:
Use the + and - buttons at the bottom of the left-hand side of the screen to place your bet. 

To begin the game, click the 'Start Game' button.

Spins will be generated automatically, and numbers will be scratched off for you, allowing you to play quickly and easily which makes this title ideal for mobile gaming.

If you land on a Joker or Super Joker symbol, the reel will stop spinning. You'll have the option to buy unlimited spins at the end of the 11 spins, which will play until you get a Full House. The price of each additional spin will change to reflect the current state of play. 

If you don't choose to buy unlimited spins or get a Full House, the game will conclude and a message will appear telling you how much you've won.
The Slingo XXXtreme online Slingo game features the following symbols that are commonly found in Slingo games:
Joker:

Any number in the column above it is marked out by Jokers. Within the specified column, players can choose which number to cross off.

Super Joker:

Crosses out any number on the grid, anywhere on the game grid, Players can choose which number to mark off.

Joker Bonus:

A cash bonus is awarded when three or more Jokers or Super Jokers appear on a single spin of the reel

Devils:

When landed on the reel this symbol will block prospective matches.

Free Spin:

Provides a free additional spin to be played at the end of the main game spins

Coins:

Gives players an instant cash prize
Slingo XXXtreme RTP and Wager Limits
As you may have guessed by the title of the Slingo XXXtreme game, this Slingo game is played at very high volatility. It has a theoretical RTP of 95% which is pretty standard for Slingo titles. Minimum bets start at just 20p per game, and you can wager up to £100 per game. 
Slingo XXXtreme Features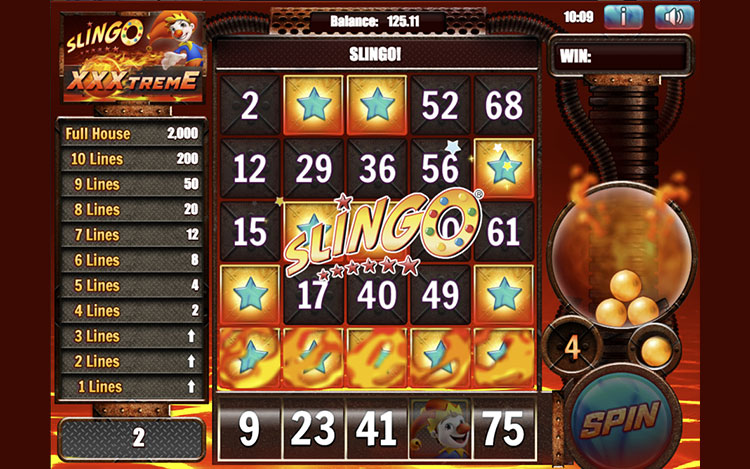 Unlimited Extra Spins
Whereas many Slingo games only allow you to buy a certain number of extra spins, Slingo XXXtreme allows you to buy an endless number of extra spins, allowing you to (theoretically) play until you get a Full House. Spins are purchased individually, and the cost of each additional spin is determined by the game's stage and current condition of play. The cost of the spin will always be clearly displayed above the spin button. It's important to play smart when using extra spins. Remember: always gamble responsibly. 
Scatter Bonus
If 5 Jokers (or Super Jokers) appear on the reels in a single spin in Slingo XXXtreme, your wager will be multiplied by 5x.
Joker Bonus
The Joker Bonus is awarded if a player gets three Jokers or Super Jokers in a single spin.
This is an additional monetary prize awarded outside of the main game prizes.

Slingo XXXtreme Mobile
Slingo XXXtreme has been tweaked to provide you with a white-knuckle, blazing-hot thrill ride whenever and wherever you want it! Slingo XXXtreme is compatible with a wide range of desktop and mobile devices, including all major smartphone and tablet models.
Enjoy Red-Hot Action with Slingo XXXtreme on Slingo
If you think you can handle the red-hot action and want to give Slingo XXXtreme a try then look no further than our fabulous Slingo site. Here at Slingo, we have the best mix of Slingo titles and slot and casino games; sign up to find out more!