Spooky season is well and truly upon us, and we're getting into the spirit (pun intended) by playing some of our favourite Halloween-themed slot games. 
This time we've selected the Halloween slots with the highest RTPs so that you can choose the games that theoretically pay out the most (more on this in the next section).
Read on to find out which slot games made the cut!
What Is RTP?
RTP is short for Return to Player, and is usually expressed as a percentage. Percentage return to player (% RTP) is the expected percentage of wagers that a specific game will return to the player in the long run.
Each online slot game has its own RTP, and this information is made readily available by the casinos. Many players are interested in finding high RTP slots, since these are the games that theoretically pay out the most amount of money over time.
However, it's important to remember that all outcomes are random, and just because a slot has a high RTP it doesn't guarantee you a win. That said, let's take a closer look at the Halloween slot games with the highest RTPs. Read on to find your new favourite!
Joker Lanterns Hit 'n' Roll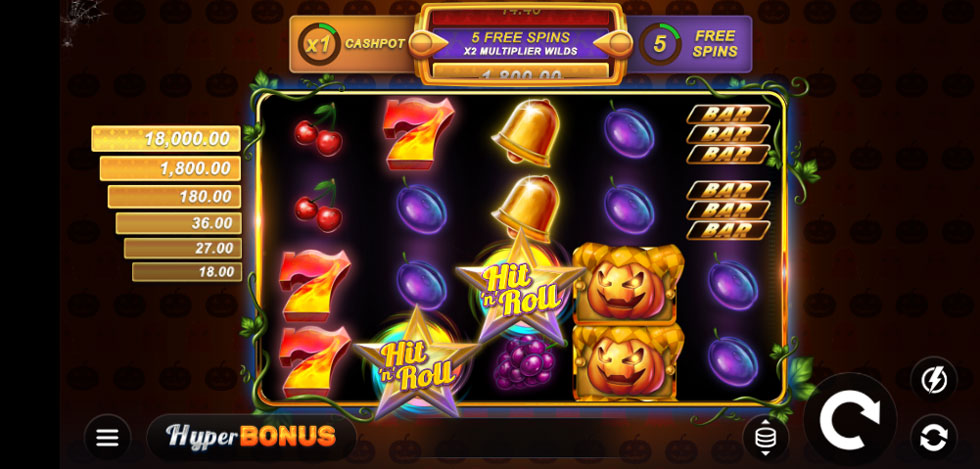 First up is Joker Lanterns Hit 'n' Roll, a fruit machine-style slot game with a Halloween twist! As the name suggests, it's all about the Joker in this game. He takes the form of a slightly scary-looking pumpkin, and he has the power to replace other symbols and act as a win multiplier of up to 5x in the free spins round.
But that's not all - Joker Lanterns Hit 'n' Roll has some fun special features to add to the excitement. Find three Hit 'n' Roll star symbols anywhere on the reels to get a spin on the Bonus Wheel, which can award free spins, a cash prize or a cashpot prize, which varies according to a meter on the game screen.
And with an RTP of 96.17% in the base game, this spooky slot offers plenty of opportunities to win!
Joker Lanterns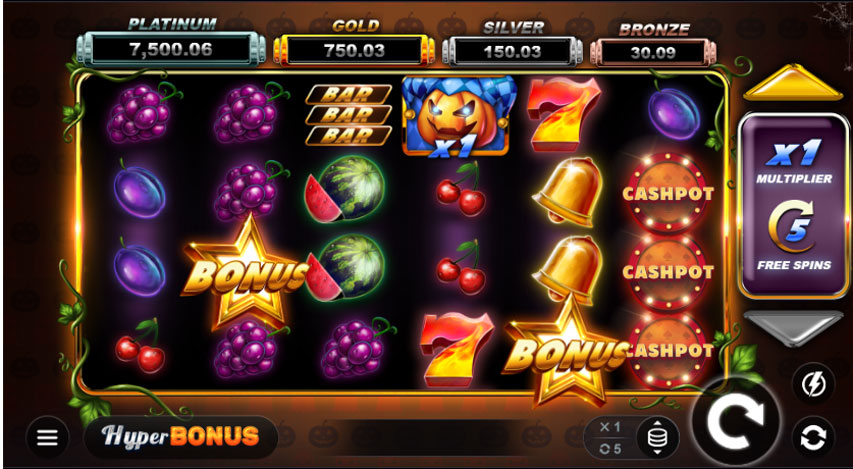 Joker Lanterns is a fun Halloween-themed slot game from Kalamba Games, who also brought us Joker Lanterns Hit 'n' Roll! You can expect the same high-quality gaming experience and fruity theme from both games, as well as the famous Joker pumpkin Wild. 
However, the gameplay and bonus features of Joker Lanterns are somewhat different. The main attraction this time is the four bonus jackpots: bronze, silver, gold and platinum. The jackpot symbols are red coins with the word 'Cashpot' covering them. Find a certain number of jackpot symbols on the reels to win the corresponding jackpot prize.
The jackpot values are calculated according to your bet size, so the more money you bet, the bigger the potential prize. The Joker Lanterns slot has an RTP of 96.1%, making it a firm favourite with Slingo players.
Jewel Race Halloween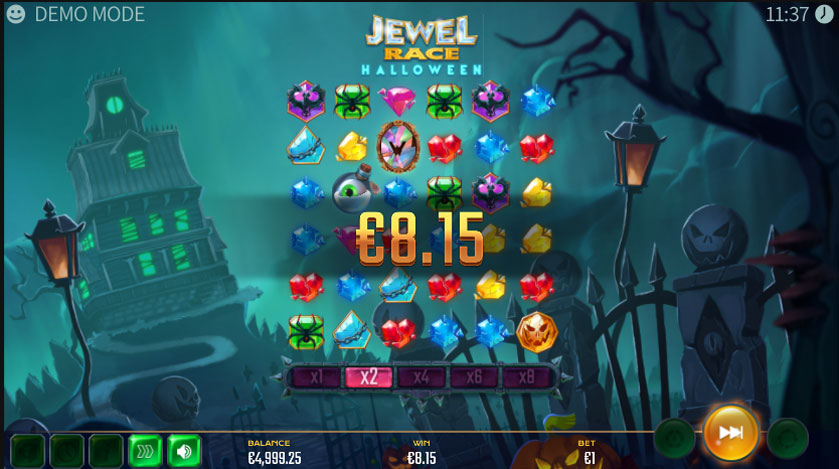 Jewel Race Halloween gives popular slot game Jewel Race a spooky Halloween twist! Just like the original, this game has a cluster pays format and is played on a 6x6 grid with symbols that tumble down from the top.
In terms of symbols the game features bright, shiny gemstones that fans of the Jewel Race game will recognise. However, this time there are a few spooky symbols too: look out for pumpkins, spiders and cauldrons!
Although the cauldrons don't form winning combinations, they can help you out when there are no winning patterns on the grid! In this case, each cauldron in turn will reveal a mystery icon to give you more chances to win.
With a fun free spins round and an RTP of 96.95%, Jewel Race Halloween is one of our top spooky slots!
Halloween Cash Pots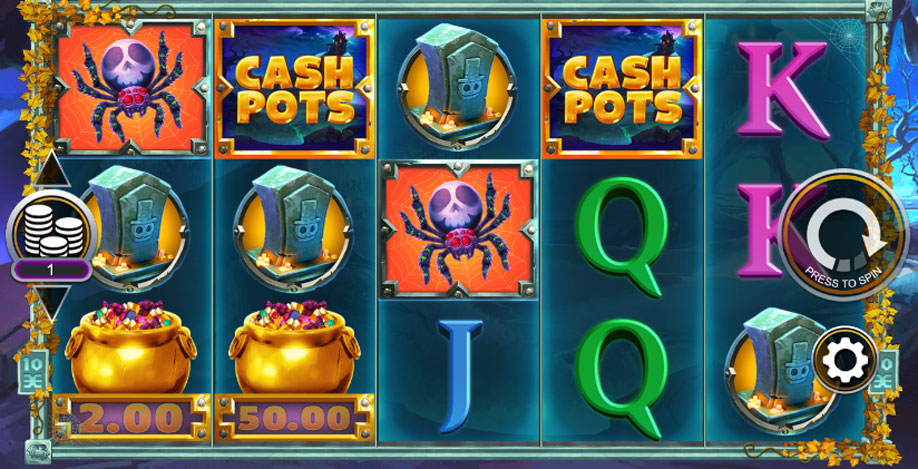 Halloween Cash Pots offers a spooky new take on the hugely popular Cash Pots slot game series. This time the symbols on the reels include ghosts, black cats, tombstones and more, but the main attraction has to be the golden cash pots.
Land at least six of them on the same spin to activate the Cash Collection feature. All of the cash pots that triggered the round (plus any pumpkin bonus symbols) will become sticky, and the reels will spin five more times. 
The aim of the game is to collect as many cash pots as possible. Any pumpkin bonus symbols that also land on the reels will act as multipliers for the cash values on the pot, meaning you could be walking away with a Halloween-tastic treat!
Book of Halloween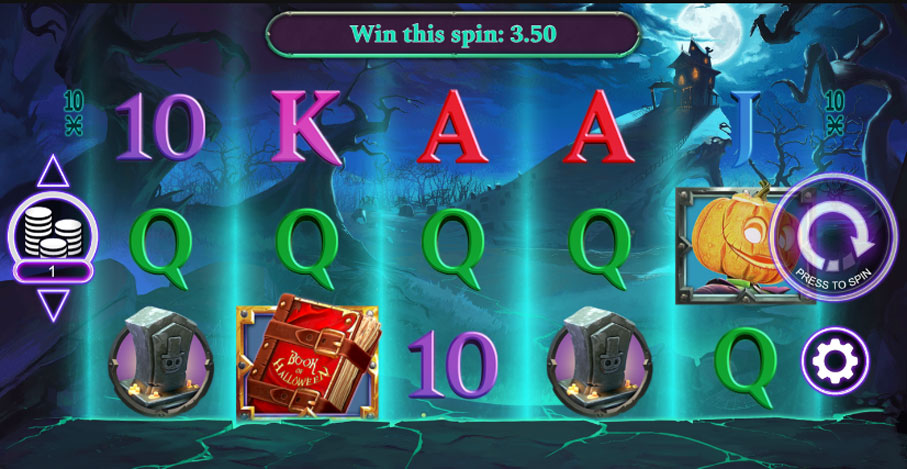 If you're a fan of cult slot game Book of Dead, it's time to try out Book of Halloween! Although it has some similarities to the original in terms of gameplay, what makes this slot stand out is its high-quality graphics and atmospheric soundtrack - plus a considerable RTP of 96.23%.
The game is set in the dead of night, and in the distance we can see a spooky-looking house perched precariously on top of a hill. Symbols such as pumpkins, tombstones and even a creepy Frankenstein-like hand help to set the scene for Halloween.
Like other games in the 'Book of' series, the most important symbol in this slot is the book Scatter itself. Land at least three of them on the reels to trigger the free spins bonus, which comes with multipliers of up to 200x for five book symbols.
We also love the Spin Chance feature, which gives you a chance to get an extra spin when your credit is reduced below the minimum stake, and the Gamble feature. 
Polterheist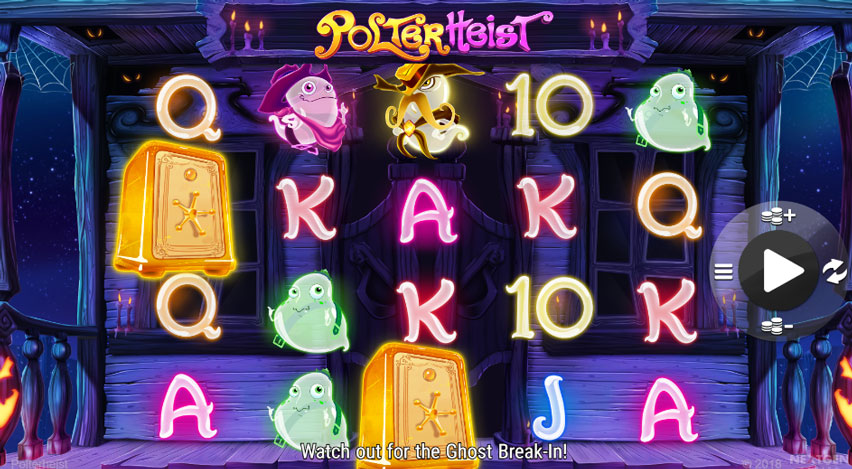 Polterheist is a Halloween slot with a unique theme. The game is set in a spooky saloon bar, with characters that seem to be part ghost, part cowboy and part fish. It might sound strange, but with an RTP of 96.6% and such an unusual design, our advice is to give it a spin!
The game follows the Hauntin' gang, a team of ghostly cowboys who terrorise the town in their hunt for riches. We love the original storyline of this slot, and you'll notice that the Wild is in fact a 'Wanted' poster for the gang.
This slot game has a couple of bonus features that are triggered randomly, including the Ghost Break-In feature. At the beginning of any spin one of the ghost icons can appear, adding stacks to the reels and transforming all other ghost symbols into the same one.
There's also a random Haunted Wilds feature which can add more Wilds to the reels, as well as a free spins game that offers potentially unlimited free spins.
Ghost Glyph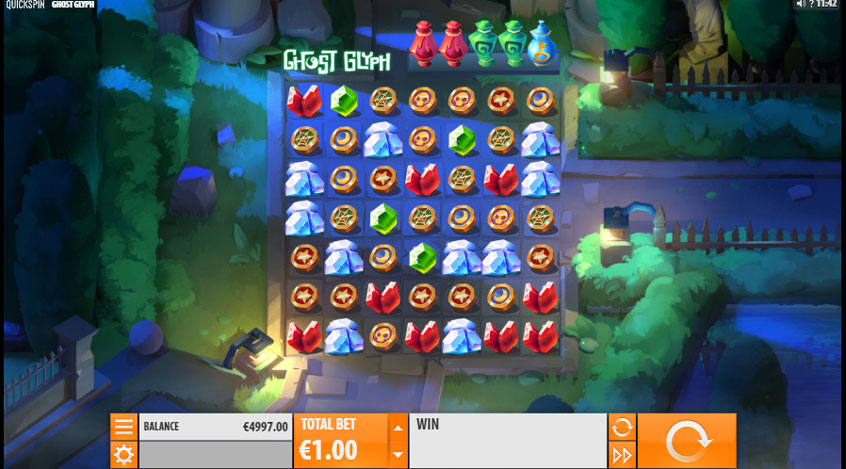 Ghost Glyph is a cluster pays slot that transports us to a creepy haunted house. We love this game for its carefully developed storyline, which begins on the driveway of the house and progresses until we are inside.
The aim of the game is to form clusters of five or more symbols, either horizontally or vertically. Every time you get a winning combination a Ghost Glyph is formed - a circular ghost symbol that remains on the reels after the winning symbols have disappeared.
If the Ghost Glyph forms part of the next winning combination, you'll activate one of four Ghost Urn modifiers and get even more chances to win.
Charge up the Paranormality Meter in the free spins round to activate the Colossal Wild feature! With an RTP of 96.18% and lots of fun modifiers to explore, Ghost Glyph is one of our top spooky slots.
A Dark Matter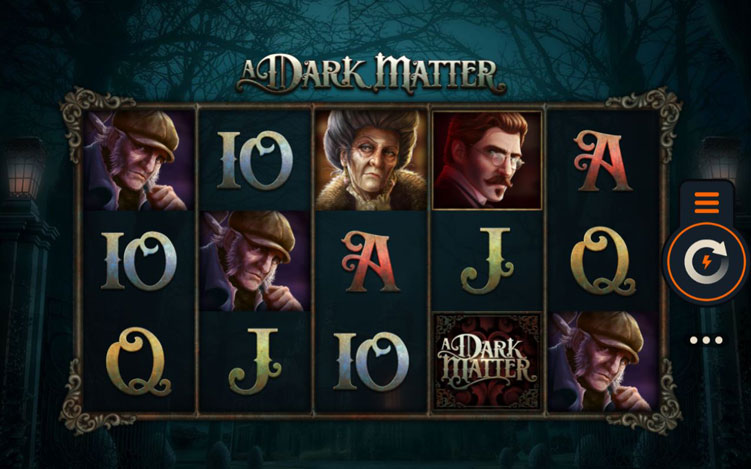 It's time to visit another creepy house in A Dark Matter, a story-led slot game set in the Victorian Wraith Manor. This time the story centres around the town of Stonehurst, where a series of mysterious disappearances are putting the locals on edge. 
It seems that Lady Eleanor of Wraith Manor is somehow involved in the crimes, and detective Nathan Highmore has been sent to investigate. 
This slot stands out for its unique whodunnit theme, and the symbols include a variety of possible suspects. In terms of bonus features, look out for Invading Wilds, which occur when a stack of Wilds appears on the reels. They'll seep into the next reel too, giving you even more chances to win!
There's also a free spins round, which makes this slot an attractive option when combined with an RTP of 96.18%.
Play These Top Halloween-Themed Slot Games This Spooky Season at Slingo.com
Find all these Halloween slot games at more at Slingo.com, home to over 1,200 exciting slot and casino games. Join us now for an amazing gaming experience in a safe, secure environment that puts you first. Sign up to Slingo today and try something new!