Looking for a fun new Slingo game to try? To help you narrow it down, in this article we're going to be highlighting our favourite medium volatility Slingo games with a mystical theme. From Slingo Rainbow Riches to Slingo Fortunes and Slingo Extreme, there are plenty of great options to choose from.

Not sure what medium volatility means? Don't panic – we're about to explain everything below!
---
*Terms and conditions apply.*
---
What Does Medium Volatility Mean? 
Volatility in slot games refers to the level of risk the game has. To simplify it slightly, it is the game's hit rate (how often you can expect to win), in combination with its maximum exposure (the biggest possible win in the game). 
Games are often categorised as high volatility, low volatility, or medium volatility. High volatility games are those with a higher risk, but bigger potential rewards. These types of games tend to pay out less frequently – but the prizes tend to be bigger when they do pay out.

Low volatility games present a smaller risk, but the potential prizes are also smaller. These games tend to pay out more frequently, but with smaller prizes.

As you may have guessed, medium volatility slots fall somewhere in between. They present a medium-sized risk, and are likely to pay out prizes that are bigger than low volatility games, but smaller than high volatility games. Whatever game you choose, remember to always gamble responsibly, and never spend more than you can afford to lose.
Explore Our Mystical Medium Volatility Slingo Games
Here at Slingo we have a great selection of our own medium volatility games to choose from. Keep reading for more information about our most popular medium volatility titles with a magical theme:
Slingo Rainbow Riches
The Slingo Rainbow Riches game is a modern classic. It combines the familiar Slingo grid with Rainbow Riches, one of the most popular slot games ever! In this exciting game you'll complete Slingos on the familiar 5x5 grid to move up the bonus ladder, unlocking bonus rounds as you go.
Complete five or more Slingos to trigger one of seven bonus rounds, which fans of other Rainbow Riches games will recognise. For example, five Slingos activates the Wishing Well bonus, where you'll choose one of three wishing wells to reveal a multiplier prize.
Or make it all the way to the top of the bonus ladder (11 Slingos) to reach the Pots of Gold bonus round. With a top prize of 1,000x your original bet, Slingo Rainbow Riches is something to try to play.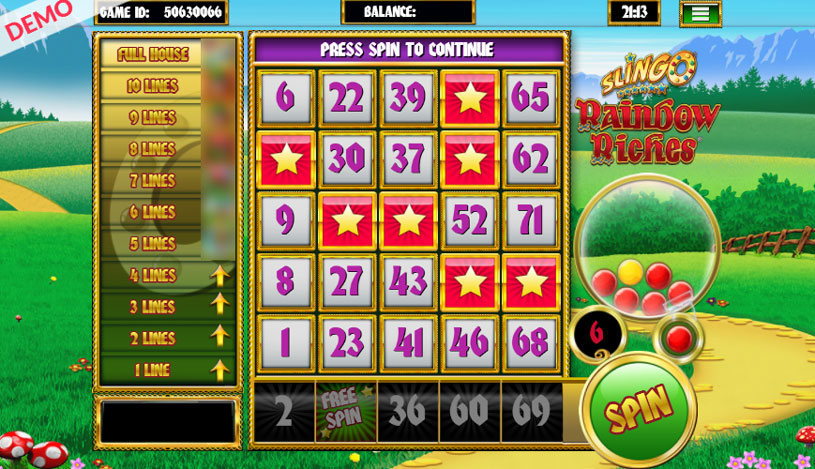 Slingo Extreme
Slingo Extreme is a red-hot Slingo game with a top prize of up to 500x your bet. We love its fiery design, and its simple gameplay makes it ideal for both beginners and more experienced players. Just like in other Slingo games, the aim is to mark off numbers on the Slingo grid to complete Slingos and work your way up the pay ladder.

Jokers and Super Jokers can appear on the reels to hopefully help you complete Slingos. And watch out for the Devil symbol – he'll act as a blocker to try to stop you from getting Slingos!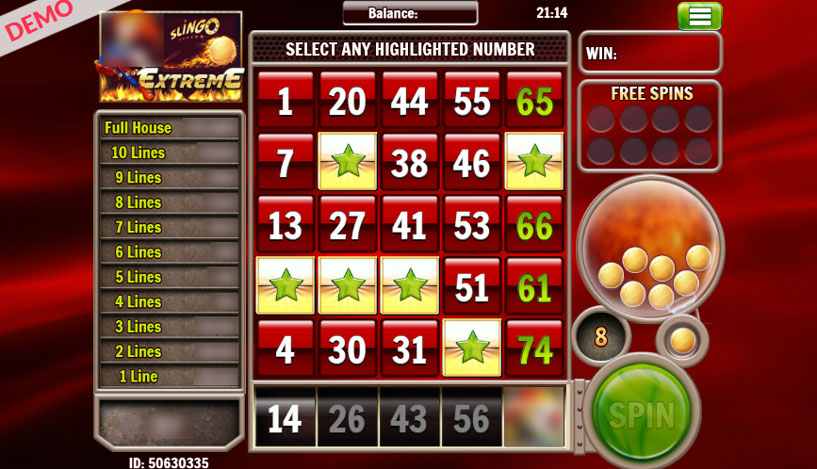 Slingo Fortunes
Slingo Fortunes is a fun Slingo game that was released last year, with gameplay that is similar to Slingo Deal or No Deal. At the start of the game you'll see 26 red envelopes on the screen, and you'll be invited to choose one as your lucky envelope.
The lucky envelope will be removed from the screen, and you'll spin the Slingo reel to match up numbers on the grid and complete Slingos. Get four or more Slingos and you'll be given the option to gamble the mystery value of your red envelope for a cash prize. You decide whether to accept the offer, decline it and take your mystery prize, or keep spinning.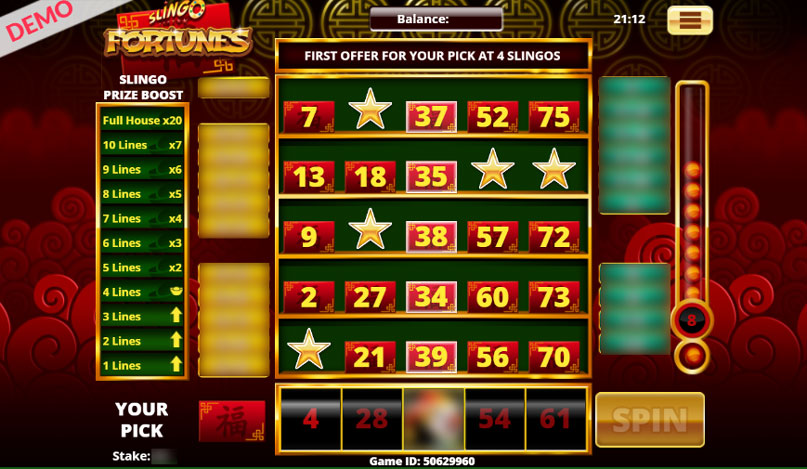 Slingo Showdown
Slingo Showdown is an adventure-packed Slingo game with a fun Wild West theme. The game features elements of both poker and Slingo, but don't worry – you don't need to be a poker pro to play it.
As well as marking off numbers on the grid to complete Slingos, this game features the added challenge of trying to make poker hands to win a cash prize. The highest prize is for a Royal Flush (an Ace, King, Queen, Jack and 10 in the same suit), with smaller prizes for Straight Flush, Four of a Kind and more.
Jokers and Super Jokers enable you to choose which numbers to mark off on the grid, and the game also features a Free Deal symbol that can award an extra spin at the end of the game.
Slingo Reel Riches
Slingo Reel Riches is a unique Slingo game with a setup that is a little different to the rest. Instead of the familiar Slingo grid, the game is played on a five reel, three row slot machine layout.
Find three Bonus symbols anywhere on the reels to trigger the Win Spins Bonus at the end of the game. In Win Spins you control the volatility of the game by choosing your preferred free spins/multiplier combo. Wilds double any win they form a part of, which adds to the excitement in this unique Slingo game.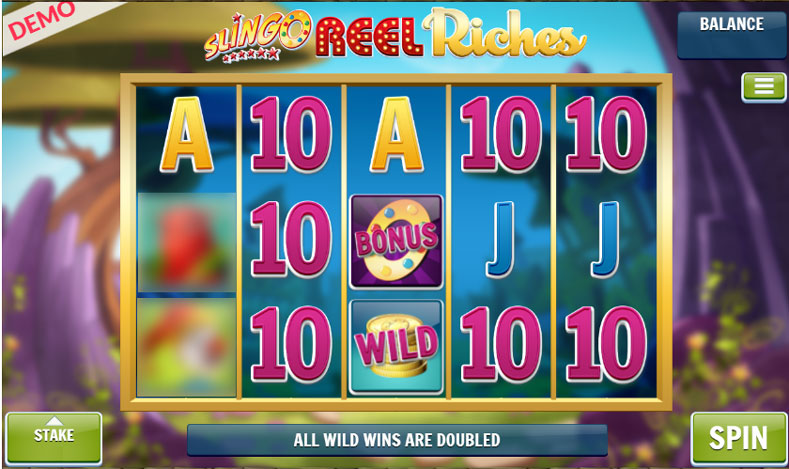 Slingo Reel Extreme
Slingo Reel Extreme is a red-hot version of Slingo Reel Riches, featuring fast-paced gameplay and a fun rock 'n' roll soundtrack. The setup is largely the same as Slingo Reel Riches (see above), although this time each game consists of five linked spins on the reels. This means that any Bonus symbols you collect remain in place across five spins to give you more chances to trigger the bonus round.
The symbols are the same as in Slingo Reel Riches, including cherubs, Jokers, Super Jokers and devils!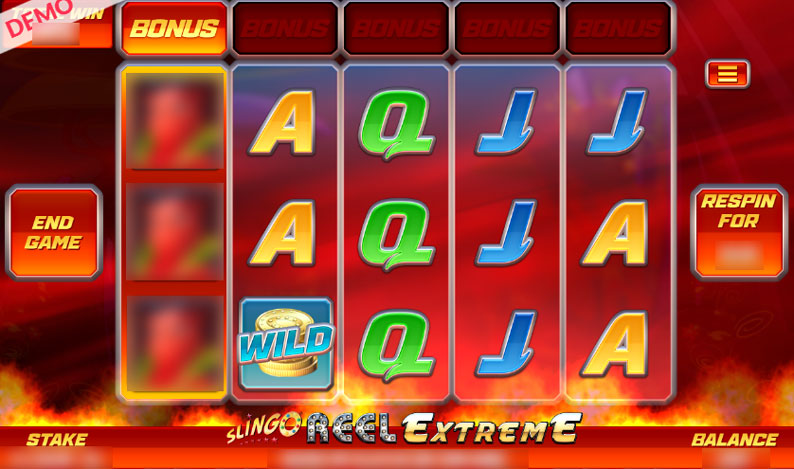 Play Magical Slingo Games with Medium Volatility at Slingo.com 
Find all these magical Slingo games and more at Slingo.com, home to all the latest Slingo, slots and casino games. Join us now for an amazing gaming experience in a safe, secure environment that puts you first. Always gamble responsibly, and never spend more than you can afford to lose.