Top 6 Slingo Games with the Lowest Bet Requirements
Who doesn't love a low bet game everyone now and then? Allowing you to keep things casual and extend the fun, a low betting style is perfect for the fun of Slingo games. It goes without saying that before you bet on a Slingo game you should always check the minimum and maximum wagering statistics, but, to get you started, we've created a list of the top 6 Slingo games with the lowest betting requirements.
Slingo Fire and Ice

(Min. Bet: £0.05)
It's both blazing hot and freezing cold in the Slingo Fire and Ice slot machine. In this brand-new method to play Slingo, opposites attract, with two Slingo grids: one fiery red and one an icy blue. Each coloured symbol eliminates numbers from its respective grid, whereas mixed symbols mark numbers off both grids. Completing Slingos on the red grid advances you up a multiplier ladder while completing Slingos on the blue grid advances you up a pay ladder, which is then multiplied. There are also some unbelievable fixed jackpots to be won. Fire and Ice is a high-volatility, action-packed game that takes the Slingo mechanism to new heights.
Slingo Lucky Larrys Lobstermania

(Min. Bet: £0.10)
This is an epic collaboration of a great slots game and the winning Slingo slots formula. Dive into the chilly seas of Slingo Lobstermania to play Lucky Larry's Lobstermania's awesome bonus games featured on this game. The myriad features that could appear on your grid, like Lucky Larry bonuses that award more Free Spins and Prize Picks with each Slingo achieved, are absolutely potty While you're looking for number matches, keep an eye out for Fixed Jackpots, since each symbol that lands on the Slingo reel has the potential to reveal a jackpot overlay. Perfect for fans of fishing, Slingo Lucky Larrys Lobstermania can be played for just 10p per game. 
Slingo Starburst

(Min. Bet: £0.10)
Starburst is one of the most well-known slot games, and it's been mixed with the Slingo structure in this game. The popular NetEnt slot has merged with the Slingo grid, bringing with it glistening extra features and a dynamic gaming experience. Purple Gem symbols can provide an instant cash prize, while Wild Respins increase the action by giving you the possibility to score a streak of number matches. When you get three or more Slingos, you get a symbol-specific Win Spin, which guarantees you a win of the appropriate symbol. This super-hybrid will undoubtedly soar to dizzying new heights. Just like how the original slot was made accessible to many players with low betting limits, Slingo Starburst also caters to low bettors with wagers of just 10p per game.
Slingo Carnival

(Min. Bet: £0.10)
There are a tonne of activities and delicacies at the new-to-town Slingo Carnival. Grab some candy floss and explore the vibrant booths. You might discover the Bottle Toss Bonus, Balloon Popper Bonus, and Coaster Climb Bonus features here, making this game much more than your standard Slingo game. One of Slingo Originals' most immersive games, Slingo Carnival invites players on an exhilarating journey filled with fair-related memories and, maybe, some delicious winnings. Slingo Carnival is a spectacular innovation in online gaming that's not to be missed. It's highly interactive with a touch of nostalgia, and because it can be played for only 10p every game, anyone can join in the fun of the fair.
Slingo Inca Trail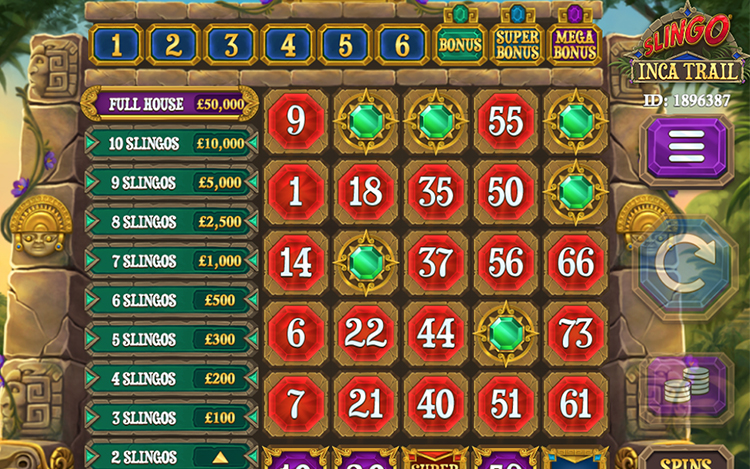 (Min. Bet: £0.20)
In the Slingo Inca Trail game, travel in the mythical footsteps of the Peruvian Incas while admiring the sights of cloud forests, mountain ranges, and the area's ruins. You should start looking into this lesser-known Slingo game because we really believe it to be a hidden gem. There are more features in this game than just stunning scenery, like Super Wilds, Free Spins, and more Slingo deliciousness. You are transported to the magnificent Machu Picchu in the trail-tastic bonus round. Indeed glorious, since one of several sacred items can pay you up to 5000 times your stake here which is pretty incredible considering that Slingo Inca Trail can be played for just 20p!
Slingo Racing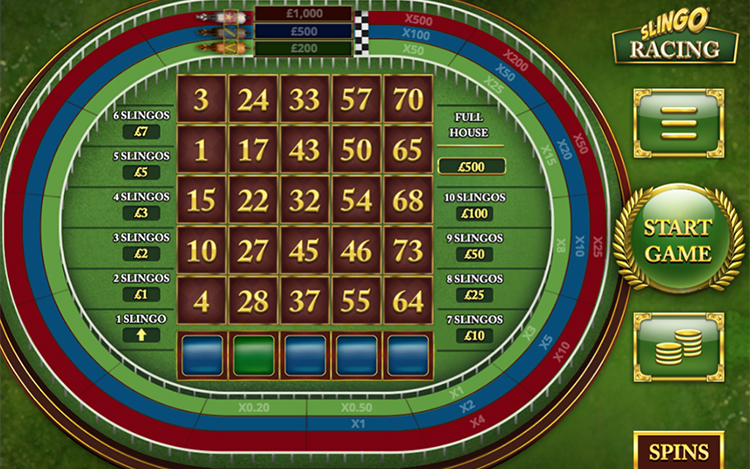 (Min. Bet: £0.20)
Play Slingo Racing and go racing. Players choose one of three horses before the game starts, and then they gather multipliers on the track of their choosing, therefore there is no need for a handicap in this race. But there's more! If the chosen horse reaches the finish line, each track offers a galloping jackpot prize.  This game is perfect for fans of the races and has a lightly competitive atmosphere that keeps the game exciting time and time again, and with games starting at just 20p.
Play these exciting Slingo games at Slingo.com
If you are into these fabulous Slingo titles then sign up and play today at Slingo.com where these and so many more great games such as Slingo, Bingo, slots, and casino games await you. Visit our site to discover more.