If you love nothing better than curling up on TV in front of Britain's Got Talent, we've got the perfect game for you! Or perhaps you're a budding superstar yourself, a karaoke queen or a dancefloor diva? Either way, you can enjoy your moment in the limelight with Slingo Britain's Got Talent, the exciting Slingo game.
Want to know more? Keep reading and all will be revealed!
---
*Terms and conditions apply.*
---
An Exhilarating Live Show
Britain's Got Talent first burst onto our screens back in 2007, and has become a classic with viewers all over the country. Inspired by the slightly earlier American version of the show, the contest is open to performers with all kinds of talents. From magicians to acrobats and everything in between (including Susan Boyle!), BGT is prime-time entertainment at its best.

Read on for more info about the Slingo take on everyone's favourite talent show!

Simple, Engaging Format
The Slingo Britain's Got Talent game has a simple format that is ideal for both Slingo newbies and more experienced players.
When the game starts you'll see the familiar Slingo grid, and the aim of the game is to mark off Slingos (similar to lines on a traditional bingo grid) to work your way up the pay ladder on the left of the screen. Jokers and Super Jokers allow you to choose numbers to mark off, while the red Devil symbol will try to block you from landing wins!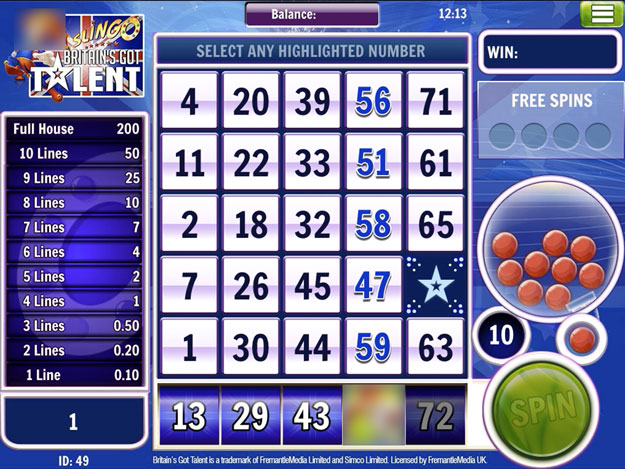 High-Quality Graphics
Slingo Britain's Got Talent is a simple yet entertaining Slingo game with a neat, clean design. We love the Slingo-meets-BGT logo in the top left corner of the game screen, and when you mark off a number on the grid it's replaced with the iconic BGT star logo.

A cheerful soundtrack complete with sound effects for spinning the ball hopper (the round thing that contains the balls!) and marking off numbers adds to the gaming experience.
We also love the friendly Joker and Super Joker symbols - find three of them anywhere on the reels to win a bonus cash prize!
Increasing Popularity
Slingo Britain's Got Talent is one of our most popular Slingo games ever, and it's easy to see why. Its exciting gameplay appeals to both fans of the TV show and those who are less familiar with it, and its simple format makes it accessible for players with a wide range of budgets. Slingo BGT shares the TV show's energy and excitement, and it's a firm favourite with the Slingo team.
And although winning certainly isn't everything, the chance to win a top prize of 200x your bet is certainly an attractive proposition!
Play Britain's Got Talent Slingo at Slingo.com
Find Britain's Got Talent Slingo and more exciting Slingo and slot games at Slingo.com, the official home of Slingo. Join us today for an amazing gaming experience in a safe, secure environment that puts you first. Ready to try something new? Sign up at Slingo now!