Welcome to our Foxin' Wins Again slot machine review. Time to grab a suitcase and start packing as the player is off on an adventurous yet relaxing cruise ship with the protagonist Foxin' himself. Don't forget a towel to go swimmin', sunscreen to prevent burnin' and money to get drinkin', -this is going to be a good time! Created and developed by the incredible developers at Next Gen the Foxin' Wins Again slot game is a creative and unique adventure that stands out from the crowd. This means that the Foxin' Wins Again slot machine is a game that will surely keep the slot machine player base thoroughly entertained. 
Foxin' Wins Again Slot Game 
Meet Foxin', our captain for this journey and our lovely holiday cruise. During this cruise expect to play with Foxin' in a luxury holiday where you can chill and relax while you play. Featuring a lovely circular cushion sofa overlooking the expanding tropical seas which Foxin' himself will worry about while you lay back and enjoy the views. 
Theme & Symbols
Foxin' Wins Again slot, as you can tell, is themed after a cruise ship adventure with all the luxurious features of sailing, these include cocktails, sail compasses, and those all-important navigation tools. Symbols you can expect to see are those stated features as well as the royal card symbols of any playing card deck. But there is much much more, read below to find out. All these symbols feature cartoonish designs with some kind of small but charming glow to them. This creates a fun and charming feel when playing the Foxin' Wins Again slot machine. 
The Basics: How to Play Foxin' Wins Again Online Slot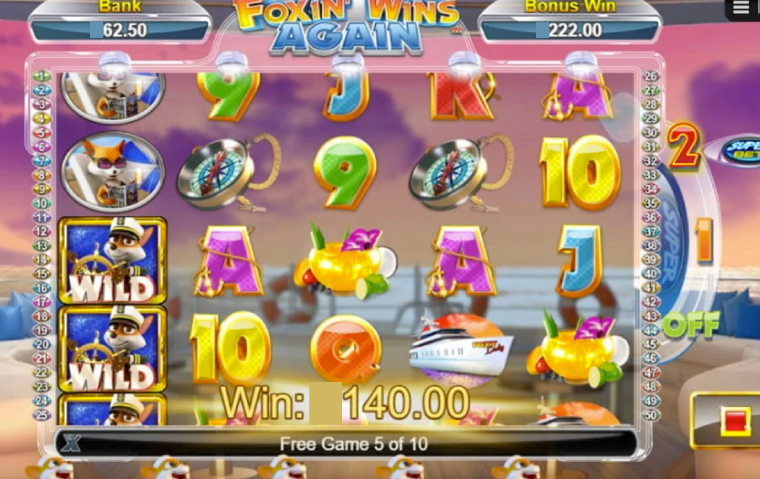 To begin this great journey with the Foxin' Wins Again slot, the player must start by setting their stake amount.  Foxin' Wins Again slot in the UK can also be played for free if the player wants to just sit back and enjoy what the slot machines have to offer. However, if the player is looking to set wagers they can do this by editing their wager amount and then clicking the green up arrow or the red down arrow to increase or decrease the wager total. Once the wager is set and the player is happy with their total set wager, the reels need to get moving to start the game. This can be completed by clicking on the big green "play symbol" button on the bottom right of the game's interface screen. Once the reels begin to stop from right to left the player will either be rewarded with winnings, playable bonuses or nothing at all. The player will either have to play through their bonuses, collected the winnings or respin the slot. 
Foxin' Wins Again Slot RTP & Wager Limits
 Foxin' Wins Again online slot has a theoretical return to player rate of 95.86% making the slot machine slightly below the market average. This makes the slot machine good for those players looking for more of a challenge during their gaming experience.  Foxin' Wins Again has a medium volatility rating featuring its 50 paylines. The minimum wager amount on this slot is 0.50p and the maximum wager that can be placed is £50. The slot jackpot is a huge amount of 250x the set wager which can go all the way up to an impressive 1000x the set wager. 
Foxin' Wins Again Bonus Features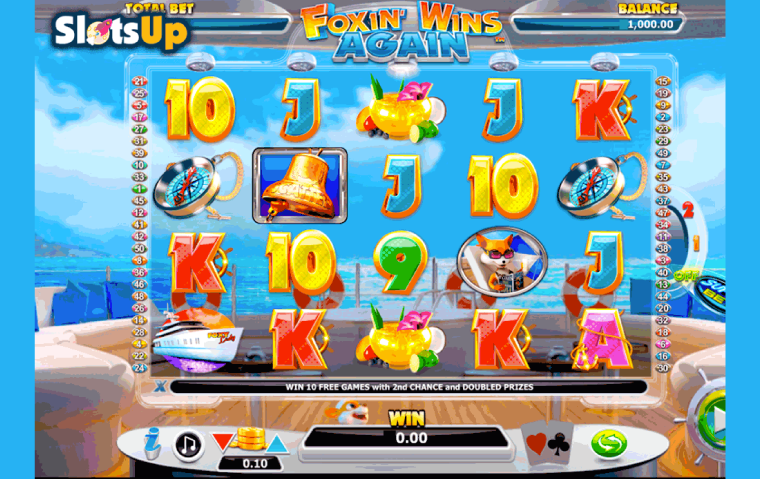 Scatter Symbol
The bell symbol is the Foxin' Wins Again scatter symbol and can award between 50-5,000x your stake making this the most valuable symbol used in this slot game. Alongside this the bell scatter is also used to trigger the free spins bonus round.
Free Spins Bonus
As mentioned you'll need three scatters in any reel position within a single spin to activate the free spins bonus round. Players will be awarded 10 free spins with a 2x multiplier added to all symbol wins. 
Play Foxin' Wins Again Online on Slingo
Foxin' Wins Again slot machine is an ideal way to sit back and relax on a stunning cruise as a game away. If Foxin' Wins Again slot UK or its Foxin' Wins Again slot free spins are interesting, head down to Slingo.com and sign up for free to get a chance at the slot yourself.