Slingo Spotlight: Tutan's Treasure
The Slingo Spotlight might be a bit dull today because we're deep down in an Egyptian tomb exploring and hunting for long-lost treasures. Tutan's Treasure is one of the most unique slot machines out there, so join us as we take a closer look at what makes this title tick. 
About Tutan's Treasure
The Slingo universe continues to grow, albeit slowly, and this time it's all about the search for lost Egyptian artifacts. This is a popular slot theme, and in this review, we'll explore how it translates to bingo/slot hybrids. Tutan's Treasure is set deep within Giza's underground dungeons, with two torches blazing on either side of the reels, illuminating the strange hieroglyphs.
The atmosphere is established with creepy Egyptian-inspired background music, and you have a lot of control over how you customize your own gaming experience. Each round has 5 artifacts of your choice, which are arranged in 5 tiers according to their value. Each tier has eight artifacts to choose from, ranging in value and volatility from low to high, and each artifact has a different payout percentage ranging from 89.78 percent to 96.83 percent.
How To Play Tutan's Treasure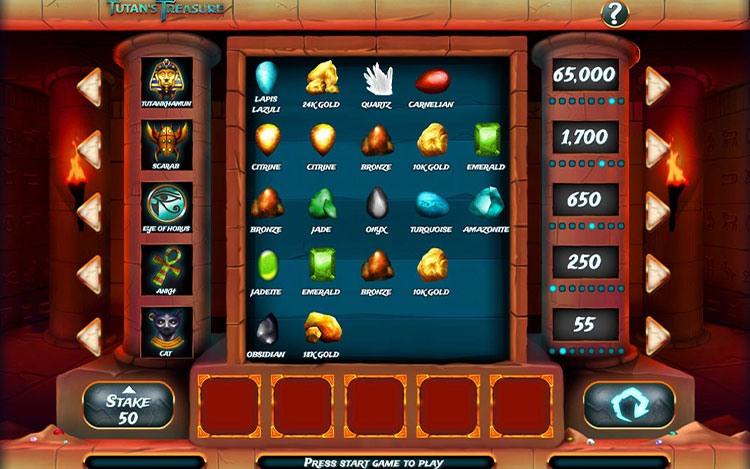 The gameplay isn't extremely complicated, but if you're used to playing slots and have never played a Slingo game before, it might be a little puzzling. But don't worry; once you get started, you'll find it quite simple. We'll go over all the essentials here to help you get ready to hunt for Tutan's Treasure. In this game, there are a lot of settings and tweaks you may make as you see fit, and we'll start with the Play Controls.
You may find information about the game and its features in the help area of the hamburger menu. This brings up the paytable as well as the information section. Tutan's Treasure has 40 separate artifacts, each with its own set of values and RTPs mentioned in the paytable.
The Shen Ring, the lowest-value relic, pays 0.4x and has an RTP of 89.78 percent, while the Amun statue, costing 2,450x and with an RTP of 95.18 percent, is the highest-value item. The overall RTP ranges from 92.89 percent to 96.47 percent, depending on the artifacts you select. To make matters even more complicated, you should be aware that the RTP ranges in this game can be customized. This means that, under certain constraints, operators can change the payment percentages as they see suitable.
Each game contains a total of 5 artifacts to win, and you can choose your risk/reward ratio upfront by choosing which objects to pursue. The artifacts themselves may be found on the left, while the gemstones required to win an artifact can be found in the center. You can see how much each artifact is worth on the right-hand side.
Tutan's Treasure RTP and Wager Limits
Games of Tutan's treasure can cost just 20p for 5 spins or up to £100 for a game of 5 spins. As you'll see in the next section the theoretical RTP for this title changes depending on the option the player picks which also affects the volatility rating of this game. 
Tutan's Treasure Features
Tier Levels
The stand-out feature for the Tutan's Treasure slot machine is its unique tier feature which plays out as follows. You can choose from eight different artifacts for each of the five-tier slots before the game begins. The volatility rises in proportion to the artifact's worth. Here's a breakdown of your possibilities, starting with the most valuable level:
Tier 1 -

Snake (pays 58x with 94.5 % RTP) to Amun (pays 2,450x with 95.18 % RTP)

Tier 2 -

Bird (pays 21x with 94.52 % RTP) to Bastet (pays 52x with 96.17 % RTP)

Tier 3 -

Collar Necklace (pays 10.5x with 96.27 % RTP) to Horus (pays 18.5x with 95.11 % RTP)

Tier 4 -

Ankh (pays 5x with 95.76 % RTP) to Isis (pays 10x with 95.57 % RTP)

Tier 5 -

Shen Ring (pays 0.4x with 89.78 % RTP) to Osiris (pays 4.25x with 96.55 % RTP)
Game Format
The Tutan's Treasure slot game is played over 5 spins, similar to Slingo online titles. Players pay a set amount for the 5 spins and once these spins come to an end you can choose to end your game or pay for some extra spins at the amount specified. 
Tutan's Treasure Mobile
Like all titles on our site, the Tutan's Treasure game is fully compatible with all devices including mobile phones and tablets meaning you can game on the go if you choose to. 
Discover Tutan's Treasure on Slingo
Come and see if you can discover Tutan's Treasure by playing the game for yourself at Slingo, where a whole host of incredible games await you. Sign up and play today.