When browsing the Slingo games catalogue, it can be tricky to decide which Slingo game to play. With titles like Slingo Fortunes, Slingo Rainbow Riches, and Slingo Showdown to choose from, it's sometimes hard to narrow it down.

With that in mind, we've selected some of our favourite Slingo games with 12 paylines as a way of creating a shortlist. Some of them have a fun magical or fairytale theme, which makes the gameplay even more enjoyable! Keep reading to find out more about paylines and Slingo games….
---
*Terms and conditions apply.*
---
What Is a Payline?
Paylines are the lines across a set of reels that determine whether a spin wins or loses. Slot machine paylines can run vertically, horizontally, diagonally, or even in V shapes or zig zags, and there are usually multiple paylines.
Winning combinations are usually achieved if certain symbols land on a payline – for example, three of the same symbol in a horizontal row starting from the leftmost reel. In some slot games, symbols only need to be on consecutive reels (rather than next to each other) to form a win.

In most Slingo games (like the ones below), the paylines work a little differently to slot games. Instead, think of each Slingo (horizontal, vertical or diagonal line on the grid) as a payline. In a 5x5 Slingo grid, there are 12 possible lines: 5 vertical, 5 horizontal, and 2 diagonal.
Our Favourite 12 Payline Slingo Games
Let's take a look at some of the best Slingo games with 12 paylines:
Slingo Fortunes
Slingo Fortunes is a fun Slingo game with gameplay that is similar to Slingo Deal or No Deal. At the start of the game you'll see 26 red envelopes on the screen, and you'll be invited to choose your lucky envelope.
The lucky envelope will be removed from the screen, and you'll spin the reels to match up numbers on the grid and complete Slingos. Get four or more Slingos and you'll be given the option to gamble the mystery value of your red envelope for a cash prize. You decide whether to accept the offer, decline it and take your mystery prize, or keep spinning.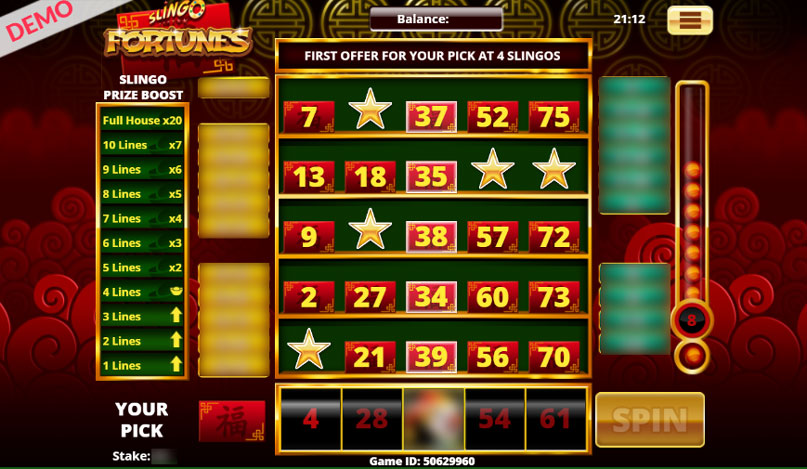 Slingo Rainbow Riches
Slingo Rainbow Riches combines the familiar Slingo grid with Rainbow Riches, one of the most popular slot games ever! In this exciting game you complete Slingos on the grid to hopefully move up the bonus ladder, unlocking bonus rounds as you go.
Complete five or more Slingos to trigger one of seven bonus rounds, which fans of other Rainbow Riches games will recognise. For example, five Slingos activates the Wishing Well bonus, where you'll choose one of three wishing wells to reveal a multiplier prize.
At the top of the bonus ladder is the Pots of Gold bonus round, which has a top prize of 1,000x your original bet.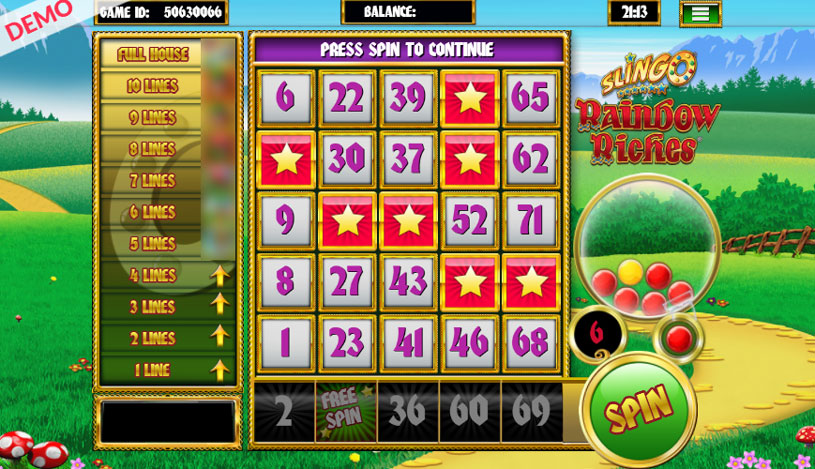 Slingo Extreme
Slingo Extreme is a red-hot Slingo game with a top prize of up to 500x your bet. We love its fiery design, and its simple gameplay makes it ideal for both beginners and more experienced players. Just like in other Slingo games, the aim is to mark off numbers on the Slingo grid to complete Slingos (similar to lines in bingo) and work your way up the pay ladder.
Jokers and Super Jokers can appear on the reels to hopefully help you complete Slingos. And watch out for the Devil symbol - he'll act as a blocker to try to stop you from getting Slingos!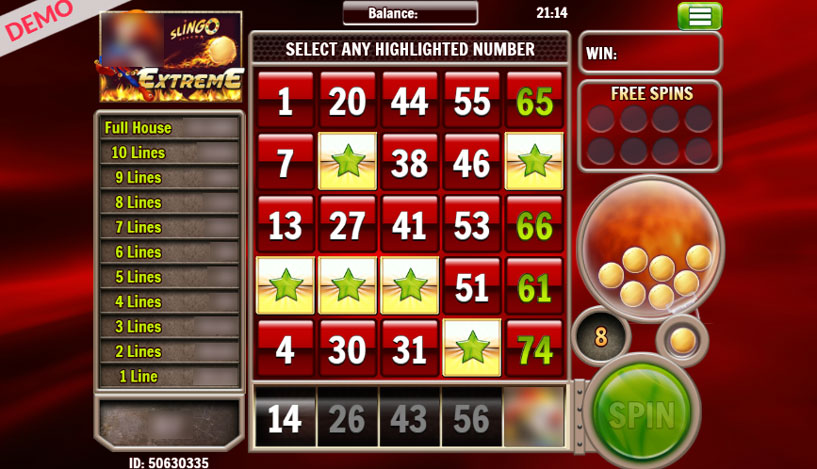 Slingo Riches
Slingo Riches was the first ever Slingo game, and it has remained a fan favourite since its release back in 2015. The game has a simple, pared back design with a relaxing blue and purple background that reminds us of classic casino games.
The grid itself is clear and easy to understand, with a pay ladder on the left of the game screen that you can work your way up by completing Slingos.
All the classic Slingo characters are here too, with the Jokers and Super Jokers to help you mark off numbers.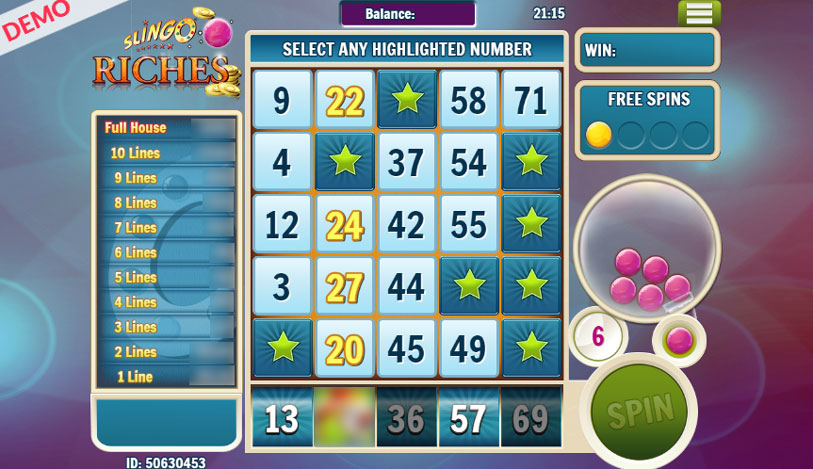 Slingo XXXtreme
Slingo XXXtreme is a fiery Slingo game with a top prize of up to 10,000x your bet. In terms of gameplay this one is fairly straightforward, with Jokers and Super Jokers to help you mark off numbers on the grid and a Free Spins symbol that can award you an extra spin. Slingo XXXtreme also gives you the option to buy potentially unlimited spins at the end of each game, to give you a chance to climb higher up the pay ladder.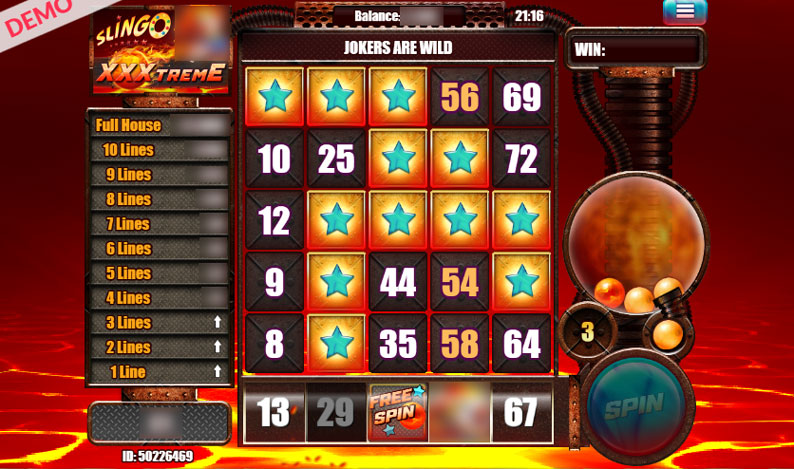 Slingo Showdown
Slingo Showdown is an adventure-packed Slingo game with a fun Wild West theme. The game features elements of both poker and Slingo, but don't worry – you don't need to be a poker pro to play it.
As well as marking off numbers on the grid to complete Slingos, this game features the added challenge of trying to make poker hands to win a cash prize. The highest prize is for a Royal Flush (an Ace, King, Queen, Jack and 10 in the same suit), with smaller prizes for Straight Flush, Four of a Kind and more.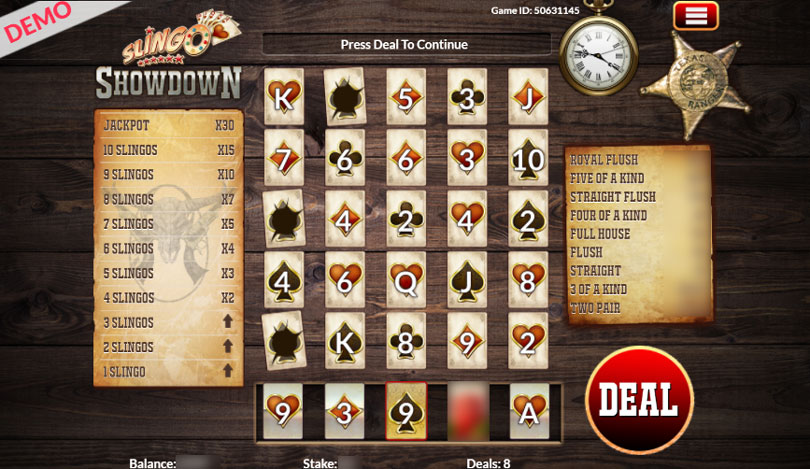 Play These Magic-Themed Slingo Games with 12 Paylines at Slingo.com 
Find all these 12 payline slots and more at Slingo.com, the official home of Slingo. Sign up now and have fun in a safe, secure environment that puts you first. With over 1,200 exciting Slingo, slots, and casino games to choose from, you'll be spoilt for choice! Register at Slingo today and join the fun. Always gamble responsibly, and never spend money you can't afford to lose.