Slingo Online Casino Games
Slingo is one of the most popular online casino games in the world, and it's easy to see why! With its simple but fun format, huge range of themes and the chance to win real money prizes, Slingo has it all.
In this article we'll be discussing all things Slingo, including how it got its name and how to play it! So whether you're an experienced Slingoer or a complete newbie, read on to learn more about the world of Slingo.
What Is a Slingo Game?
Slingo is an exciting combination of slots and bingo – hence the name 'Slingo'. A standard Slingo game consists of a 5x5 grid, which closely resembles a bingo card. Below the grid is a set of reels, and the aim of the game is to match numbers on the reels with those on the grid.
The game was invented back in 1994, when American Sal Falciglia came up with it after being inspired by the bingo games his mother used to go to, as well as traditional one-arm-bandit fruit machines.
Today there is a huge selection of online Slingo games with fun themes and variations, from Slingo Sweet Bonanza to Slingo Bells and more. Read on to find out how to play Slingo games!
Basic Mechanics: How Slingo Works
Most Slingo games follow the same basic format. Don't worry – you'll get the hang of it in no time! 
As we mentioned above, the game is usually played on a 5x5 grid, with a reel set underneath it.
To play the game, start off by pressing the spin button.
The numbers on your grid that match the ones on the reels will be automatically crossed off. You get a Slingo when you mark off five numbers in a row following the winning line. The win lines can be horizontal, vertical, or diagonal as shown below.
For every Slingo or win line you complete, you move a step up the prize ladder. The prize ladder varies in every game, and some games include exciting bonus rounds!
The aim of the game is to reach the top of the ladder (a Full House) and win the corresponding cash prize. 
Jokers and Super Jokers can appear on the reels to help you mark off numbers, and some games feature instant cash prizes and extra spins to give you even more chances to win!
Our Favourite Slingo Games
With so many great Slingo games to choose from, we've listed a few of our favourites to help you get started. The hardest part is deciding which one to play first!
Slingo Rainbow Riches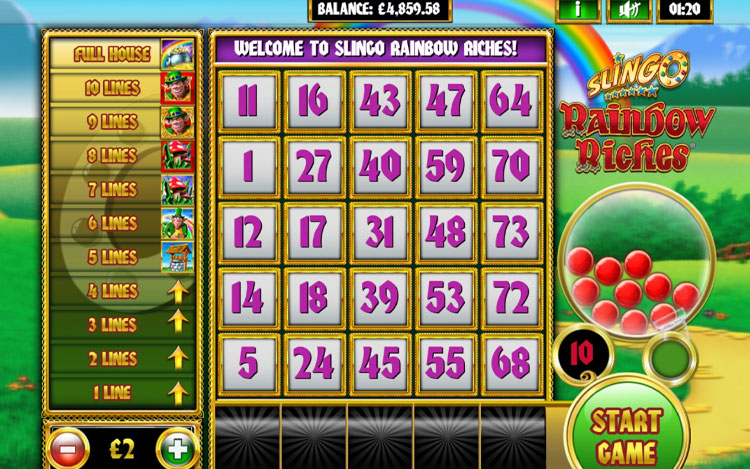 Slingo Rainbow Riches is a mash-up of two of our favourite games: Slingo and Rainbow Riches! With seven bonus rounds and a fun Irish theme, will you find your pot of gold at the end of the Slingo rainbow? Play it now to find out!
Slingo Centurion
All hail Slingo Centurion! This epic collaboration transports us to the Roman Empire, where plenty of gold and treasure awaits. The game has all your favourite Slingo features, plus bonus rounds inspired by the original Centurion game such as Reelus Maximus and Caesar's Free Spins.
Slingo Starburst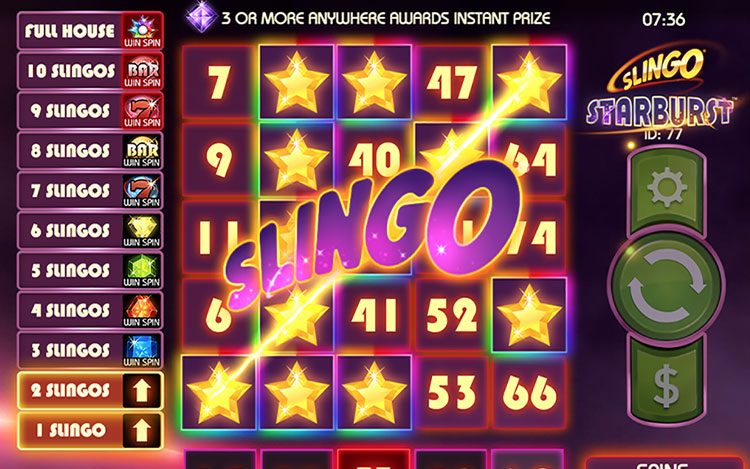 Blast off into space with one of our most highly anticipated mash-ups ever: Slingo Starburst. Complete Slingos to work your way up the pay ladder and unlock Starburst bonus games, with Win Spins and guaranteed wins to add to the excitement. Find purple gems to win an instant cash prize!
Slingo Deal or No Deal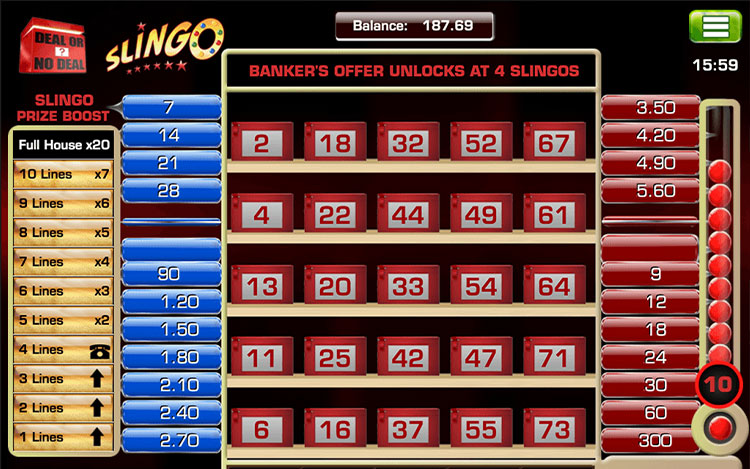 If you've always fancied yourself as a game show hero, now is your time to shine. Find your lucky box in Slingo Deal or No Deal, and complete four Slingos to unlock the Banker's Offer! Will you choose 'deal', 'no deal', or keep spinning? The choice is yours!
Slingo Fluffy Favourites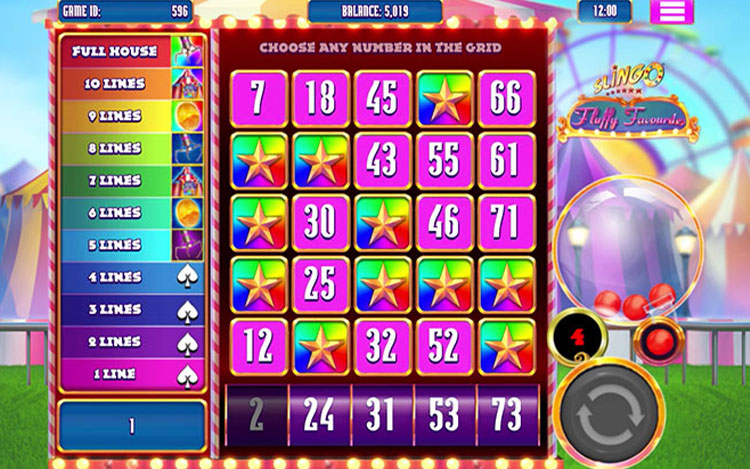 Experience all the fun of the fair in Slingo Fluffy Favourites, the magical mash-up featuring all your favourite nostalgic fairground games, from the Hook-a-Fluffy bonus to the Coin Pusher bonus. With symbols including Nellie the pink elephant and other stuffed toy characters, this highly detailed slot is a Slingo favourite.
Slingo Reel King
Another marvellous mash-up is coming your way with Slingo Reel King, featuring the famous Reel King bonus! Reels can randomly 'ding' as you spin, moving your further along the Reel King Trail with the hopes of triggering the bonus. Random Reel King characters can also appear on any spin, as well as Wilds, Super Wilds and Free Spin symbols!
Slingo Classic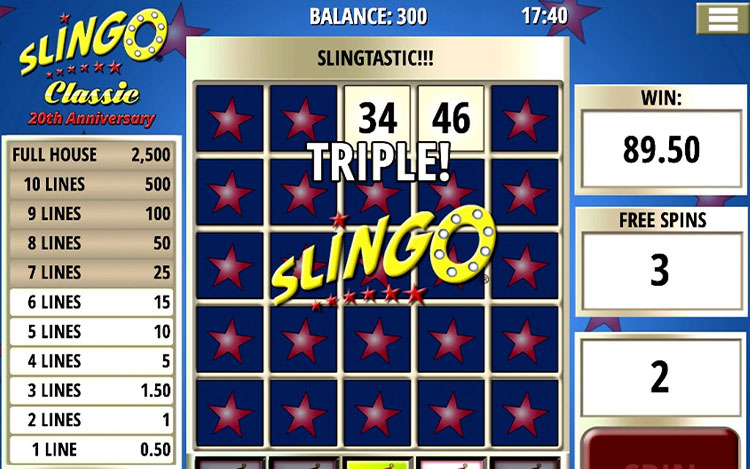 Take it back to where it all began with Slingo Classic, a pared-down version of the game that celebrates 20 years of Slingo! This variation is inspired by the original Slingo game, and has a retro design and a simple, no-frills format that is ideal for those who are newer to Slingo, as well as more experienced players.
Play Slingo Games at Slingo.com
Where better to play all these Slingo games and more than at Slingo.com, the official home of Slingo? Choose from over 1,200 Slingo, slots and casino games in a safe, secure environment that puts you first. Ready to try something new? Let's Slingo!