Zavetti Canada and Canada Goose are two of North America's most celebrated premium winter wear brands. And, with chillier weather fast approaching, you'll want to know which to choose so you can stay warm and stylish!
Join us as we dive head-first into these two icons of Canadian fashion. From history and cultural prominence to material technologies and colour options, this is your guide to adding a stand-out jacket to your winter wardrobe this year.
Zavetti Canada
View this post on Instagram
In the heart of the frosty Canadian landscape, a brand was born with a vision to redefine winter fashion and functionality - Zavetti Canada.
History
As the apres-ski reimagining of the established Italian-inspired fashion label, Zavetti, this is a brand with a firm sense of heritage and Milanese elegance. It emerged in the early 2010s with one clear goal - elevating winterwear to new heights of luxury.
View this post on Instagram
Zavetti's journey off the catwalks and onto the mountain slopes began in a modest studio, where sketches became prototypes and ideas transformed into reality.
Fuelled by the desire to craft garments that would withstand the harshest climates while remaining effortlessly fashionable, it embarked on a mission to revolutionise winter wardrobes.
Vision
View this post on Instagram
Drawing inspiration from Canada's rugged terrains and ever-changing seasons, Zavetti Canada infused creations such as the iconic Zavetti Canada jacket with a distinctive aesthetic, blending urban chic and practical design.
In a world where winter wear is no longer simply a shield against the elements but a canvas for personal expression, Zavetti Canada is a beacon of ingenuity and style. Rooted in the heart of the Canadian wilderness and driven by a passion for reimagining the concept of winter fashion, Zavetti Canada is not just a brand - it's a celebration of the fusion between innovation, aesthetics, and the spirit of adventure.
Clothes
View this post on Instagram
Every item Zavetti Canada creates is a testament to the brand's commitment to crafting winter wear that caters to practicality and individual expression. Its ranges span womenswear, menswear and kidswear, with a reasonable selection of colour options.
Winter jackets, parkas and coats
Whether you're scaling the Alps or strolling through the London streets, Zavetti Canada's outerwear allows you to embrace the elements instead of just braving them. The Zavetti Canada collection of jackets is perfect for trendsetters and outdoor lovers, featuring insulated inners, faux fur-lined hoods and water-resistant fabrics.
Accessories
If you're looking for those little extras to keep you prepared when embracing the elements, Zavetti Canada has you covered. From the perfect snood or pair of gloves designed to keep the cold out to backpacks that get you from A to B, they've got all the finishing touches available.
Womenswear
Zavetti Canada's offerings extend beyond men's outerwear, encompassing a diverse, stylish collection of women's apparel. From elegantly tailored parkas that envelop you in cosy luxury to sleek, form-fitting jackets that exude confidence, Zavetti Canada empowers women to embrace the chill with grace and elegance.
Canada Goose
View this post on Instagram
Warm, comfortable and weather-resistant, Canada Goose outerwear is designed to resist the coldest conditions on the planet. And, ever since the label's establishment, pioneering material innovation in winter wear has been a hallmark of its history.
History
The brand's journey began in a small Toronto warehouse in 1957 when entrepreneur Sam Tick decided to turn his expertise in woollen vests into a brand that would cater to those who dared to brave the chilliest of terrains.
View this post on Instagram
Armed with a passion for craftsmanship and a determination to create unparalleled warmth, Tick founded Canada Goose, laying the cornerstones of what would become a symbol of Arctic exploration and exceptional quality.
The brand's commitment to creating premium outerwear has earned it many high-profile fans, including Drake, Daniel Craig, Claire Danes and Emma Stone.
Vision
In the early days, Canada Goose focused on crafting functional and durable outerwear for scientists, adventurers, and explorers who ventured into the coldest corners of the world.
The brand quickly gained recognition among those who demanded more than just clothing; they demanded a shield against the harshest elements that nature could muster. With its insulating down filling and coyote fur-trimmed hood, the iconic Expedition Parka became a trusted companion to researchers in Antarctica and climbers on Everest.
View this post on Instagram
Canada Goose exemplifies a marriage of heritage and innovation with each carefully handcrafted stitch, every meticulously chosen material, and a legacy that spans generations.
Clothes
As the brand's reputation grows, so does its reach. Beyond the treacherous terrains and frozen landscapes, Canada Goose has expanded its offerings to include a diverse range of outerwear that resonates with urban adventurers and fashion enthusiasts alike.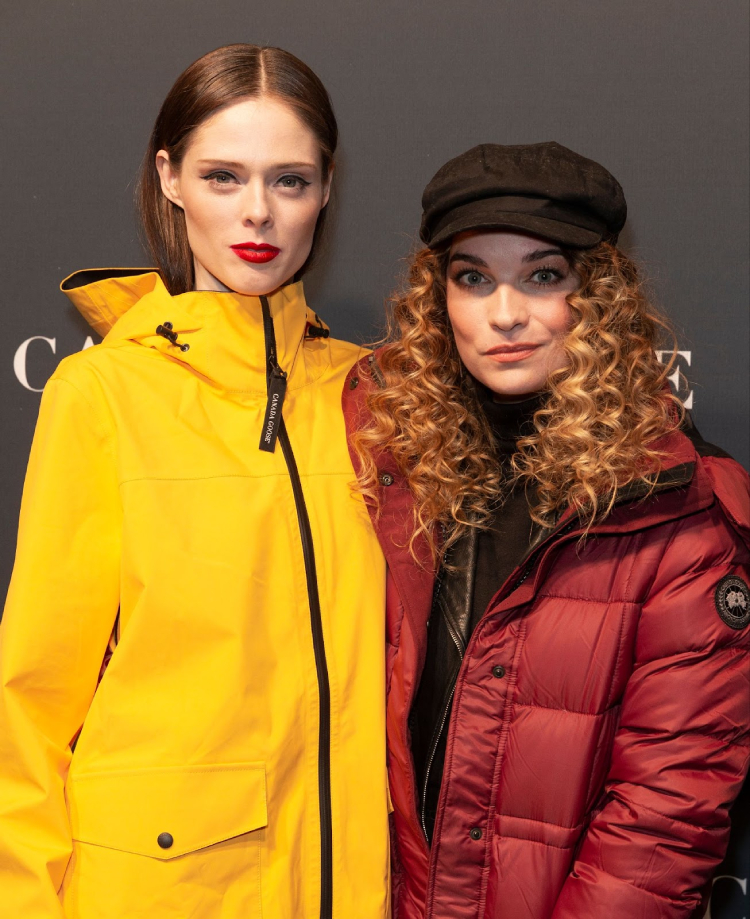 Winter jackets, parkas and coats 
With their instantly recognisable inverted North Pole logo and natural fur collars, the brand's parkas have become firm fashion favourites. These iconic parkas often feature down insulation, water-resistant or waterproof materials, and functional details such as adjustable hoods and multiple pockets.
In addition to heavy-duty parkas, Canada Goose offers lighter options such as lightweight down jackets and raincoats, perfect for milder cold weather or transitioning seasons.
Accessories
Canada Goose offers a range of cosy accessories, from thick-ribbed beanie hats, which all boast the iconic Arctic Circle disc, to stylish wool gloves and more.
Womenswear
Canada Goose's womenswear collection is all about winter elegance. From the sleek, form-fitting Chelsea Parka to the luxurious Trillium design, each piece radiates femininity and unyielding protection from the cold. Complete your outfit with a statement jumper and comfortable jogging bottoms with contemporary tapered legs.
Key similarities between Canada Goose and Zavetti Canada
View this post on Instagram
1. Emphasis on quality and durability
Both Zavetti Canada and Canada Goose prioritise high-quality materials and construction in their products. As premium brands, they invest in durable materials that can withstand harsh weather conditions and provide long-lasting performance.
2. Insulation and warmth
Both brands focus on providing superior insulation using advanced technologies to keep you warm - an essential factor if you're living in a particularly cold area.
3. Weather resistance
Zavetti Canada and Canada Goose incorporate weather-resistant features such as waterproof and windproof materials, sealed seams, and adjustable closures to protect you from the elements.
4. Stylish design
These premium winter outerwear brands blend fashion with functionality, offering stylish designs that allow wearers to look good while staying warm and comfortable.
Key differences between Canada Goose and Zavetti Canada
View this post on Instagram
1. Materials
Canada Goose is known for using high-quality down insulation, whereas Zavetti Canada utilises its own innovative insulation technologies. Canada Goose also uses animal fur, which you may want to consider when choosing between these two brands.
2. Pricing
Canada Goose is a premium brand with higher price points. Zavetti Canada offers a more accessible pricing range while delivering quality and performance.
Zavetti Canada prices: A coat from this brand will set you back about £120, depending on your preferred style.
Canada Goose prices: A parka from Canada Goose's core range costs around £575.
3. Brand legacy and recognition
Canada Goose is a well-established and globally-recognised brand known for its iconic parkas and high-performance outerwear. Zavetti Canada, on the other hand, is a newer brand offering a fresh perspective and innovative designs.
Wrap up warm (and in style) with help from Slingo
If you're after the perfect statement parka, you can't go wrong with either of these high-quality Canadian brands.
What better way to add to your luxury winterwear savings than by winning big with Slingo? Take a spin at the best online slots in the UK, or join the fun with online bingo games. Whatever you enjoy playing, play it with Slingo!
For more luxury inspiration, discover Slingo's lifestyle news or check out these blogs:
FAQs
What is better than Canada Goose?
When considering alternatives to Canada Goose, it's crucial to consider factors such as warmth, style, ethical practices, sustainability, and price. Here are a few brands that fashionistas and adventure-seekers see as comparable to Canada Goose.
The North Face

Patagonia

Fjällräven

Columbia

Helly Hansen
Does Zavetti Canada use real fur?
No. Zavetti Canada coats are made from waterproof (often recycled) materials, and their hoods are lined with faux fur.
---
DISCOVER SLINGO
YOUR OFFICIAL SITE FOR SLINGO GAMES
Slingo is a vibrant online casino with a fantastic selection of Slingo games, online slots, live tables and more.
Join The Fun on Slingo.Com!