2022 was an exciting year for Slingo Originals! Our team of talented games developers released a new game every month, giving Slingo players plenty to explore. From Slingo Fire and Ice to Slingo Bells and more, this year the team excelled themselves and brought us some of our favourite Slingo games yet.

Read on for a month-by-month list of Slingo releases in 2022. If there are any you haven't tried yet, now is the time to sign up and play!
What Are Slingo Originals?
Slingo Originals is our very own games studio, and it's where all of our Slingo games are born. The Slingo Originals studio was created in 2015, but Slingo itself has been around since 1997, when it was launched in land-based casinos in the US.
Our innovative blend of slots and bingo quickly grew in popularity, and with the invention of the internet it soon became loved by players all around the world.
Our very first online Slingo game was called Slingo Riches, and it was soon followed by many other Slingo hits. From Deal or No Deal Slingo to Slingo Rainbow Riches and more, we brought a whole new dimension to online gaming.
Fast forward to 2022, and our Slingo players are spoilt for choice! Let's take a look back at our most popular Slingo releases of 2022 – maybe you'll find your new favourite… 
January - Slingo Fire and Ice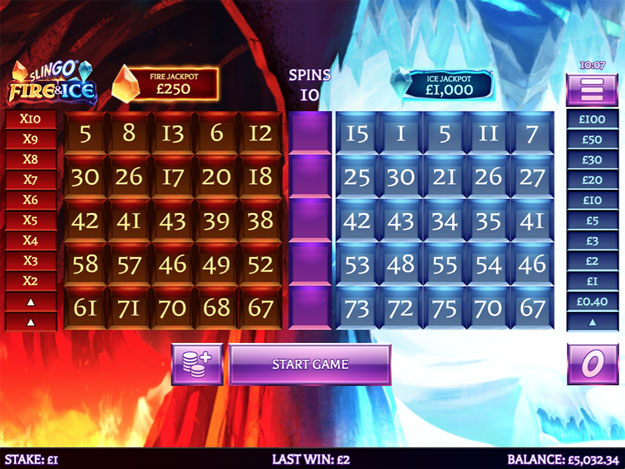 Our first release of the year was Slingo Fire and Ice, which features not one but TWO Slingo grids! 
This time, the spinning reel sits in between the two grids, and symbols or numbers that appear on it are either red, blue or mixed. Each coloured symbol eliminates the matching number from its grid, while mixed symbols remove numbers from both grids.
Complete Slingos on the icy blue grid to move up the pay ladder, or do the same on the fiery red grid to advance up a multiplier ladder. The red multipliers are applied to the blue payouts, giving you the chance to win some seriously cool prizes!
February - Slingo Super Spin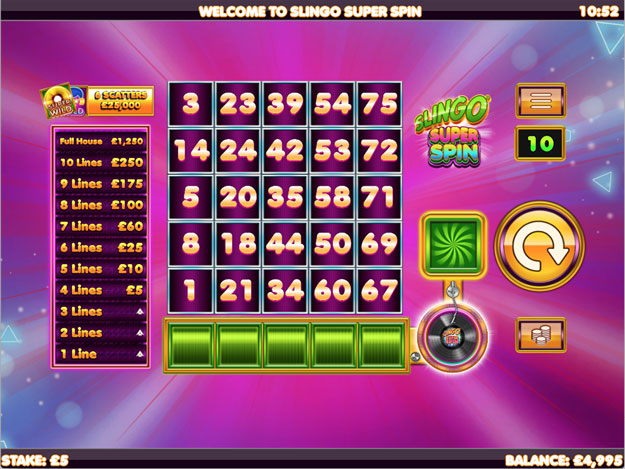 February brought us Slingo Super Spin. This funky game transports the familiar Slingo grid to the dance floor and features Gold Disc Super Wilds to help you spin your way to the top.
Like other Slingo games, the aim of the game is to spin the reels to match up numbers on the grid, completing Slingos to work your way up the pay ladder. However, this time there's a brand-new 6th reel that gives you the chance to match ANY number on the grid.
The Wild DJ can also help you mark off any number in the column he appears in, giving you even more opportunities to win.
March - Slingo Racing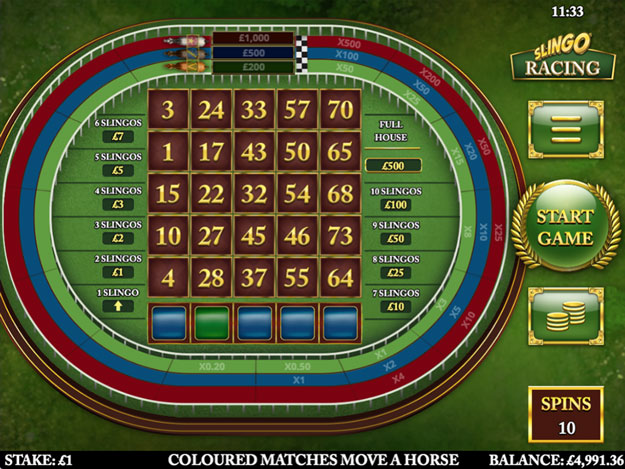 In March we were off to the races with Slingo Racing. It features the familiar Slingo format, where you'll mark off numbers on the reel with those on the grid to complete Slingos and move up the pay ladder.
However, this time there's a twist: before the game begins you'll be asked to choose a horse. The horses advance around the racetrack on the edge of the Slingo grid each time a number is matched on the grid and the horse's corresponding colour is revealed.
Reach multipliers on the racecourse to boost your winnings, with a jackpot prize awarded if your horse reaches the finish line.
April - Slingo Inca Trail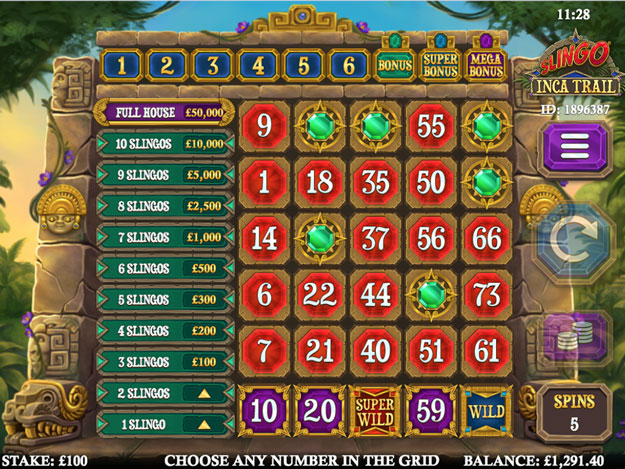 Next up is Slingo Inca Trail, inspired by ancient Incan citadel Machu Picchu that lies nestled in the mountains of Peru.

This innovative game features a Bonus Trail running along the top of the reels. Find arrows on the reels to advance further along the trail and unlock an exciting bonus round!
And with Free Spins, Wilds and Super Wilds to help you along the way, there are plenty of chances to win in this unique new Slingo game. Collect six precious artefacts to win a prize, with a top prize of up to 5,000x your stake!
May - Slingo Shark Week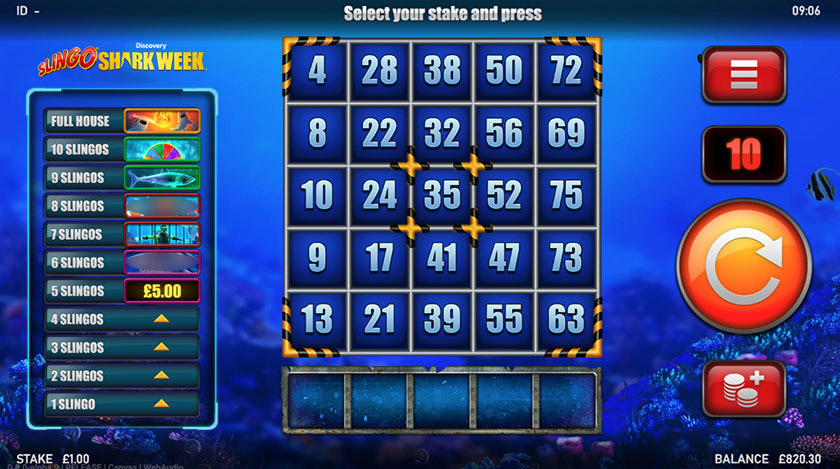 In May it was time for an exciting collab with Discovery Channel: Slingo Shark Week! Shark Week is the longest-running TV programming event in history, and we're big fans! In case you haven't heard of it, every summer Discovery Channel dedicates an entire week of programming to sharks, and the event has gained cult status.
Slingo Shark Week features the classic Slingo grid, although this time you'll be marking off Slingos in the hopes of triggering one of five shark-tastic bonus games.
Bonus games include Break the Cage, Fish Grab, What Did the Shark Eat and more. Spin the Shark Wheel to trigger enhanced bonus rounds or win multiplier prizes!
June - Slingo DaVinci Diamonds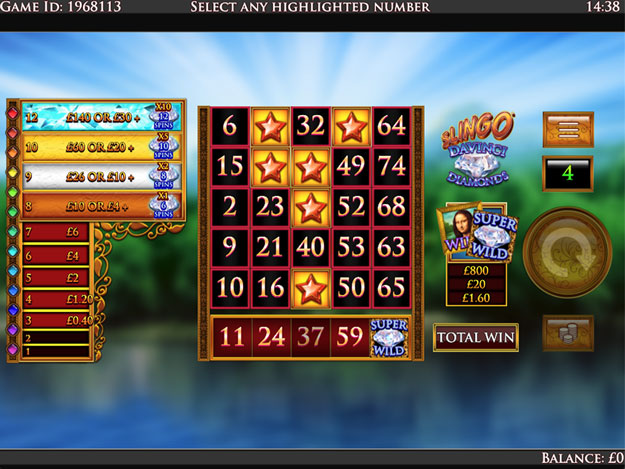 Slingo DaVinci Diamonds is our Slingo take on the hugely popular slot game Da Vinci Diamonds.
In this marvellous mash-up you'll complete Slingos on the 5x5 grid to work your way up the pay ladder towards the Da Vinci Diamonds bonus game.
The bonus game is played in the same way as the original Da Vinci Diamonds slot, where you'll spin the reels to match up famous artworks and have the chance to win cash prizes.
To add to the excitement, on the Slingo grid matched numbers, Wilds or Super Wilds trigger a Cascade feature that replaces them with another number or symbol on the grid. Cascades will keep going until no more wins are achieved, meaning there's potential for multiple consecutive wins!
July - Slingo Stampede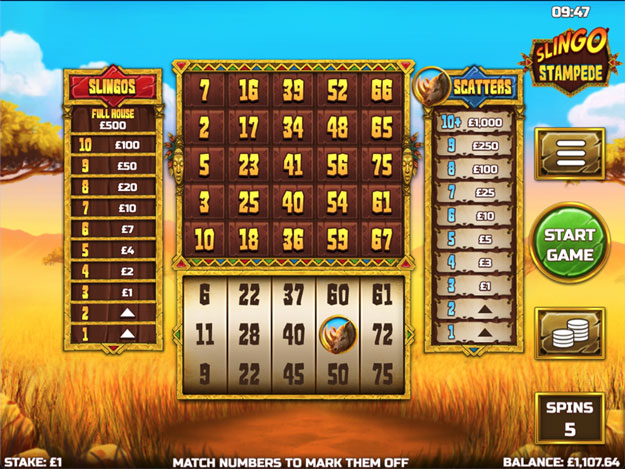 In July it was time to go on safari with Slingo Stampede! Rhino Scatters are the main attraction in this exciting Slingo game – find three or more of them on the reels below the grid for your chance to win an instant cash prize.
This time there are not one but THREE reels below the grid, giving you even more opportunities to match up numbers and complete Slingos.
Work your way up the pay ladder on the left of the screen by marking off Slingos on the grid, while simultaneously collecting Rhino Scatters to advance up the ladder on the right-hand side!
August - Slingo Stinkin' Rich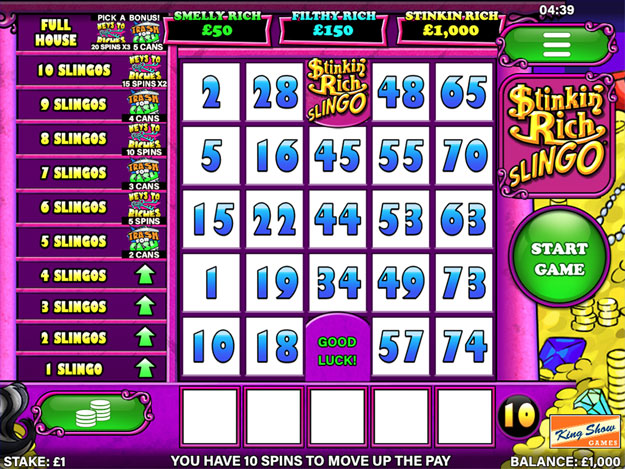 Slingo Stinkin' Rich is another fun Slingo collab! Just like in the popular slot game, the Slingo version is set in a world of cash, riches and expensive taste.
However, it seems like the luxury lifestyle comes with a certain stench. During the bonus games you'll come across Richard the Skunk, as well as some stinky symbols like smelly cheese and some ponging trainers!
Complete five or more Slingos to trigger one of two exciting bonus roads: Trash for Cash or Keys to Riches. The game also features three amazing jackpot prizes, as well as a couple of spaces already covered on the grid to help you on your way to completing Slingos!
September - Slingo Rakin' Bacon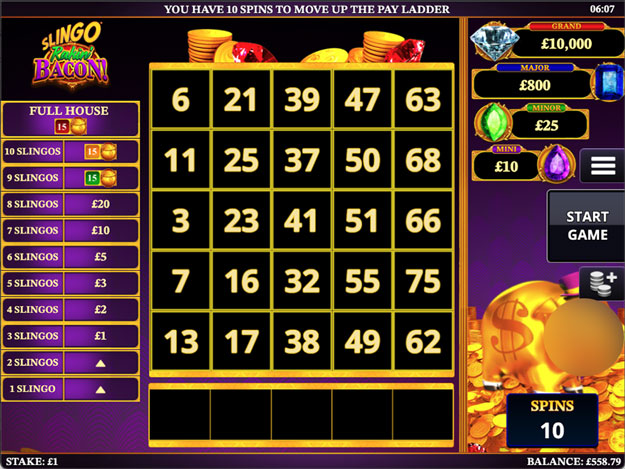 September brough us Slingo Rakin' Bacon, a unique Slingo mash-up that takes all the best bits of the original game and adds some Slingo magic.
Fans of the original Rakin' Bacon slot game will recognise the fun theme, featuring gold coins, precious gems and a gold piggy bank that looks fit to burst.
Different prizes are awarded depending on how many Slingos you complete, including cash prizes and free spins on the Rakin' Bacon bonus game. As if that wasn't enough excitement, Wilds can appear on the reels at any time and can randomly trigger the jackpot game.
In the jackpot game, you'll pick coins to hopefully reveal a winning combination of symbols and win one of four jackpot prizes!
October - Slingo Deadliest Catch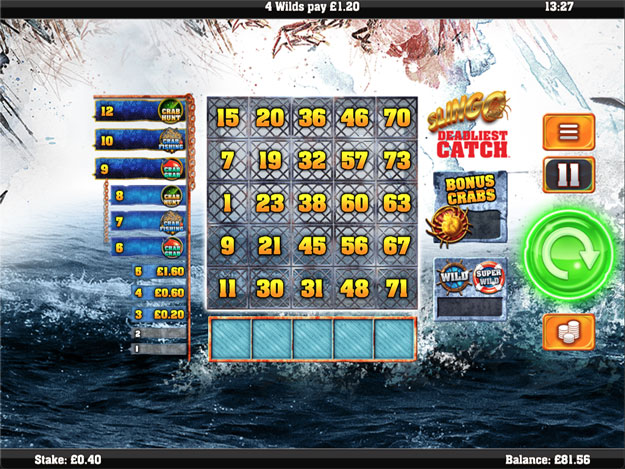 Inspired by the Discovery Channel TV show of the same name, the Slingo Deadliest Catch game transports us to the cold waters of Alaska, which are the perfect temperature for crab fishing. However, the conditions in this part of the world are notoriously hostile, with gale force winds, high seas, snow and more! 
Luckily Slingo Deadliest Catch gives you the chance to experience all the excitement without having to journey to Alaska.  Different bonuses can be unlocked depending on how many Slingos you complete, and bonus games include Crab Grab, Crab Hunt and Crab Fishing.
Collect Golden Crabs on the reels as you spin to get even more chances to win in the bonus games, and play bonus games in Day or Night mode (depending on how many Slingos you complete).
November - Slingoooal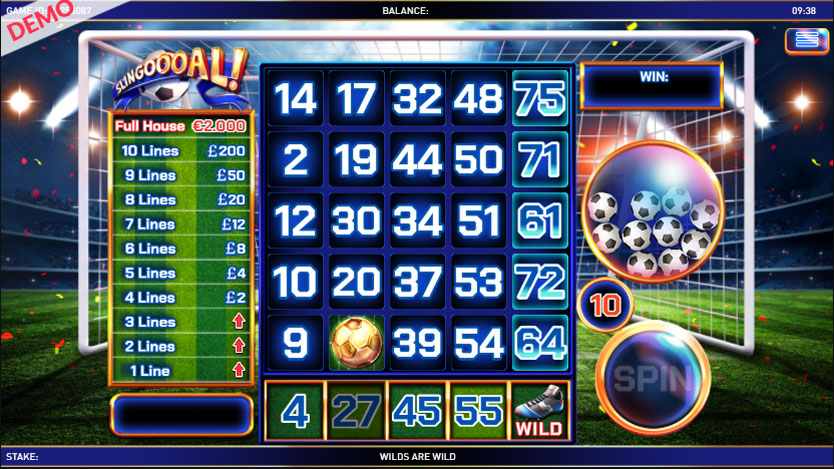 In November we celebrated the start of the World Cup with Slingoooal, our football-inspired Slingo game! Whether you're a football fanatic or you've got two left feet, Slingoooal is a high-energy game that everyone can enjoy.
To play, simply match numbers on the reel with those on the grid to complete Slingos and work your way up the pay ladder on the left of the screen.
Look out for football boot Wilds and gold trophy Super Wilds to help you score Slingos on the grid. Score a hat-trick of football boot Wilds or gold trophy Super Wilds in a single spin to win an instant cash prize!
December - Slingo Bells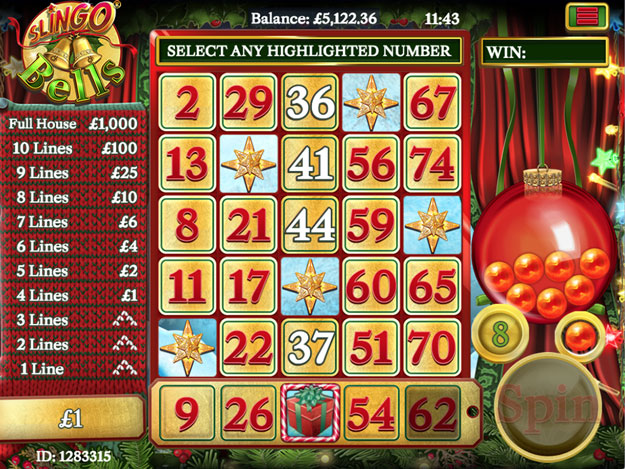 In December we were feeling festive with Slingo Bells. This time the Slingo grid has been decorated with baubles, gold stars and of course the chance to win some generous cash prizes.
Spin the reels to match up numbers on the Slingo grid, completing Slingos to work your way up the pay ladder. With a magical top prize of 1,000x your bet for a Full House, it would feel like an early Christmas surprise if you won a prize!
Find coins on the reels to win an instant cash prize, and keep the fun going with the option to purchase unlimited extra spins at the end of each game.
Play These Slingo Originals 2022 Releases at Slingo.com
Find all these Slingo Originals games and more at Slingo.com, the official home of Slingo games! Join us for an amazing gaming experience in a safe, secure environment that puts you first. Sign up today and play Slingo games!