What Does RTP Mean?
RTP is short for Return to Player, and is usually expressed as a percentage. Percentage return to player (% RTP) is the expected percentage of wagers that a specific game will return to the player in the long run.
Each online slot game has its own RTP, and this information is made readily available by the casinos.
Many players are interested in finding the slot machines with the highest RTP since these are the games that theoretically payout the most amount of money over time.
However, it's important to remember that all outcomes are random, and just because a slot has a high RTP it doesn't guarantee you a win.
That said, let's take a closer look at the Slingo games with the highest RTPs. Read on to find your new favourite!
Slingo Starburst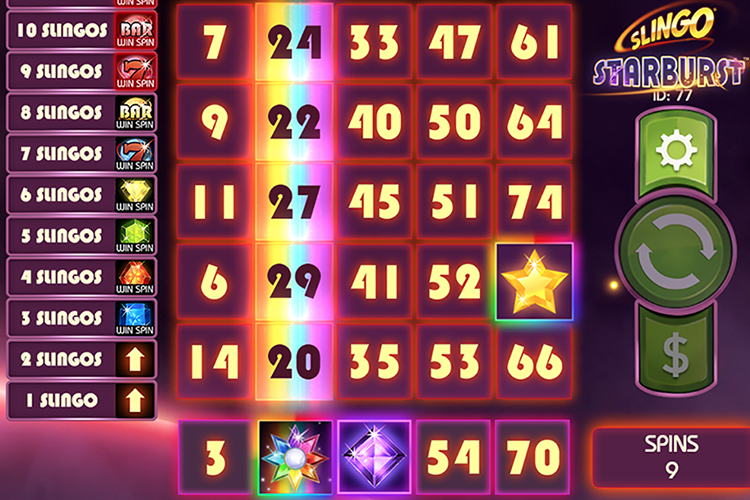 With an RTP of 96.5%, Slingo Starburst is one of our highest RTP games. This marvelous mash-up combines the familiar Slingo grid with the hugely popular Starburst slot to create an out-of-this-world gaming experience.
Spin the reels on the familiar Slingo grid to mark off numbers and complete Slingos. Move your way up the ladder on the left of the screen to gain Win Spins in the Starburst bonus game, which is triggered at the end of the game or whenever you hit 'Collect'.
Work your way to the top of the Slingo ladder to get a guaranteed win with a dazzling Starburst Wild, which can expand over the reels and trigger a re-spin to help you land even more winning combos!
Tutan's Treasure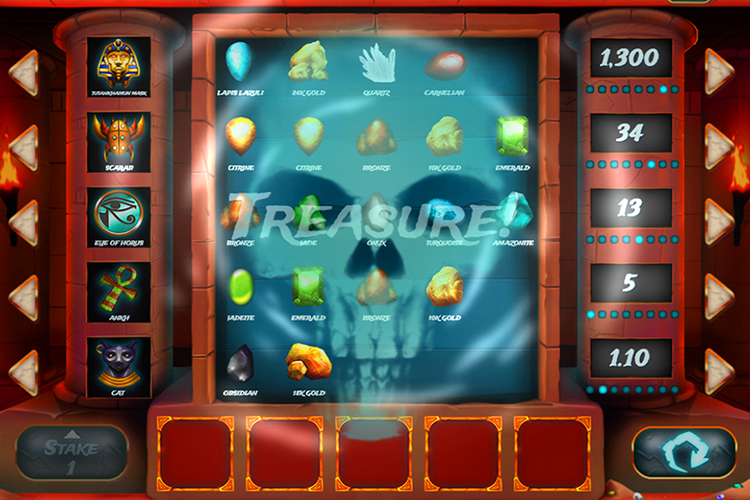 If you prefer time travel to space travel, Tutan's Treasure could be the slot for you! This Ancient Egypt-themed game has an RTP of 92.89 – 96.47%, depending on which artefact you decide to play for.
Tutan's Treasure is a little different from other Slingo games. Before you start playing you'll need to choose a precious artefact. Spin the reels to match precious stones like quartz, emerald and gold with those on the grid to complete the artefacts and win dazzling real money prizes.
Each artefact has a different value and volatility. The artefacts with higher volatility pay out less frequently, but have greater potential payouts.
Baking Bonanza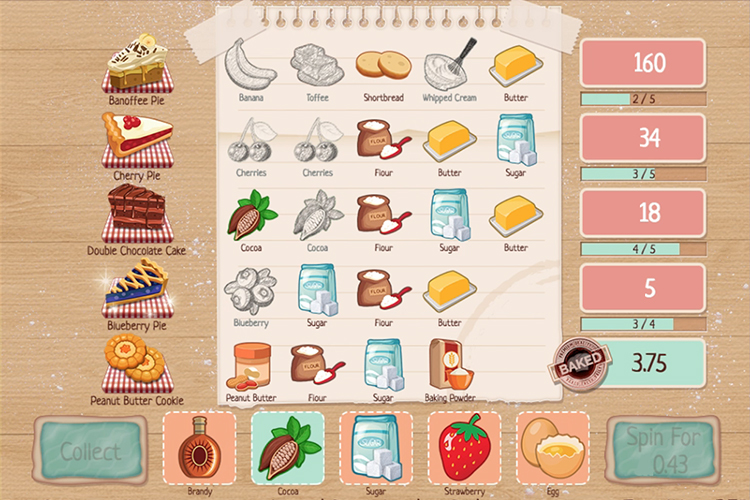 Baking Bonanza is the perfect game for sweet-toothed Slingoers. Similarly to Tutan's Treasure, the RTP varies depending on which item you decide to play for, with a range of 90.4 – 95.2%.
However, this time it's sweet treats you'll be choosing from! Decide which delicious cakes you'd like to bake and match ingredients on the reels to be rewarded with real cash prizes.
Choose from billionaires shortbread, strawberries and cream, blueberry pie and much more in this egg-cellent adventure. And with potential prize money of over 2,000x your bet, Baking Bonanza is sure to give you an exhilarating sugar rush, too!
Slingo Fire and Ice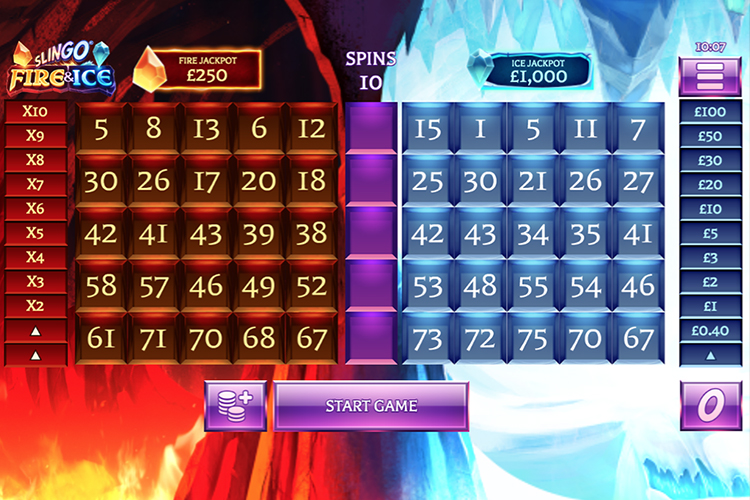 Turn up the heat with Slingo Fire and Ice, featuring not one but TWO Slingo grids plus a cool RTP of 96.4%.
This time the spinning reel sits in between the two grids, and symbols or numbers that appear on it are either red, blue, or mixed. Each coloured symbol eliminates the matching number from its grid, while mixed symbols remove numbers from both grids.
Completing Slingos on the blue grid moves you up a pay ladder while doing the same on the red grid advances you up a multiplier ladder. The red multipliers are applied to the blue payouts, giving you the chance to win some seriously cool prizes!
Red Hot Slingo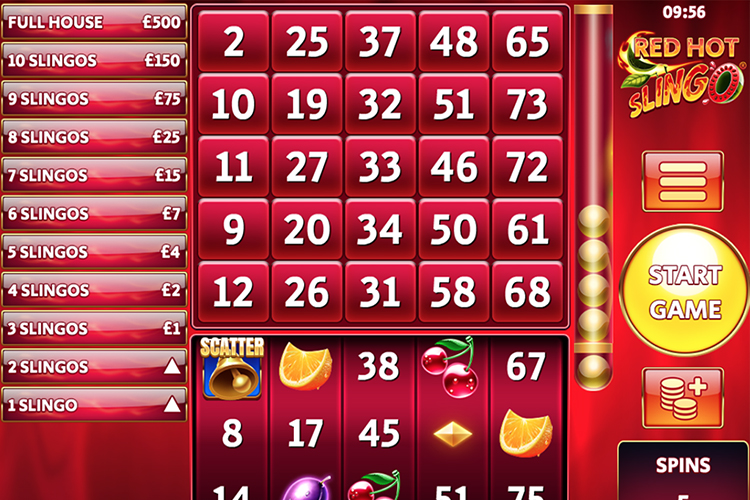 We're coming in hot with another fiery Slingo game: Red Hot Slingo! With its fun blend of Slingo and classic fruit machine slots plus an RTP of 96.33%, this spicy addition to the Slingo catalogue is ideal for both beginners and more experienced players.
In this Slingo game there's a new 5x3 slot reel underneath the grid, which is filled with numbers and fun fruity symbols.
Match numbers on the reel with those on the grid to complete Slingos, or find at least three fruity symbols on a win line to win an instant cash prize!
At the end of each game you'll also have the chance to buy extra spins so you can keep on playing, with a top prize of 500x your bet!
Slingo Bells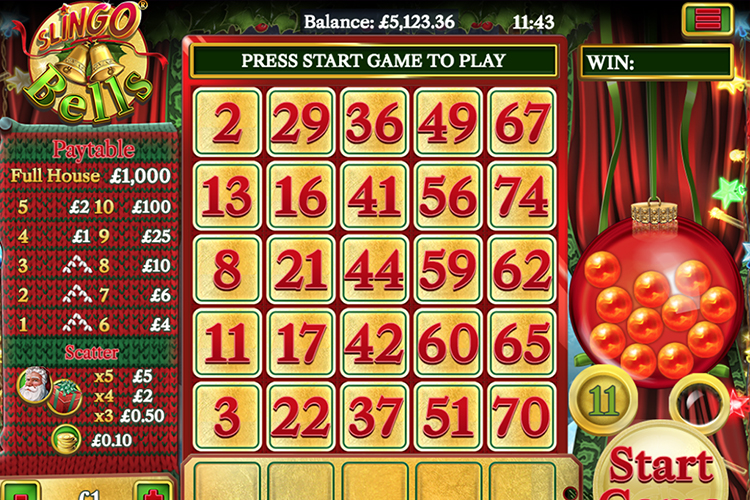 Christmas is every day of the year with Slingo Bells, our festive Slingo game! With an RTP of 95% plus a magical top prize of 1,000x your bet for a full house, Slingo Bells is a Christmas gift that just keeps on giving.
This time the familiar Slingo grid has been given a makeover in time for Christmas, complete with baubles, gold stars and of course some generous cash prizes!
Jokers are represented by beautifully wrapped Christmas presents, and Super Jokers are represented by jolly Santas.
Find three Christmas presents or Santas on one spin to win a cash prize! There's also the chance to win real money prizes by finding gold coin symbols on the reels. Good luck!
Slingo Sweet Bonanza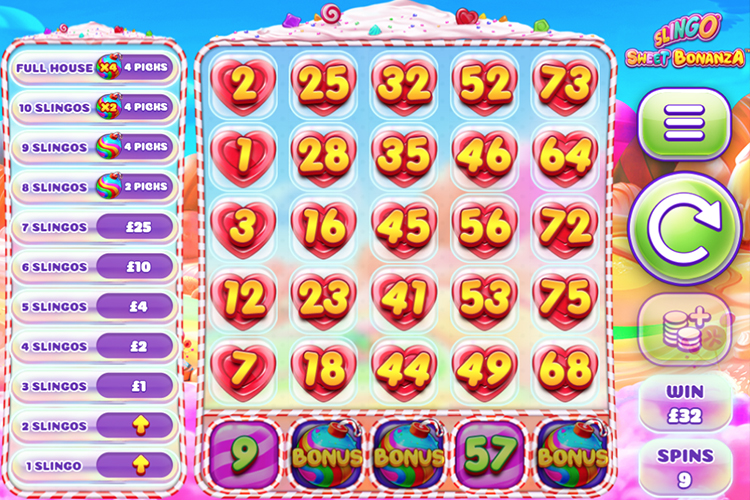 Slingo Sweet Bonanza is one of our favourite Slingo collabs ever, and we love its unique take on the Sweet Bonanza slot game.
With its bright, colourful design, mouth-watering symbols and fun bonus rounds, it's easy to see why the Sweet Bonanza game has been so popular.
In this exciting Slingo version of the game, you'll complete Slingos on the grid to work their way up the bonus ladder on the left of the screen. Complete eight or more Slingos to gain access to the bonus picking game, where you'll choose candy bombs to reveal multiplier values!
There's also the chance to fast-track your way to the bonus round by landing three or more bonus symbols on a single spin, and with an RTP of 96% there's plenty of fun to be had with this sweet Slingo game.
Frooti Booti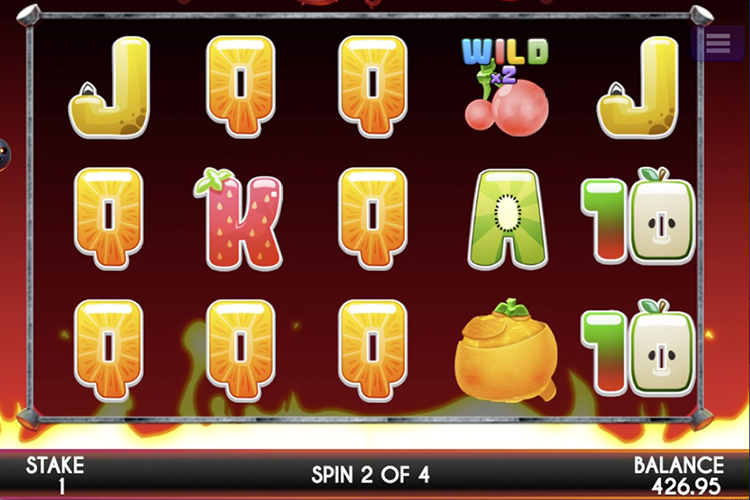 Make sure you're getting your five a day with this fantastically fruity game. With a mouth-watering selection of cartoon kiwis, watermelons, strawberries and more, you're in for a chance to win some juicy real money prizes!
Activate the Win Spin Bonus to choose between three themed levels with different volatilities, from Walk the Lime with its relaxing country music soundtrack to Hard Core, where you can play for the tastiest prizes accompanied by heavy metal music.
With an RTP of 95.93%, this slot has plenty to offer both for beginners and more experienced players.
Play Online at Slingo.com
Find all these games and more at Slingo.com, the official home of Slingo! Sign up now and have fun in a safe, secure environment that puts you first. With over 1,200 exciting Slingo, slots, and casino games to choose from, you'll be spoilt for choice!