Slingo-go-go in 2022!
Slingo games are still one of the most popular casino games out there, and with more and more great titles added each year, there truly is something for everyone in this game genre. In this article, we're exploring the best Slingo titles that you'll want to play this coming year.
Slingo Masked Singer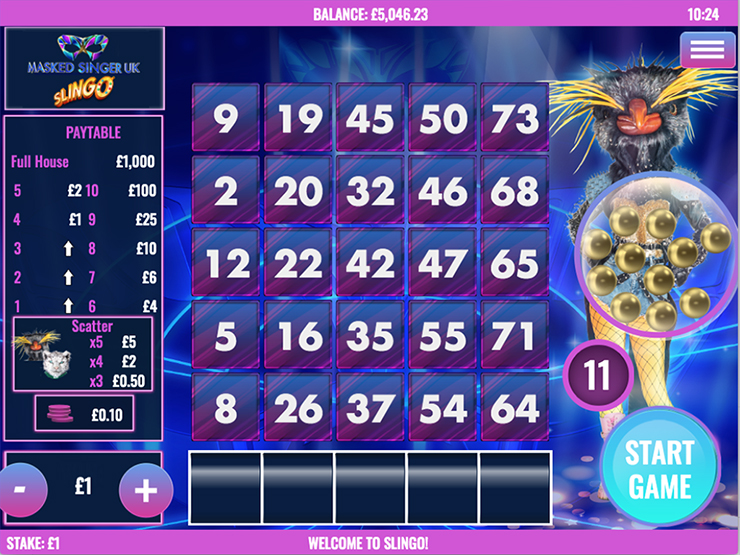 Masked Singer Slingo follows in the footsteps of a number of other brand-specific themed Slingo games. This version of Slingo has a straightforward design. It's emblazoned with The Masked Singer insignia, is mostly dark blue - presumably to represent the stage - and depicts Rockhopper from the current series, as you might imagine. They're on the left side of the screen, looking after the balls, while the 5x5 grid and paytable are in their normal spots in the middle and right. The fundamental goal of Masked Singer Slingo is to create five-number lines that are horizontal, vertical, or diagonal. The bigger the prize you can receive, the more lines you complete.
Slingo Sweet Bonanza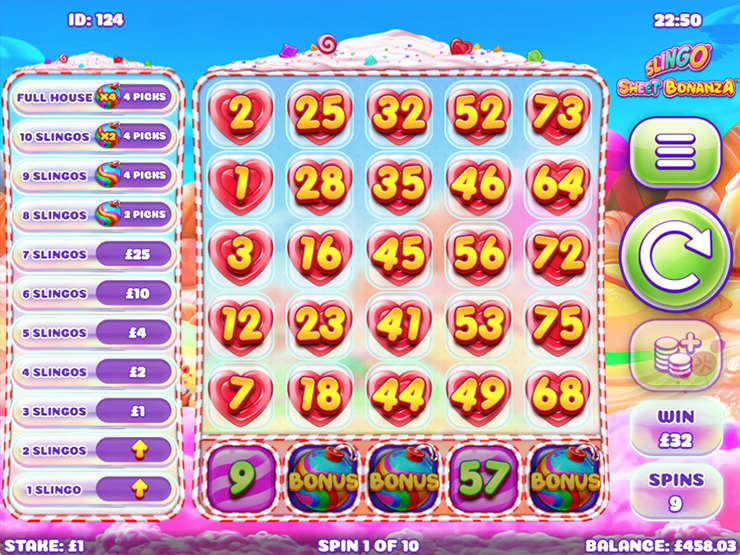 Slingo Sweet Bonanza is a fast-paced, fun-filled Slingo game with delectable cash rewards to be won! Work your way up the bonus ladder and into the sugar bomb bonus game by completing Slingos. You'll appreciate this wonderful mash-up with its unique blend of Slingo style and a saccharine-sweet theme. You'll complete Slingos by matching numbers on the reels with numbers on the grid, just like in other Slingo games, and work your way up the bonus ladder — hopefully all the way to a Full House! To gain access to the sugar bomb bonus game, you must complete eight Slingos or more. You'll be directed to a new screen where you must select one of four brightly colored candy bombs to reveal multiplier values. You'll gain more picks the more Slingos you complete!
Slingo X-Scream
As you may have guessed, Slingo X-Scream is inspired by all things Halloween. In this game things go bump in the night, dark shadows lurk around corners, and nothing is exactly as it seems this time of year. Are you brave enough to explore Slingo X-ominous Scream's graveyard? Grab your lantern and navigate your way through the mist, hoping to cross five numbers from your Slingo grid in a row. Each Slingo will advance you up the pay scale (and into the darkness), rewarding you with the appropriate prize. Will you make it to the other side in time for a chance to win up to 500x your stake?
Red Hot Slingo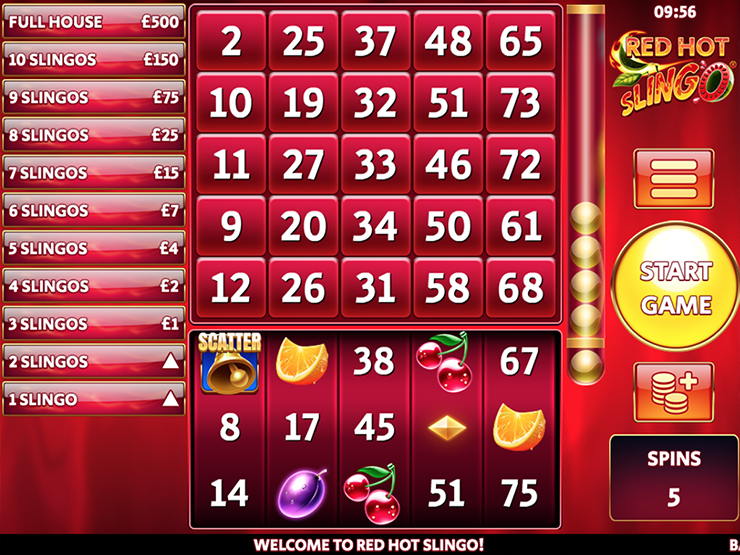 Red Hot Slingo game is a real sizzler, so it's getting hot in here! The standard Slingo slot reel has been replaced by a hot 5x3 slot reel with numbers and iconic fruity slot symbols. Slingos move you up the pay ladder, while slot symbols pay for three or more of a kind on a win line. Wilds and Super Wilds can be used to replace slot symbols as well as remove numbers from the Slingo grid. If three or more fiery Scatters appear anywhere on the slot reels, you'll win a cash bonus right away!
Slingo Big Wheel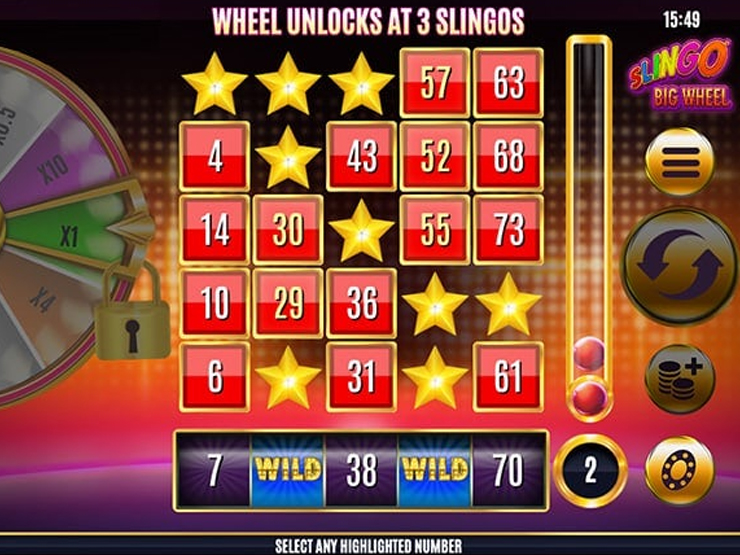 The basic Slingo mechanic, in which Slingos must be completed to proceed up the prize ladder, is given a twist in this game show-inspired Slingo version. If you enjoy high-stakes games, Slingo Big Wheel is the one for you, since once the wheel is unlocked, the reward values increase with each subsequent Slingo you complete, with a potential win multiplier of 2500x your wager! The 'Boost' area of the wheel advances you to the next level, with bigger cash awards, while the 'Super Wheel' sector advances you to the highest value wheel. It's all up for grabs, so get that wheel spinning!
Slingo-ne Fishin
Slingone Fishin' is a fast-paced, entertaining Slingo game in which your goal is to catch some yummy cash prizes. Slingos must be completed in order to add fish with cash values to the grid, and the fishing rod symbol must be found in order to catch them and be rewarded. This action-packed game is full of surprises, with Wilds, Super Wilds, and free spins to be won. Are you ready to bring home the day's catch, if so, give the Slingone Fishin' slot a try.
Slingo Lightning
In Slingo Lightning, you'll need to be ready for some electric wins! The iconic Slingo grid is featured in this unique new game, but there are 50 balls instead of the typical 75 to give you even more opportunities to win. You might win some fantastic real money prizes if you can weather the storm!
Slingo Fluffy Favourites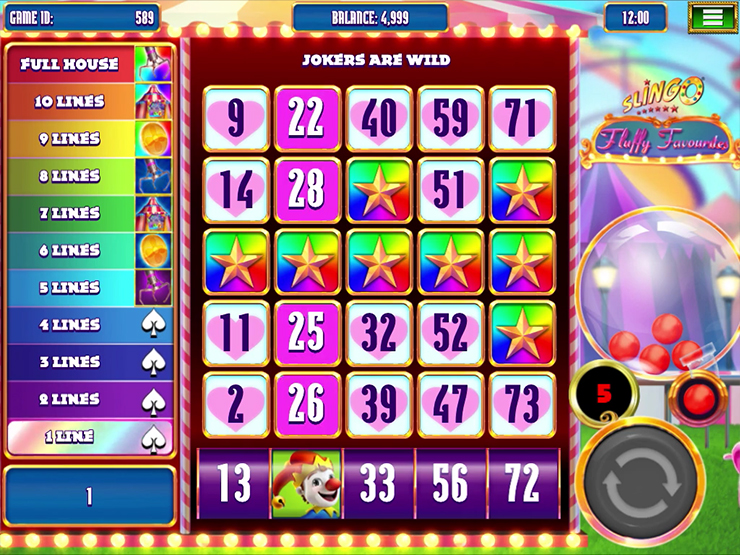 It's the partnership we've all been waiting for! Roll up, roll up, it's the collaboration we've all been waiting for! Slingo Fluffy Favourites is a fast, engaging, and entertaining slot that combines all of the best features of the popular game series with the novel Slingo concept. To win a Free Balls Bonus, find three or more Nellie the elephants, or activate the Mega Prize Grabber Bonus for a chance to win some incredible real money rewards!
Play Online at Slingo.com
So, to play the very best Slingo games out there, you're going to want to head to us at Slingo.com where we have all the games on our list on offer to play at any time as well as even more to explore. Sign up and play today!