Inverness, also known as the Capital of the Highlands, is the most northerly city in Scotland and the United Kingdom. It is home to mesmerising myths, rich history, beautiful attractions, and delightful people.
In Scottish Gaelic, Inverness means "mouth of the River Ness". The River Ness is where the legendary Loch Ness flows, legendry for its intriguing monster myths.
Whether you're looking for a tranquil getaway in seemingly untouched landscapes or a truly unique experience to make the most of your time off, staying in one of the luxurious log cabins and lodges will make your time in Inverness feel like pure magic.
Below are 8 of the best luxury log cabins and lodges Inverness has to offer, to give you some dreamy inspiration for your next holiday!
Deep in the heart of the Scottish Highlands, the Wildside Highland Lodges are nestled in the idyllic woodland right on the peaceful banks of the Fechlin River.
If you're looking for a rural yet luxurious escape with the most stunning views of the mountains close to Loch Ness, your stay here will be nothing short of enjoyable.
You will have access to your own hot tub, where you can be one with nature, surrounded by beautiful lochs, mountains, forests, and rivers.
Other amenities include a wood-burning stove, complimentary toiletries, top-of-the-range entertainment systems, luxury bathrobes, and the option of hiring a private chef, taking 'luxury' to the next level.
If you enjoy walking, hiking, or mountain biking, there are a variety of trails right on your doorstep.
Fort Augustus and Inverness city are easily accessible by car, making for a fun day trip to explore the nearby attractions too.
Nature lovers (and their four-legged friends) will be in their element staying at the serene Kiltarlity Lodges, which are situated among lush green ferns and silver birch trees on a peaceful hillside in the Scottish Highlands.
These traditional open-plan lodges are extremely cosy and perfectly reflect the rustic charm of their surroundings, both inside and out.
Whether you choose a 2 or 3 bedroom lodge, you'll be treated to a private hot tub, double-glazed windows, and central heating throughout - ensuring your stay is warm and comfortable regardless of the time of year.
This 5-star park offers a range of fantastic facilities, including a heated swimming pool, games room, children's play area, and launderette.
You will be in the ideal location for enjoying strolls in the forest, stargazing from your hot tub, taking in the gorgeous mountain scenery, going fishing, experiencing a pony trek, or even playing a peaceful game of golf.
Situated right on the picturesque shores of the legendary Loch Ness, the Loch Ness Highland Lodges are undoubtedly spectacular.
Guests will have access to their own private beach, boasting some of the most incredible views in all of Scotland.
If you're planning a honeymoon or romantic getaway, your time here will be absolutely unforgettable. Wind down in your private hot tub, and enjoy some relaxing meals with a view from the deck.
In the park, you will also have access to a jetty for boating, canoeing, kayaking, and fishing - and you might just spot the Loch Ness Monster if you're lucky!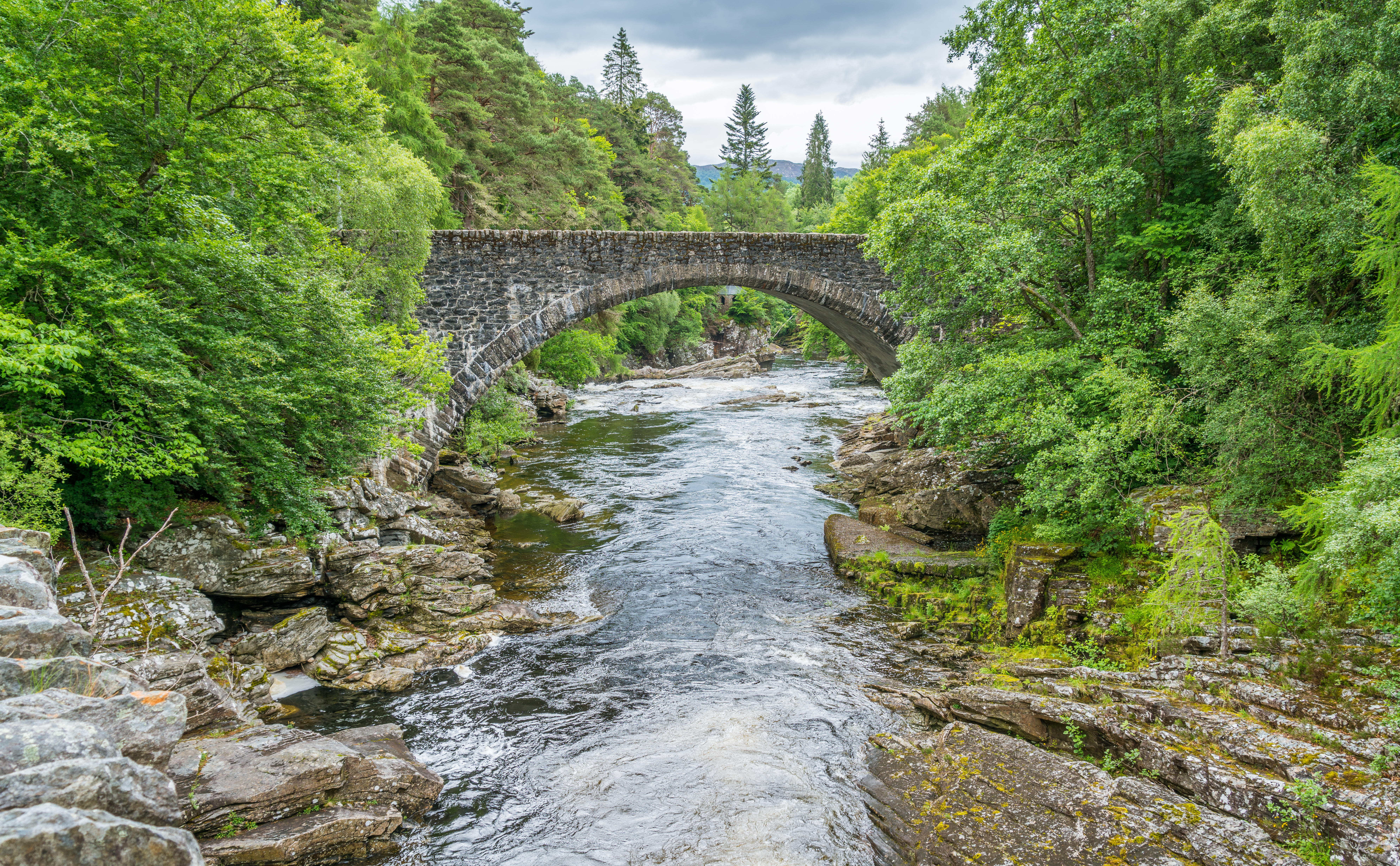 A true haven of tranquillity and peace, the Kessock Highland Lodges are tucked deeply away in the rolling meadows of the wild Northern Highlands and surrounded by breathtaking views.
Lovers of the great outdoors will fall in love with this secluded piece of paradise, with plenty of opportunities to explore the numerous hiking trails and abundance of wildlife in the area.
These luxurious chalet-style lodges will provide you with the ultimate style and comfort for your break in nature. Each one is equipped with a deluxe outdoor hot tub, king-size bed, steam massage shower, spa bath, and of course, spectacular views!
The lively city of Inverness is just a short drive away, where you are spoilt for choice with fine dining restaurants, quaint cafes, and shops.
The delightful Loch Ness Retreat is conveniently situated on the shores of the Loch at the edge of the Highland town of Fort Augustus.
With countless things to see and do in the area, Fort Augustus is the perfect base for a relaxing holiday with family. Those who enjoy kayaking, canoeing, cycling, and walking in nature will certainly be in their element.
These boutique-style log cabins offer luxury self-catering accommodation. And the luxe outdoor hot tubs are the cherry on top.
Combining luxury and the great outdoors, the Ancarraig Lodges provide a wonderfully tranquil getaway in secluded private woodland nestled on the hills high above Loch Ness.
Whether you're planning a romantic weekend away, a family holiday (pets included), or simply looking for a base to explore the beautiful Loch Ness and surrounding areas, Ancarraig Self-catering Lodges guarantee you a truly relaxing experience.
Each gorgeous lodge has an open plan lounge and kitchen, well-equipped with a cosy wood-fired stove, conventional cooker, microwave, fridge, a bathroom with a bath and shower, and an exclusive veranda where you can enjoy the dining facilities outdoors.
You can expect to be paid a visit from red squirrels, pine martens, deer, and a variety of spectacular birds.
Your balcony offers an unfathomable view of the landscape and an incredible night sky. Some of the previous guests have even been lucky enough to witness the Northern Lights from this magical location.
The Moray Firth is voted one of National Geographic's top coastlines, boasting some of the world's most beautiful and diverse scenery.
Staying at the Tall Pine Lodge will make your vacation truly memorable. Each cabin offers a spacious lounge, dining room, and kitchen with a cosy wood-fired burner and modern television. Three luxurious bedrooms feature a sizeable extravagant bathroom with a corner spa bath and shower room.
Plenty of activities keep you busy in this remarkable area, such as walking in the serene forests. Or, spend time at the nearby beaches, looking out for the incredible Moray Firth Bottlenose dolphins. If that doesn't sound like your ideal day out, why not plan a visit to the numerous castles and distilleries - you definitely won't feel bored!
With that being said, Tall Pine Lodge is also the ideal place to do absolutely nothing, taking time away from the chaos of everyday life by relaxing in glorious, tranquil settings.
If you're one for finding hidden gems, the Woodland Lodges, situated in a spectacular corner of the Scottish Highlands, will be the ideal getaway location for you. And this special place is especially ideal for families with kids.
The luxurious two-storey lodges set amidst the natural birch woodland can sleep up to 6 people. They feature a spacious open-plan interior, leading onto a balcony with unforgettable views and the perfect way to watch the wildlife as the sun sets.
Woodland Lodges provide absolutely everything you could need while you're away from home - from large lawns with football goals, shared picnic tables, BBQs, washing lines, an indoor heated swimming pool, a games room with pool, table tennis, foosball, and a wifi hotspot.
Whether you choose to enjoy the numerous activities and facilities provided or simply take the time to relax in your luxurious and peaceful lodge, you are sure to thoroughly enjoy your time here.
FAQs
What attractions are there in Inverness?
Wondering what to do in Inverness? The scope of things to see and places to explore in this history-rich city calls for a truly delightful experience.
The top must-see attractions in and near Inverness include:
Isle of Skye

Loch Ness

Fort Augustus

Culloden Battlefield

Clava Cairns

Urquhart Castle

Caledonian Canal

Inverness Castle

Inverness Cathedral
Is the Scottish Highlands good for hiking?
If you consider yourself an adventure-seeker and nature-lover, you will love hiking in and exploring the magnificent Scottish Highlands.
Each and every hiking trail is nothing short of a picture-perfect paradise. You can expect to see beautiful scenes, such as rugged mountains, serene lakes, and rolling mist.
Whether you consider yourself a beginner, an intermediate, or a pro hiker, there are plenty of marvellous trails to choose from in Inverness, so you're bound to find one that matches your fitness abilities.
How can I get to Inverness?
Various transport methods to Inverness are available, including by train, bus, plane, or car, depending on where you are coming from.
Here are some of the main departing destinations and transport options when going to Inverness city:
If you're heading to Inverness from

London

, it will take you around 1.5 hours by plane to Inverness Airport.

You can get to Inverness by train or bus from Edinburgh, which takes between 3.5 and 4 hours.

Going from

Glasgow

to Inverness will also take you around 3.5 to 4 hours by bus or train.

A flight from

Dublin

to Inverness will take you just over 1 hour.
What's the weather like in Inverness?
Despite the location of Inverness, it experiences some of the coldest weather in the United Kingdom, with temperatures regularly dropping to around -10°C / 50°F!
This city has an oceanic (or maritime) climate. The winter months are cold, rainy, and often accompanied by icy winds.
On the other hand, this area's northerly latitude calls for the longest summer days of any major city in the UK, with pleasant and warm temperatures.
What is Inverness famous for?
The Scottish town of Inverness is known as the hub of the Highlands. It attracts visitors from across the globe for its unbelievably beautiful natural landscapes, bustling quaint towns, medieval ruins, and numerous prehistoric sites.
Thousands of nature lovers flock to Inverness every year to enjoy the spectacular landscapes and to take a much-needed break from busier cities.
Inverness is conveniently located in the northern Highlands with several popular tourist attractions nearby, including the famous Loch Ness, the whiskey region of Speyside, and the North Coast 500 road trip - making this city an incredible holiday destination for all kinds of travellers.
When is the best time to visit Inverness?
The ideal time to visit Inverness is from April to August during the pleasant summer months when the weather is perfect for doing outdoor activities like hiking and boating.
Most exciting festivals and events also occur around this time of year.
However, if you would prefer to avoid the crowds during peak tourist season and the advantage of getting the best travel deals, you should consider visiting this city in October.
Final thoughts
Whether you're in need of a spontaneous solo trip, a romantic couples getaway, an unforgettable honeymoon, or a fun family vacation, staying in one of Inverness's best luxury lodges is the perfect way to forget about the hustle and bustle of everyday life.
Each and every one of the extravagant log cabins and lodges on this list has something special to offer - from private hot tubs with sweeping green views of the mountains and forests to cosy balconies leading out to magnificent glens with the option to take part in an array of outdoor activities.
If you have been considering a nature-filled vacation in Scotland, a luxury trip to Inverness is sure to take your breath away!
For more luxury travel inspiration, check out our lifestyle news!
Discover more luxury accommodation throughout the UK
Make the most of the beautiful British countryside with some luxury cottages, log cabins and lodges you can find across the UK: