If you're dreaming of sun-kissed beaches framed by dramatic volcanic landscapes, look no further than Lanzarote and Tenerife. Two of the most captivating Canary Islands are waiting to envelop you in luxury and relaxation.
Both of these beautiful Spanish islands have a lot to offer, so how on earth are you meant to choose?
Don't worry! We're here to help! Slingo's done all the detailed research, so you don't have to.
Here, we compare these two dreamy destinations to see which will top your bucket list. From the vibrant diversity of Tenerife to Lanzarote's artistic tranquillity, get ready to find your Canary Island paradise!
Lanzarote or Tenerife: Which Canary Island is right for you?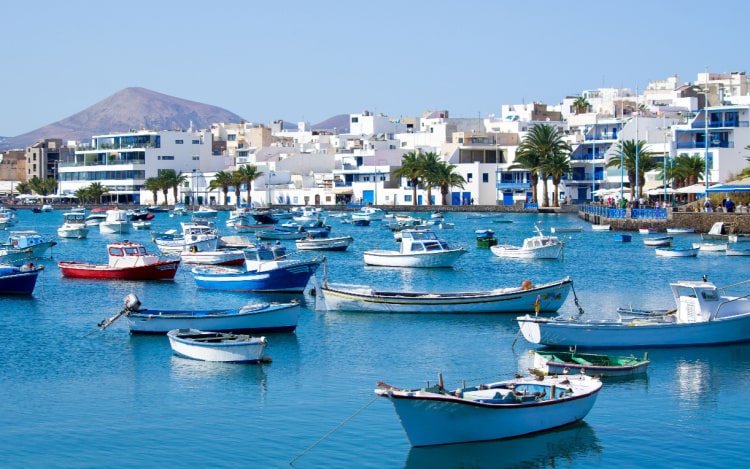 Tenerife, the largest of the Canary Islands, offers a rich tapestry of experiences. From the vibrant energy of Playa de las Americas to the historic charm of La Laguna, this island promises a blend of relaxation and adventure.
On the other hand, Lanzarote, known for its unique volcanic terrain and artistic vibes, captivates with its lunar-like landscapes and charming villages. Picture yourself exploring the otherworldly Timanfaya National Park or strolling through the mesmerising works of local artist César Manrique.
We've broken down these two destinations into popular holiday categories so you can be sure you're making the right choice.
Nightlife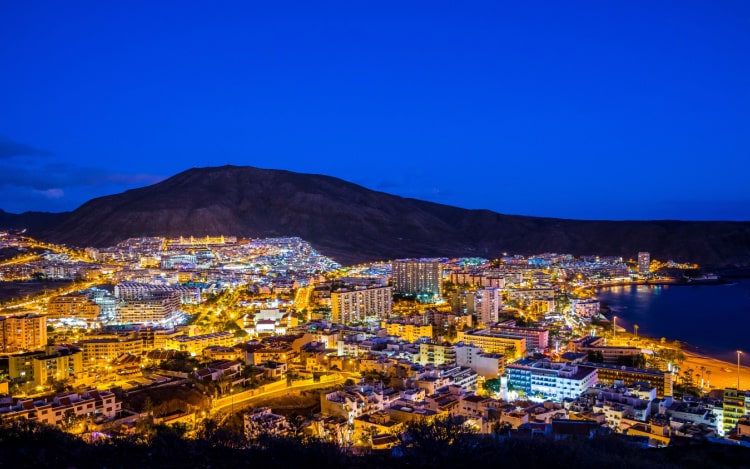 Lanzarote
Lanzarote has a laidback and intimate approach to nightlife, but that's part of its charm. Puerto del Carmen is where a lot of the action happens. This bustling resort town along the coast comes alive after dark. Stroll along the Avenida de las Playas, where you'll find an array of bars, restaurants, and pubs. Enjoy an idyllic dinner with shimmering sea views, or indulge in tapas at a local eatery.
If you appreciate a taste of local culture, the island hosts traditional fiestas and music festivals throughout the year. You might even be lucky enough to catch a live folk music performance!
For a more serene evening, head to the charming village of Playa Blanca, where you can sip cocktails in a relaxed atmosphere by the marina. Or venture to Arrecife, the island's capital, and discover its trendy bars and chic cafes.
Slingo's score: 7.4/10
Tenerife
Tenerife is known as the 'Island of Eternal Spring'. That isn't just because of its seemingly endless sunny days but also its vibrant nights that cater to all tastes. Playa de las Americas is the epicentre of nightlife, where you'll find a dazzling array of bars, clubs, and live music venues.
The atmosphere is incredibly lively, and the streets come alive with revellers from around the world! If you're into cocktails and beachfront vibes, check out the bars along the Veronicas Strip. They offer tropical concoctions and a chance to mingle with fellow travellers.
When it comes to clubs, prepare to be amazed. Tenerife boasts some of Europe's most renowned clubs, where world-class DJs play trance, techno, house, or hip-hop. Dance the night away in style in Tenerife!
Slingo's score: 9.1/10
Beaches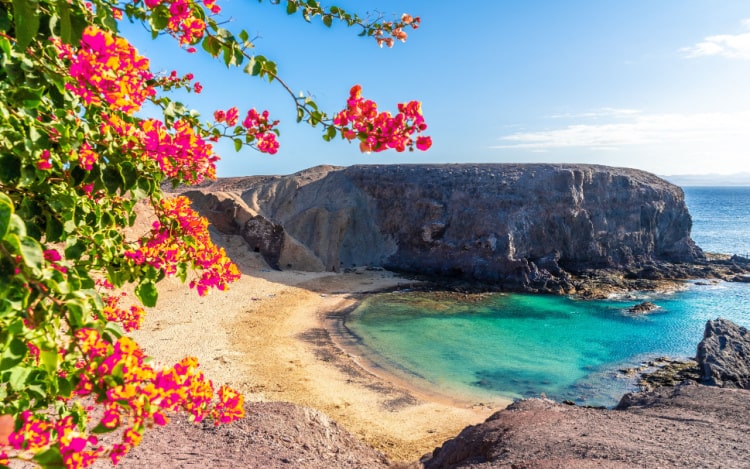 Lanzarote
Lanzarote's beaches offer a mix of adventure and serenity, where you can unwind on powdery soft sands, take in the striking volcanic landscapes, and enjoy the gentle sound of waves lapping against the shore.
Playa Blanca, in the south, is a sun-soaked paradise. Here, you'll find a trio of beautiful beaches: Playa Dorada, Playa Flamingo, and Playa Blanca. These sheltered coves boast soft, golden sands and calm waters, making them ideal for swimming.
For something more exciting, head to the surfer's haven of Famara Beach on the northwest coast, where you'll find powerful waves and a backdrop of dramatic cliffs. More notable beaches include Costa Teguise, Papagayo Beach, El Golfo, and Playa de los Clicos - often called the Green Lagoon for its emerald green waters.
Slingo's score: 9.0/10
Tenerife
The coastline in Tenerife comes in all shapes and sizes, from golden sandy beaches to dramatic volcanic shores, each with its own unique charm. You'll find its most popular beaches on the south coast, like Playa de las Americas and Los Cristianos, where you'll find Playa de Las Vistas. These bustling stretches of golden sands are perfect for sunbathing and people-watching.
For the island's largest natural wonder, head to Playa de la Tejita, where you'll find a long, golden shoreline nestled beneath the imposing presence of Montaña Roja, a vibrant red volcanic mountain. The turquoise waves are perfect for swimming, windsurfing and kiteboarding.
Other beaches worth a visit include Playa de los Gigantes, El Medano, and Playa de las Teresitas in Santa Cruz. Whether you're seeking relaxation, water sports, natural beauty, or a touch of luxury, Tenerife has a beach that fits the bill.
Slingo's score: 9.3/10
Food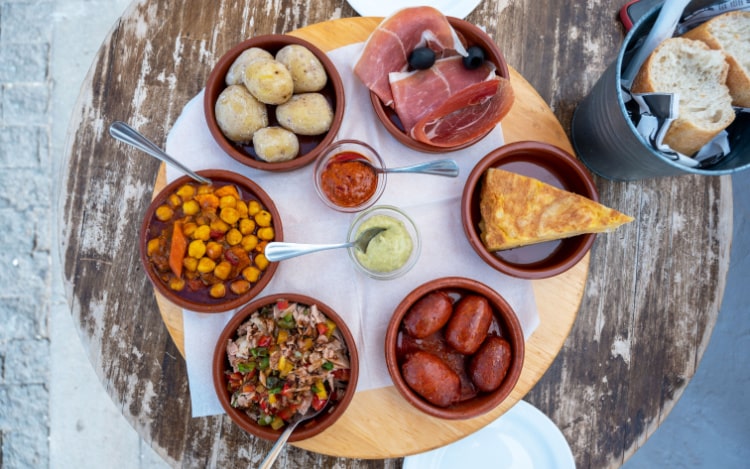 Lanzarote
Seafood is the star of the show in Lanzarote. You can't go wrong ordering Caldo de Pescado (a comforting fish soup) or Cazon en Adobo (dogfish in a flavourful marinade). And don't forget to savour the locally caught fish like Dorado and Vieja, which are grilled to perfection in the island's many wonderful restaurants.
Lanzarote's cuisine truly reflects its culture, heritage, and volcanic landscape. Whether you're dining in a cosy coastal tavern or an upmarket restaurant, you'll find that every meal is a celebration of the island's unique flavours.
Slingo's score: 8.1/10
Tenerife
Tenerife's local cuisine is all about fresh ingredients and bold flavours. Don't miss their Papas Arrugadas - small, wrinkled potatoes boiled in salt water and served with a zesty mojo sauce (a traditional Canarian condiment that's a mix of garlic, peppers, and spices).
Seafood lovers will be in heaven with dishes like Gambas al Ajillo, succulent prawns sautéed in garlic and chilli, and the hearty fish stew, Caldo de Pescado.
Tenerife boasts exceptional wine from its vineyards, so be sure to sip on local reds and whites and indulge in Spanish classics while you savour the island's stunning views.
Slingo's score: 8.8/10
Activities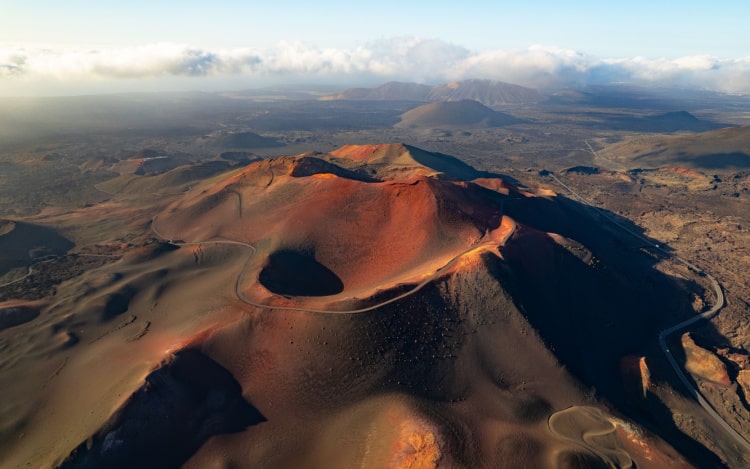 Lanzarote
You can't go to Lanzarote without exploring the otherworldly landscapes shaped by volcanic eruptions. Don't miss Timanfaya National Park, where you can witness the power of Mother Nature as geysers shoot into the sky and the ground feels warm to the touch. For a unique adventure, hop on a camel safari to explore.
Discover the island's artistic soul at the César Manrique Foundation, which blends architecture with nature, and visit the Jameos del Agua, a magical underground cave transformed into an art and culture centre.
Explore the picturesque villages of Haría and Teguise, where you can soak up local culture and indulge in traditional Canarian cuisine. Whether you're seeking natural wonders, artistic inspiration, or a taste of local life, Lanzarote has something special in store for every traveller and holidaymaker.
Slingo's score: 9.1/10
Tenerife
Tenerife is a paradise for adventurers and leisure-seekers alike. One must-do activity is visiting Teide National Park, home to the majestic Mount Teide, Spain's highest peak. Whether you're hiking its trails or taking the cable car up, the panoramic views of the landscapes and Atlantic Ocean are nothing short of breathtaking.
For a city-based adventure, head to Santa Cruz de Tenerife, the island's lively capital. Explore its charming streets, indulge in retail therapy at local boutiques, and savour delicious tapas at bustling markets.
When it comes to culture and history, Puerto de la Cruz comes to mind. It's known for its lush botanical gardens and historic charm. Stroll along the stunning promenade, dip your toes in the iconic Martianez Pools, and be captivated by the vibrant flora at the Jardín Botánico.
Slingo's score: 9.2/10
Luxury
Lanzarote
For a truly luxurious Lanzarote stay, check into one of the island's upscale resorts, where establishments boast stunning oceanfront locations, private villas with pools, and impeccable service. Picture yourself sipping champagne on a private terrace as you watch the sun dip below the horizon.
Indulge in exquisite dining experiences at gourmet restaurants, where talented chefs blend international flavours with locally sourced ingredients.
And don't forget to treat yourself to rejuvenating spa treatments, which often incorporate volcanic minerals sourced on the island for a truly unique experience. Whether you're unwinding in a luxurious spa or lounging by the pool, Lanzarote promises a luxury holiday that will leave you feeling pampered and refreshed.
Slingo's score: 8.6/10
Tenerife
Tenerife's luxury hotels and resorts are renowned for their exceptional offering, from private villas with ocean views to spa treatments that use local ingredients like aloe vera and volcanic minerals. And if you're a golfer, Tenerife offers a range of pristine courses set against breathtaking backdrops.
Venture beyond your lavish retreat to explore the island's natural beauty. Take a yacht charter to spot whales and dolphins in their natural habitat or stargaze in Teide National Park.
Tenerife's luxury experiences extend to shopping, too, with high-end boutiques in bustling areas like Santa Cruz de Tenerife and Playa de las Americas.
Slingo's score: 8.7/10
Lanzarote vs Tenerife: The verdict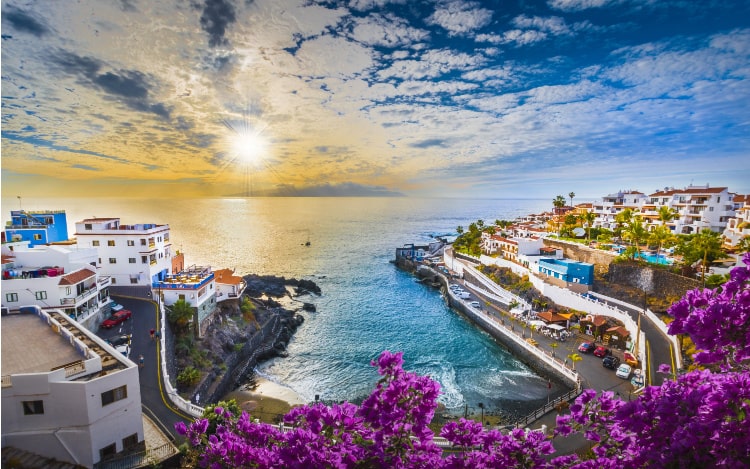 A winner has emerged! Lanzarote and Tenerife are two incredibly alluring Canary Islands, each with its unique charm and appeal. It's a tough choice, but in the end, Tenerife emerges as the winner by a small margin.
Lanzarote's overall score: 42.2/50
Tenerife's overall score: 45.1/50
Tenerife's diverse landscapes offer a taste of everything the Canaries have to offer. The majestic Mount Teide, vibrant coastal towns, and a vibrant cultural scene make it a dynamic and well-rounded destination. Add to that its slightly warmer climate, a wide array of luxury experiences, and a bustling nightlife scene, and Tenerife becomes a paradise for all types of travellers.
However, let's not forget the unique draw of Lanzarote. Its surreal volcanic landscapes, artistic inspiration, and tranquil villages offer a more understated but equally enchanting experience. Lanzarote is perfect if you're seeking a quieter escape.
Book your dream getaway to the Canary Islands with help from Slingo
Whether you choose Tenerife or Lanzarote, you're in for an unforgettable holiday in this stunning corner of the world. So, pack your bags, and let your Canary Island adventure begin!
And what better way to add to your holiday savings than by winning big with Slingo? Take a spin at the best online slots in the UK, or join the fun with online bingo games. Whatever you enjoy playing, play it with Slingo!

For more luxury inspiration, discover Slingo's lifestyle news or check out these blogs:
Why not plan a UK staycation while you're at it? We've got a vast selection of blogs that will help you to decide on your next trip:
FAQs about Lanzarote vs. Tenerife
Is Lanzarote hotter than Tenerife?
No, Tenerife actually has slightly warmer temperatures than Lanzarote. This is due to the geographical location of Tenerife, which is closer to Africa and benefits from a milder climate influenced by the warm Canary Current.
Lanzarote, being farther to the east and north, experiences somewhat cooler and breezier weather, especially along its northeastern coast. However, both islands enjoy a mild and pleasant climate year-round, making them popular destinations if you're seeking sunshine and warmth.
Is Tenerife or Lanzarote more expensive?
Tenerife and Lanzarote are both part of the Canary Islands, and their cost of living and holiday expenses are quite similar. However, the cost of your trip can vary based on factors like your choice of accommodation, dining preferences, and activities.
On both islands, you can find a range of accommodations to fit different budgets, from luxury resorts to more budget-friendly options like hostels or B&Bs. Dining costs can also vary widely, with high-end restaurants and budget-friendly eateries available in both locations.
Overall, the expense of your trip to either Tenerife or Lanzarote will depend on your personal choices and preferences. It's possible to have a budget-friendly holiday or a more luxurious one in either destination, so you can tailor your trip to suit your budget.
---
DISCOVER SLINGO
YOUR OFFICIAL SITE FOR SLINGO GAMES
Slingo is a vibrant online casino with a fantastic selection of Slingo games, online slots, live tables and more.
Join The Fun on Slingo.Com!