As well as stunning beaches, weather and food, Greece is home to some of the world's most beautiful islands. With such an incredible and diverse landscape, it's no wonder all the Greek islands have become popular holiday destinations.
If you're interested in travelling to this part of the world, you might struggle to decide which of Greece's most popular islands you should visit: Corfu or Crete.
---
*Terms and conditions apply.*
---
The island of Corfu is located in the Ionian Sea, off the northwest coast of Greece. It's the second-largest of the Ionian Islands and is known for its stunning natural beauty, rich history, and vibrant culture. Corfu is famous for its beautiful beaches, crystal-clear waters, and lush green landscapes. The coastline offers a variety of options, from long sandy stretches to secluded coves, making it a popular destination for beach lovers and water sports enthusiasts.
Crete, on the other hand, is the largest and most populous Greek island, located in the eastern Mediterranean Sea. The island is famous for its ancient Minoan civilization, which flourished around 3,500 years ago and left impressive archaeological sites such as Knossos Palace. These ruins provide insights into one of the earliest advanced civilisations in Europe.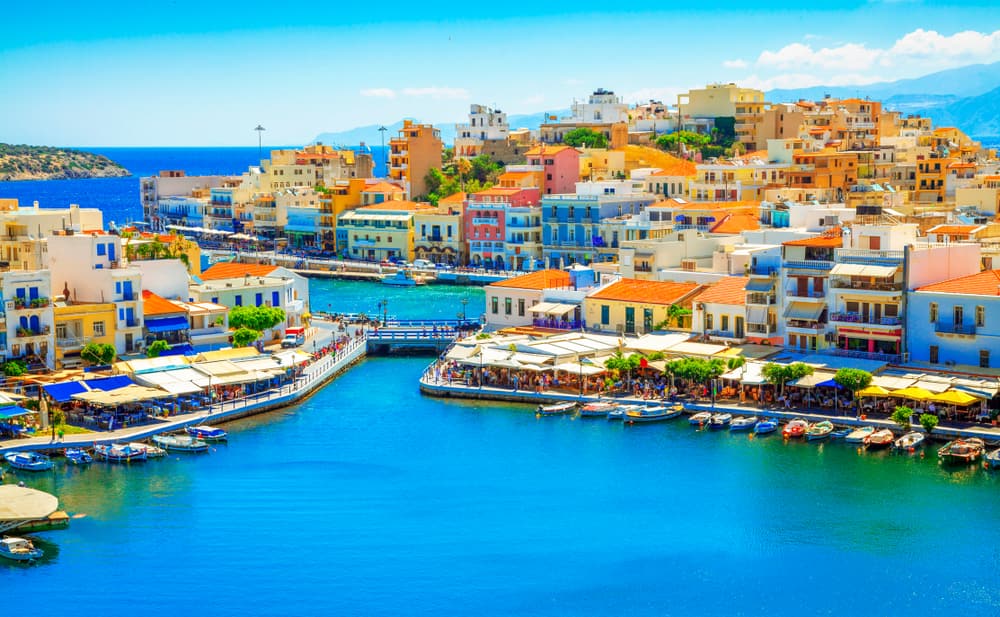 To learn more about each place and its unique qualities, we'll compare these two Greek islands to see which one you should visit. So, without further ado, let's look at what Corfu and Crete have to offer.
Which is best for you: Corfu or Crete?
Nightlife
Corfu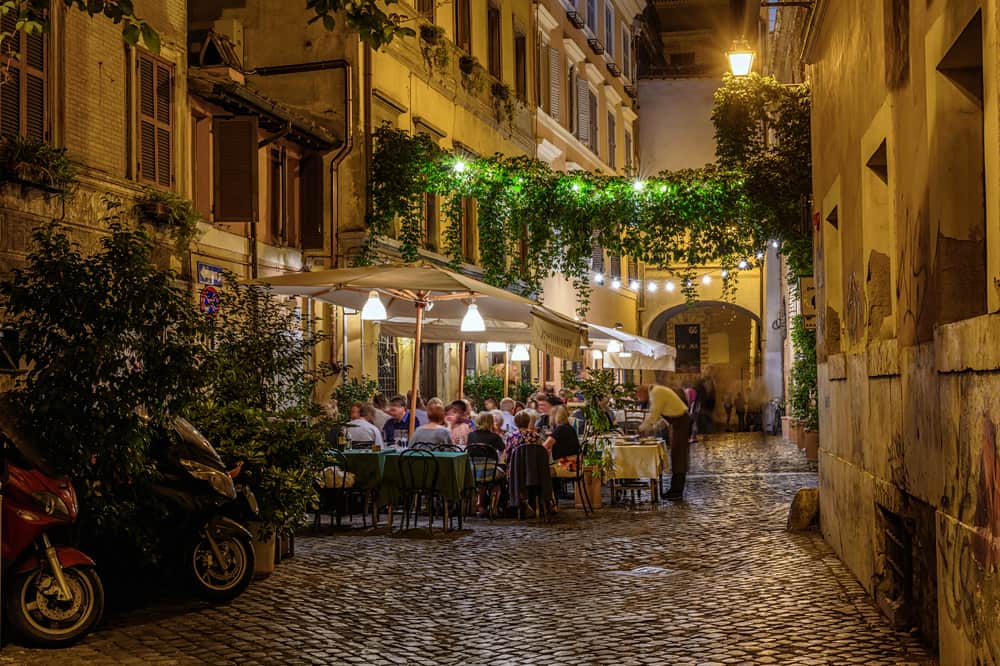 Corfu is known for its lively nightlife scene, particularly in Corfu Town. There are bars, clubs, and music venues catering to various tastes. The Liston, for example, is a promenade lined with cafés and bars and is a popular spot for enjoying a drink and people-watching.
There are also beachfront bars and clubs in popular tourist areas like Kavos and Ipsos, known for their party atmosphere. Corfu's nightlife tends to be more energetic, especially during peak season.
Nightlife recommendations:
Slingo's score: 7/10
Crete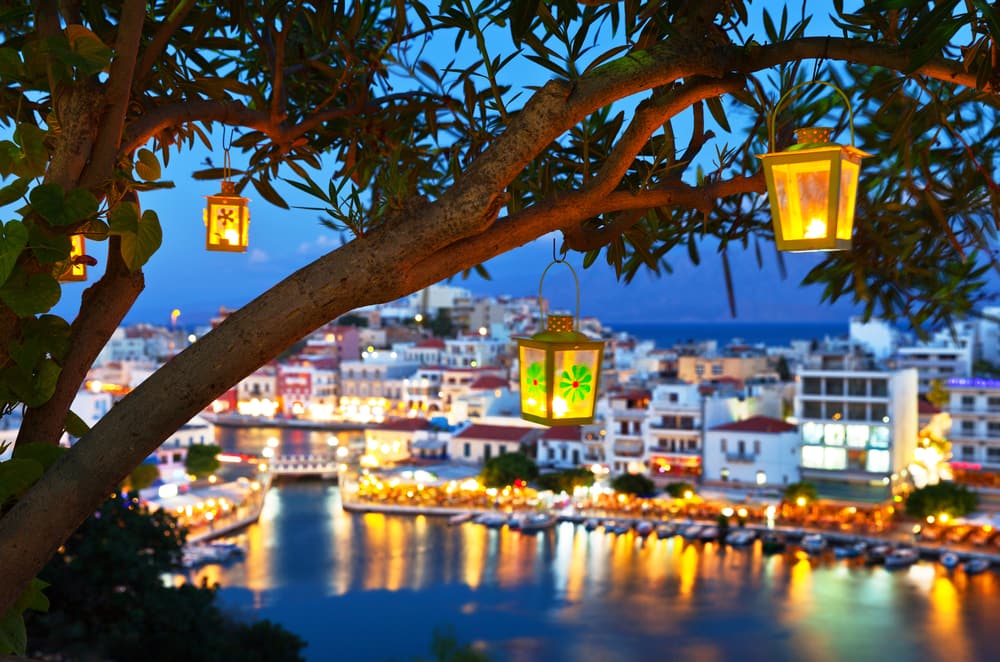 The nightlife in Crete, however, may offer visitors more diversity. In Heraklion, you'll find a mix of bars, clubs, and live music venues, particularly around the city centre and the waterfront area. Hersonissos, a popular tourist destination, is known for its fun nightlife, with numerous clubs and bars open late into the night.
Other towns like Chania and Rethymno also have a selection of bars and clubs, offering a more relaxed and atmospheric experience than the larger cities.
Nightlife recommendations:
Slingo's score: 8/10
Beaches
Corfu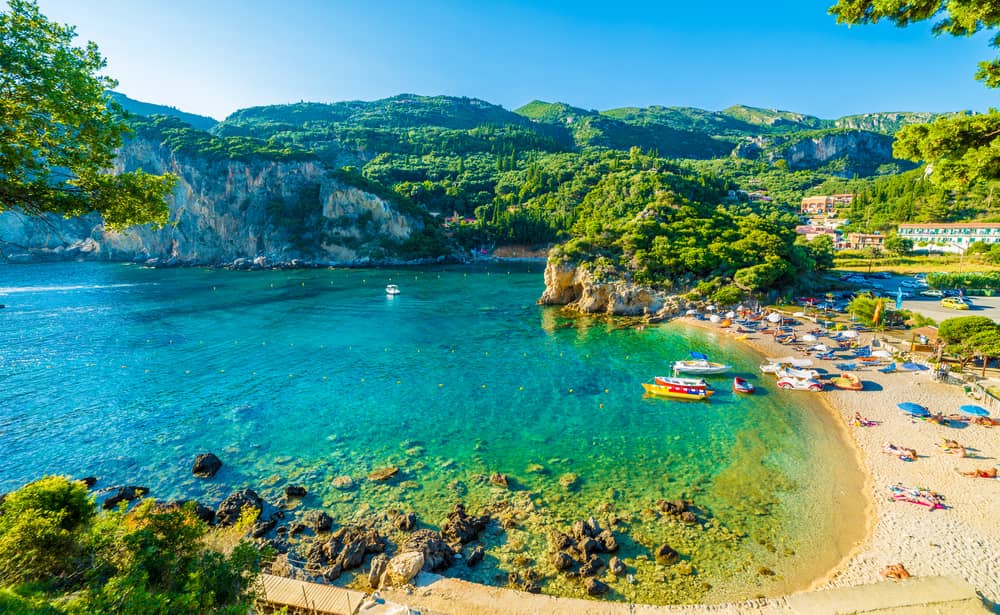 While travelling around Corfu, you can find long sandy stretches like Glyfada Beach and Agios Gordios Beach, famous for sunbathing and water sports. Smaller, secluded coves like Paleokastritsa Beach and Porto Timoni Beach offer a more intimate and tranquil setting.
These beaches are known for their picturesque surroundings, backed by lush green hills, olive groves, and cypress trees, with the turquoise waters of the Ionian Sea adding extra visual appeal.
Corfu's beaches are generally easily accessible, close to popular resorts and towns. Many beaches have nearby amenities such as beach bars, restaurants, and sunbed rentals, providing convenience for visitors who want to spend their days basking in the sun.
Slingo's score: 8/10
Crete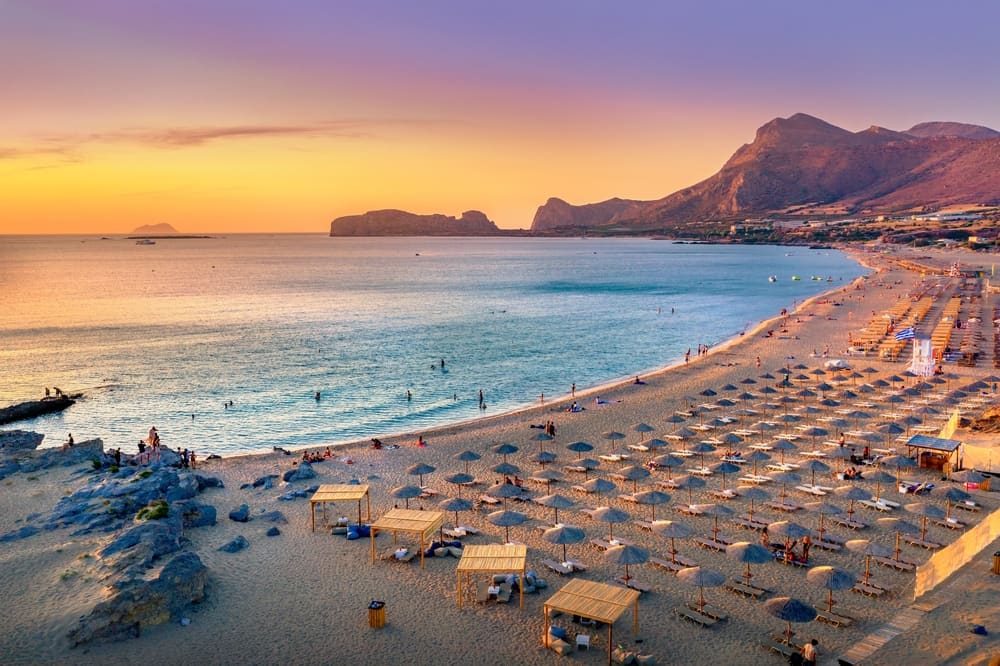 Crete has a range of sandy and pebble beaches, including Elafonisi Beach, known for its pink sand and crystal-clear waters, and Balos Beach, with its stunning lagoon and turquoise hues. Vai Beach also stands out for its unique palm tree forest that frames the area perfectly.
Crete's beaches often come with dramatic landscapes. The island's diverse geography means you can find beaches nestled between cliffs, surrounded by rugged mountains, or in secluded coves accessible only by hiking or boat. 
With Crete being ten times larger than Corfu, its beaches can offer far more in the way of space and seclusion. Even the island's most popular beaches have ample room to spread out, providing a more relaxed and uncrowded beach experience.
Slingo's score: 9/10
Food
Corfu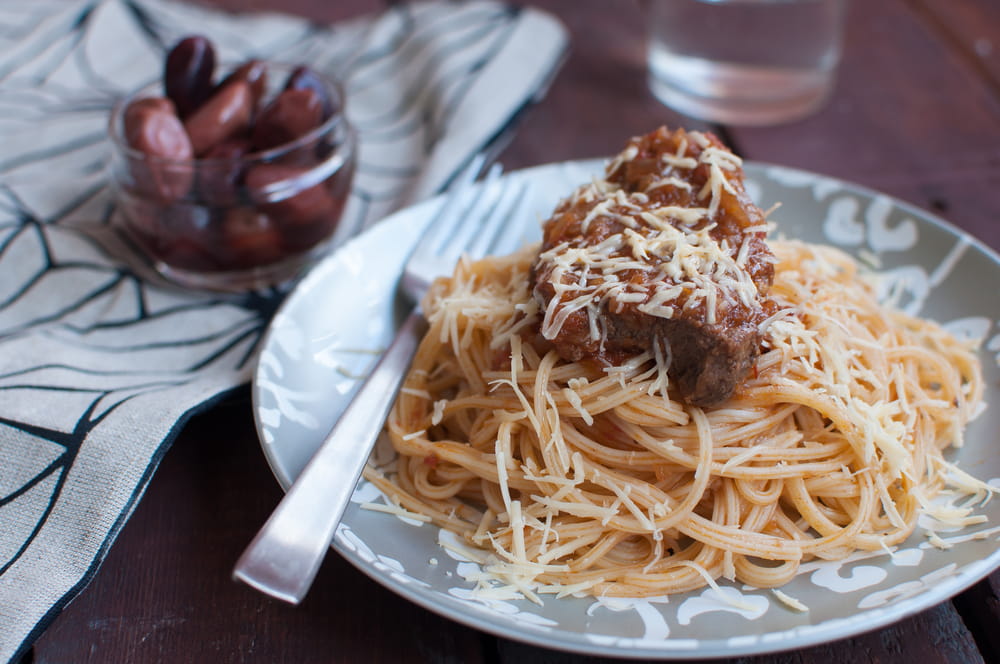 Corfu's cuisine showcases a fusion of Greek and Italian influences due to its historical connections with Venice and the more comprehensive Venetian Republic. Italian ingredients such as pasta and risotto rice often find their way into Corfiot dishes. 
The island is also known for its excellent olive oil production, which is widely used in local dishes. Some of Corfu's most popular traditional meals include pastitsada, a pasta dish with a rich tomato-based sauce and meat (often veal or rooster); sofrito, thin veal slices cooked in a garlic and white wine sauce; and bourdeto, a spicy fish stew typically made with scorpionfish.
Food recommendations:
Slingo's score: 8/10
Crete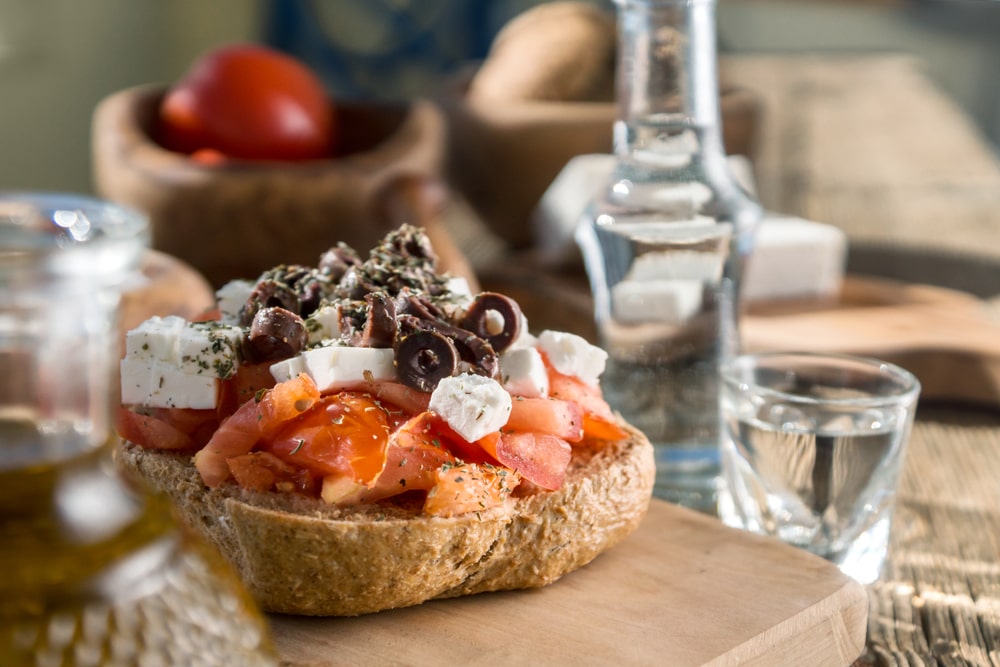 Crete is famous for its healthy and flavourful Cretan diet, known as one of the world's healthiest diets. It emphasises fresh, local ingredients, including olive oil, vegetables, herbs, legumes, and whole grains. The abundant use of local herbs and spices, such as oregano, thyme, rosemary, and dittany, characterises Crete's cuisine. These ingredients contribute to the distinct flavours of the island's dishes.
Crete also produces a variety of delicious cheeses, such as the famous Cretan graviera and mizithra. Other delicacies include dakos - barley rusks topped with diced tomatoes, olive oil, herbs and crumbled feta cheese - and Crete's various snail dishes if you're feeling adventurous!
Food recommendations:
Slingo's score: 8/10
Activities
Corfu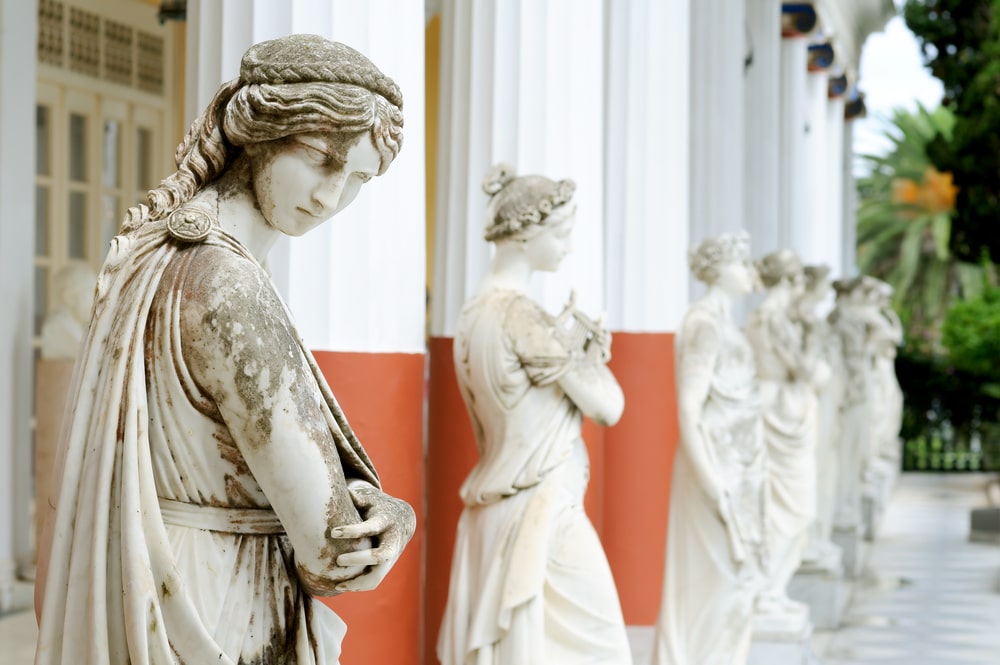 Located in Corfu Town, the Archaeological Museum showcases a collection of artefacts that trace the island's history from prehistoric to Roman. Visitors can see pottery, sculptures, jewellery, and other archaeological finds that provide a glimpse into Corfu's rich past.
Another exciting attraction in Corfu Town is the Museum of Asian Art.  Here you'll find a remarkable collection of Asian art, including sculptures, ceramics, paintings, and textiles. 
If you're a thrill-seeker at heart, be sure to check out Aqualand, a water park near Agios Ioannis. It has a wide range of water slides, pools, and water-based activities suitable for all ages. 
Best places to visit:
Corfu Town (Kerkyra)

Paleokastritsa

Sidari

Agios Gordios
Slingo's score: 8/10
Crete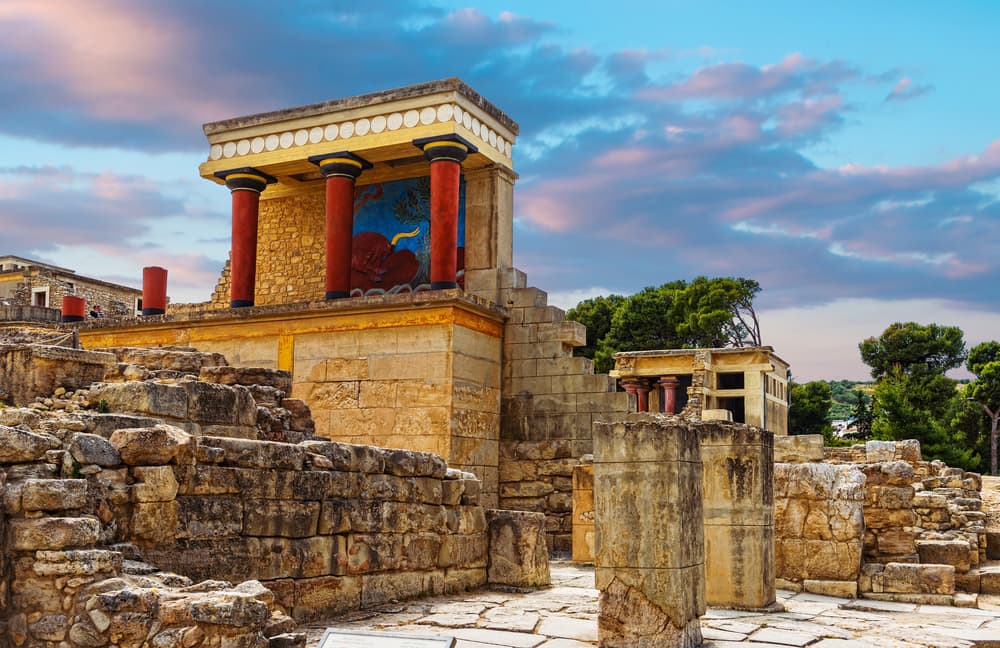 Being the largest of the Greek islands, you'll never be stuck searching for things to do and see in Crete.
Located in the capital city of Heraklion, the Heraklion Archaeological Museum is one of the most important museums in Greece. It houses an extensive collection of Minoan artefacts, including pottery, statues, frescoes, and jewellery. 
The Palace of Knossos is a major archaeological site showcasing the Minoan civilization. The Samaria Gorge offers a challenging hiking experience, while the Elafonissi and Balos beaches provide breathtaking natural beauty. Crete's diverse landscape allows for activities like hiking, exploring ancient ruins, and enjoying water sports. 
Best places to visit:
Chania

Heraklion

Rethymno

Elounda
Slingo's score: 9/10
Luxury
Corfu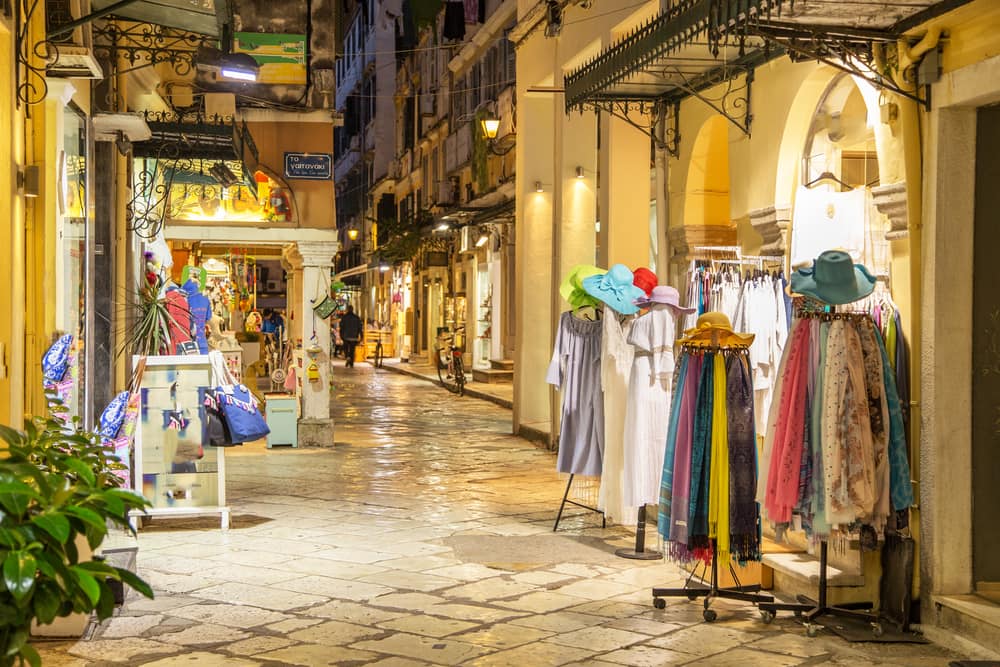 Corfu offers a mix of accommodations, including luxury resorts, boutique hotels, and upscale villas. While it may not be as internationally renowned for luxury tourism as some other destinations, Corfu has been steadily establishing itself as a sought-after location for those seeking a more upscale experience. Amidst the island's charming landscapes and historical ambiance, you can discover a selection of high-end options that provide an indulgent escape from the ordinary.
For travellers with a taste for opulence, Corfu's luxury resorts are designed to pamper and delight. Many of these establishments boast well-appointed rooms and suites, often with breathtaking views of the Ionian Sea or verdant landscapes. Private beaches, infinity pools, and world-class spas are just a few of the amenities that contribute to an unforgettable stay. 
Slingo's score: 7/10
Crete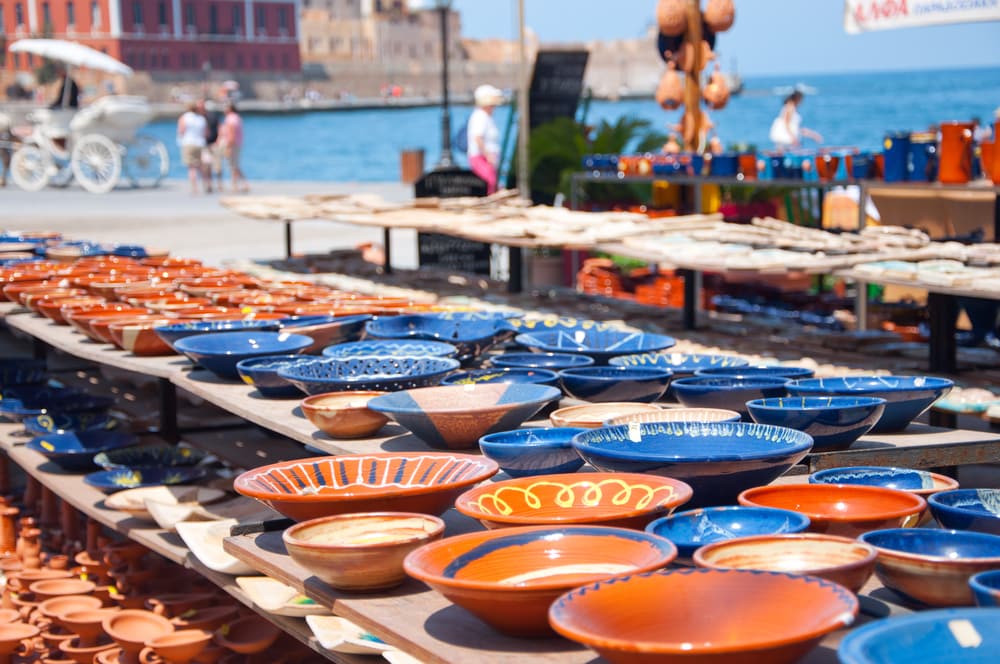 Since Crete is a much bigger island, it has a more established luxury tourism sector, with a wide range of luxury resorts, boutique hotels, and high-end villas. 
Places like Elounda and Agios Nikolaos are particularly known for their luxurious accommodations and upscale experiences. Crete's larger size and diverse regions mean that there are plenty of options for travellers seeking a luxurious stay.
Slingo's score: 9/10
Corfu vs Crete: the verdict
When it comes to choosing between Corfu and Crete for your travel destination, each island offers a unique and enticing experience. Let's break down the scores to help you make an informed decision:
Corfu's overall score: 38 out of 50
Crete's overall score: 43 out of 50
Ultimately, the choice between Corfu and Crete depends on your preferences. If you're drawn to a vibrant nightlife, historical charm, and a more relaxed atmosphere, Corfu could be your ideal match. On the other hand, if you're looking for a dynamic blend of history, natural beauty, and luxury experiences, Crete might be the island that captures your heart.
Whichever you choose, both Corfu and Crete promise to create lasting memories and unforgettable moments during your Greek island getaway.
Visit Your Favourite Greek Island with help from Slingo
If you want to sink your toes into sandy beaches or stroll around the old towns, both Corfu and Crete can offer incredible travel experiences. Interested in earning some extra cash to add to your holiday funds? Take a spin at the best online slots in the UK, or join the fun with online bingo games and win big with Slingo!

Or if you're still looking at planning a holiday, the Slingo lifestyle blog got a fantastic list of recommendations ready for you to take a look at:
Or if you're luxury for some luxury inspiration, we've got you covered with our lifestyle guides:
FAQs about choosing between Crete and Corfu
Why is Corfu so popular?
Corfu is popular for its stunning beaches, crystal-clear waters, and lush landscapes. It combines natural beauty, historical sites, and a vibrant atmosphere. The island's accessibility, diverse range of accommodations, and warm Greek hospitality also contribute to its popularity as a tourist destination.
Is Crete touristy?
Crete is a popular tourist destination, but the amount of tourist infrastructure can vary depending on the location and time of year. While some areas can be bustling with visitors, Crete's size means you won't struggle to find more secluded, quieter areas if you prefer to take your holidays at a slower pace.
Exploring less touristy villages in locations off the beaten track can provide a more authentic island experience. Here, you'll get a flavour of Cretan life from the people that know it best…the locals! 
What is Corfu best known for?
Corfu is best known for its beautiful beaches, charming Old Town and Venetian-style architecture. The island is also renowned for its rich history and cultural heritage, including archaeological sites and Byzantine monasteries.
Corfu also has a reputation for its lively nightlife, traditional cuisine, and the warm hospitality of its residents.
What is the most beautiful part of Corfu?
Beauty is subjective, but many consider the northwestern coast of Corfu to be particularly stunning. Areas like Paleokastritsa and Agios Georgios Pagon offer gorgeous beaches, clear waters, and dramatic cliffs.
Is Crete better than Santorini?
Crete is the largest Greek island, offering various attractions, including historical sites, stunning beaches, and scenic landscapes.
On the other hand, Santorini is known for its iconic white-washed buildings, breathtaking sunsets, and volcanic caldera views.
Both islands have unique charms and appeal, so it ultimately comes down to individual preferences.
---
DISCOVER SLINGO
YOUR OFFICIAL SITE FOR SLINGO GAMES
Slingo is a vibrant online casino with a fantastic selection of Slingo games, online slots, live tables and more.
Join The Fun on Slingo.Com!