Welcome to paradise, where crystal-clear waters meet pristine white sands, and sheer luxury awaits – that's right, it's Seychelles and the Maldives. These exotic destinations beckon you with their natural beauty and opulent resorts, promising an indulgent escape.
These picture-perfect holiday havens both have a lot to offer, so how do you choose?
Fear not, intrepid traveller! Slingo is on hand to help. 
In this guide, we put two of the world's dreamiest island nations head to head to find out which one should be at the top of your list to visit next. From the classiest nightlight venues to bucket-list ocean adventures, get ready to fall in love with Seychelles and the Maldives!
---
*Terms and conditions apply.*
---
Which is Best for You? Maldives vs Seychelles
From fine dining and upscale accommodation to vibrant nightlife and fun activities, we've broken down these two islands into popular holiday categories, so you can be confident you're heading to the right place.
Nightlife
Maldives
While you won't find bustling clubs and loud parties in the Maldives, this destination does offer refined and intimate evenings. Many resorts host themed dinners, beach bonfires and cultural performances that you aren't likely to forget.

If you're seeking a bit of adventure, take a night snorkelling tour to witness the mesmerising bioluminescence in the water, creating an otherworldly glow around you. Or simply enjoy a leisurely moonlight stroll along the powdery beaches.
Slingo's score: 5.5/10
Seychelles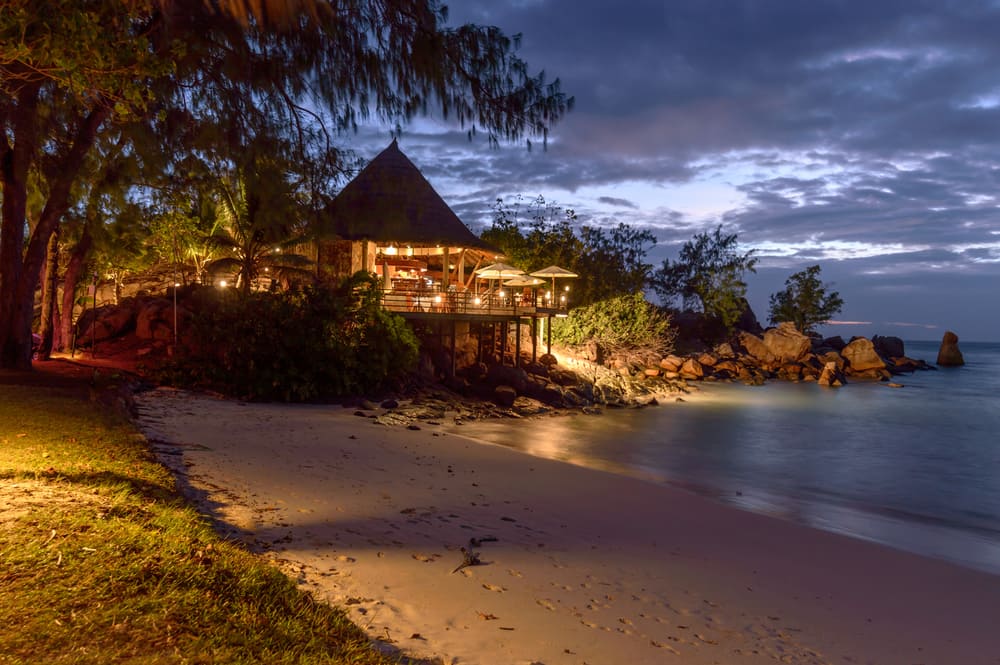 The Seychelles promote sustainable tourism and conservation, so loud parties aren't the norm. Instead, you can expect a blend of laid-back charm and intimate elegance. The resorts come alive with live music, cultural performances, and themed nights as the sun sets over the turquoise waters.

In the main towns like Victoria, you'll find cosy bars and lounges where you can unwind with a tropical cocktail or try a locally-brewed beer. The atmosphere is friendly and relaxed, offering a chance to mingle with other travellers or swap stories with locals.
Slingo's score: 6.2/10
Beaches
Maldives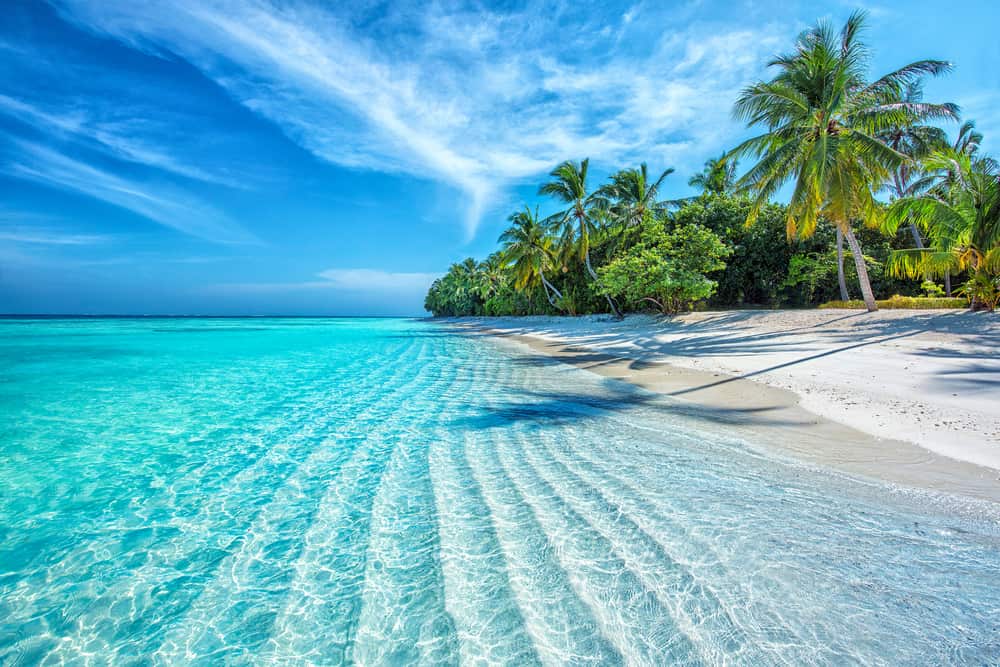 The stunning beaches of the Maldives are like something out of a fairytale - soft, powdery, and gently sloping into the crystalline lagoons. The Maldives is famous for its iconic overwater villas, where you can step directly from your accommodation into the warm waters for a morning dip.

Each resort in the Maldives occupies its own private island. So, after checking into your hotel, you'll have exclusive use of sprawling white sands and waterside facilities.

As you snorkel or dive, the underwater world will amaze you with its vibrant coral gardens and playful marine creatures. And at night, prepare to be dazzled by the magical bioluminescence in the water.
Slingo's score: 9.1/10
Seychelles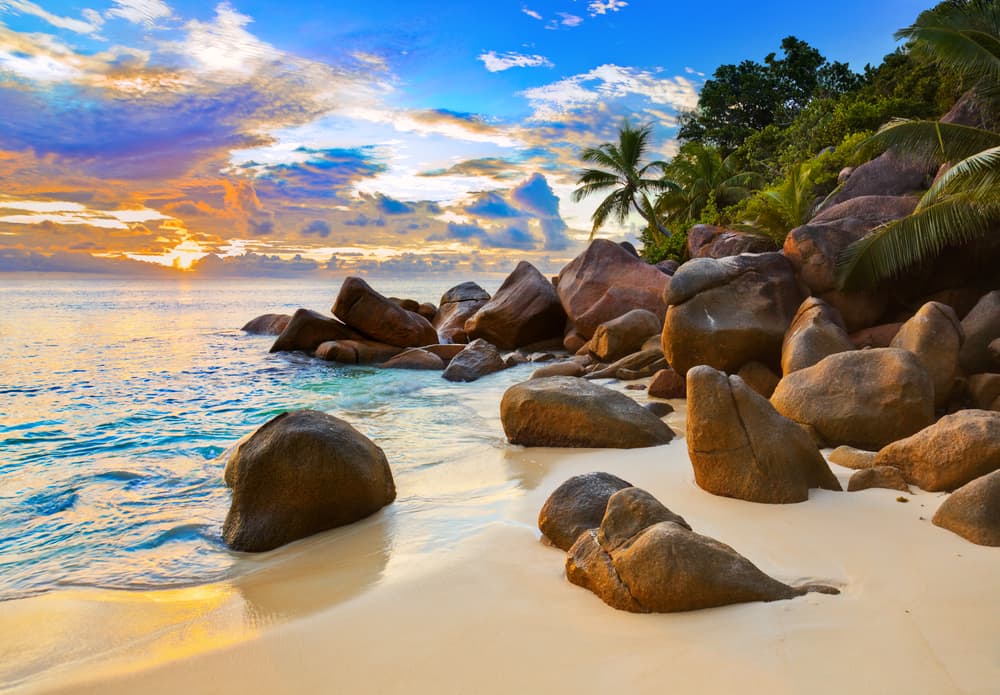 In Seychelles, you'll discover beautiful beaches straight out of a postcard - crystal-clear turquoise waters lapping against powder-white sand. The greenery of the islands creates a stunning backdrop, turning every beach into a slice of paradise. Take the time to discover secluded beaches and hidden coves, which offer peaceful spots to unwind with your toes in the sand.

Snorkellers and divers will be in heaven as the vibrant underwater world invites you to explore colourful coral reefs and swim alongside exotic marine life. In the evenings, why not stroll along the beach and watch the sky change to shades of orange and pink?
Slingo's score:8.8/10
Food
Maldives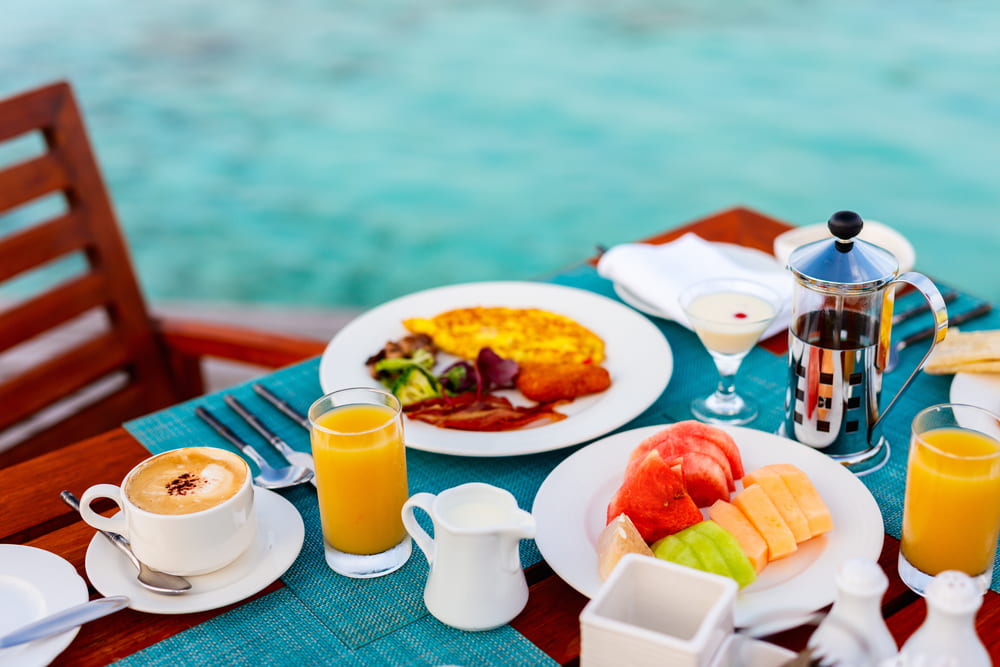 Maldivian cuisine is all about the ocean's bounty - expect an array of fish dishes like 'Mas Huni', a fresh and delicious mixture of tuna, grated coconut and spices.

The resorts in the Maldives offer an international spread, from Mediterranean to Asian fusion cuisine, curated by world-class chefs. And, of course, the overwater restaurants create an incredible setting as you indulge in gourmet meals with panoramic ocean views.

When it comes to dining experiences, you can't miss the traditional 'Bodu Beru' nights, where lively drumming and traditional dance performances add to the joyous atmosphere.
Slingo's score: 8.1/10
Seychelles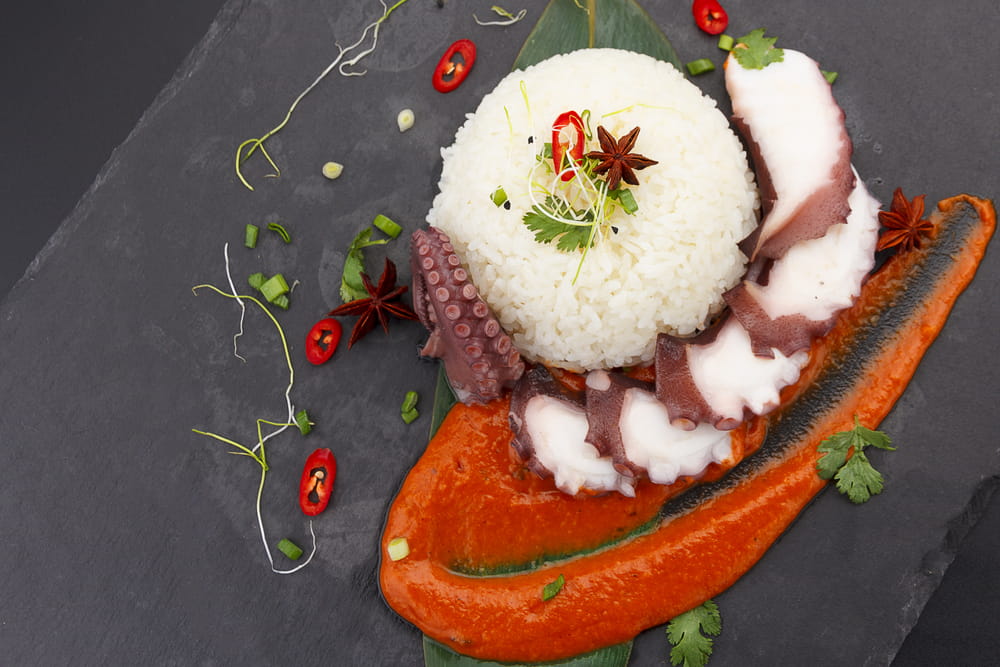 In Seychelles, the food reflects the island's vibrant culture. Creole cuisine takes centre stage, drawing from a mix of African, French, Indian and Chinese influences. Seafood is, unsurprisingly, a staple. 
Prepare to savour the freshest catch of the day, transformed into dishes like succulent grilled fish to mouthwatering octopus curry. Don't miss out on 'Ladob', a delightful dessert of ripe bananas cooked in coconut milk and sweet spices.

As you dine at beachside restaurants, you'll notice nothing but the gentle sea breeze and the sound of the waves, creating a once-in-a-lifetime setting for your meals.
Slingo's score: 8.3/10
Activities
Maldives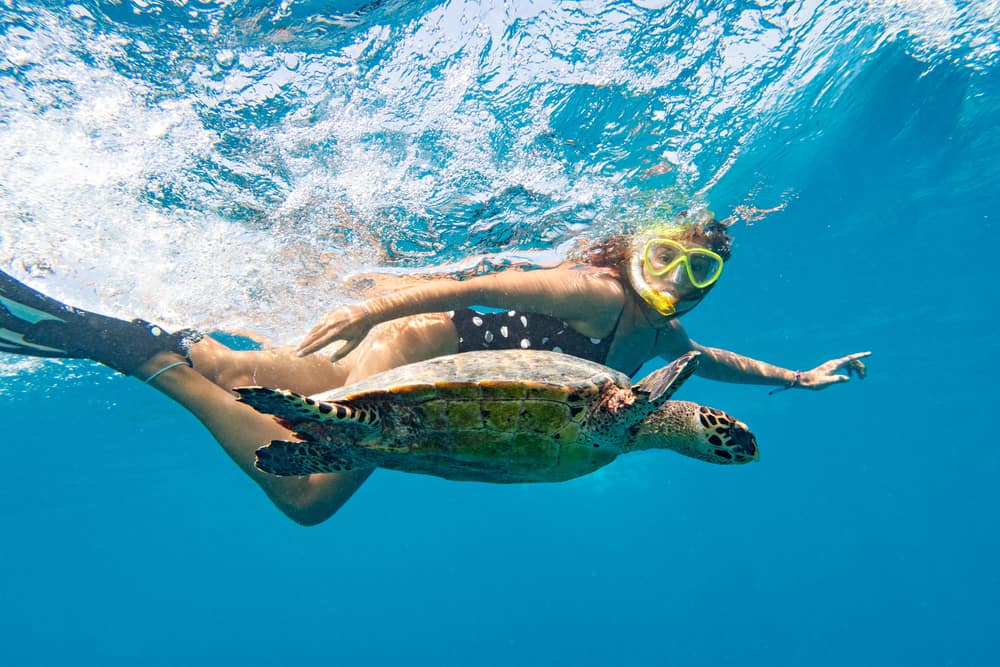 Make the most of the Maldives by starting your day with a refreshing dip straight from your overwater villa into the turquoise water.

Snorkelling and diving are also a must-do here, as the Maldives boasts some of the world's most remarkable coral gardens and diverse ocean life. Swim alongside majestic manta rays, playful dolphins, and gentle whale sharks, creating memories that will last a lifetime.

For a dose of romance, embark on a sunset cruise, where you can toast to the beauty of the horizon and the perfect holiday.
Slingo's score: 7.7/10
Seychelles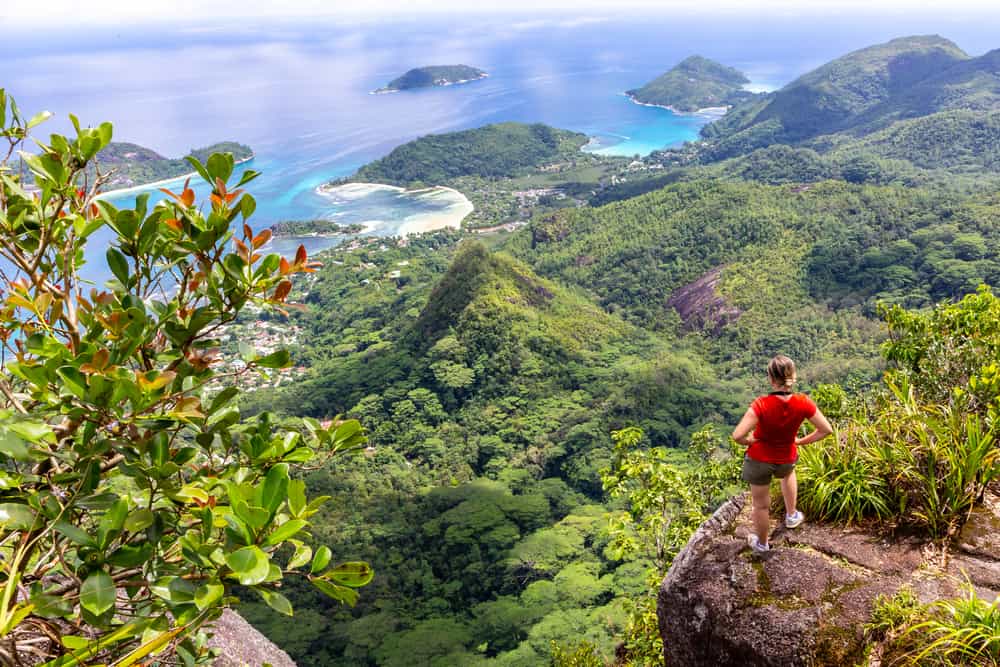 On your Seychelles vacation, you'll be enchanted by the lush nature and abundant marine life. Snorkelling and diving will introduce you to vibrant reefs and curious creatures like colourful fish and turtles. For an extra dose of adventure, why not try your hand at windsurfing or kayaking?

Hiking enthusiasts will love exploring the winding jungle trails that lead to breathtaking viewpoints, revealing the islands' natural beauty from above. Keep your eyes peeled for the rare Seychelles giant tortoises roaming freely in nature reserves.

As the Seychelles comprises a whopping 115 islands, why not go island hopping? The archipelago is known for its granite islands, from the large Mahé to the laidback La Digue. 
Each granite island has its own story to tell, hidden waterfalls to uncover and towering rainforests to lose yourself in. It's a great way to fully immerse yourself in the beauty and tranquillity of the Seychelles.
Slingo's score: 8.5/10
Luxury
Maldives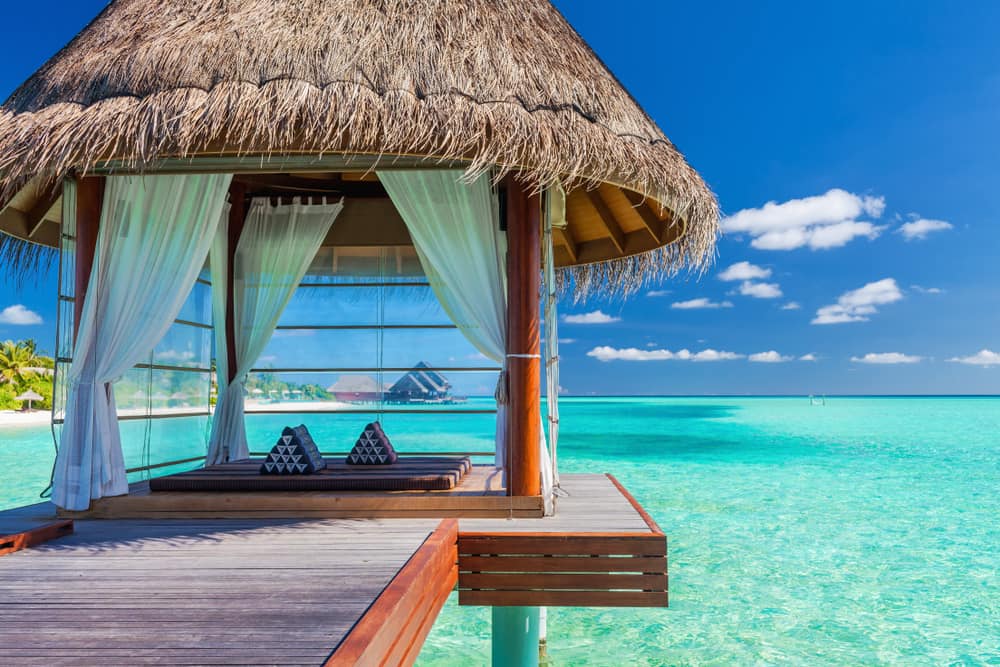 The Maldives is a realm of overwater villas and unparalleled extravagance. Your private sanctuary perched above the azure lagoon will be a dream come true. Dive into the Indian Ocean from your villa's deck, or soak in your private pool, immersing yourself in the beauty of your surroundings.

The island resorts in the Maldives spare no expense in creating an enchanting and exclusive atmosphere. Each occupies its own private island, meaning visitors can luxuriate in total seclusion. 
Slingo's score: 9.1/10
Seychelles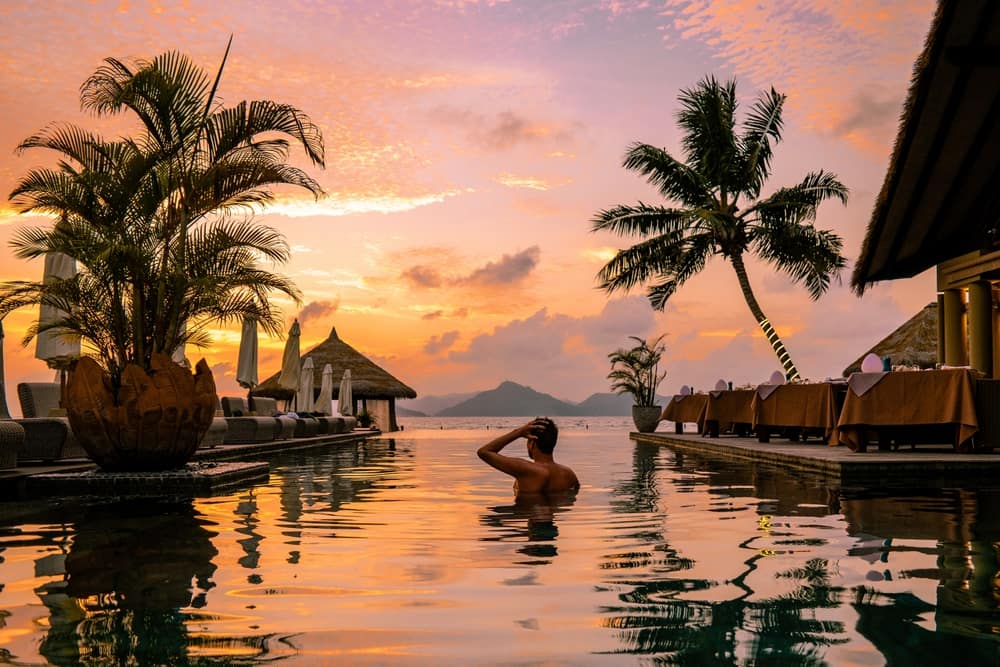 In Seychelles, luxury takes on an elegant and serene form. Stay on a lavish beachfront villa, where you can step directly onto the soft sands or into the clear waters of the Indian Ocean. The luxury resorts are surrounded by nature, creating an intimate setting surrounded by tropical gardens and stunning ocean views.

Prepare to be treated like royalty, as the attentive staff ensure your stay is nothing short of perfection at whichever resort concept you choose. Gourmet dining experiences await, featuring the freshest seafood and an array of international delicacies, all served in idyllic beachfront settings.

When it comes to relaxation, Seychelles knows how to pamper you. Rejuvenate with spa treatments incorporating natural ingredients, like coconut and vanilla, transporting you to a state of island bliss.
Slingo's score: 8.9/10
Seychelles vs Maldives: the verdict
Both destinations offer incredible experiences in idyllic surroundings. If you want to escape to a tropical paradise and relax under palm trees with a pina colada in hand, you'll struggle to go wrong with either Seychelles or the Maldives.
But if we're going to pick one of these island resorts over the other, our winner is Seychelles!
The Maldives' overall score: 39.5 out of 50
Seychelles' overall score: 40.7 out of 50
The range of activities, cultural experiences and world-class luxury offerings found in Seychelles means it just manages to edge ahead of the Maldives in our comparison. So, pack your bags and book your flights…the white sands and crystal-clear waters of Seychelles await!
Book your dream coastal getaway with help from Slingo
If you're after the perfect getaway by crystal-clear waters, you can't go wrong with either of these stunning groups of islands.

And what better way to add to your holiday savings than by winning big with Slingo? Take a spin at the best online slots in the UK, or join the fun with online bingo games. Whatever you enjoy playing, play it with Slingo!

For more luxury inspiration, discover Slingo's lifestyle news or check out these blogs:
Why not plan a UK staycation whilst you're at it? We've got a vast selection of blogs which will help you to decide on your next trip:
FAQs
Seychelles vs Maldives: which is better for honeymooners?
Whilst both destinations offer breathtaking natural beauty, luxurious resorts and the perfect setting for a dreamy honeymoon - your choice depends on personal preference.

Seychelles may be a better fit if you're after more diverse landscapes and experiences, including island hopping and nature exploration. On the other hand, the Maldives is ideal if you're after secluded luxury, overwater accommodations and fantastic marine experiences. 
What is the weather like in the Seychelles and the Maldives?
Both the Seychelles and the Maldives have tropical climates with two distinct seasons: wet and dry. The dry seasons are characterised by long spells of sunshine, clear skies and low humidity levels - perfect for lounging on white sandy beaches and sipping cocktails by your hotel's pool. In the wet seasons, downpours can be intense! But, luckily, they're usually short-lived and the temperatures remain warm and inviting.
---
DISCOVER SLINGO
YOUR OFFICIAL SITE FOR SLINGO GAMES
Slingo is a vibrant online casino with a fantastic selection of Slingo games, online slots, live tables and more.
Join The Fun on Slingo.Com!