Santorini and Mykonos are two famous Greek islands that invite travellers from around the world to explore their distinct cultures. Nestled in the Aegean Sea, these picturesque destinations have become synonymous with sun-soaked beaches, charming traditional villages, and vibrant nightlife.
Choosing between Santorini and Mykonos can be a delightful yet difficult decision. Each island offers a unique blend of experiences, catering to different tastes and preferences.
In this guide from the Slingo lifestyle blog, we delve into the distinct charms of Santorini and Mykonos, helping you navigate through their offerings to make an informed choice that aligns perfectly with your travel aspirations. Whether you seek romance, relaxation, adventure, or a lively party scene, read on to discover which Greek paradise is tailored just for you.
---
*Terms and conditions apply.*
---
Santorini or Mykonos: Which Greek Island is for you?
To choose the ideal Greek island, it's essential we delve into specific aspects of Santorini and Mykonos so you can see which stunning island is right for you.
Nightlife
Santorini
Santorini offers a more subdued and romantic nightlife compared to its counterpart, Mykonos. While it may not boast the wild party scenes synonymous with Mykonos, it is a romantic island with an intimate atmosphere.
Visitors can savour sunset cocktails with awe-inspiring views of the caldera, followed by leisurely dinners at seaside tavernas. The island also hosts a selection of chic bars and lounges, perfect for those seeking a relaxed yet elegant evening.
Santorini nightlife: 8/10
Mykonos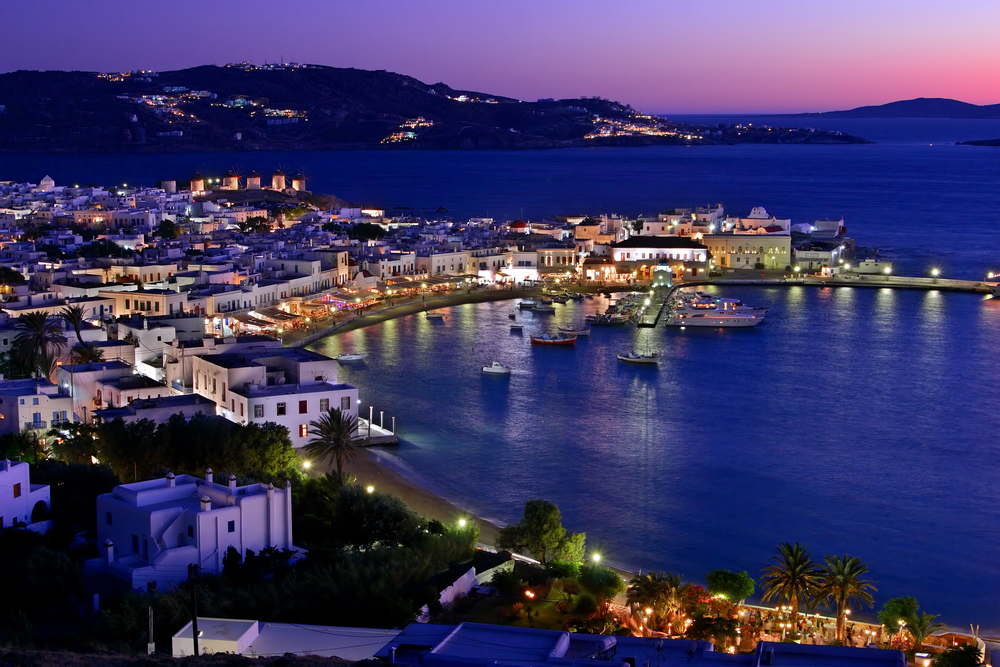 Mykonos boasts a legendary nightlife scene perfect for party animals.
The streets of Mykonos Town come alive after dark, with bars and clubs spilling out onto cobbled lanes, creating an infectious buzz that lasts until the early hours of the morning.
It is renowned worldwide for its electrifying party atmosphere, drawing in party-goers from all corners of the globe. 
From popular beach clubs to pulsating nightclubs, Mykonos offers endless options for those seeking a vibrant and high-energy nightlife.
Mykonos nightlife: 10/10
Beaches
Santorini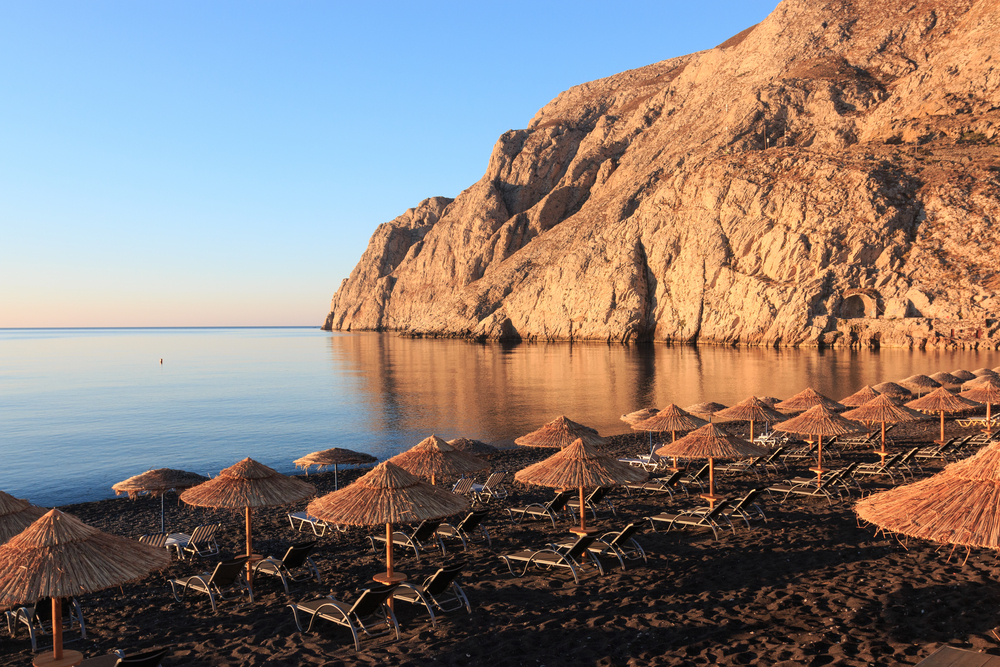 Although renowned for its dramatic cliffs and stunning caldera views, Santorini is not primarily known for its beaches. The island's coastline is characterised by unique volcanic formations rather than expansive sandy beaches.
However, there are a few notable exceptions, such as the distinctive Red Beach and Kamari Beach, which offer a memorable beach experience against the backdrop of Santorini's striking landscapes.
Other beaches include:
Perissa Beach:

On this beach, adjacent to Kamari, you can find black sands and a vibrant beachfront scene.

Perivolos Beach:

An extension of Perissa, offering a more relaxed atmosphere.

Vlychada Beach:

Known for its unique lunar-like landscape and dramatic cliffs.

White Beach (Aspri Paralia):

Accessible only by boat or a hiking trail from Red Beach, known for its white cliffs and pebbly shores
Each beach has its own unique charm and caters to different preferences, whether you're seeking vibrant nightlife, water sports, family-friendly options, or serene relaxation.
Santorini beaches: 6/10
Mykonos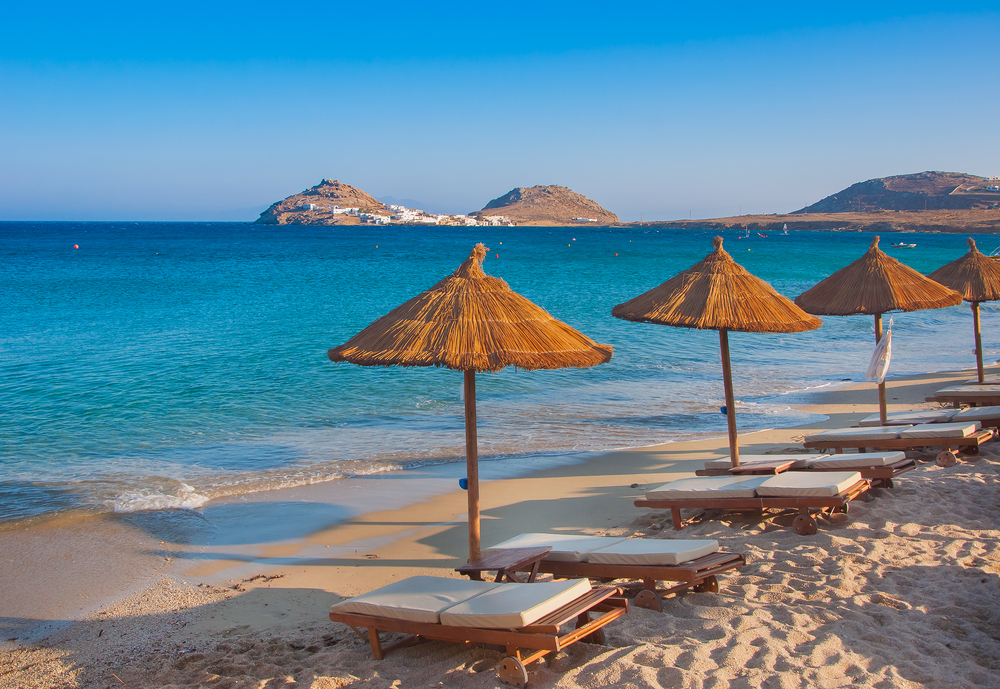 On the other hand, Mykonos has some of the best beaches in Greece! These beautiful beaches in the Cyclades offer an unparalleled coastal experience.
Whether you're pursuing vibrant beach parties, secluded coves for intimate relaxation, or water sports adventures, Mykonos has it all. From the iconic golden sands of Super Paradise Beach to the serene shores of Panormos Beach, there's a place for everyone.
Other beaches include:
Elia Beach:

One of the largest beaches on the island, known for its golden sands and water sports.

Ornos Beach:

Family-friendly with calm waters and a range of amenities.

Agios Stefanos Beach:

A quieter option with stunning views of Mykonos Town.

Psarou Beach:

Known for its upscale beach clubs and celebrity sightings.
Mykonos' shores promise sun-soaked days and unforgettable moments no matter which beach you choose.
Mykonos beaches: 9/10
Food
Santorini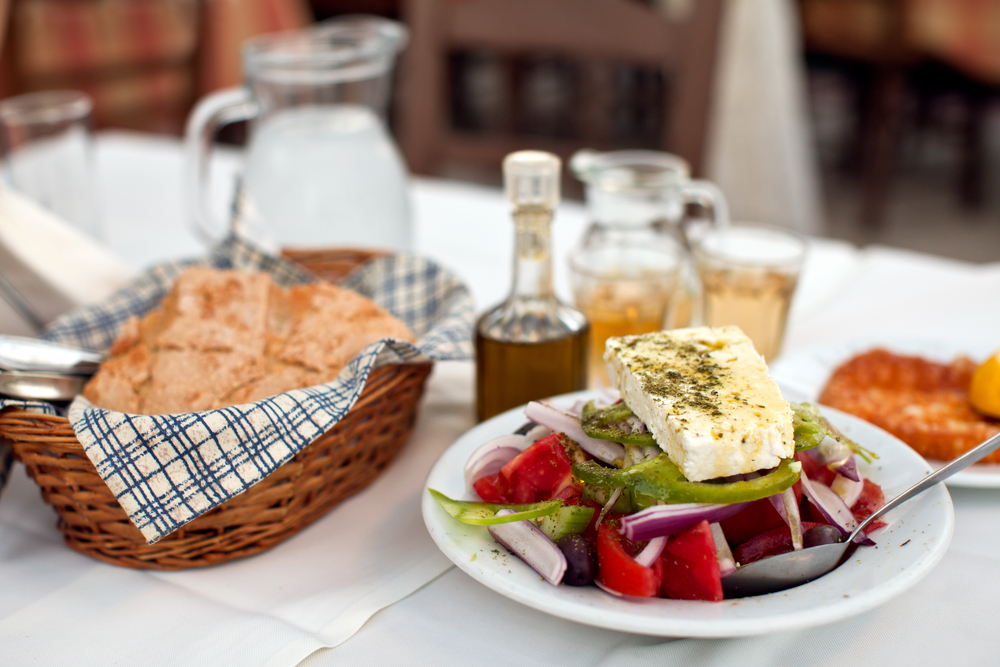 There's no doubt about it: Santorini has some of the best restaurants in the area. Its culinary scene is a delightful blend of traditional Greek flavours and creative, modern twists. The island is renowned for its fresh seafood, locally sourced produce, and exceptional wines, particularly its distinctive Assyrtiko.
Visitors can indulge in mouthwatering dishes like grilled octopus, fava, and tomato fritters while enjoying breathtaking views of the caldera. The charming tavernas and upscale restaurants offer diverse culinary experiences, making Santorini a true gastronomic haven.
Santorini food: 9/10
Mykonos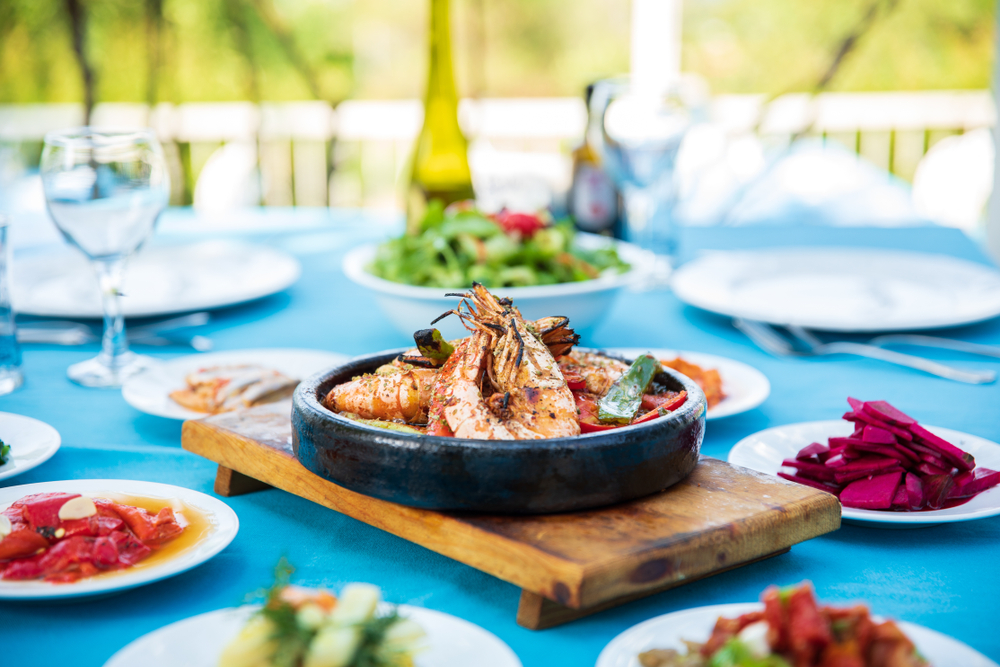 Mykonos has a diverse culinary scene, ranging from traditional Greek tavernas to international gourmet restaurants. You can enjoy delicious Mediterranean and seafood dishes, as well as explore the island's vibrant street food culture. Dining in Mykonos often comes with a lively and cosmopolitan atmosphere.
Mykonos food: 8/10
Activities
Santorini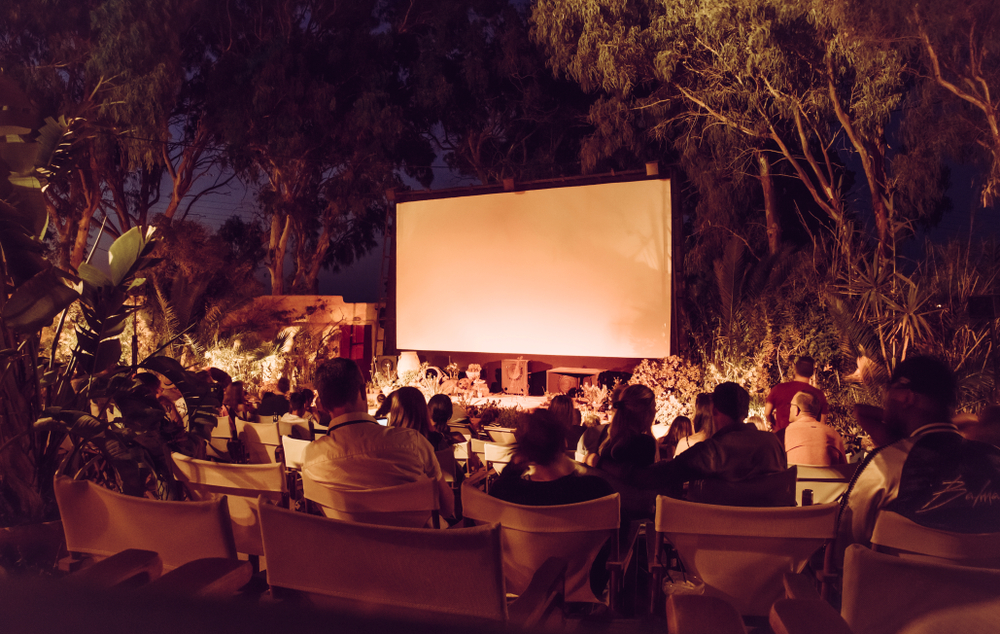 In terms of activities, Santorini boasts a fantastic range of things to do.
One of the most exhilarating experiences is sailing around the caldera, where you can witness the dramatic cliffs and crystalline waters from a different perspective. Snorkelling and scuba diving enthusiasts will find an underwater world teeming with marine life and intriguing geological formations.
For those seeking a more leisurely pace, wine connoisseurs can indulge in tastings at the island's renowned vineyards. Santorini is known for its distinctive Assyrtiko grapes, so going on winery tours can offer a great chance to sample exceptional wines while also learning about the island's cultural traditions.
As the day winds down, don't miss the opportunity to immerse yourself in the enchanting atmosphere of a sunset in Oia. This iconic village offers some of the most breathtaking sunset views in the world, providing a perfect backdrop for a romantic evening.
Families will also find plenty of activities to enjoy together, from beachcombing along the shores of Kamari or Perissa to exploring the charming villages and their labyrinthine streets. There's so much to do in Santorini, so no matter what type of holiday you love, you can make cherished memories on this captivating island. 
Santorini activities: 7/10
Mykonos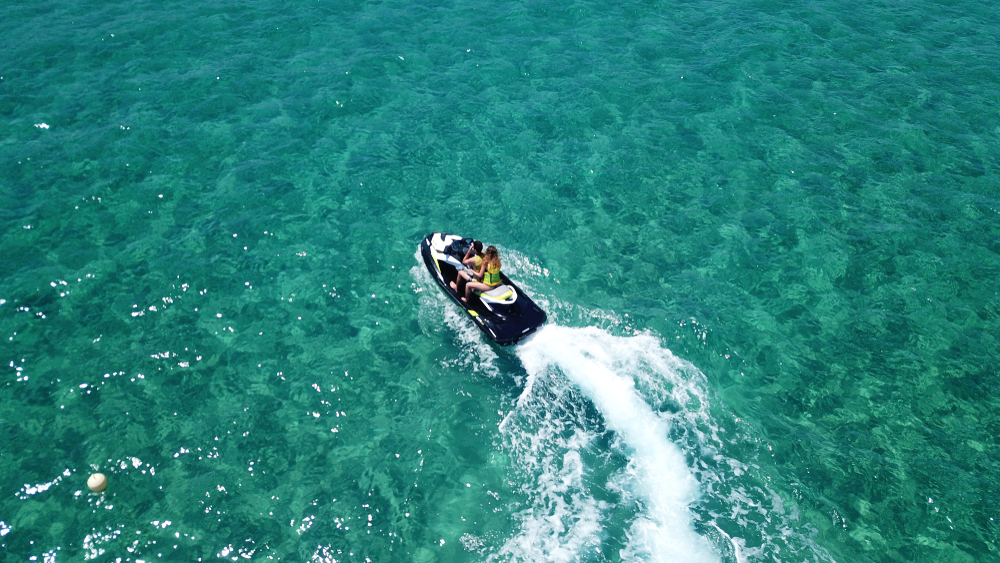 If you're after a variety of activities, then Mykonos will not disappoint. From water sports and kite surfing to visiting the Archaeological Museum of Mykonos and the island of Delos, you'll never be short of activities. If you're a history enthusiast, a visit to the iconic windmills of Kato Mili is a must. These historic structures not only provide a glimpse into the island's past but also offer breathtaking panoramic views of the Aegean Sea.
The charming streets of Mykonos Town also beckon with their boutiques, art galleries, and iconic windmills, making for delightful strolls, while luxurious spas offer a relaxing retreat for visitors. Whether you're an adventure-seeker, a history buff, a foodie, or simply seeking relaxation, Mykonos offers a diverse range of experiences that will leave you captivated and eager to return. With its blend of natural beauty, cultural richness, and vibrant atmosphere, Mykonos is truly a gem in the Aegean Sea.
If there's one thing you won't be during your time in Mykonos, it's bored.
Mykonos activities: 9/10
Luxury
Santorini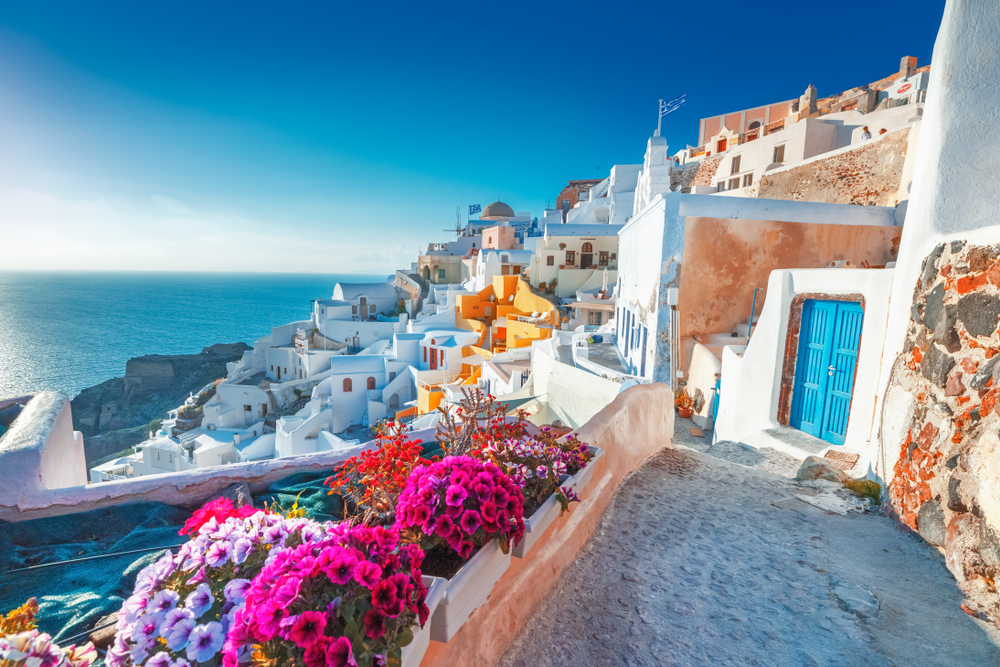 Santorini exudes an air of understated luxury, characterised by its exclusive boutique hotels, many are perched on the cliffs with private pools and unrivalled views of the caldera.
The island also offers a high-end restaurant scene, with gourmet restaurants boasting world-class chefs. For those who yearn for adventure with a touch of class, Santorini provides avenues for extravagant exploration. Private yacht charters offer a voyage across the azure expanse, allowing guests to discover hidden coves and secluded beaches that are only accessible by sea. Helicopter tours provide a bird's-eye view of the island's dramatic landscapes, offering a perspective that few have the privilege to witness.
Santorini's brand of luxury is one of understated elegance and unparalleled beauty, where every detail is carefully curated to create an experience that transcends the ordinary.
Santorini luxury: 9/10
Mykonos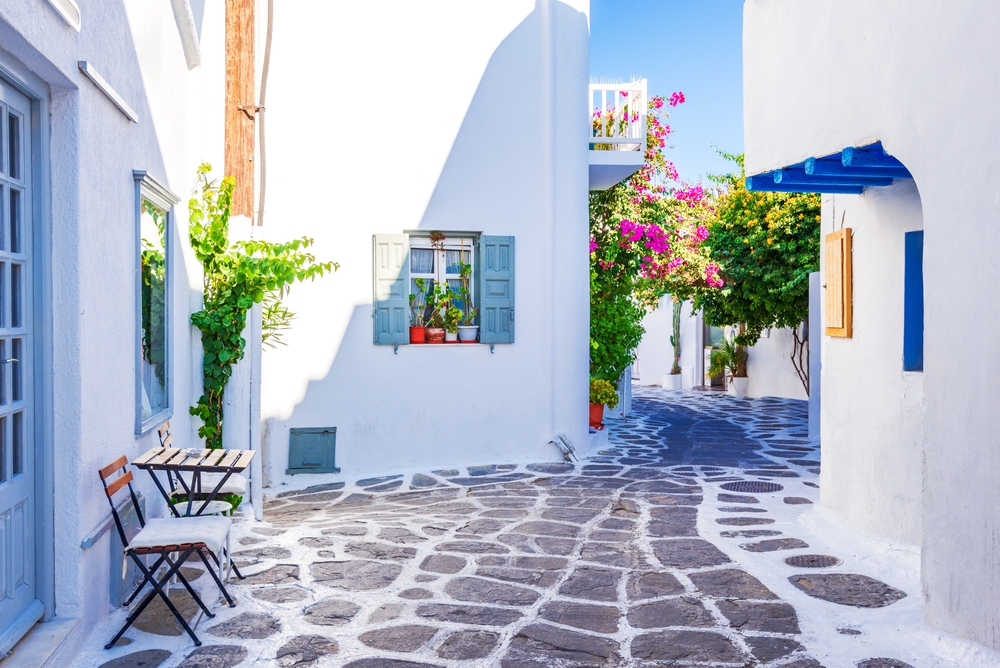 Mykonos, however, is also synonymous with luxury. The island is dotted with lavish beachfront villas, often equipped with private pools and direct access to the sea.
With its gleaming white alleys and cobblestone streets, Mykonos Town unveils a world of designer brands and high-end boutiques, including Gucci, Chanel, Louis Vuitton and Hermes. It's a paradise for fashion enthusiasts seeking that perfect statement piece.
As the sun dips below the horizon, Mykonos' nightlife reveals its glittering allure. Exclusive Mykonos beach clubs transform into vibrant hubs of entertainment, where international DJs take to the stage and help get the party started.
Mykonos has mastered the art of luxury, weaving together extravagant accommodations, high-end shopping, and a nightlife scene that exudes glamour and excitement.
Mykonos luxury: 8/10
Santorini vs Mykonos: the verdict
After looking at these two islands, they both offer a lot in terms of nightlife, beaches, food, activities and luxury.
But which of these Greek islands came out on top? Here's our verdict:
Santorini's overall score: 39 out of 50
Mykonos' overall score: 44 out of 50
Mykonos emerges as a slightly stronger contender, particularly in terms of nightlife, beaches, and activities. It's renowned for its vibrant party scene, stunning beaches, and myriad of activities.
Santorini, on the other hand, remains an island of unique beauty, rich history and undeniable luxury. The island's more intimate, romantic atmosphere makes it an excellent choice for those seeking a quieter escape. 
Book your dream vacation to a Greek island with help from Slingo
Planning a dream vacation to a Greek island can be an exciting endeavour, and Slingo is here to assist you every step of the way! Whether you're envisioning the breathtaking views of Santorini or the vibrant atmosphere of Mykonos, we help you on your trip to these popular islands.
Embark on your journey towards an idyllic getaway with Slingo's winning opportunities. Try your luck by playing the UK's best online slots, aiming for those jackpot wins, or challenge yourself with an exhilarating game of online bingo! No matter your preference, Slingo offers an array of games to suit you.
Looking for more luxury inspiration? Explore Slingo's lifestyle guides:
For travel ideas and tips, check out our other destination guides:
FAQs about Mykonos vs Santorini
Is Santorini cheaper than Mykonos?
The cost of a trip to Santorini versus Mykonos can vary depending on various factors, including accommodation, dining, and activities. Generally, Santorini is known to be a slightly more expensive island than Mykonos, particularly when it comes to luxury accommodations and dining options. However, with careful planning and budgeting, it is possible to enjoy both islands without breaking the bank.
Is Santorini or Mykonos hotter?
Both Santorini and Mykonos experience hot and sunny summers typical of Mediterranean climates. However, on average, Santorini tends to have slightly higher temperatures during the peak summer months. It's essential to check specific weather forecasts for your travel dates, as temperatures can fluctuate.
How far apart are Mykonos and Santorini?
The distance between Mykonos and Santorini is approximately 150 kilometres (about 93 miles) when measured in a straight line. The most common way to travel between the two islands is by ferry or cruise ship, which takes around 2.5 to 5 hours, depending on the type of ferry and route chosen. There are also flights available, which take about 30 minutes, but they may involve a layover in Athens. Keep in mind that travel times can vary based on schedules and weather conditions.
---
DISCOVER SLINGO
YOUR OFFICIAL SITE FOR SLINGO GAMES
Slingo is a vibrant online casino with a fantastic selection of Slingo games, online slots, live tables and more.
Join The Fun on Slingo.Com!